Kristen Stewart in Balenciaga at the Met Gala: super-cute or super-fug?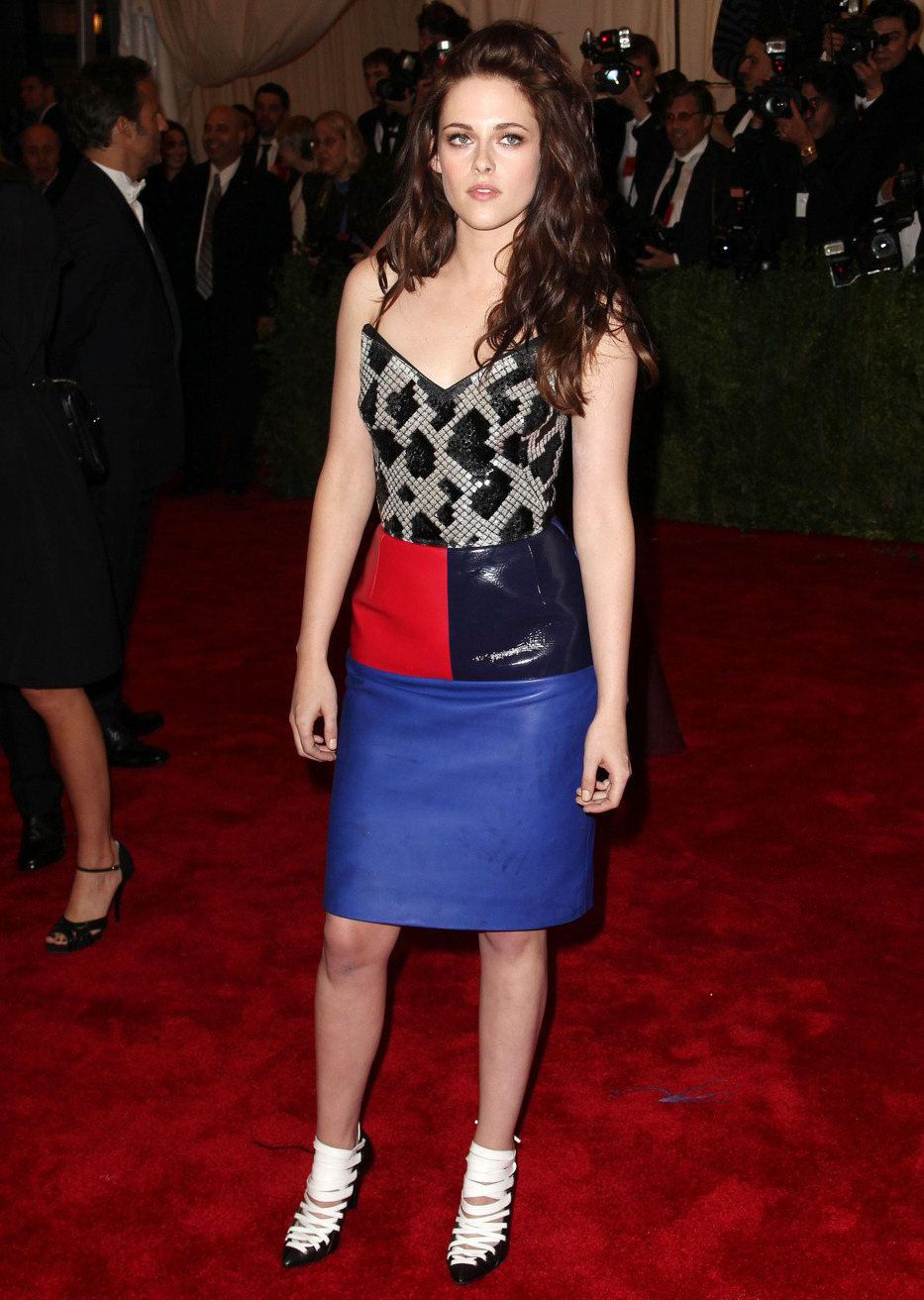 Kristen Stewart attended the Met Gala last night. Do you find that shocking? You shouldn't. Kristen is now the face of Balenciaga, and Nicolas Ghesquiere (I think that's him) was her date. So… what do I like about this look? Two things. One, I really like her hair. It's not particularly high-fashion or anything, and yes, it's not right for the event, but I think her hair looks great here. Great color, great body, and I just love the curl. Two, I like that Kristen is actually trying, experimenting and having fun with fashion. She's young – she has time to make big fashion mistakes, and I do like her more for trying.
That being said, this look is awful. Everything is just horrible – and it's not Kristen's fault. Sort of. I would imagine that as Ghesquiere's date/muse and the official face of Balenciaga, Kristen would have had her choice, her pick. I don't believe that Ghesquiere MADE her wear this. But he probably encouraged it, which makes this mostly his fault. As a designer, I feel he should have made a real choice here: color-block or reptile print. NOT BOTH. Put the two together, and you've just made a pretty young woman look like a color-blind crackie.
Also terrible: Kristen's shoes. It looks like she's wearing her beloved Converse, only in hideous bandage form.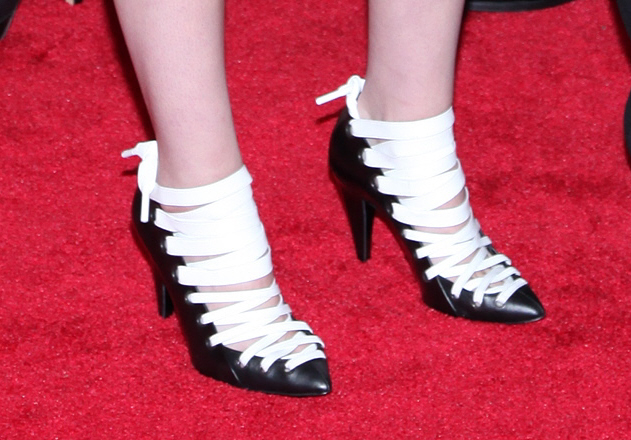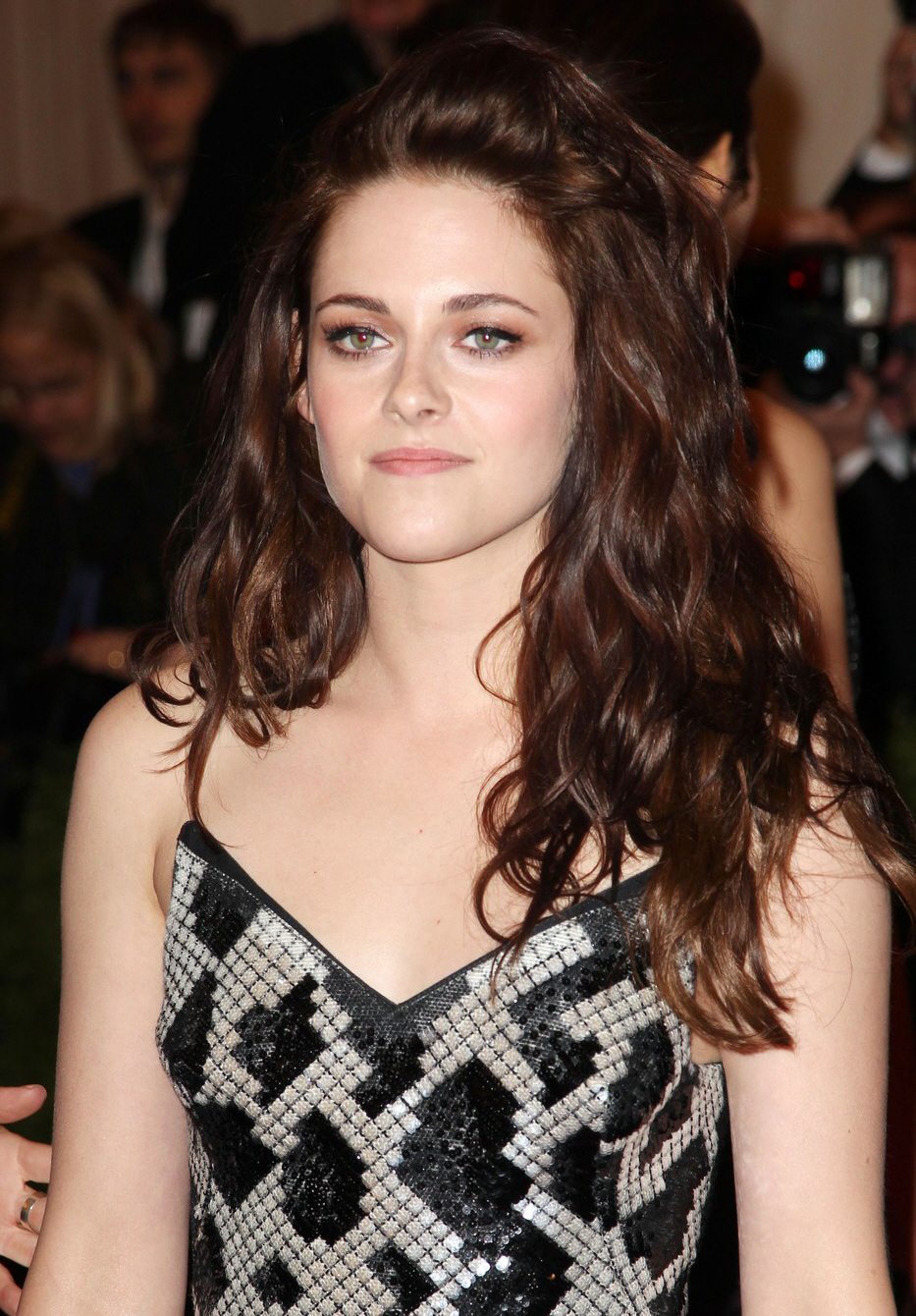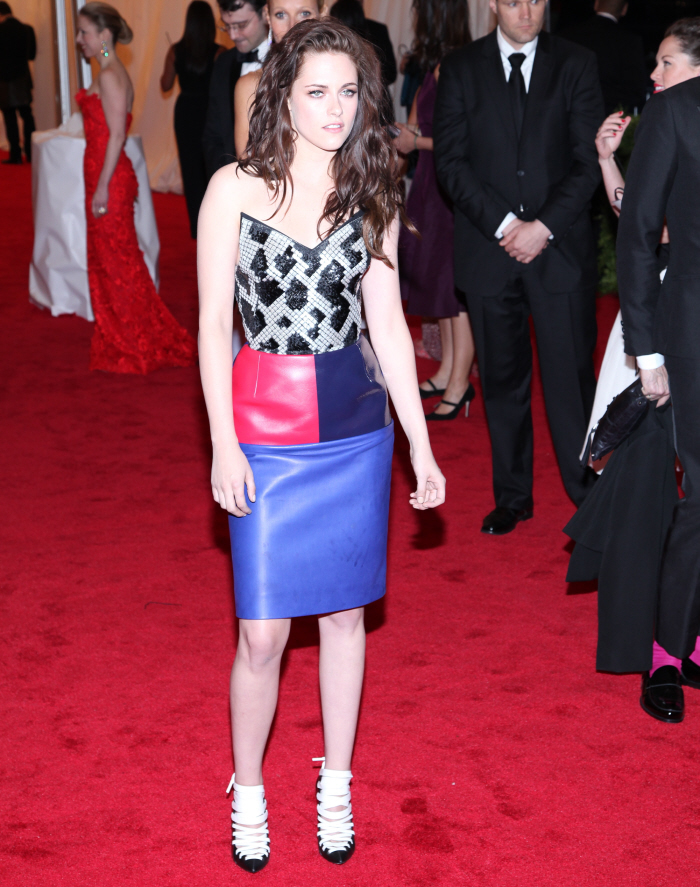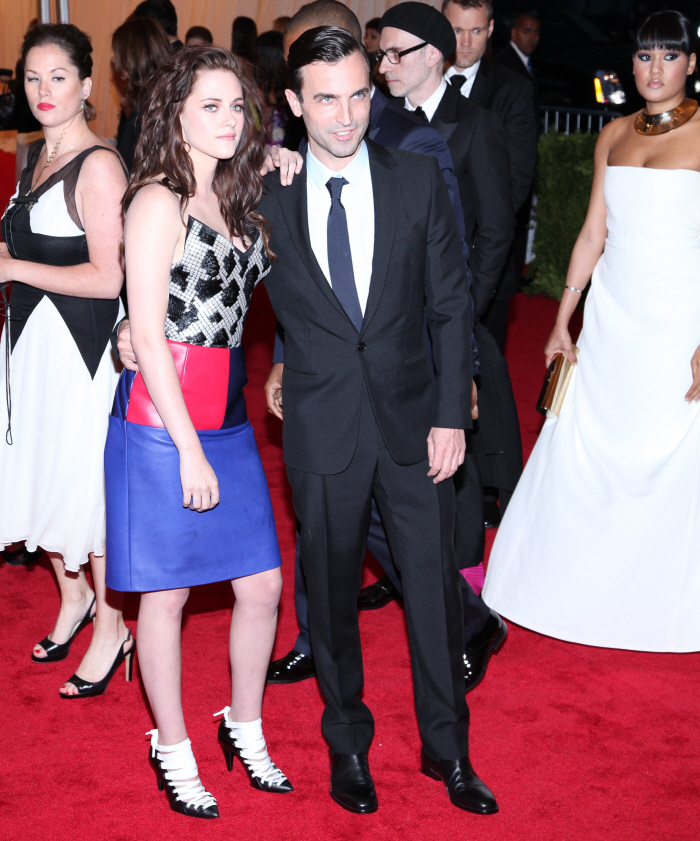 Photos courtesy of Pacific Coast News, WENN.

Written by Kaiser

Posted in Fashion, Kirsten Stewart, Met Gala

- Friends reunion on Ellen [Popsugar]
- Lindsey Vonn watches Tigers kids [Lainey Gossip]
- George Michael fell out of a car going 70mph [D-Listed]
- Real Housewives of Orange County recap [Reality Tea]
- New Man of Steel trailer [Pajiba]
- Jared Padalecki's hot bod [Buzzfeed]
- Doctors confirm Taylor Swift's new boobs [Evil Beet]
- Catherine Zeta-Jones finished treatment [CDAN]
- Anna Paquin hates the paps [Celebslam]
- Lance Armstrong is gross [The Blemish]
- What is Barbara Palvin wearing? [Moe Jackson]
- This is Petra Nemcova? [SVC]
165 Responses to "Kristen Stewart in Balenciaga at the Met Gala: super-cute or super-fug?"