Christina talks at 3:11 into this video. Adam and Christina start arguing around 4:15. At 4:45 Christina says "I motivated you," which bolsters this story that "99 Problems" was aimed at her.
None of us are watching "The Voice," so we all feel a little unqualified to talk too much about whatever is going on with that show. Apparently one of Adam Levine's contestants, Tony Lucca, sang a rock version of Jay-Z's "99 Problems" on Monday night's show. After his performance, judge Christina Aguilera chastised him for singing a song that could be considered derogatory toward women, since it contained the word "bitch," although NBC made sure the word was edited out before it aired. (Sidenote: bitch should not be a dirty word.) XTina said "Your beautiful wife and your daughter and family are here tonight, and I just thought, you know, the lyrical connotation was a little derogatory towards women, but all-in-all, it was good fun." Then when Adam tried to explain that the song was about dealing with adversity, Christina spoke up that it was about problems with women and they got into an argument about it, with a lot of cross talking. (That happens at 4:15 in the video above.)
Christina has taken issue with Lucca, a fellow Mouseketeer alum, in the past. Apparently she sort-of knows him from when they both were child stars on The Mickey Mouse show, and Lucca has kept in touch with Justin Timberlake. So any beef she has with him may be somewhat personal for her.
According to Radar Online, Levine had Lucca sing that song as a message to Aguilera for giving Lucca a hard time. Aguilera supposedly was "highly offended" and blew up about it during rehearsals. Adam and Christina got in a big fight, with Adam calling Christina the c-word and Christina demanding Adam be fired. Radar's source said:
"Adam went right up to Christina and said 'you're the biggest f***ing c***. Obviously Christina was appalled and hissed that Adam should be fired. She's sick of being treated this way.
"Christina is so sick of Adam being looked at as the golden boy of the show. If America knew how disgusting he was, they would be appalled, she always says."
Anyway this feud is heating up between Christina and Adam Levine, which has been brewing for some time. Christina thinks Adam is trying to annoy her, and given her reaction it's working. Here's that story, thanks to Radar Online:
"Adam is making it more about getting at Christina this season and he's very good at getting under her skin," a source close to the show exclusively tells RadarOnline.com.

"He comes off as a really great guy, but he's very smart the way he takes jabs at Christina. Adam's very subtle and doesn't use words, just sneaky actions. She is sick of the way she's being treated and she's disgusted with Adam."

"Christina really takes it to heart when Adam does these things. She doesn't know why he does it, she doesn't understand why he's being so mean," the source says.

Adam and Christina collaborated on the pop hit Moves Like Jagger, and while the source says they used to have a "brother sister relationship," there is no love lost between the two of them anymore.

"It's just weird the way Adam is treating Christina. She's the only girl there and she doesn't think the coaches should be against each other," the source tells RadarOnline.com.
[From Radar Online]
You can tell just from the clip of the show above that these two don't get along. If Adam is deliberately provoking Aguilera, it's obviously working like a charm. She's getting her hackles up and responding to him, which is only egging him on. He's doing it because it gets to her. Two divas trying to work together on a TV show are unable to get along. It's not surprising.
US Weekly reports that Aguilera has apologized to Lucca for calling him out on Monday's show. Lucca waxed poetic to US about what he learned from Christina's criticism on the show. He said "Her criticism for the most part has inspired me and led me to a higher plane than I might not have found otherwise."
Last night was the finale of The Voice. Spoilers are in this link if you'd like to know who won.
Update: I forgot to mention this very low cut dress that XTina wore during a performance on The Voice last night. (video is here)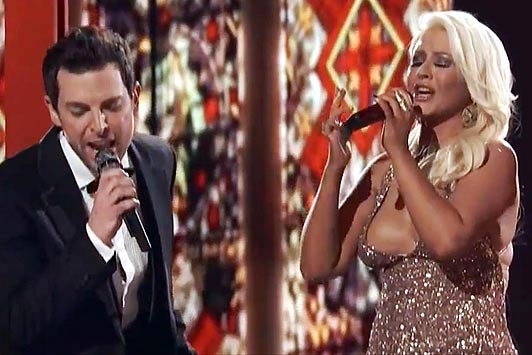 This was the back. [via Evil Beet, OMGBlog]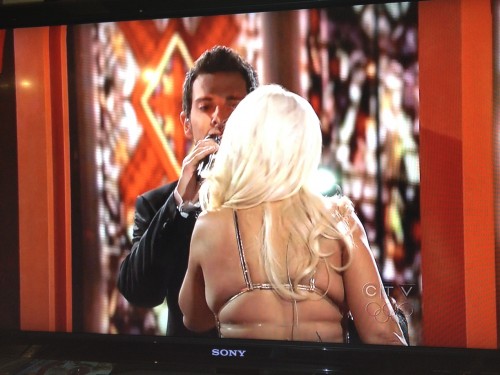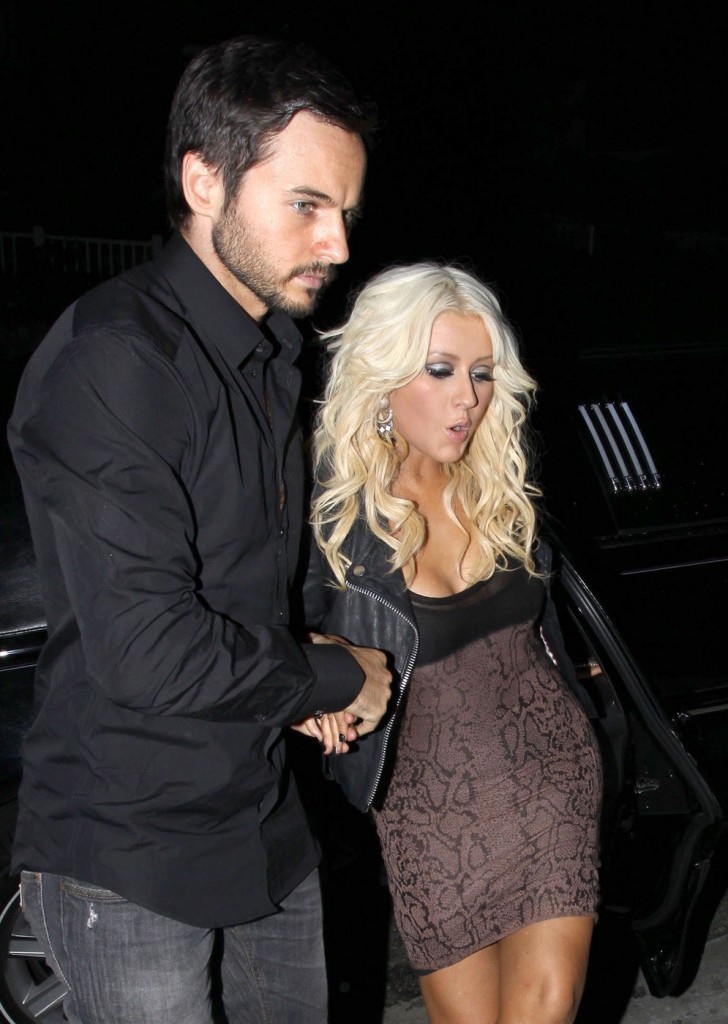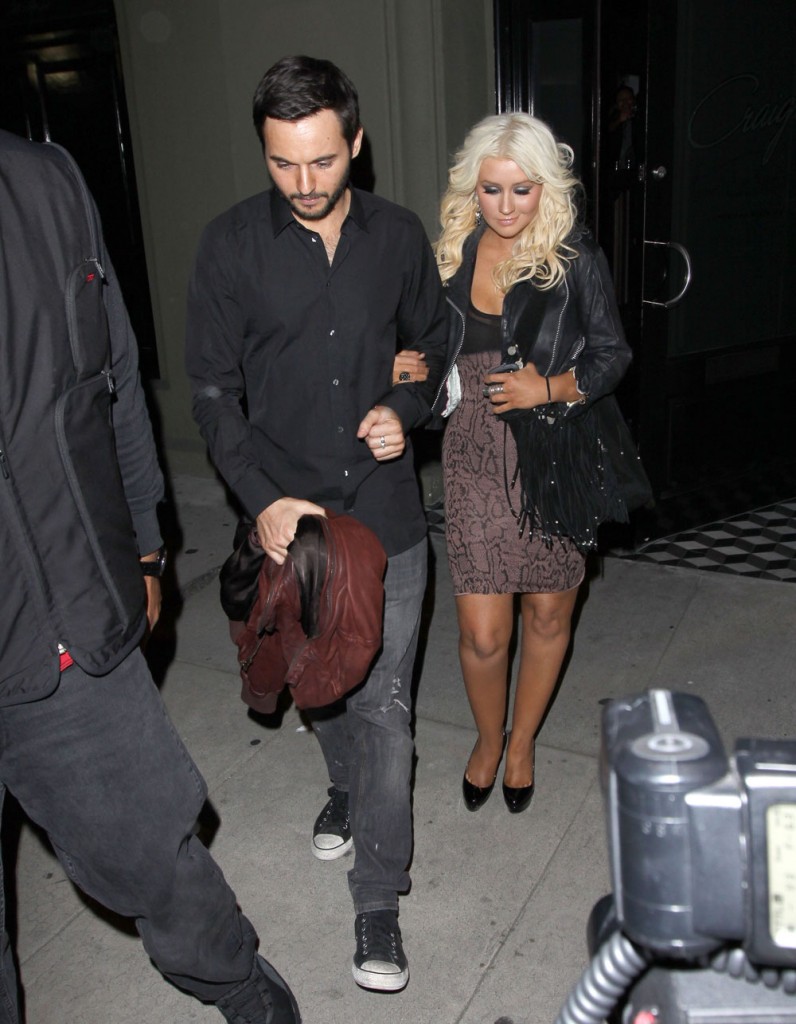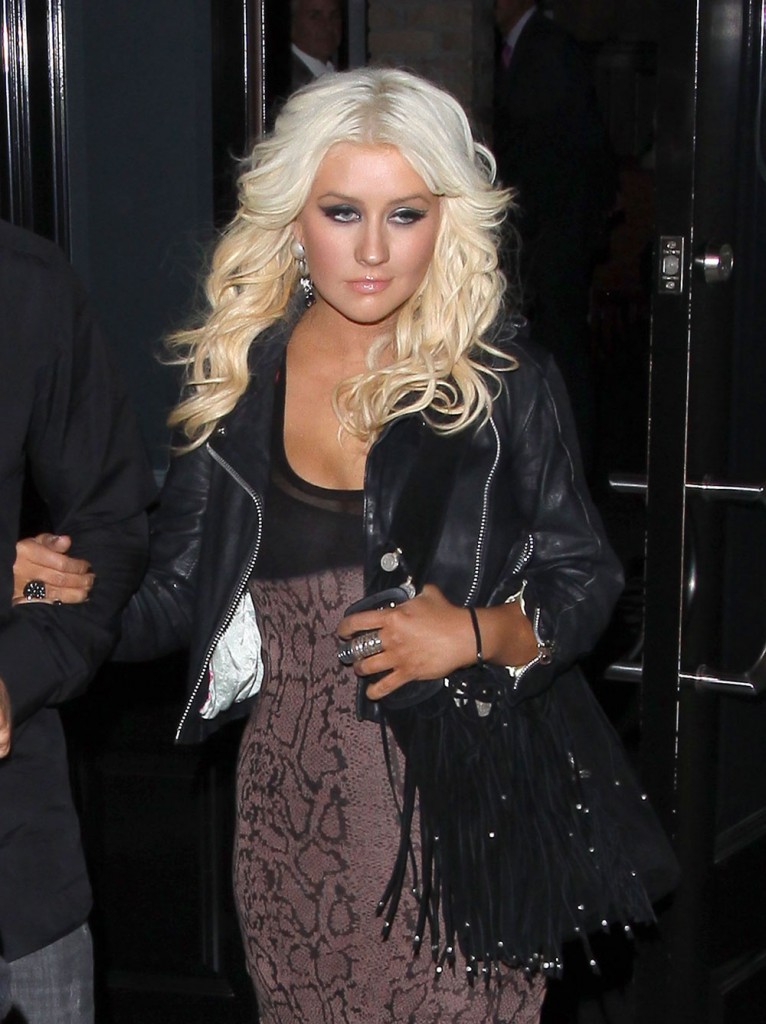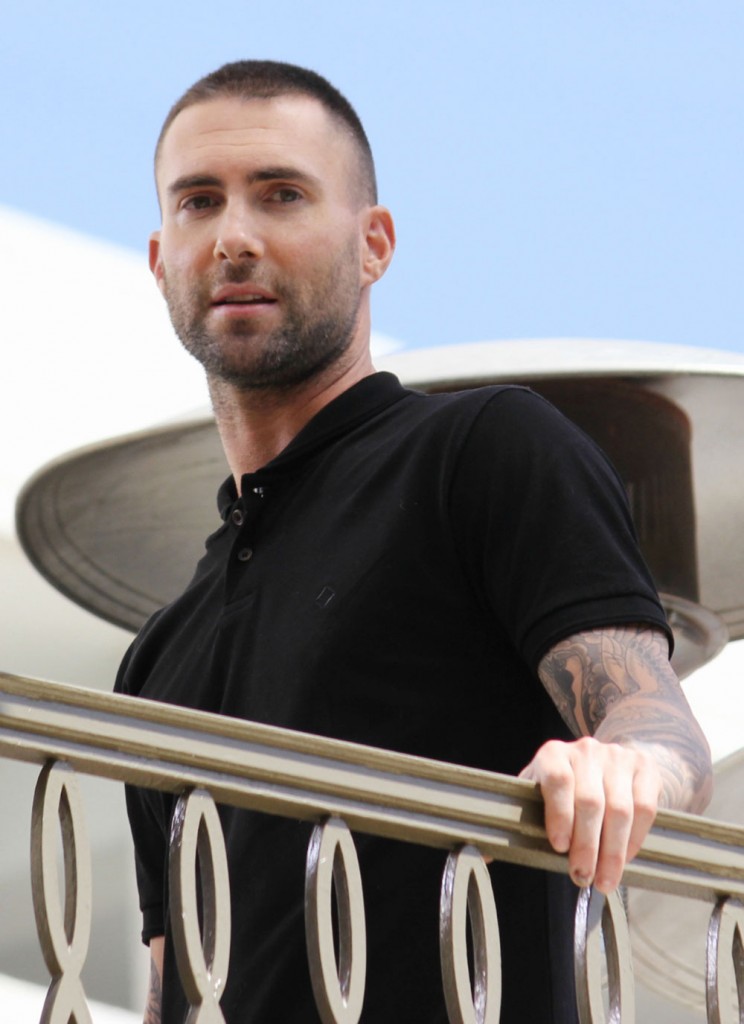 Photo credit: FameFlynet and PCNPhotos