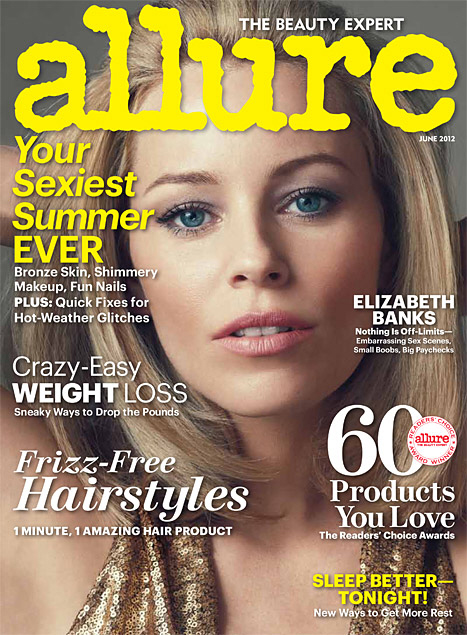 Judging solely by the cover image of the always-underrated and lovely Elizabeth Banks, I was prepared to love this cover shoot. Unfortunately, Allure used their prettiest photo of Banks for the June cover, and all of the other photos are awful. Like, she looks like a wax figure of a blow-up doll in the other shots. It's not cute. Still, we love Elizabeth, don't we? I'm not expecting many people to comment on her though. I've prepared myself for this to be one of the least commented-on posts of the day. You guys would rather rag on Kim Kardashian than show a cool lady like Elizabeth some love. Yes, that was a challenge. LOVE HER, damn it.
As far as Elizabeth's cover interview… it's a bit hit-or-miss. I really love some of the stuff she says, especially about earning more money than her husband. But I feel like the language and terminology she uses to describe becoming a mother through surrogacy… well, it could use some work. It pains me to admit that, because I loved the initial statement she made about surrogacy. Here are some excerpts:
Expecting a baby via surrogacy last year: "I had already mourned the loss of my fertility for myself, so I was past it. The only time it really affected me was when Alec Baldwin looked me straight in the eye and asked me, 'Are you pregnant right now?' Alec Baldwin asked me straight up. I had made a comment about wearing a fake belly, something innocuous, and he looked me straight in the eye and asked me, 'Are you pregnant right now?' And I blanched totally. Because of course, technically, no I wasn't. But then, technically, yes, in a way I was! And it was very weird. I thought Alec was reading my mind or something. We weren't telling anyone then, so I said 'No.' I thought, 'Is that a lie?' Because it wasn't a lie, and yet it was a lie!"

On her son Felix: "It's essentially a test tube baby — it's just the test tube is another woman. That you can grow a baby outside of yourself! It's amazing!"

On What To Expect When You're Expecting: "I did [the movie] for my fellow females," says Banks, who stars alongside Jennifer Lopez, 42, Cameron Diaz, 39, Anna Kendrick, 26, and Brooklyn Decker, 25. "I thought I was standing up for all the women who have crazy horrible pregnancies — you know, there's all these things we're not allowed to talk about in public."

On her weight and body image: "It's not good to put in a magazine what I weigh because it's too little. People freak out when they hear what I weigh," Banks says. "They think, 'Oh, you're too skinny.' But I ate a cupcake last night — and I eat broccoli. I work out with a trainer; she kicks my ass."

She didn't like her figure growing up: "I thought I had chicken legs, and I thought, Oh, my boobies are too small," she says. "It was the era of Cindy Crawford and The Body—and I didn't have that."

Earning more money than her husband: "Well, we're the first generation to do it. And it's very ingrained even in our DNA that men are hunter-gatherers who are meant to go off and provide. And that we are really meant to stay at home and have kids…. Let's be honest. Men love a second income. It gets them their boat and their vacations. They want their wives to work."

Sexism in Hollywood: "When you're young in this business, you don't realize it, but there are no superhero movies starring women! I was very idealistic. And so it was an adjustment knowing I was going into a movie and would be working just as hard as the male actors, and in some cases feeling I was more talented than they were—and knowing I was making a fraction of their salary. And knowing also that this is my reality going forward."
See? I like the part about out-earning her husband and how she knew that she was more talented than most of the men who out-earn her. It's interesting to think that right now, at the age of 38, Elizabeth has finally come into her own as an actress. Meaning that she toiled as a character actress and supporting player for more than a decade, and while she's probably still considered a "character actress," she's getting so much more attention these days because of What To Expect, The Hunger Games and 30 Rock. Her IMDB is insane – she works SO MUCH. God, I love her.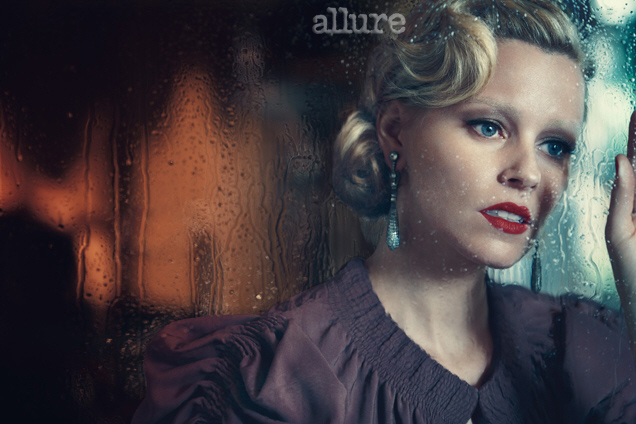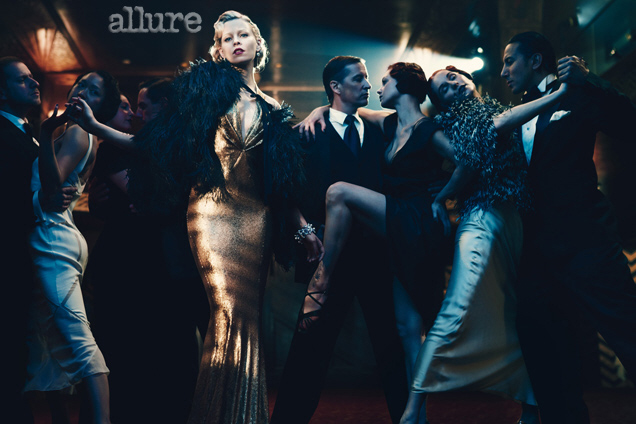 Photos courtesy of Allure.