Taylor Swift, voluptuous in red Elie Saab at the Billboard Awards: beautiful?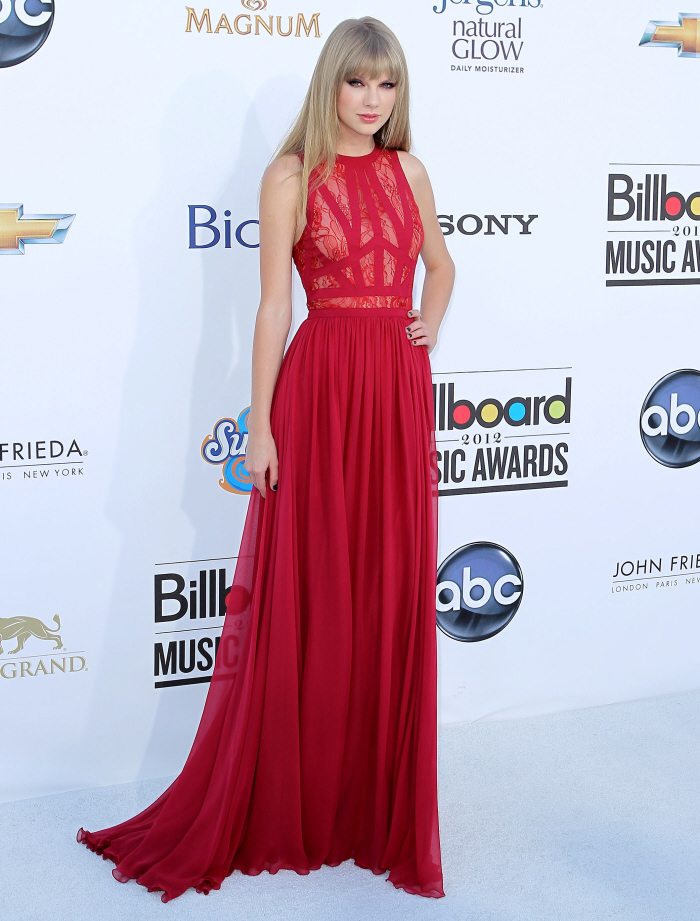 Here are some new photos of Taylor Swift at last night's Billboard Music Awards. Her gown is Elie Saab – isn't it nice to see her in a bright color? This red looks beautiful on her, and I'm so, SO happy it's not a pastel. It would have been great to see her do a sophisticated hairstyle with this gown, but… baby steps. This is a real improvement.
It's also worth noting… is Swifty giving her new boobs their official red carpet debut? About a month ago, there were some whispers that Taylor Swift, famous for being a cute, flat-chested beanpole of a girl, had gotten a boob job. Hollywood Life ran several stories about Swifty's magical upgrade from an A-cup to a C-cup, although the photo evidence was kind of hit-or-miss. Yes, there was one photo set where Swifty's boobs looked seriously enlarged – and one Twitter photo where Swifty's magically busty cleavage was on full display. But in the weeks to come, there was some deflation… although it wasn't full deflation. Which makes me think that this whole "Swifty got a boob job" story was true, but she didn't go on for the bigger C or D-cup. She just upgraded to a solid B-cup, bordering on C, and she invested in some push-up bras and stuff. Just my opinion. Here's a photo of Swift on April 1st, once again: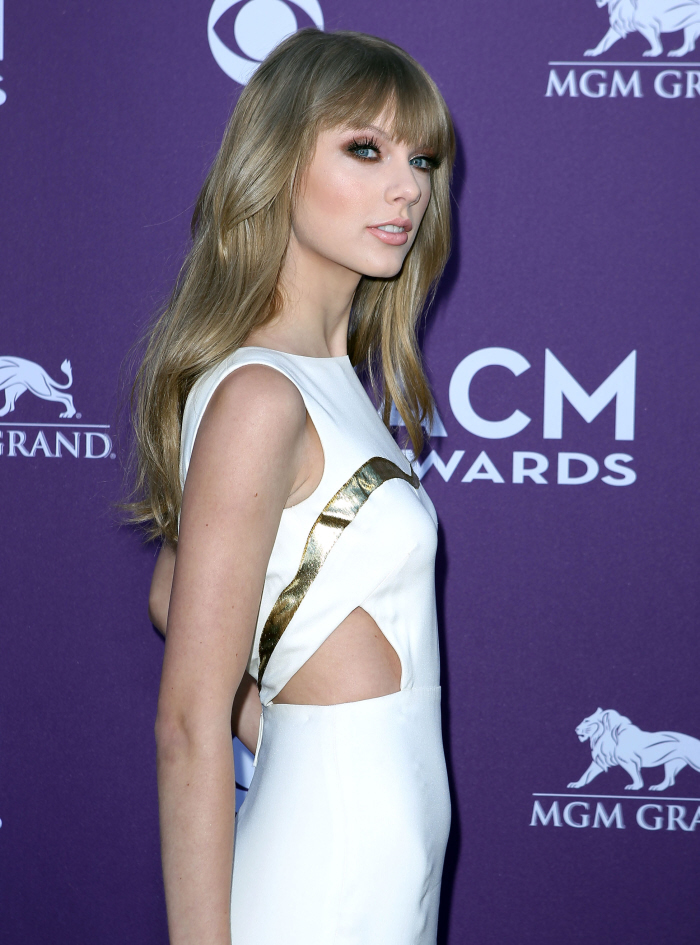 And here she is last night: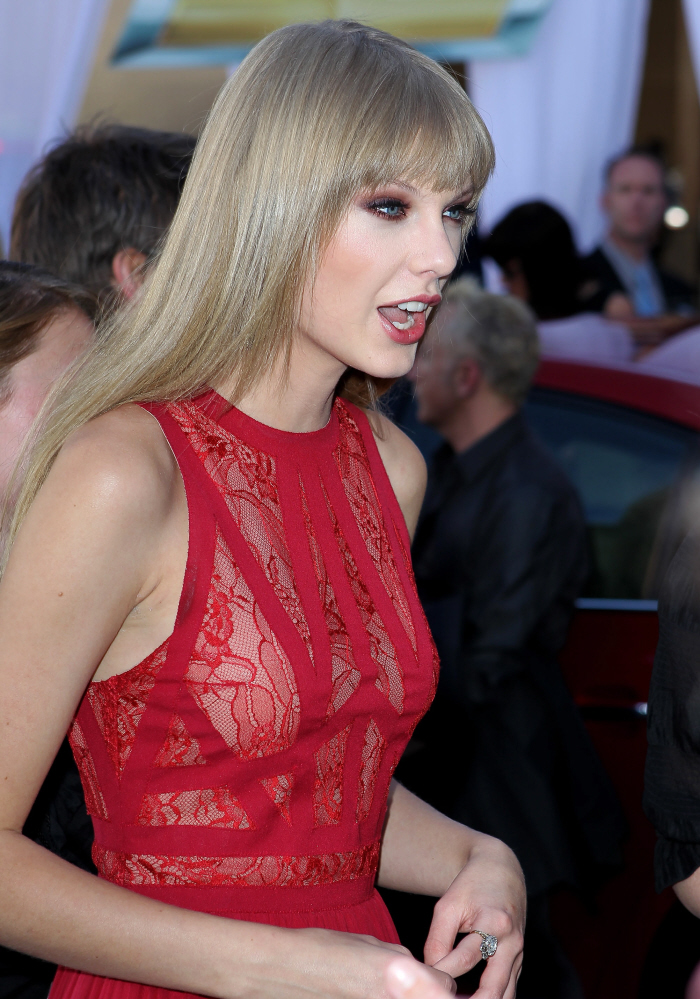 So… yeah. From an A-cup to at least a B-cup. I think she's showing off her new boobs. I also think it's interesting that Swifty and her reps haven't explicitly denied the implant story – Gossip Cop ran a denial, but it was a weak one from an unnamed "source close to Swift." There hasn't been an official word. Interesting. Of course, it's her body, her choice. I'm just interested in how Swifty explains her boob job to her young fans.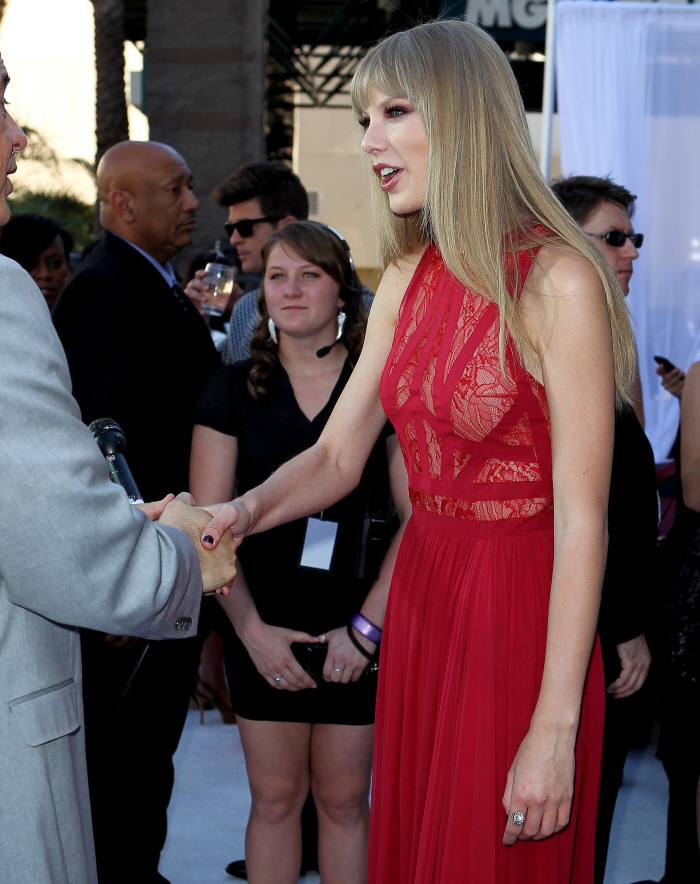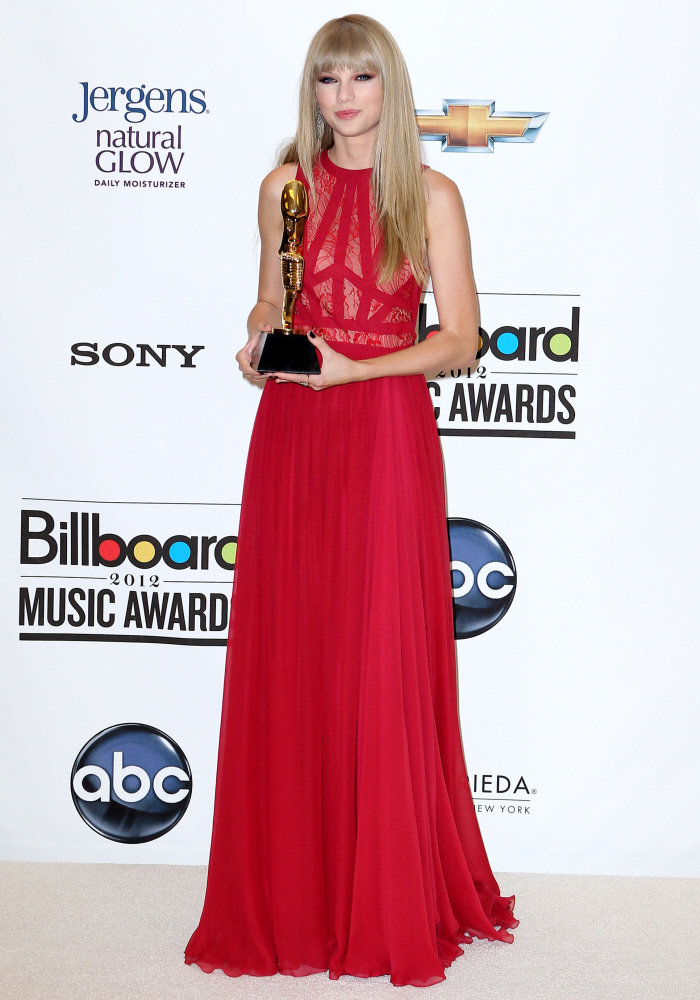 Photos courtesy of WENN.

Written by Kaiser

Posted in Fashion, Taylor Swift

- Who butchered the National Anthem? [D-Listed]
- Rob Lowe never ages [Lainey Gossip]
- What is Vanessa Hudgens wearing? [Go Fug Yourself]
- Summer guide to reality TV [Reality Tea]
- Game of Thrones recap [Pajiba]
- Tan Mom's music video [Buzzfeed]
- Amanda Knox is broke [Starcasm]
- Backstage at the Billboard Awards [Popsugar]
- Miley is still stuck in the 90s [Popoholic]
- Blind Items revealed: Adam Levine [CDAN]
- Hugh Hefner bought Crystal Harris a house [Celebslam]
- What happened to Aimee Teegarden? [The Blemish]
67 Responses to "Taylor Swift, voluptuous in red Elie Saab at the Billboard Awards: beautiful?"