Is Megan Fox already five months pregnant and due in September?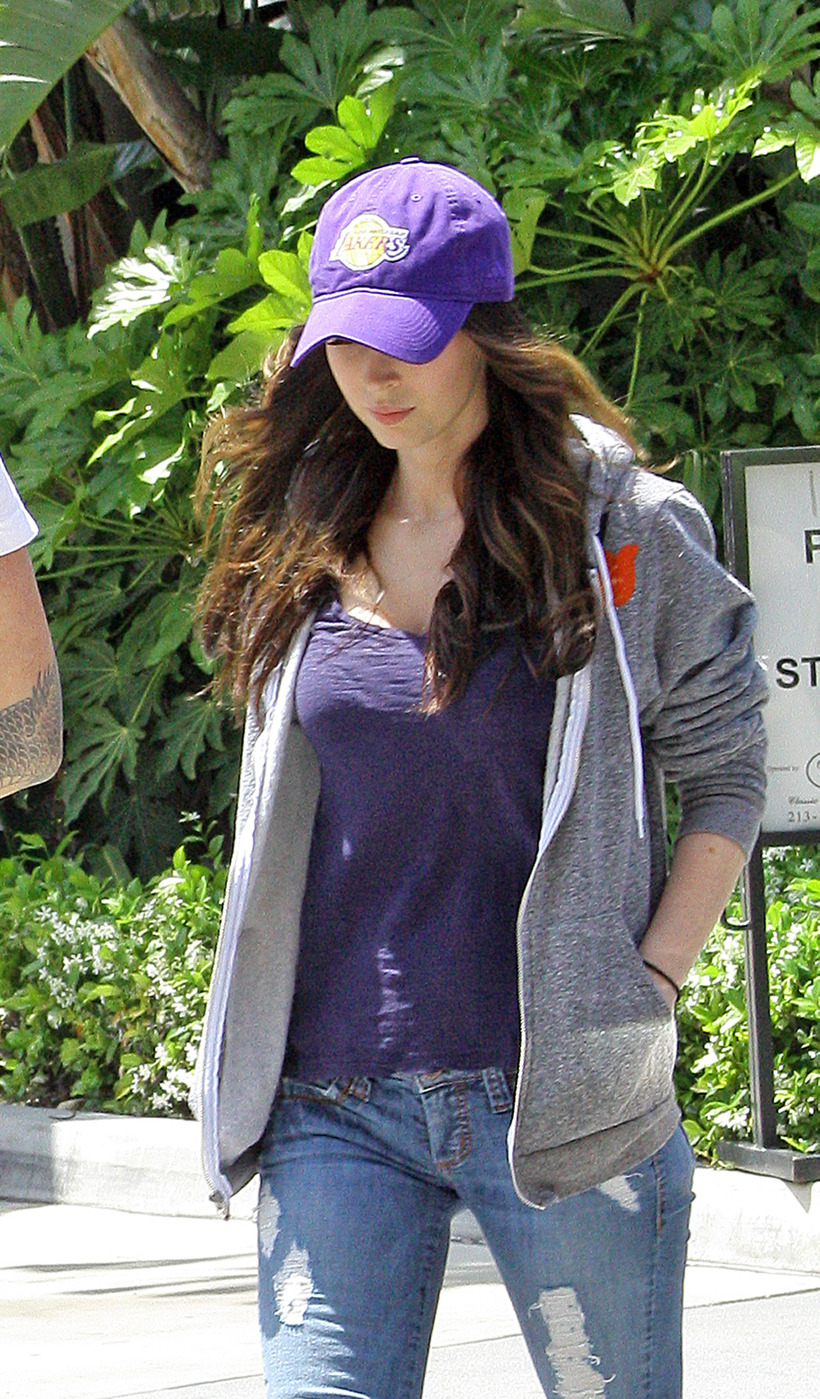 Back in March and April, several different media outlets were all "confirming" Megan Fox's pregnancy through various unnamed sources. I think the Bump Watch began at Star/Radar, then continued over to E! News and Us Weekly, and throughout it all, Megan still hasn't directly confirmed or denied the news. In fact, when Entertainment Tonight tried to get her to go on the record a few weeks ago, Megan's publicist threw a hissy and shut down the interview (sort of). So… still no confirmation.
Now there are two new wrinkles on Megan's Bump Watch. One, these photos at Celebuzz – go here to see (we don't have access to them). Megan looks like she's showing, but it could just be a weird blouse and some wind, I guess. Second thing: Radar is still saying Megan is knocked up, and now they claim she's expecting a girl.
Megan Fox's dream is coming true! The pregnant actress and husband Brian Austin Green are expecting a girl, Star magazine is exclusively reporting.

"She's been helping to raise Brian's 10-year-old son, Kassius [by ex-girlfriend, actress Vanessa Marcil], for years, and now she'll have the experience of being mommy to a little girl," a source tells Star. "Obviously, Megan and Brian would be happy with a healthy baby of either gender, but they're beyond thrilled that Kassius is going to have a little sister."

Star was first to report the news that the Transformers beauty,26,was expecting her first child with her husband of nearly two years.

"She'll be due at the very end of September or the first week in October," the source adds. "Megan is attached to a movie called Swindle, but it's in rewrites and probably won't even begin filming until next year. So right now her plate is totally clean, and she can devote herself to her baby."
Due at the very end of September… probably means a Christmas conception. Which means she's coming in on five months along right now? That's interesting. Megan is a very small, petite girl. Google says that she's only 5'4" – and pre-pregnancy, my guess for her weight is maybe 105 pounds, give or take ten pounds. What I'm saying is that I'm surprised she wasn't showing back in late March and early April. Although… Megan really doesn't get pap'd as much as she used to, so it's probably a combination of that plus she's actively trying to hide her bump.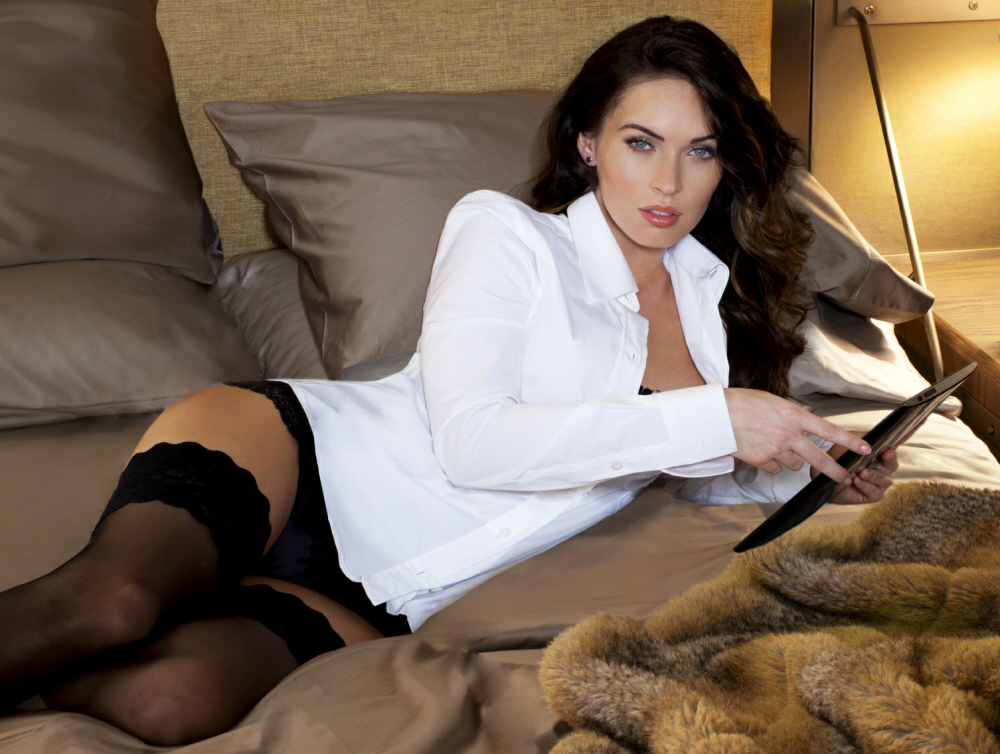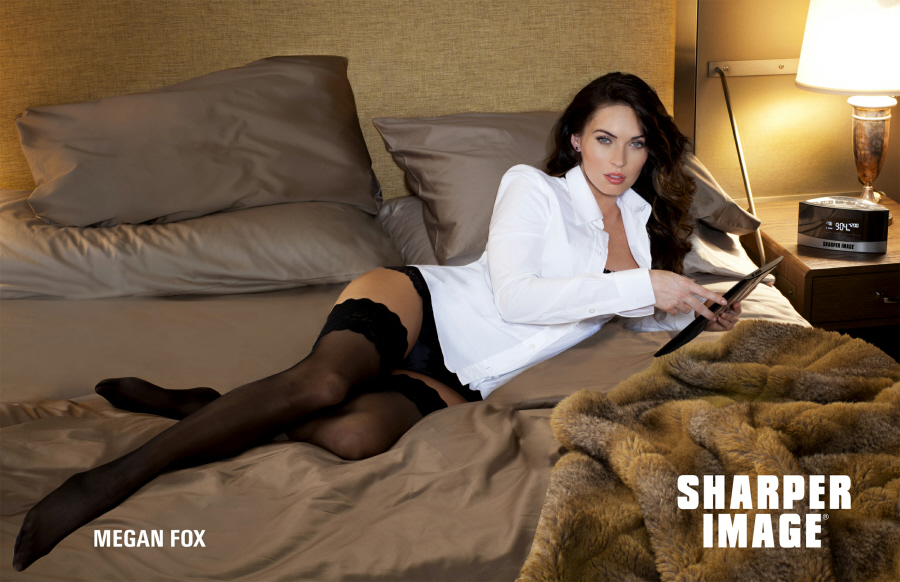 Header photo of Megan on April 29, 2012 (she would be allegedly four months pregnant then). Ads courtesy of Sharper Image.

Written by Kaiser


- Harry Styles & Kimberly Stewart going strong [Lainey]
- Demi Moore's new man is gross [D-Listed]
- Fug or fab: Emma Stone [Go Fug Yourself]
- Arrest warrant issued for Jenelle Evans [Reality Tea]
- Only God Forgives review [Pajiba]
- Hugh Jackman, scooter master [Buzzfeed]
- Who does Drew Barrymore call her sister? [Evil Beet]
- Cannes couples past and present [Popsugar]
- Arrested Development supercut [CDAN]
- Lea Michele's see through skirt [Celebslam]
- Cheating wife's lover escapes out of window [Movin925]
- Joe Francis is crazy [Starcasm]
33 Responses to "Is Megan Fox already five months pregnant and due in September?"