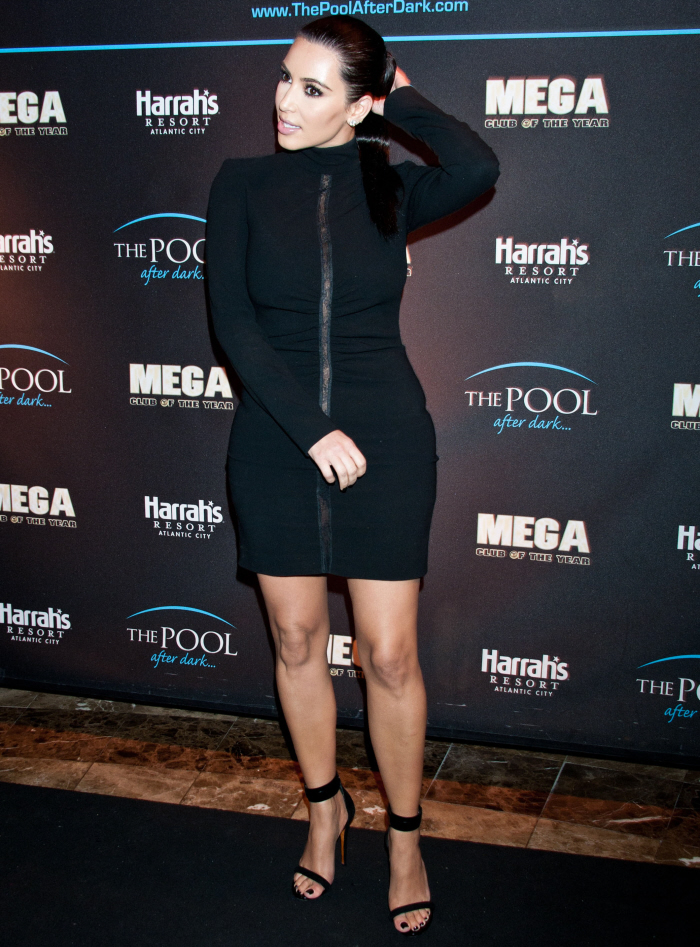 These are some photos of Kim Kardashian in Atlantic City a few days ago. Good God, how awful is this dress? It's like something designed by Kanye West – "For the Cocktail Waitresses/Escort In Your Life". Anyway, I just never got around to using them yesterday, because I was too busy marveling over Kim's 2006 Face in our post about Paris Hilton being totes jelly over Kim Kardashian's Fabulous Famewhore Extravaganza. According to Radar's Paris is seething with jealousy because Kim is now super-famous, and Paris thinks Kim just co-opted her playbook and improved upon it… which is true. Anyway, Radar has a follow-up! And it's just as dumb as you'd imagine:
Paris Hilton is fuming over her frenemy Kim Kardashian's meteoric rise to fame, but RadarOnline.com has exclusively learned that Kim just shrugs off any news about her former bff.

"Kim couldn't care less about Paris, or what she thinks about her," a source close to Kardashian tells RadarOnline.com.

While Paris was at the top of her fame her trusty sidekick was Kim, but they fought with each other and are now no longer friends. However, Kim's fame has skyrocketed since and as RadarOnline.com exclusively reported, this has infuriated Paris.

"Kim will always be a sore spot for Paris because she believes that without her Kim wouldn't have the success she has in her life," a source close to the situation previously told RadarOnline.com. "Paris thinks Kim wasn't a loyal friend to her and only used her to gain fame and that she is ungrateful for everything Paris claimed to do for her."

Kim and her family have become household names the way the Hiltons once were, and this has annoyed Paris' family.

"Bottom line, Kim used her friendship with Paris, straight up," the source says. "She knows what she did and doesn't care. It's just like she's now using Kanye West to advance her agenda."

Kim and her sisters have seen a financial windfall lately, especially with their reported $40 million payday for their E! reality shows, while Paris' recent Oxygen network show flopped.

"The Kardashians used the Hiltons all the way to the bank," the source says. "Kim is so desperate for attention, even within her own family. She decides to wear ridiculous colored wigs for no reason other than to see how they all react to her."
Do you expect me to have an opinion? I don't. I guess I'll say that Paris is still stupidly upset that Kim has a few more brain cells to rub together, and thus, Kim eclipsed Paris with a great deal of ease ("ease" = famewhoring). Paris is just so dumb. That's the only strong opinion I have.
Meanwhile, while Kim was in New Jersey, she caught Beyonce's concert on Sunday. Us Weekly reports that Kim was even allowed backstage!
After touring Cannes, France last week and unexpectedly parting with some "sentimental" items in her luggage, Kim Kardashian was looking to let loose. So on Sunday, the Keeping Up with the Kardashians star made a beeline for Beyonce's concert at Revel's Ovation Hall in Atlantic City, NJ for a night of dancing and singing along with the songstress' chart-topping hits.

Backstage, Kardashian, 31, got a chance to chat with the woman of the evening herself, and the pair were seen greeting each other with an embrace and dancing together. Beyonce's husband of four years, Jay-Z, is best friends with Kanye West, Kardashian's serious boyfriend.

"Kim thought it was such a great show," a source tells Us Weekly. "There's always some random rumors there is tension between them and there totally isn't! Kim had so much fun."
"There's always some random rumors there is tension between them and there totally isn't!" Or so says Team Kat-Face. I would like to know what Team Beyonce has to say, because there really were some rumors floating around that Beyonce had banned double-dating with Kanye and Kim, and Beyonce had declared Kim to be "beyond cheesy". But! Kim was hanging out with Kanye and Jay-Z together in Europe, so it's not like Jay-Z is totally opposed to spending time with his BFF's new girlfriend. So maybe Beyonce is coming around too?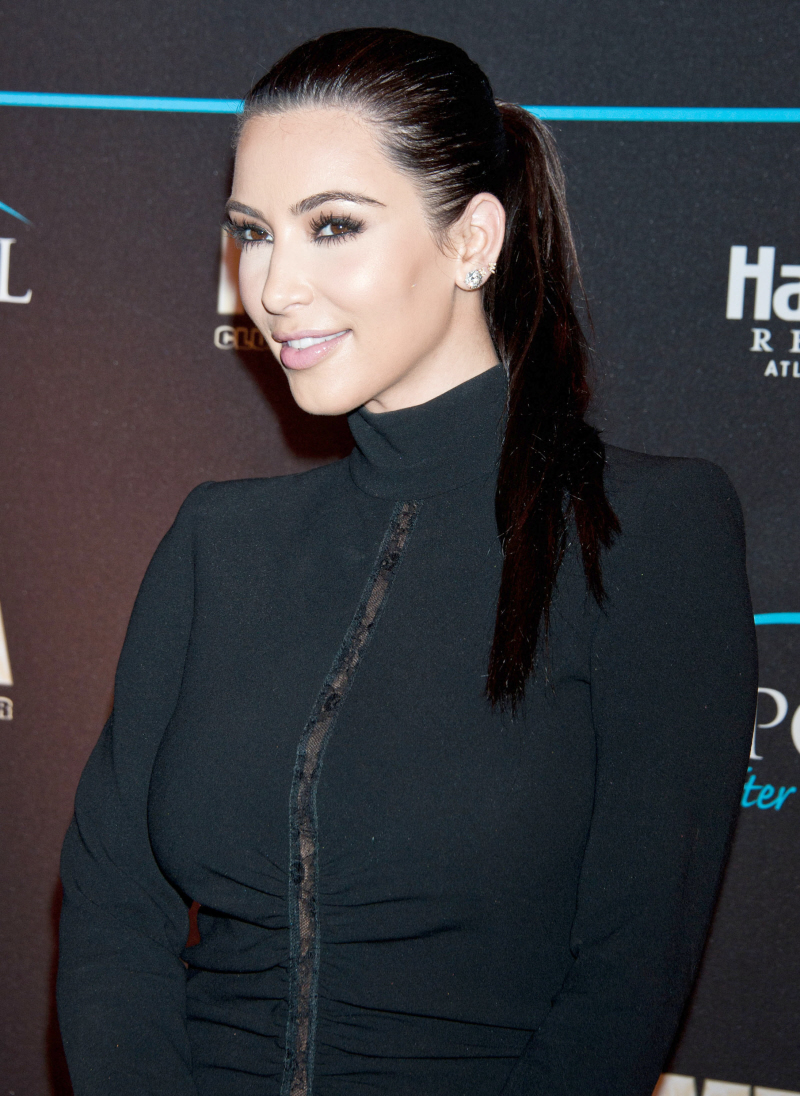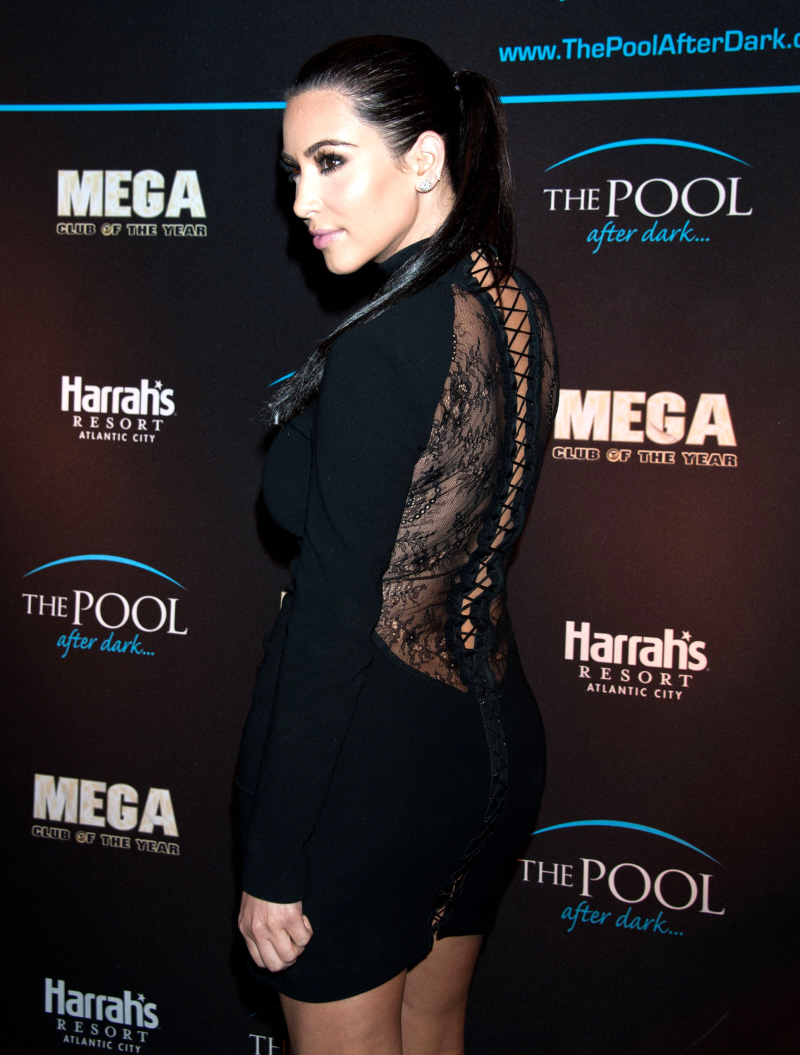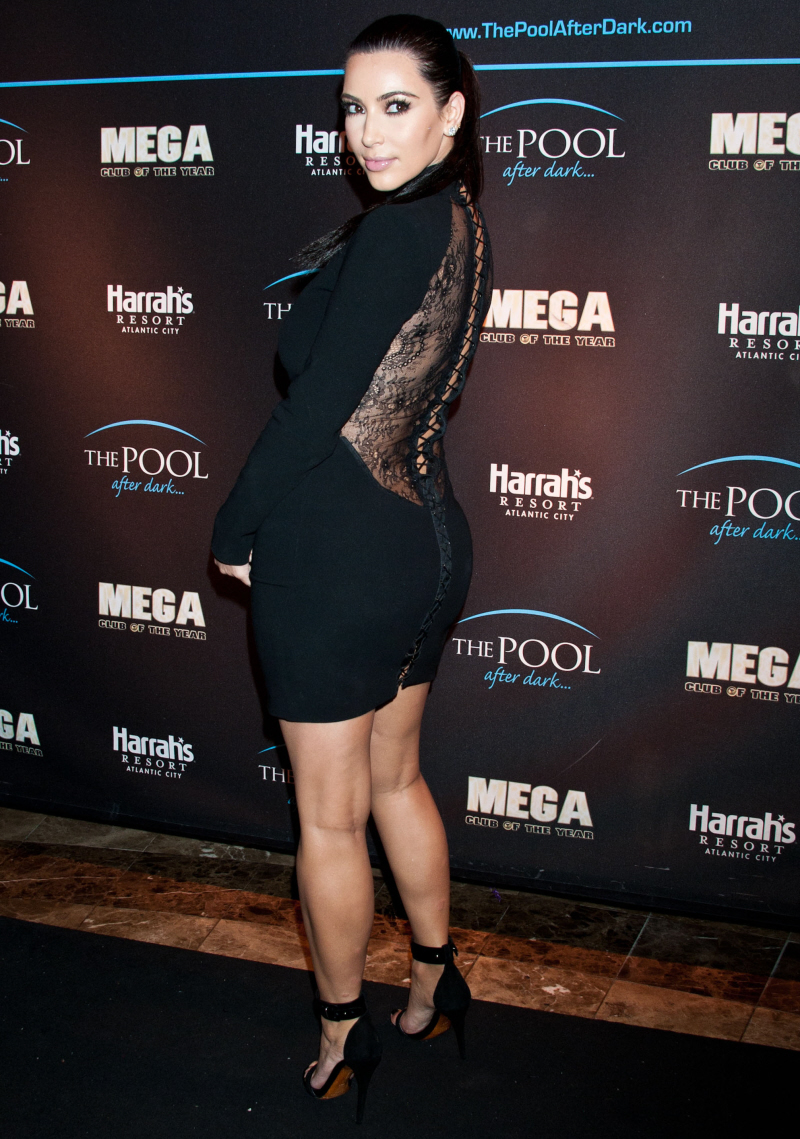 Photos courtesy of Fame/Flynet.