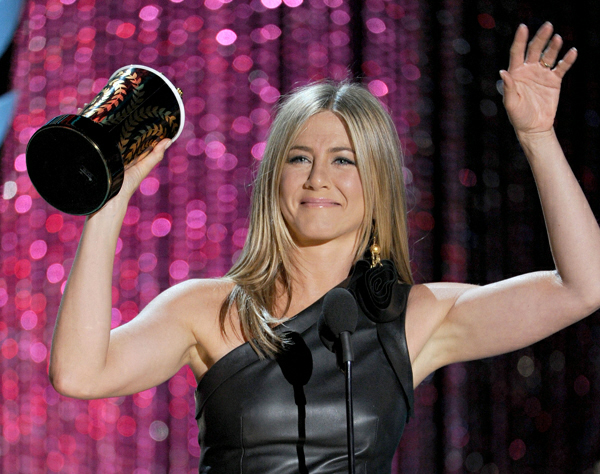 I'm developing a conspiracy theory about Jennifer Aniston's appearance at the MTV Movie Awards last night. MTV hasn't released the video of Aniston's victory – for "Best Dirtbag" for her role in Horrible Bosses – at this point, and they've released most the videos clips so far. No one else – no other site, no You Tube – has video of Aniston's win. I actually saw Aniston's "victory speech". I have to say… she seemed wasted. She was slurring and muddling her words and she seemed kind of out of it. To be fair… maybe "wasted" isn't the right word. Perhaps "buzzed" or "half in the bag". She wasn't falling-down drunk or anything. But when she spoke, it was noticeable.
So… why hasn't MTV released the video? Conspiracy?!! Don't even say "they didn't release the video because no one cares." Every site is covering Aniston's Dirtbag win. Everyone cares. Did Team Aniston shut it down?
During her (slurred) acceptance speech, Aniston said: "I mean, do you know how long I have tried to have somebody let me unleash my onscreen dirtbag? And thank god this category just popped up…so I would like to say thank you to the television show Friends for letting me unleash the inner sweetheart. And here's to [Horrible Bosses director] Seth Gordon for allowing me to be a dirtbag. Thanks, dirtbag." Imma letchu dirtbag mmmm…
Oh, and Aniston wore this leather LBD from Valentino. It wasn't cut for her body – her boobs seemed really smashed down, and the stiffness of the leather gave her a phantom gut. Sorry we don't have more photos of it – she didn't pose on the red carpet at all, so there are only photos of her inside the venue. Why didn't she walk the carpet? Is she "too big" of a star? Or did Huvane (her date) shut it down?
UPDATE: Conspiracy over! MTV finally released the video. I swear, she's… toasted.
PS… Remember when Aniston was toasted for the People's Choice?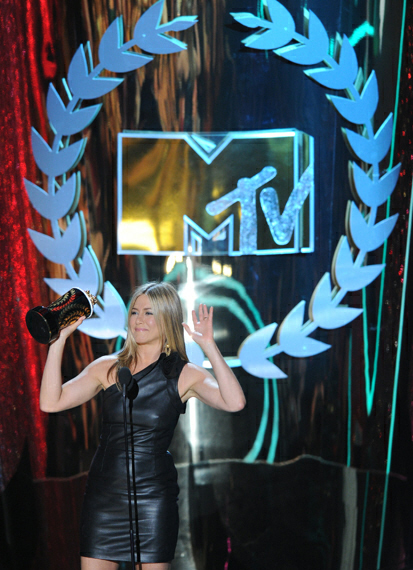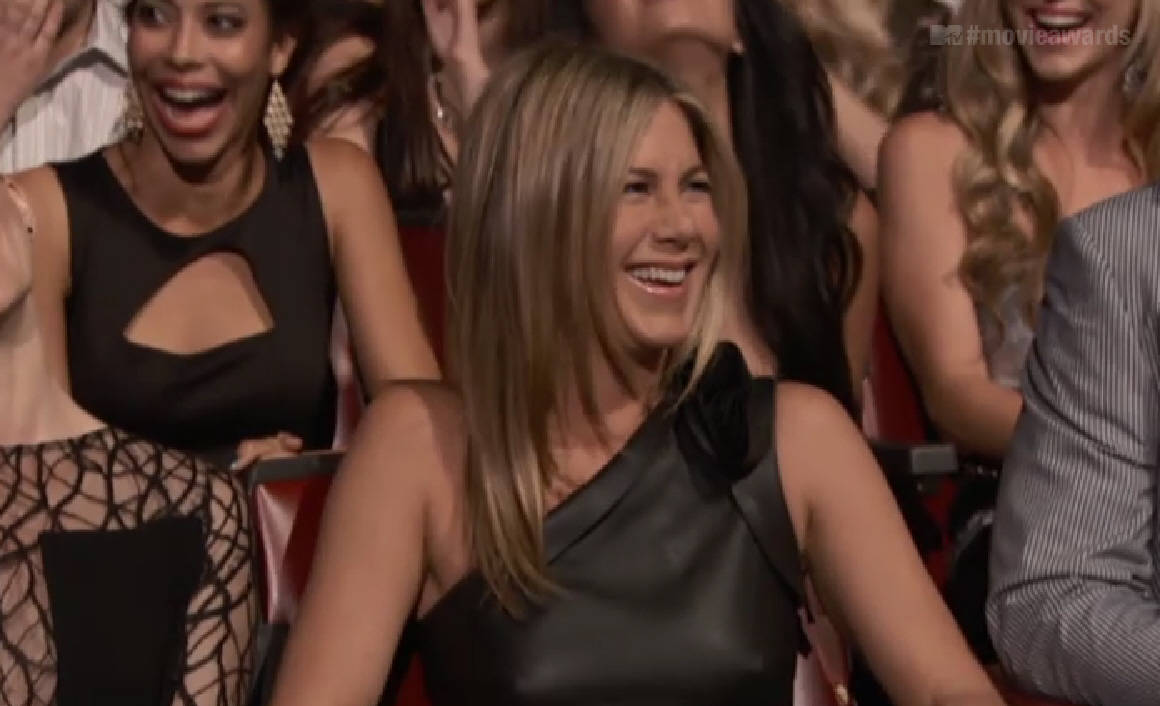 Photos courtesy of MTV.