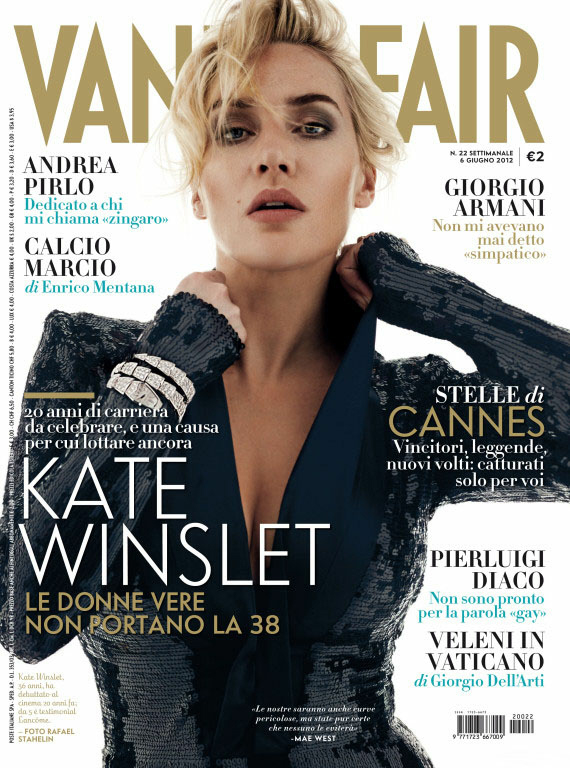 Kate Winslet covers the new issue of Vanity Fair Italia – this is a new photo shoot and interview, as opposed to something VF Italia jacked from one of their sister publications. I mentioned this in yesterday's links, but I guess I'll say it again: Winslet looks really odd (to me). Of course, this oddness is probably Photoshop, although… in candid photos, Winslet looks pretty much the same as this. Anyway, have you heard? Kate Winslet is an advocate for "normal" women. Here are some highlights from Kate's interview:
Winslet on whether she's bored with talking about body image: "Better say that I'm bored of what it means that we are still here talking about it: it means that nothing has changed. Otherwise, no, I believe it is important to go on insisting that normality is not what we are exposed to. Honestly, among my acquaintances there is no woman wearing XS. No, sorry, there is one: my daughter. The point is that Mia is 11 years old."

On criticism of her shape: 'It's one of those things I learned quickly to ignore. Once it was different, it hurt me. When I was twenty I pretended it didn't bother me, but I felt very bad, I did. In front of journalists and the public I acted superior, but I was dying inside. Now everything is different. It takes time, but you can learn it.'

Getting rid of "the fat girl": "It's true that you need much time to get rid of the fat girl you once were, but – you know – I am sincerely grateful for my buttocks. Wow, isn't this a wonderful line?"

On her normal life: "I have always lived an ordinary life, and always will. It's who and what has to do with my job that makes it "unordinary." I cook, go to the supermarket, pick my children up at school."
Maybe I'm being oversensitive (it happens) or maybe I'm being too bitchy (that definitely happens), but I find Winslet's whole "I'm a positive body image advocate because I used to be FAT just like you" argument to be so, so patronizing. There are lots of women who struggle with their weight, of course. There are lots of women (the overwhelming majority of women) who are not even close to being a size zero. Why does Kate want to be our patron saint? Because she was chubby in her early 20s and then she remade herself into a sleek, tucked, sucked and plucked Hollywood blonde? If we're really going to have a conversation about body image and the messages actresses send to "normal" women, what does it say when a lovely, curvy-figured woman starts carving herself up and drastically slimming down over the course of a few years? And what does it say to women when Kate Winslet refers to her curvy-figured years as "the fat girl"?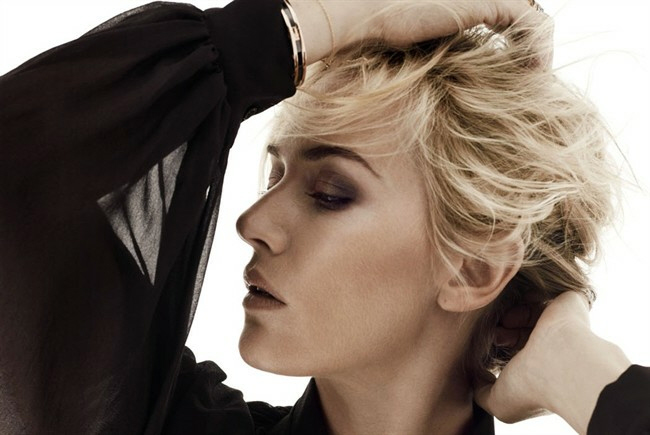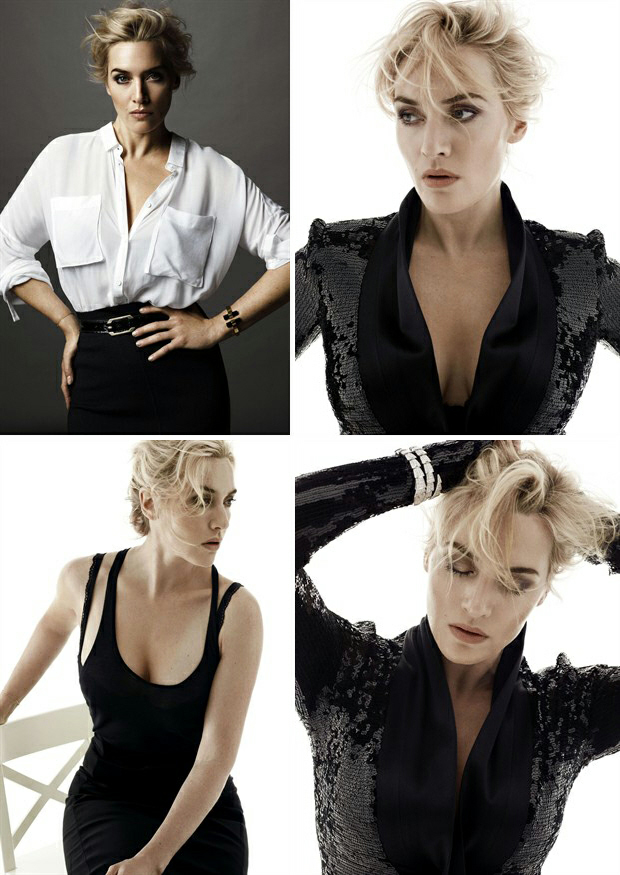 Photos courtesy of Vanity Fair Italia.