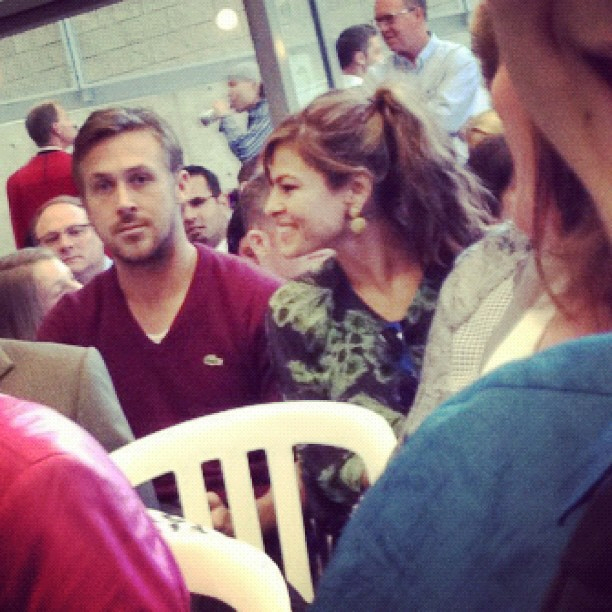 This is a fan photo (via Instagram) of Ryan Gosling and Eva Mendes at the graduation ceremony of Brock University. I will get to that backstory in just a moment. First, I should point out that those photos we covered on Monday – the ones of Ryan and Eva at LAX together – were the beginning of their wild and crazy Canadian adventure. They've been in Canada all week. LaineyGossip had some of the details here – first they went to Montreal, then Toronto, and then to St. Catherines in Ontario, which is where Brock University is located. So why go to this seemingly random graduation? Ryan's mom graduated!!
Mega star Ryan Gosling proudly watched his mom graduate from Brock University Wednesday. The 31-year-old Canadian actor created quite a stir when he attended the St. Catharines campus with his Hollywood girlfriend Eva Mendes, 38.

Fans lined up outside the auditorium and Twitter blew up with news of sightings. For hours Wednesday afternoon Brock University was trending in the Top 10 on the popular social networking site in Canada.

When approached by The Standard, Gosling said he wasn't doing interviews.

"This is my mom's day," he said.

Gosling, who has starred in more than 30 movies including The Notebook, Drive and The Ides of March, left the ceremony early so he wouldn't disturb the proceedings. Mendes left shortly after. They met up in a room where the graduates went following the event.

"He requested privacy for himself and his family," said university spokesman Kevin Cavanagh. "He told me this was his mom's day and the graduates' day. He didn't want to be a diversion."

Kerri Behling, 21, volunteered to help out at the graduation ceremony after hearing rumours that Gosling was going to be there. She, along with at least a dozen other people, stood on a landing outside the gym, shooting photos of the back of Gosling's head.

"I've never seen a famous person before," the 21-year-old Brock student said.

Seeing Gosling for her first star sighting made the experience that much better, she said.

"I think he's the same person as he was in The Notebook," she laughed. "I'm out here waiting for a proposal."

Brock students Amy Wilson, 22, Erin Wyhoda, 22, and Nicole Studenny, 23, went to the school's convocation after hearing that Gosling's mother was graduating.

"He walked right by us," Wilson said, noting they all stood there stunned, not even snapping a picture.
[From St. Catherine's Standard]
That would be me – I'd be one of those people too "stunned" to even move if I chanced upon one of my favorite male actors. I talk big about throwing myself at the likes of Michael Fassbender, but in reality, I would probably just stand very still, watching him like a hawk, not even daring to breathe. Anyway, it's nice that Ryan came to his mom's graduation. I have mixed feelings about Ryan making such a "thing" about it not being his day. Surely there could have been a happy-medium, like he could have given an interview to a local paper and still established that the day was all about the graduates? Because it's weird to think that Ryan really expected to NOT get fan-girl'd.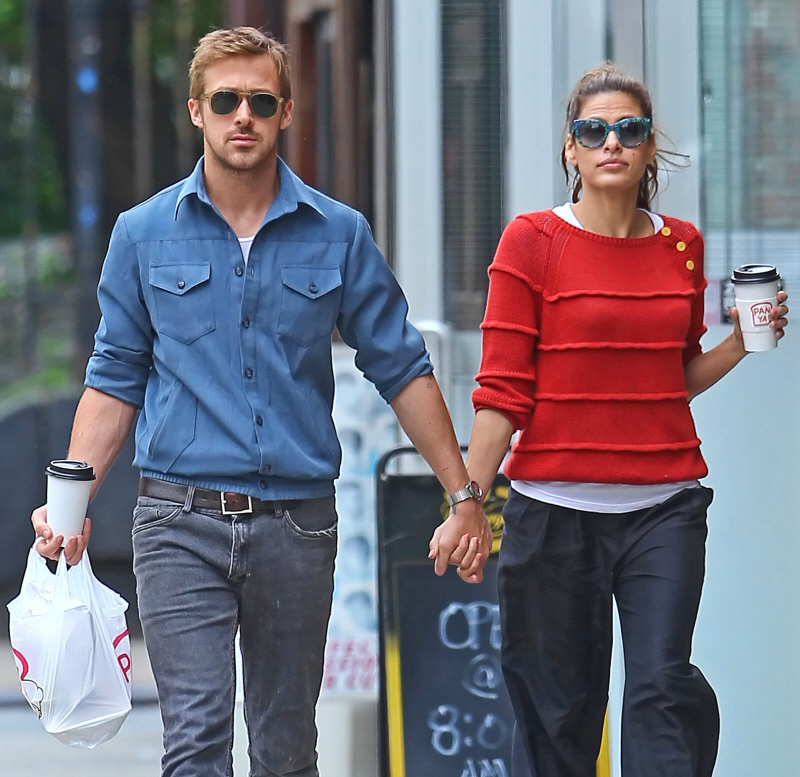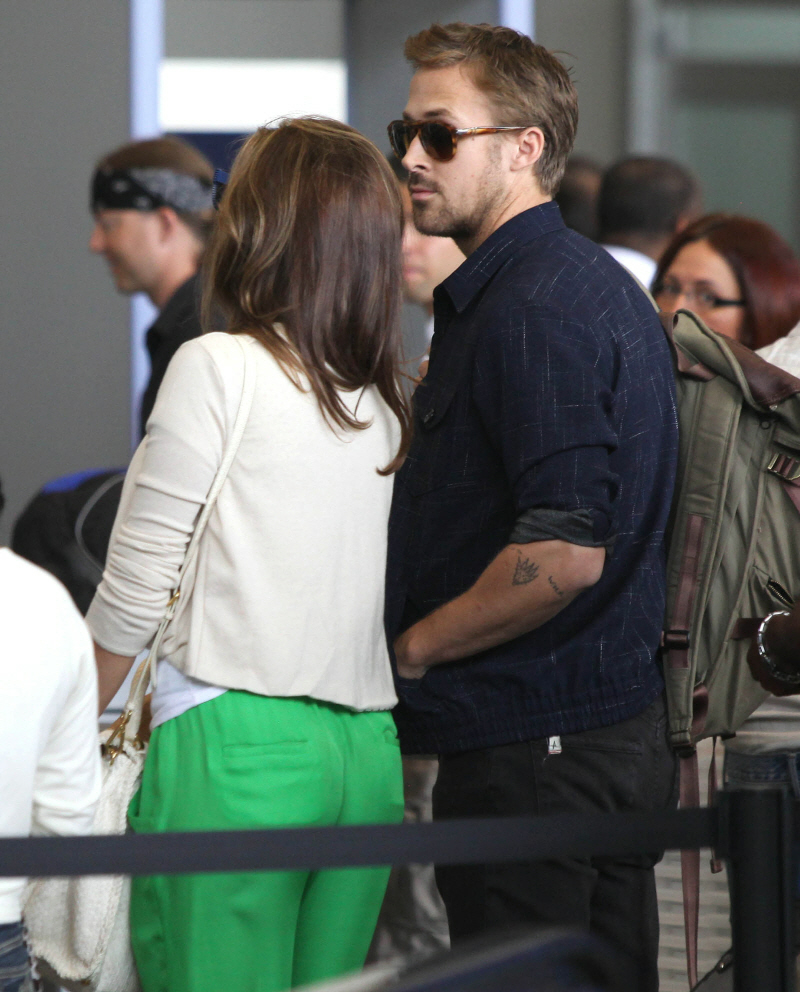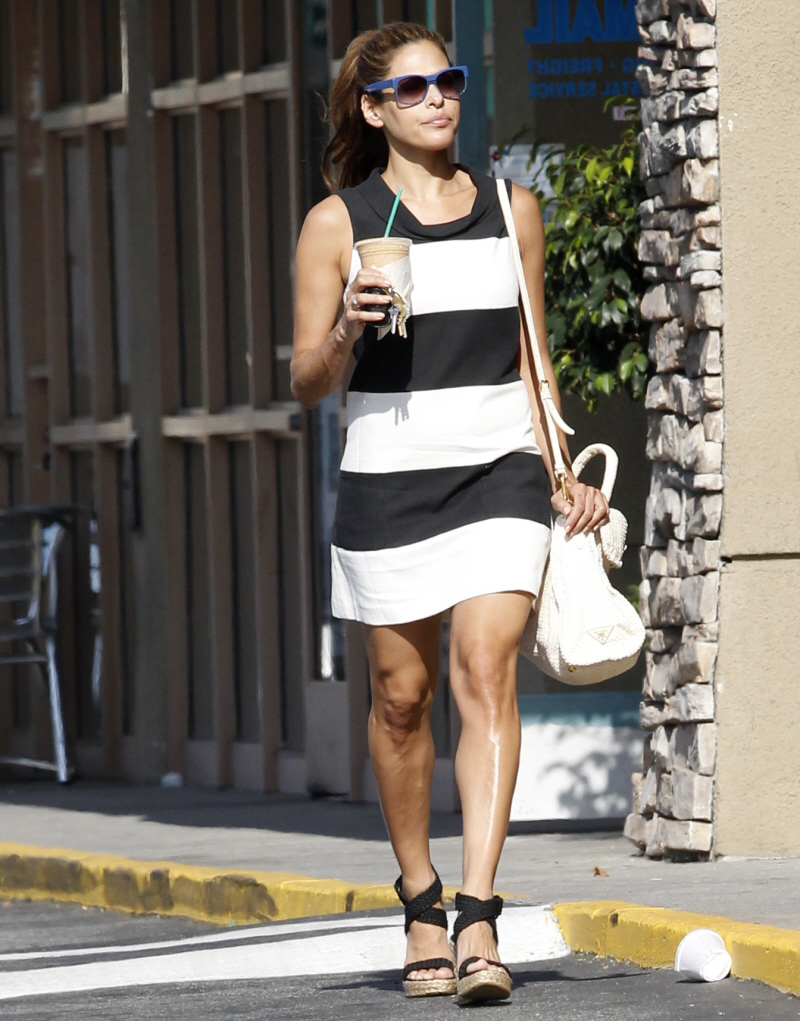 Photos courtesy of Instagram, Fame/Flynet.