Lindsay Lohan's 'Liz & Dick' coworkers think she looks exactly like Liz Taylor: really?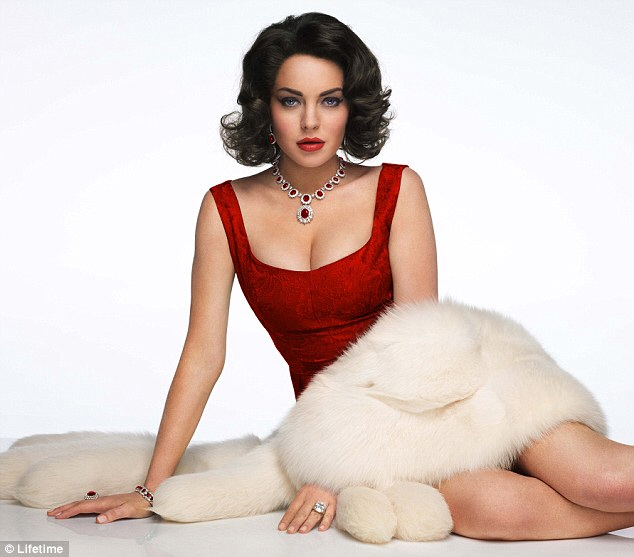 This is yet another "official" promotional image from The Most Important Television Movie of Our Time, The Crack Chronicles: The Making of 'Liz & Dick'. Seriously, I would rather watch the "making of" Liz & Dick than actually have to sit down and watch Lindsay crack-rasp her lines in between her horrid crack-pouting. But to hear the Lifetime people talk, this is the most magnificent production EVER. The rules for the Academy Awards are going to be re-written so The Cracken's performance as Elizabeth Taylor can be nominated.
When Lindsay Lohan first walked onto the set of Lifetime's Liz & Dick dressed as screen legend Elizabeth Taylor, "there was an audible gasp," the movie's costume designer, Salvador Pérez, tells PEOPLE. "You'd swear it was Elizabeth."

Dressed in Taylor's favorite styles — jewel-toned cocktail dresses, fur coats and those famous gems (well, good fakes) — the actress looked remarkably like her screen idol. "She just walked into the clothes and became Elizabeth Taylor," says Pérez.

Producer Larry Thompson had some of Taylor's most famous bling, including the 33-carat Krupp diamond, recreated for the film. "Part of the magic is the wardrobe," he says. "And Lindsay said she wants to bring magic to the movie." Many of the vintage dresses fit her like a glove, too; Lohan's waist measures a tiny 23 inches, while Taylor's was a mere 22 inches.

Lohan will wear 66 different looks in the 80-minute biopic, which begins in 1961, ends with Richard Burton's death in 1984 and focuses on their tumultuous relationship (an affair while she was still married, two weddings and two divorces). To prep, Lohan hired a voice coach and even dyed her auburn hair a deep brunette to better match Taylor's dark tresses.

Lohan's hair and makeup will span all of Taylor's looks, from the long lashes and red lips of the 1950s (attained using M.A.C's "Hot Tahiti" lipstick) and the Cleopatra-inspired eyeliner and nude mouth of the '60s to her teased '80s bouffant, always with her trademark eyeliner to accentuate her famous violet eyes. (Lohan is wearing opalescent lavender contacts for the role.)

"She brings in makeup for me," makeup artist Eryn Krueger Mekash, who's using mostly Chanel, Dior and M.A.C products, tells PEOPLE. Adds the movie's hair stylist, Beatrice De Alba, "She looks so much like her. There was a moment when she saw her picture on the monitor and said 'I'm her.' It was thrilling."
"There was a moment when she saw her picture on the monitor and said 'I'm her.'" I think the makeup artist is misquoting The Cracken. Lindsay saw herself on the monitor and said, "Ew, gross, that's such a horrible shot of Liz! She looks like such a sketchy hooker." Why is this whole thing like a children's story gone awry? One of my favorite stories when I was a kid was "The Emperor's New Clothes". That's what this is – why is everyone even bothering to pretend that Lindsay is NOT a wildly offensive choice to play Elizabeth Taylor. Look at these photos – The Crackhead simply does not resemble Taylor in the slightest.
Did you notice – my question about the jewelry reproduction was answered. Lifetime can't afford to even borrow any real gems, so everything is being recreated on a budget. And I bet Lindsay STILL crack-heists every single (faux) bauble.
Do you believe Lindsay's waist is 23 inches? I don't. I'm not judging her size either way, I simply don't believe her waist is 23 inches.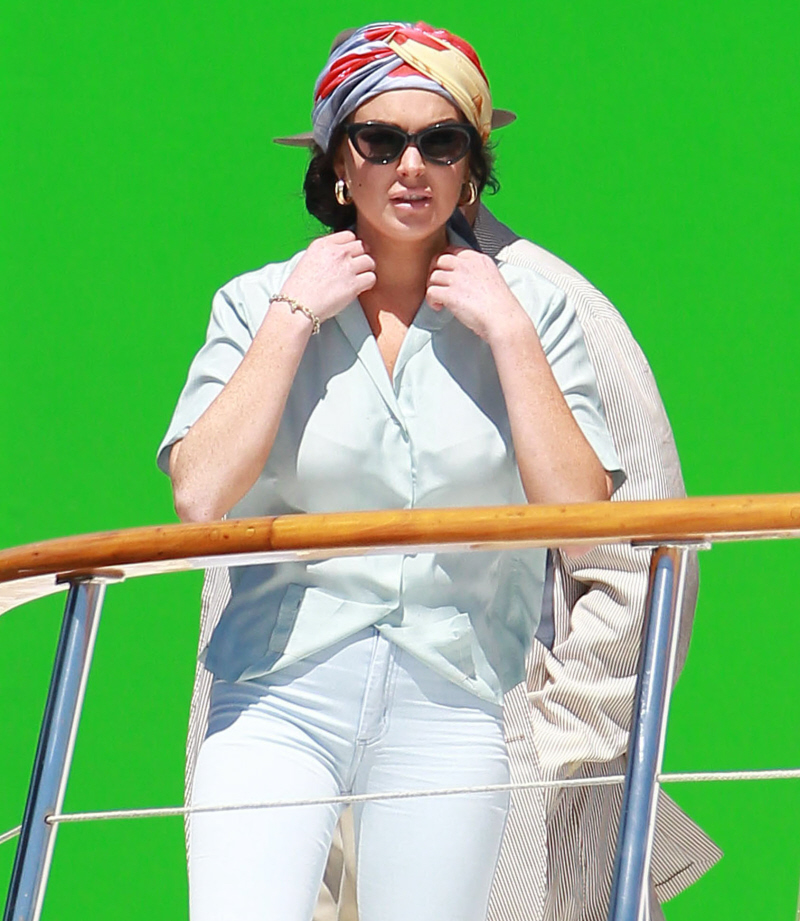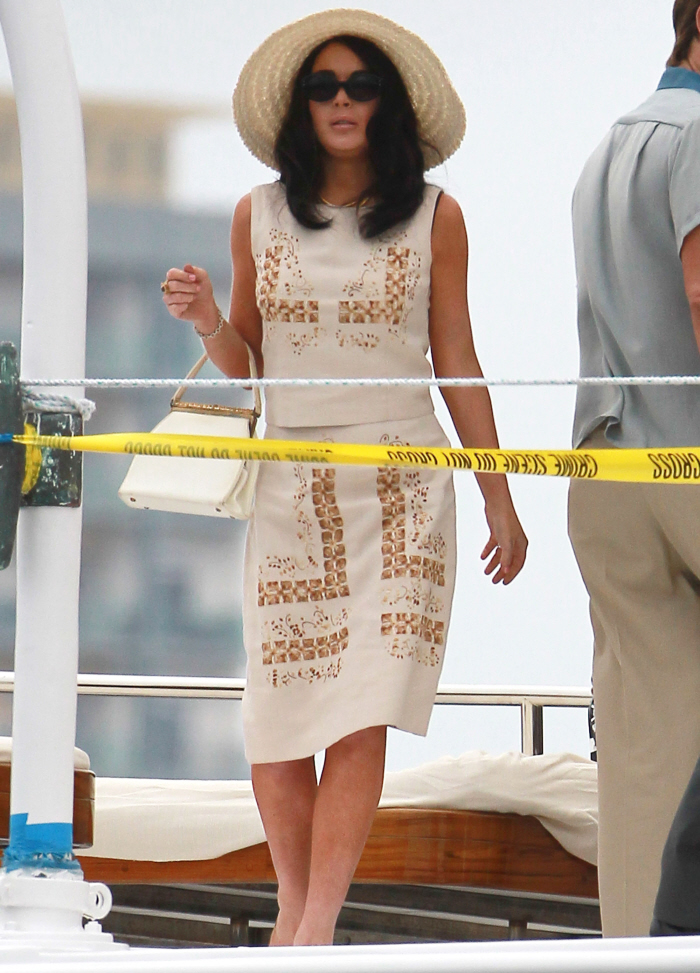 Photos courtesy of Fame/Flynet and Lifetime.

Written by Kaiser

Posted in Lindsay Lohan

- Mariah Carey lip synced on American Idol [CDAN]
- Colin Firth is looking good [Lainey Gossip]
- Internet celebrity charged with murder! [D-Listed]
- What is Paz Vega wearing? [Go Fug Yourself]
- New bachelors on The Bachelorette [Reality Tea]
- Goodbye to The Office [Pajiba]
- Bachelor Sean's fiance cheats on him [Evil Beet]
- Britney Spears out with her man [Popsugar]
- Nina Dobrev works it [Popoholic]
- Cindy Crawford needs to lay off the 'tox [Celebslam]
- Who said it: Carrie Bradshaw or The Dalai Lama? [Buzzfeed]
155 Responses to "Lindsay Lohan's 'Liz & Dick' coworkers think she looks exactly like Liz Taylor: really?"