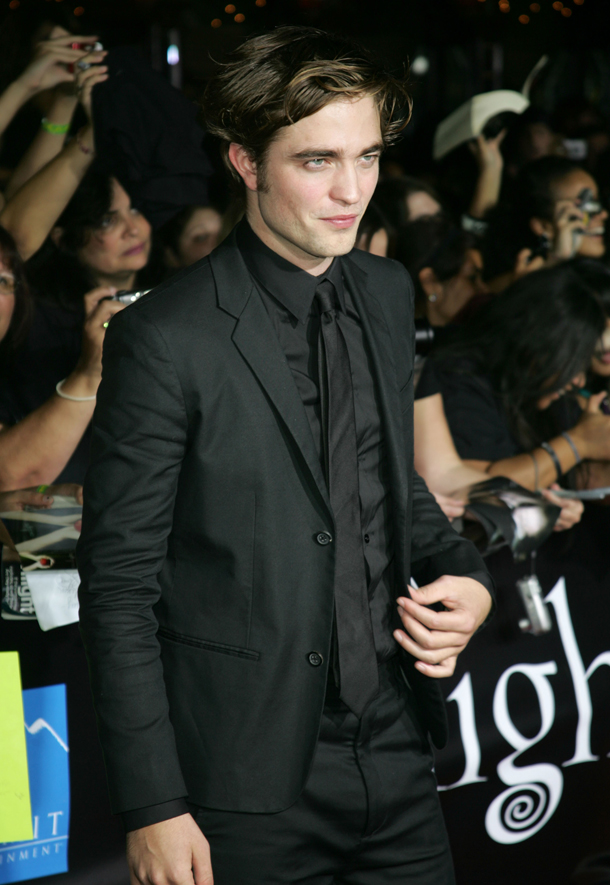 Robert Pattinson, star of the film "Twilight" – and supposedly the next big thing – is quite the player according to multiple sources. He's been linked to two of his costars despite having a serious girlfriend, Brazilian model Annelyse Schoenberger.
"Rob is on the verge of becoming the breakout star of the year," an insider told The Enquirer. "Girls are throwing themselves at him and he's trying to catch as many as he can."

But while Annelyse was looking for commitment, Rob, who has been linked with actresses Camilla Bell and Shannon Woodward, was looking elsewhere!" Annelyse was mortified when photos popped up on the Internet of Rob licking Anna Kendrik's face at a Hollywood nightclub," said the insider. "When she confronted him about it, he just brushed it off, saying it was, 'nothing serious.'"

Then, during the filming of "Twilight," he became so smitten with co-star Kristen [Stewart] – his love interest in the film – that he asked her to marry him on more than on occasion, even though he knew she had a steady boyfriend."Kristen jokingly told him, 'Oh, I bet you say that to all the girls,'" said the insider. "And the funny thing is – he does.
[From the National Enquirer, Dec. 1, 2008, print ed.]
People has more details on the proposal story. Apparently Pattinson does it all the time (so he claims) and while he admits to it he tries to spin it like some cute, jocular way of greeting strange women. I think it's supposed to come off as charming, but given the licking of costar's faces, I'm going to say it's actually just typical player behavior.
And yes, Pattinson proposed marriage to Stewart on set.

"I mean, I don't know how serious he was, but yes," Stewart says. "We spent a lot of time together, a lot of like really heightened time."

"I can't remember proposing to her," Pattinson says, adding that he pops the question to women as a "good conversation starter."

"It used to be my thing, I would propose all the time," Pattinson says. "Just go up to someone, you know, and say I love you or ask them to marry you. It always works."
[From People]
I bet it always works. It probably goes something like this: "I love you. Will you marry me? No? Well can I at least lick your face? Thanks." If he's into licking faces in public, I do not even want to imagine what this guy is into behind the privacy of closed doors. Really I find the face licking much more upsetting than the multiple proposals to multiple women (while having a girlfriend). Something tells me this guy is going to be getting a lot of headlines – and a lot of Valtrex – in the next few years.
Meanwhile, "Twilight" is getting mediocre reviews. Entertainment Weekly called it, "repetitive and a tad sodden, too prosaic to really soar…" but noted that fans of the books will like it. I was considering seeing it, but I'm not now. I'd be too distracted fearfully waiting for the appearance of a tongue instead of fangs.
Here's Robert Pattinson and Kristen Stewart at the premiere of "Twilight" held at the Mann Village Theater in Los Angeles on November 17. Images thanks to Fame.