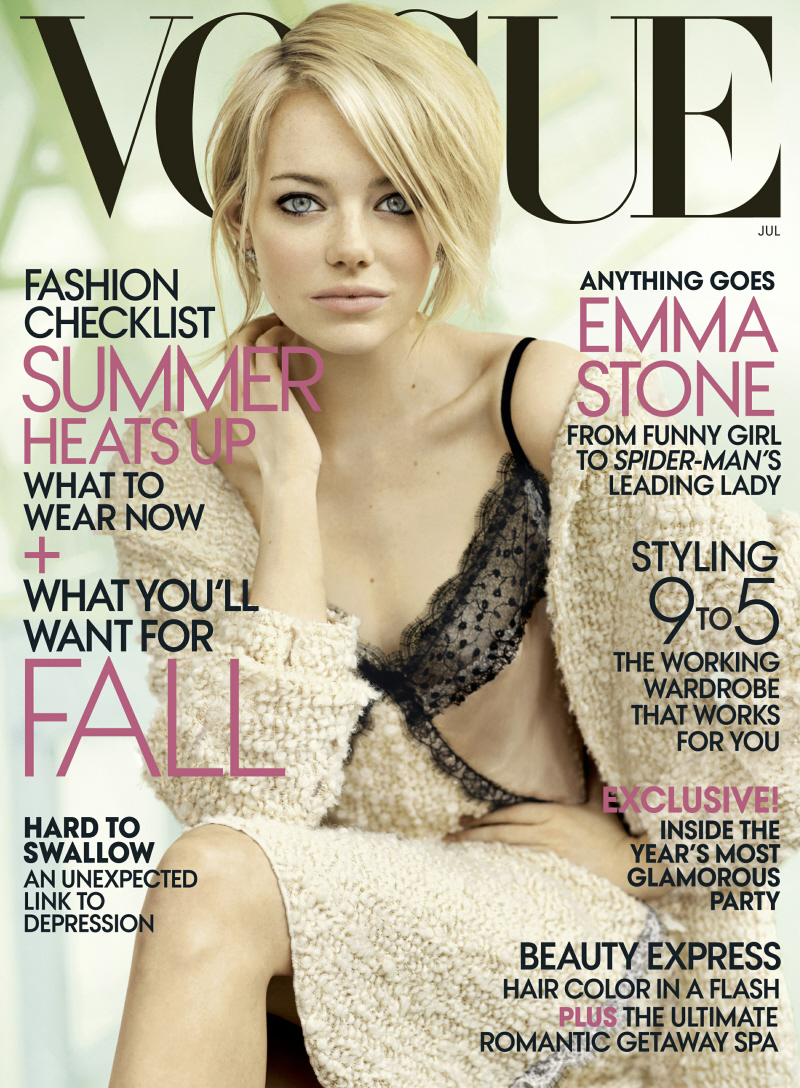 As I previewed last week, Emma Stone covers the July issue of Vogue Magazine. I was surprised that so many of you hated the cover preview. I thought Emma looked good – and I still think that now that I've seen more of the photo shoot. They definitely used the best shot of her for the cover, because I'm not crazy about the rest of the pictorial. Especially the shot of Emma in the newsboy cap, which is maybe the most horrible, unflattering, flat-out tragic shot of Emma Stone EVER. Thankfully, Vogue hasn't released the whole Emma interview – I'm thankful because I don't have to sit here and read the whole thing looking for good quotes, which takes forever. Here's Vogue's preview of their cover story:
This summer finds 23-year-old Emma Stone dangling from the rooftops in her blockbuster breakout as Peter Parker's brainy blonde girlfriend in The Amazing Spider-Man—and gracing her first-ever cover of Vogue.

With photos shot by Mario Testino, Stone cultivates a persona all her own, an innate, antic glamour that's inspired as much by Diane Keaton's Annie Hall style as Lanvin and Giambattista Valli. And in July's profile, Nathan Heller encounters the actress at the cusp of a pivotal transformation in her young career, after earning her reputation as Hollywood's go-to girl for strong, spunky characters bridging unreconciled worlds, going brunette for Superbad and making her move from comedy to The Help.

"Working with Emma was like diving into a thrilling, twisting river and never holding on to the sides," says her Spider-Man costar Andrew Garfield. "From the start. To the end. Spontaneous. In the moment. Present. Terrifying. Vital. The only way acting with someone should be."

In our cover story, Stone recounts what it's like to see her childhood dreams come true (appearing at the Oscars in February, hosting Saturday Night Live); confesses to a history of panic attacks and how she learned, growing up in Arizona, to channel that anxiety into laughter ("Comedy was my sport"); and reveals how she launched into acting at the age of fourteen (to convince her parents to let her move to L.A. to pursue her dream, she made a PowerPoint presentation). That may have been her first major performance—now, as Spider-Man leaps into theaters, we'll see her hanging from the precipice, perfectly poised for her next big moment.
How do you read Emma's relationship with Andrew Garfield? I know most of you aren't paying attention to them, but I love them, and I think they're really, really into each other. My read is that he's more into her than vice versa. Emma likes him a lot, I think. But I just get the feeling that Andrew kind of worships her. And that's really cool, because in so many of these Young Hollywood relationships, it feels like the girls are getting the short end of the stick with game-playing d-bags.
As for Spiderman… is anyone else worried? No, here's a better question: is anyone actually excited to see this film? I think the flaw is going to be that the studio tried to reboot the franchise too soon after the success of the Tobey Maguire-led franchise. People have Spidey-exhaustion, especially considering the simply fact that Spiderman isn't really the most interesting superhero.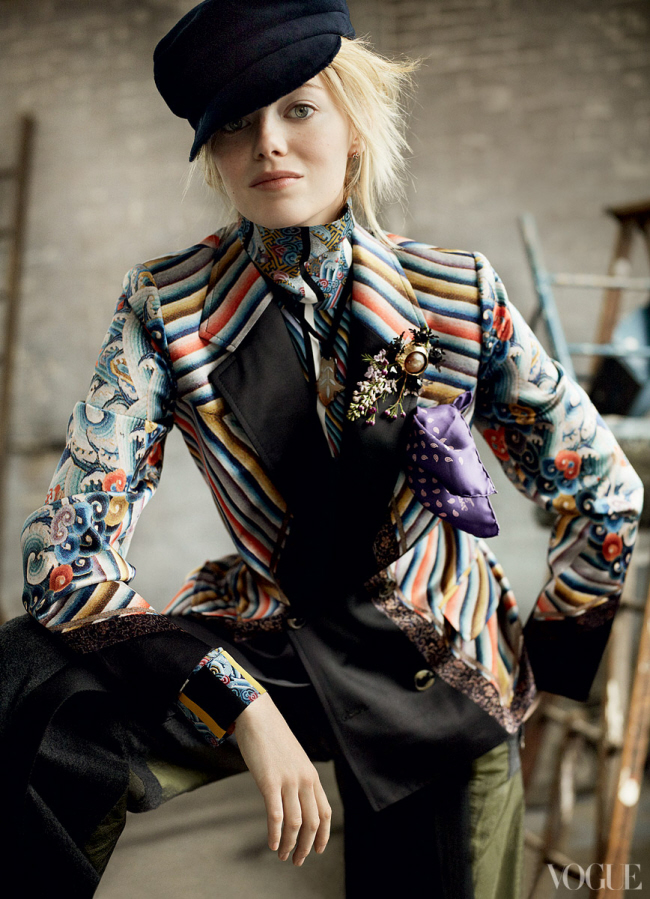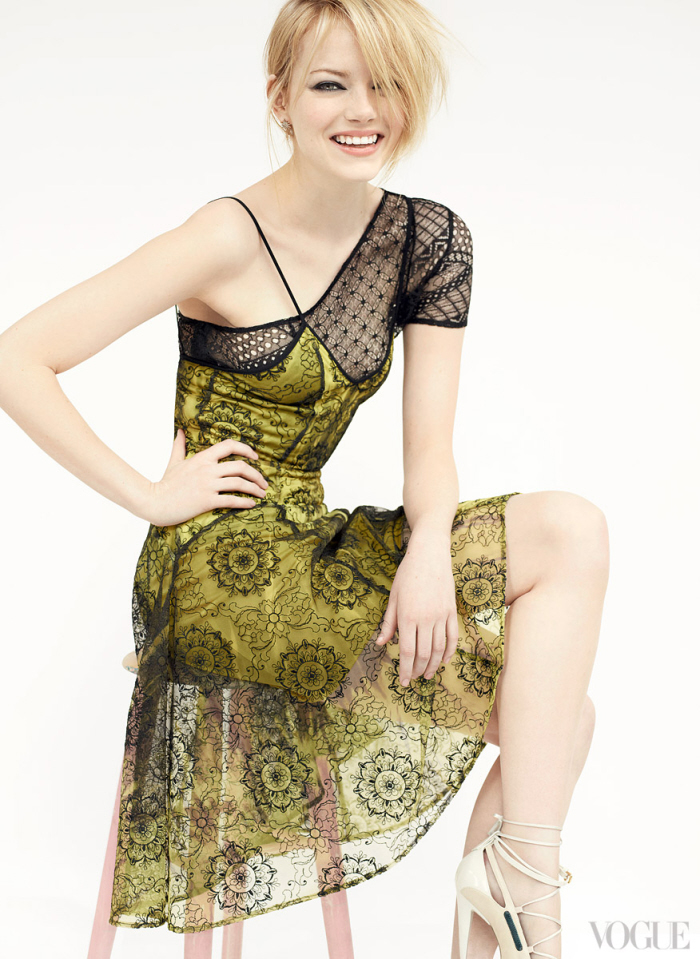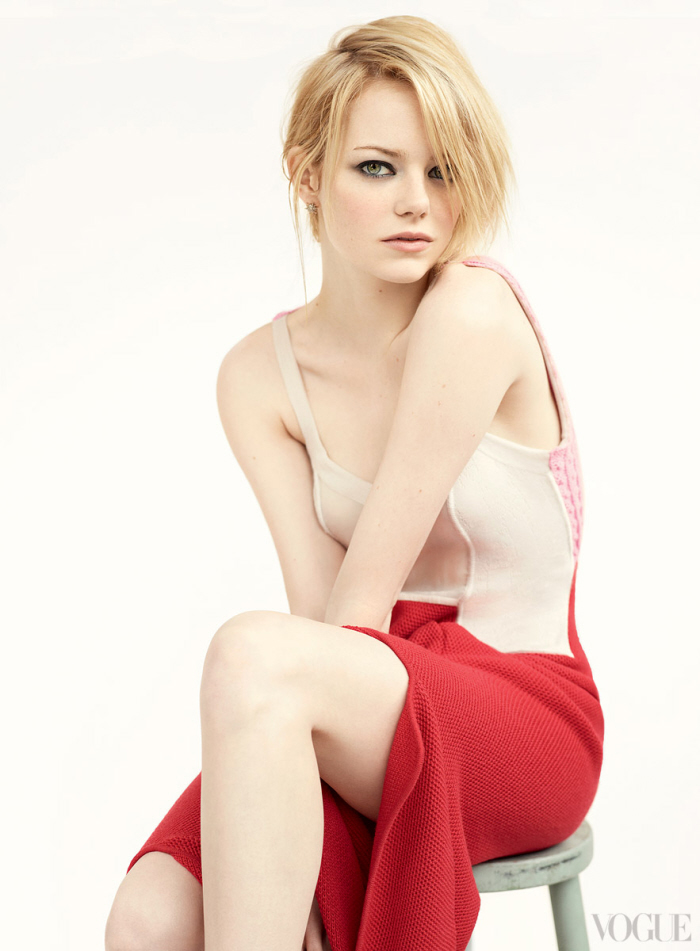 Photos courtesy of Mario Testino/Vogue.