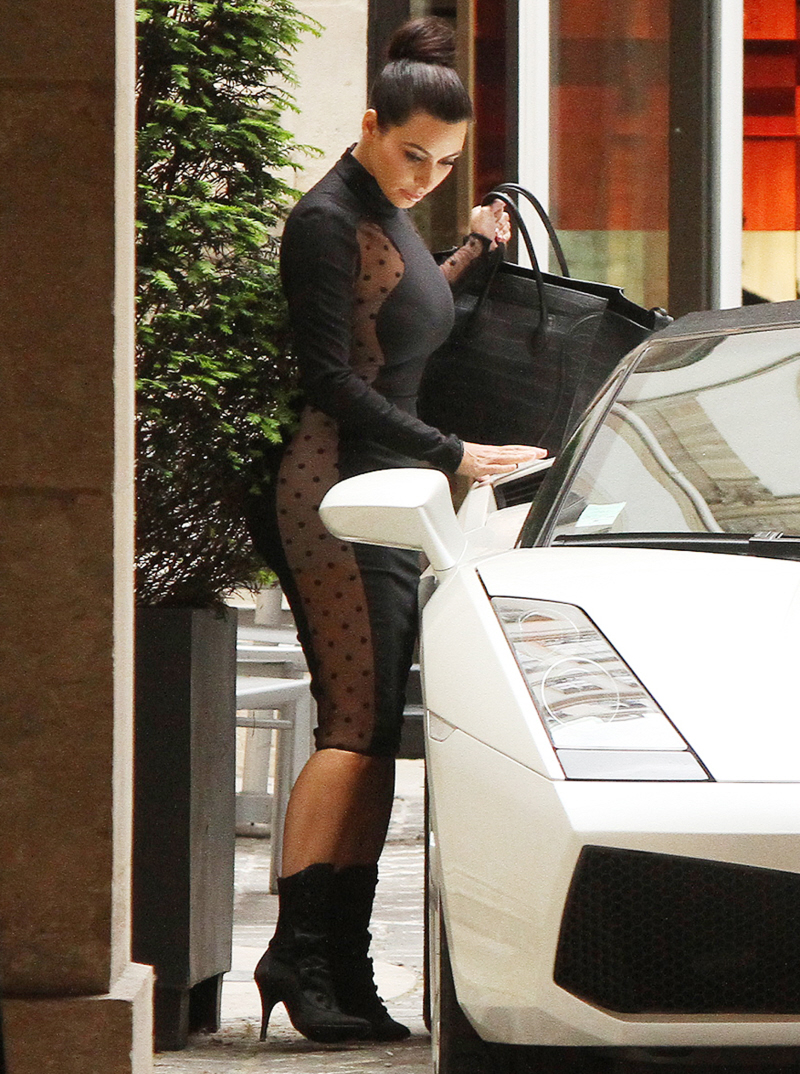 What is it about Kim Kardashian's style that makes otherwise sane people go completely crazy? Kim is a horrible dresser in general. Every so often, she'll chance upon a flattering ensemble, but she usually cocks it up with drag queen makeup, bad hair and tragic shoewear. But most of the time, Kim's style is just terrible from head to toe. For a curvy "size 4" she really doesn't know how to dress for her figure, and she often looks much larger than she is in reality (reality = "nowhere near a size 4, but still not overweight"). Earlier today, I even covered PETA's latest criticism of Kim – she was wearing some hideous python boots, and PETA hates her even more. I kind of understood that scandal. I don't really get this one, though.
In these photos, you can see that Kim is wearing that same hideous Stella McCartney cocktail dress that everyone has already worn. Kim was photographed in the Stella dress and various blogs and outlets claimed that Kim "ruined" the dress by wearing visible Spanx. Except that Kim isn't wearing Spanx, according to Kim. She bought the dress like this, with fug nude panels in the midsection.
She's got some of the most famous curves in the world — so why would Kim Kardashian restrict 'em with Spanx?

On Monday, the reality star — who's had a mini fashion makeover since embarking on a romance with Kanye West — was photographed in Paris wearing a fashion-forward polka-dot dress featuring a sheer panel.

Several media outlets slammed the look, and claimed that Kardashian, 31, was wearing Spanx or similar shapewear to reign in her voluptuous bod.

"No Spanx here!" Kardashian explained on her website Tuesday. "I wore this gorgeous polka dot Stella McCartney dress out yesterday and I've seen some publications saying I'm flashing my Spanx or control underwear underneath the dress," wrote the E! star. "But that's exactly how I bought it with those nude panels inside. So no Spanx here! Stella made a full collection with these sheer panels on the side, and this is how my dress came!"

Kardashian has been in the City of Lights with her rapper beau as he travels Europe with pal and collaborator Jay-Z on their "Watch the Throne" tour. And, with fashion-friendly West at her side, Kardashian has switched up her style — going from cartoonish to more au courant, elegant looks and designers, including McCartney, Lanvin, Emilio Pucci and others.
First point: why would any woman be "slammed" for wearing Spanx? It's just shapewear, and yes, you shouldn't be able to see your shapewear through a transparent dress, but what's the BFD? Second point: the Stella dress is just awful in general, with or without the nude panels, but with the panels it's really, really bad. Third point: this is a dress every woman was wearing… LAST YEAR. Kim can afford new Stella if she wants it. Don't get the worst version of last year's style.
If you want a better look at the faux-Spanx photo, go here.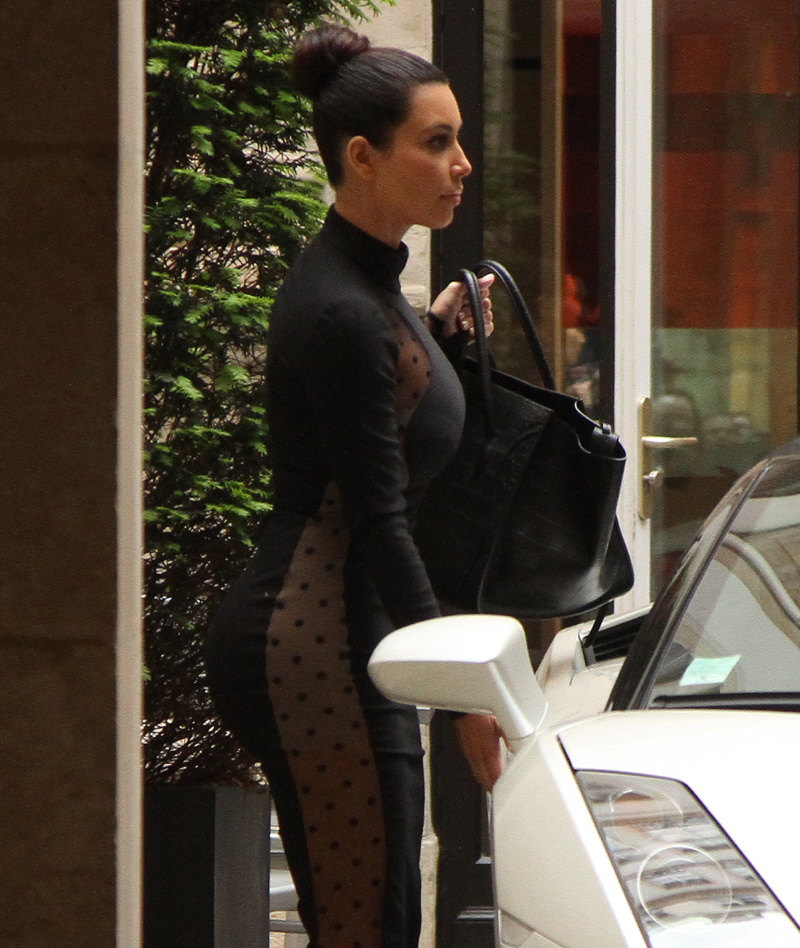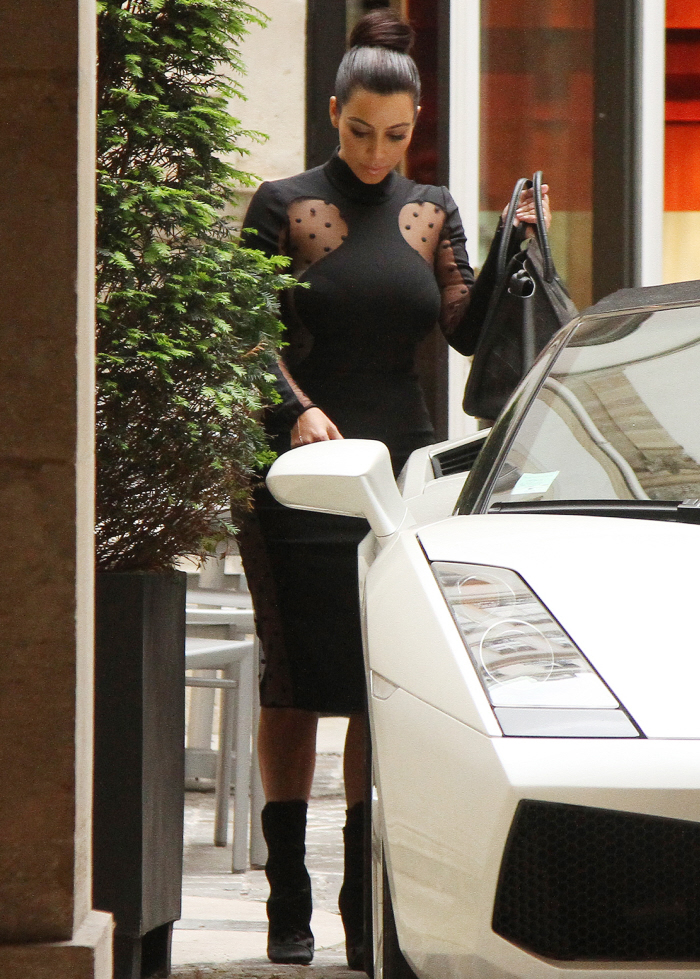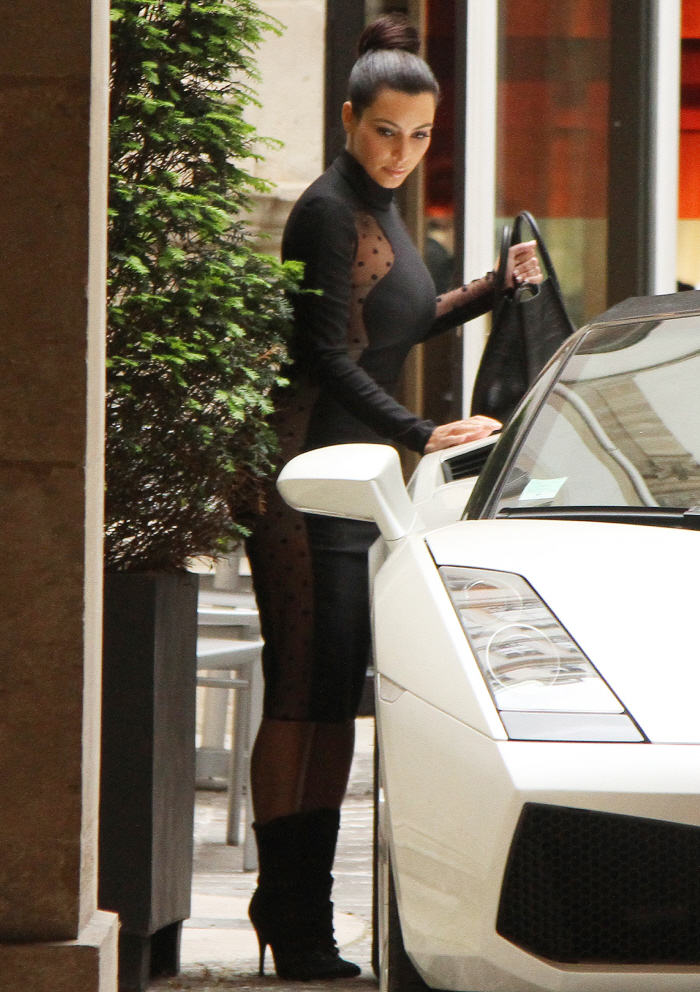 Photos courtesy of WENN.