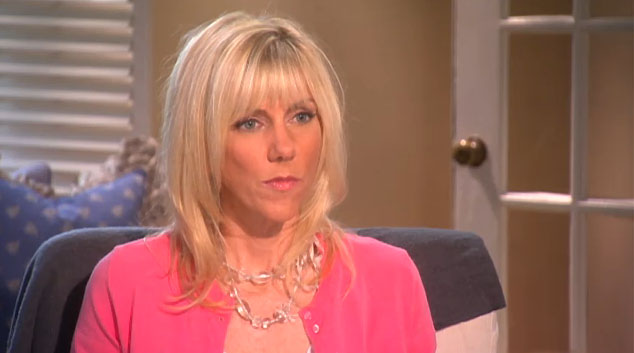 As you've heard, that batsh*t excuse for a political mistress, Rielle Hunter, has been promoting her new memoir, What Really Happened. Rielle, who has a child with former Presidential hopeful John Edwards, is now using every excuse to justify the fact that she had a long term relationship with John when he had a wife at home who was suffering from cancer, and who subsequently died with the knowledge that her husband had a baby with one of his mistresses. We have some new excerpts from her book today, and it's all about how the affair is not her fault and she's not going to feel guilty about it. According to Rielle, John and Elizabeth's relationship was already broken and John wasn't sleeping with Elizabeth, so their affair basically doesn't matter. Isn't that what every cheater tells their mistress? "My wife is a bad person. She doesn't understand me. We don't have sex." Only the dumbest 'hos fall for it. And here you have her. Rielle has an interview with 20/20 to air on Friday (Radar has a video preview here) and she also has a new interview with People magazine. Some highlights of her book and interviews are below:
On how she justifies the affair
"Because there wasn't any physical or emotional intimacy between Johnny and Elizabeth, I had absolutely no jealous feelings about her. The 'wife as innocent victim' did not match the reality," as the pair had a fractured relationship.

Rielle wrote their marriage was "filled with issues that clearly neither Johnny nor Elizabeth wanted to address. They did not want to disclose the truth to themselves, much less the public."

Rielle reasoned Elizabeth should have been wise to John's cheating because of her own desolate love life.

"If you aren't having sex with your partner," she explains, "chances are high someone else is."

On how she felt sorry for Elizabeth but didn't care at all
Rielle said she first met Elizabeth at an event in North Carolina in late 2006, and Elizabeth did not look her in the eye "and appeared to be frightened.

"I felt really bad for her," she writes.

"I felt miserable for Elizabeth and what she must be experiencing," she wrote, "but my loyalties were with Johnny."

On what John told Elizabeth about the affair
Rielle said John told her that Elizabeth repeatedly pressed him about how he could be drawn to someone like her.

"The honest reply, 'She makes me happy,' was not received without punishment" from Elizabeth, Rielle writes.

On how Elizabeth Edwards reacted to learning about the affair
Elizabeth requested all the tapes I'd made of the campaign. She locked herself in a room to watch. On one tape she saw Johnny walking into a room and his reaction to seeing me. She apparently told him that he never once looked at her the way he looked at me. So she took that bit and put it on her computer as a screen saver in order to watch it over and over again.

On her realationship with John now
"I'm still in love with John. That didn't go away, shockingly enough. Marriage? I have no idea. I'm not a big fan of the institution, but never say never."

How often she sees him
Hunter, who lives in Charlotte, North Carolina, with their 4-year-old daughter Quinn, still sees Edwards, 59, regularly. "Sometimes five days in a row. Sometimes every two weeks. It varies," she says, adding "he can play with [Quinn] for hours."
[From Radar Online and People Magazine]
Well maybe John and Elizabeth had a "fractured relationship" because he was stepping out on her with a bunch of clueless twits like this one. Maybe Elizabeth didn't want to have sex with John because she was suffering from stage four breast cancer. The selfishness of this woman just baffles me.
The stuff about how Elizabeth watched the tapes from the campaign over and over is just cruel to reveal. (Plus I doubt it's technically accurate, Elizabeth may have viewed it over and over, but I doubt she made it a screensaver. That incorrect detail just annoyed me.) Elizabeth has passed away from cancer, but her grown kids are still around, and they're John's kids too. They don't need to have all these nasty reminders of how horribly their dad and his mistress treated their mom when she was at her sickest. I don't think of Elizabeth as a victim because I remember seeing interviews with her and she was one tough defiant lady, but I also imagine what she was going through. I'm amazed that someone could be as entitled and defiant about cheating with a married man whose wife was dying of cancer. Yes it's John's fault just as much as Rielle's, but doesn't she realize how she's coming across? I suppose anyone who would do such a thing would also be clueless enough to brag about it like it was no biggie.
Oh and Rielle has new staged beach photos where she's wearing a tankini and a smirk. Of course she did that.
I just remembered – you know who this chick reminds me of? She's like that serial mistress lady but more defensive, like Samantha Brick.