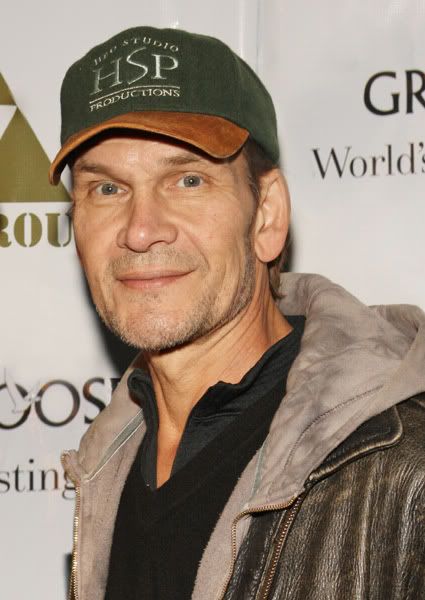 It's been over eight months since Patrick Swayze received a very dire pancreatic cancer diagnosis. Reports at the time claimed doctors told him he could expect to live five weeks, which his rep denied, saying he had a "limited amount" of cancer. He seems to have beaten the odds through high tech cancer treatment coupled with alternative therapies and a devotion to work. Swayze stars in the A&E drama "The Beast," which premieres January 15. He attended the wrap party in Chicago yesterday along with his wife of over 30 years, Lisa Niemi, and his brother:
Arriving just after 7 p.m. dressed casually in a hoodie and baseball cap, the actor joined his wife of 33 years, Lisa Niemi, brother, Don, and club owner Billy Dec on the club's couches.

"He had scruffy facial hair and looked relaxed, laughing easily," an eyewitness tells Us.

His drink of choice? Cosmos! The star ordered the Grey Goose cocktails at the bar and chatted with cast members and fans.

Swayze's wife "mingled a little more than Patrick did, leaving the couch to grab a drink or talk to people, but mostly she remained at his side. Patrick let the party-goers come to him, never circulating around the room and rarely even standing up, but when others did come to him, he chatted at length with many of them," the witness says.

By 8:45, Swayze and his wife said their goodbyes and called it a night.

"Patrick still looked healthy and rested when he left – he didn't appear drained by the appearance at the event," the onlooker tells Us.
[From US Weekly]
US notes that Patrick's costars sung his praises, talking about what a great guy he was to work with and how much energy he had. It's heartening to see Swayze out and about and we wish him and his family the best. It's a very incredibly thing to go through and he has handled it all with grace. Swayze has a lot of fans rooting for him and hopefully his new show will be a hit.
Here's a preview for "The Beast":