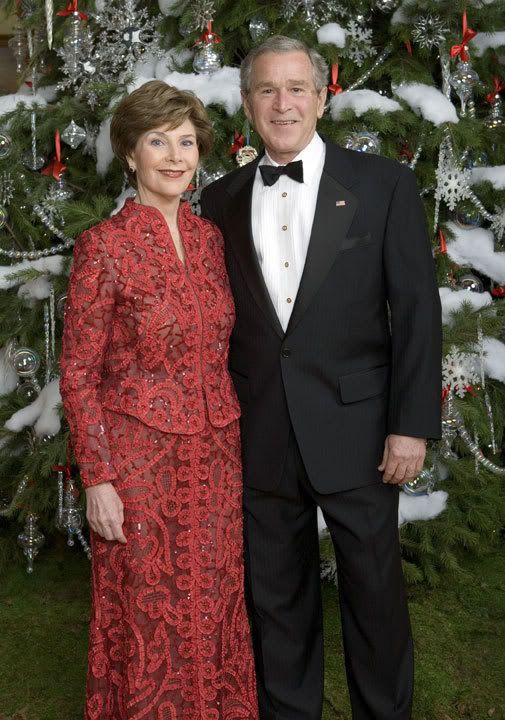 See this dress Laura Bush is wearing in this official White House Holiday photo? It's by Oscar de la Renta and costs $8,500 freakin' dollars. You'd think if you were going to spend that much money on a haute couture dress and wear it to an official event, you would make sure it was an original, right? So nobody else would be wearing the same dress as the Queen of the Free World?
Well, it seems Mrs. Bush didn't have someone do that for her and ended up wearing this dress not only for the official White House Holiday photo, but also to a celebrity studded party for fat cats at the White House. Imagine her surprise when she discovered that three other women were wearing the exact same dress! Oh, the horrors!
Letitia Baldridge, Jacqueline Kennedy's Chief of Staff and White House social secretary says the gown was beautiful, but triple the trouble was quite the mess.

"They all should have congratulated one another on their good taste and the fact that they could afford the dress," Baldridge says. "Jacqueline Kennedy, when she was first lady made sure, and her couturiers made sure that nobody else wore that dress that season. "
Oh please, Laura Bush is no Jacqueline Kennedy. That's like comparing apples to oranges. But Laura did try to rectify the situation by running upstairs and changing into another gown. The other three ladies who had the same dress on didn't have that option, and for the remainder of the night, tried to stay as far away from each other as they possibly could.
White House Holiday photo via The White House