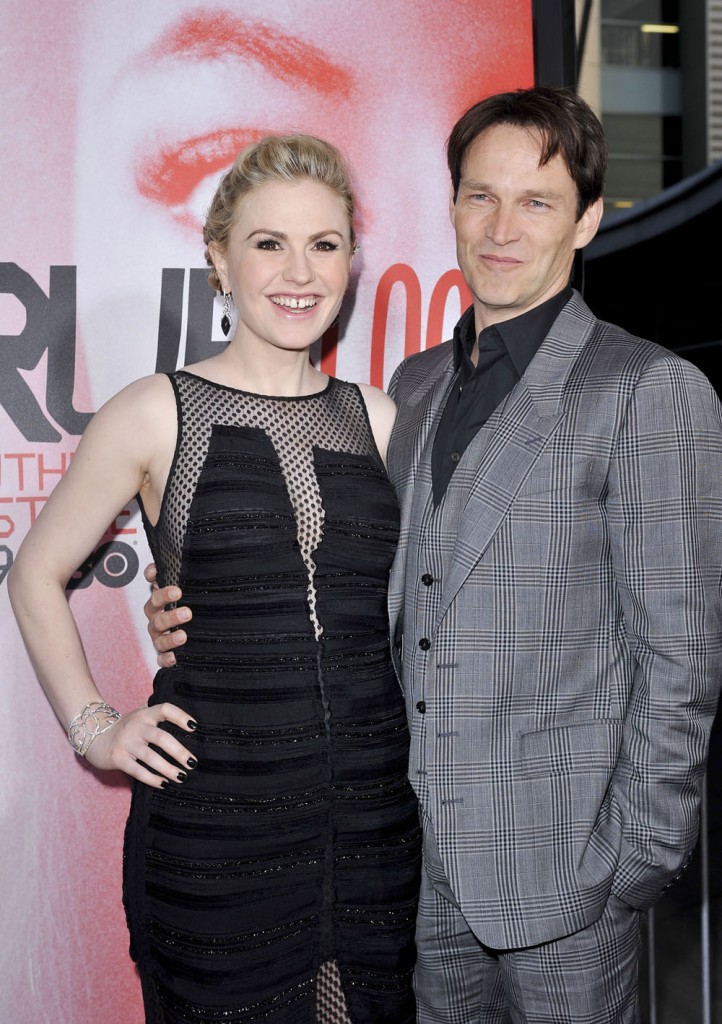 I'm honestly surprised that Anna Paquin of "True Blood" is expecting twins with her husband and co-star, Stephen Moyer. She's young at 29, and I associate twins with fertility treatment. I know they occur naturally for a lot of women, but when you see older women having twins you make assumptions. (I mean I wouldn't say it to anyone's face, but I'll admit that I do it.) Anna's costar Sam Trammel (Sam Merlotte) confirmed the news to US Weekly, and joked that "True Blood" is the twins show, since he has has twin 10 month-old boys with his partner. This makes me wonder if Sam is the one who leaked the news (like Jack Black, remember that?) and if Anna and Stephen wanted it to get out. They granted the pregnancy announcement to Entertainment Weekly, and they strike me as private people. Here's more:
A source confirms to Us Weekly that Anna Paquin, 29, and her husband of nearly two years, Stephen Moyer, 42, are expecting a double delivery in the fall!

"I'm so excited for them," the couple's costar Sam Trammell — father to 11-month-old twins Winston and Gus with girlfriend Missy Yager — shared with Us recently when we chatted with him about the double baby news at Planet Hollywood's Gallery Nightclub in Las Vegas. "We sent them a special gift. It's so interesting that True Blood has become, like, the 'twins' show."

And though Moyer has two children, Lilac, 10, and Billy, 12, from a previous relationship, he's been listening intently to Trammell's advice on the ins and outs of raising multiples.

"It's harder, having twins, but it's all we know. So we're trying to impart some decent wisdom," Trammell added. "I told them to hold on tight!"

But Moyer is up for the challenge. "It's always amazing," he told Zap2it in May of his wife's pregnancy. "I love my kids so much. And I think that the fact that Anna is pregnant just adds more crazy to the bundle of fun."
[From US Weekly]
I don't have any friends with twins and I can't imagine how much harder it must be to raise them. Anna and Stephen can of course afford 24/7 help, although I see them as very hands-on parents also. So they'll have a lot of sleepless nights and joyous moments. I wonder if they're expecting boys, girls or a boy and a girl. I'm actually a little excited about it.
Mild spoilers for past episodes True Blood
As for "True Blood," I'm barely hanging in there with that show. There are so many things going on that I just don't care about, and I'm having trouble watching it straight through. (I watch it on HBOGo or I would just fast forward through a lot of it.) It must be hard to keep a show fresh for so many years, but if they would stick to the basics, like the vampires, I think they could do it. We just learned that the fairies are back and I have to say I didn't miss their ridiculousness at all. I really disliked the fairy subplot. (And the werewolves, whatever is going on with Terry's old Marine buddies, and Tara as a vampire.) But at least the witches are keeping quiet – but then Lafayette had that thing where he got possessed and poured the bleach in the gumbo. It's making my brain hurt to think of how much is going on with that show. Lainey got a screener of the first four episodes and she said it gets more interesting this coming week. I hope she's right, not that I'll stop watching it. The men are so pretty.