Visit msnbc.com for breaking news, world news, and news about the economy
The only new show I'm watching right now is "True Blood," and I usually play it on HBOGo in one window on my computer and surf in the other. I enjoy it, but it's not doing it for me overall and I feel that we waited too long for a payoff this season. So that's part of the reason why I'm so excited for "Breaking Bad" to return. It comes back on AMC for its fifth season this Sunday, July 15th! There are just seven episodes that will air this year, and we'll have to wait until next summer to see the rest and last. They're breaking the fifth season up into two parts and after that the show will be over.
Lead actor Bryan Cranston was on "The Today Show" to promote Breaking Bad yesterday. They made him do his segment outside with the crowd and it was brief. (You can watch it above and here's a direct link to the video.) Meanwhile Kendra Wilkinson got a full interview inside with Kathy Lee and Hoda to promote her new reality show on WeTV. Both WeTV and AMC are owned by the same company, AMC Networks, so it's not like NBC had a financial interest to give Kendra more time. They just thought we'd want to hear more from the star of a reality show that got demoted from E! than a three time Emmy winner on one of the most critically acclaimed shows on television.
Mild spoilers for last season of Breaking Bad; spoilery photos for next season below
Bryan spoke in general about the new and frankly shocking plot twists we saw at the end of last season. He said everyone was capable of going to the dark side, basically. We did see Walt do some pretty incredible things out of both desperation and a desire for power. Here's what he said during his brief interview on The Today Show. He's so skilled at explaining his character and I love to watch his interviews. He is one talented, interesting man.
How much darker can you make this guy?
It can go darker and dark I think. I think every human being is capable of being really dangerous given the right set of circumstances. I'm telling you, in doing this show I've realized how dark the pendulum can swing.

It's true, he has been seduced by what was possible in this new life, by what was impossible in his other life.

Talking about avarice and people being greedy is not possible when someone is poor. He hasn't experienced those seductions as a man, and intimidating powers are very seductive.

Is it true your wife won't watch this?
She won't watch it. Well she watches it but not at night.

Is there a movie in the future?
I would [do a movie]. I don't know how it's going to end up, I have no idea.
Can you imaging a Breaking Bad movie? In theory it sounds awesome, the show is already so cinematic. Excellent TV shows like this don't always translate to the big screen, though. Look at how X-Files got mangled in its two movies.
What's coming up next for Breaking Bad? Walt is the head bitch now, but he's doing some psychops stuff on Jesse, and it's only a matter of time before Jesse wises up. I bet you Jesse will end up being the one who runs the whole operation in the end. Or maybe they'll all get busted by Walt's brother-in-law, Hank. I love this show so much.
Also, am I the only one who finds Bryan Cranston hot? I so would. I would take Aaron Paul over him, but I get the impression Cranston is a better lover. He just seems like a freak to me, but maybe I'm confusing him with his character.
Warning these photos from next season have Spoilers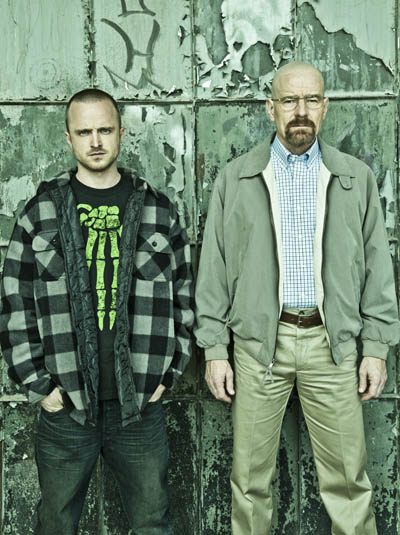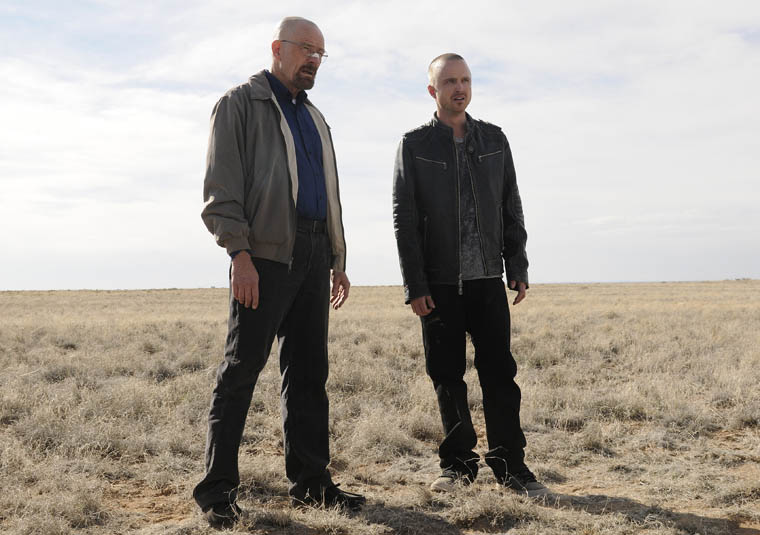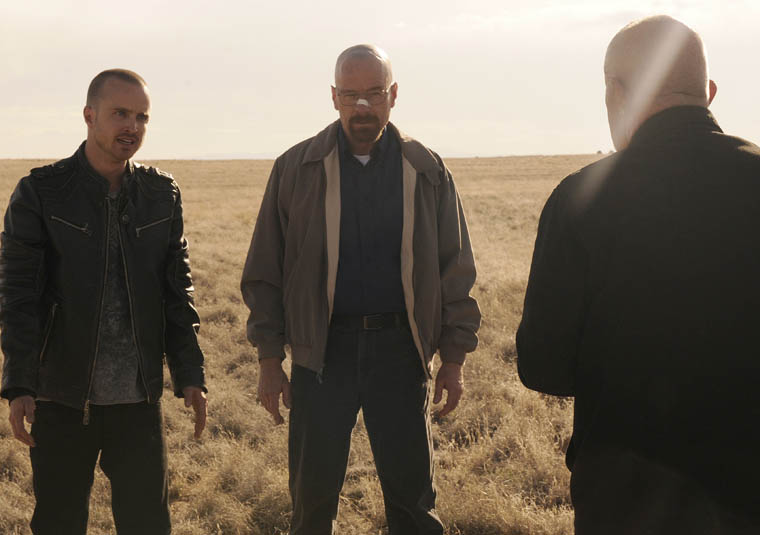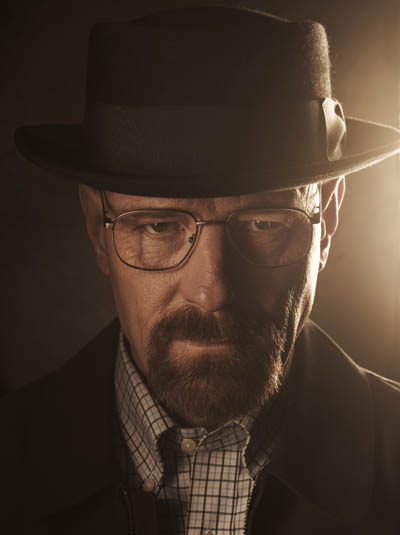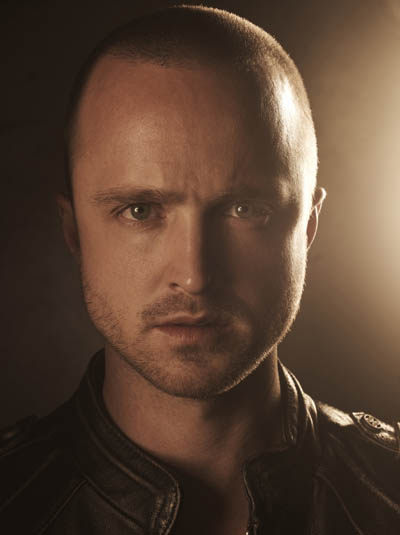 Hank can walk!!