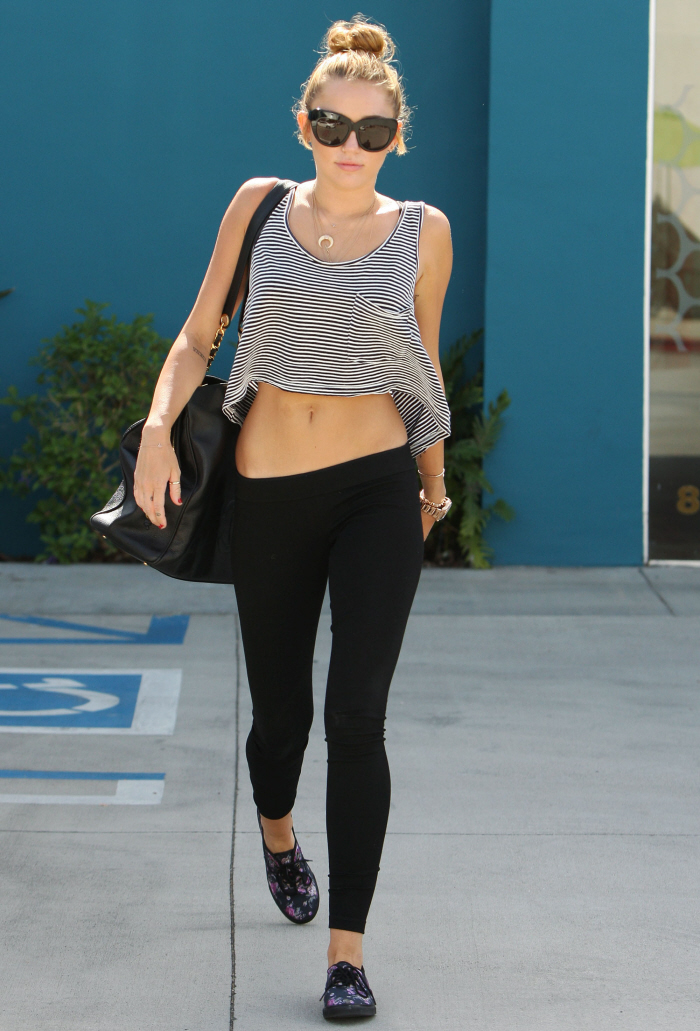 First of all, Mother of GOD does Miley Cyrus have a great body or what? Look at that tiny waist! And she still has hips too. She's exceptionally well-proportioned, and she's been working so, so hard on her figure and THIS is the payout. Bless her. Of course, if I had nothing else to do but go to Pilates classes and have sex with Liam Hemsworth, my body would look a lot better too. Anyway, the real story is that Miley got a new tattoo. It's not the typical 19-year-old starlet tattoo, either. Miley's is presidential!
Butterfly? Nah. Rose? Definitely not. When it came time to pick her new tattoo, Miley Cyrus settled on something surprisingly profound.

On her way out of a Pilates class in West Hollywood Tuesday, Cyrus, 19, showed off a brand new tattoo — a snippet of a 1910 speech President Theodore Roosevelt made at the Sorbonne in Paris, France.

The text, tattooed on her left forearm, reads, "So that his place shall never be with those cold and timid souls who knew neither victory nor defeat."

In his famous early 20th century speech, Roosevelt urged listeners to live life to the fullest. "It is not the critic who counts: not the man who points out how the strong man stumbles or where the doer of deeds could have done better," he said. "The credit belongs to the man who is actually in the arena, whose face is marred by dust and sweat and blood . . . who, at the best, knows . . . the triumph of high achievement, and who, at the worst, if he fails, at least he fails while daring greatly, so that his place shall never be with those cold and timid souls who knew neither victory nor defeat."

The words aren't The Last Song star's first foray into permanent body art; Cyrus (who is currently engaged to Liam Hemsworth) has numerous other tattoos, including a dream-catcher on her ribcage, and an equals symbol on her ring finger to demonstrate her support for marriage equality.
Is it just me or is this a random quote for a 19-year-old woman? For a 19-year-old woman… whose never been in a war, or done battle or faced any obstacle harder than "My daddy is trash-talking me in GQ"? I'm not saying that Miley hasn't been through some stuff in her 19 years, or that she wasn't busting through many child labor laws several years ago. But it still feels like this is an odd quote… for HER. Maybe she got the tattoo thinking about her Pilates classes?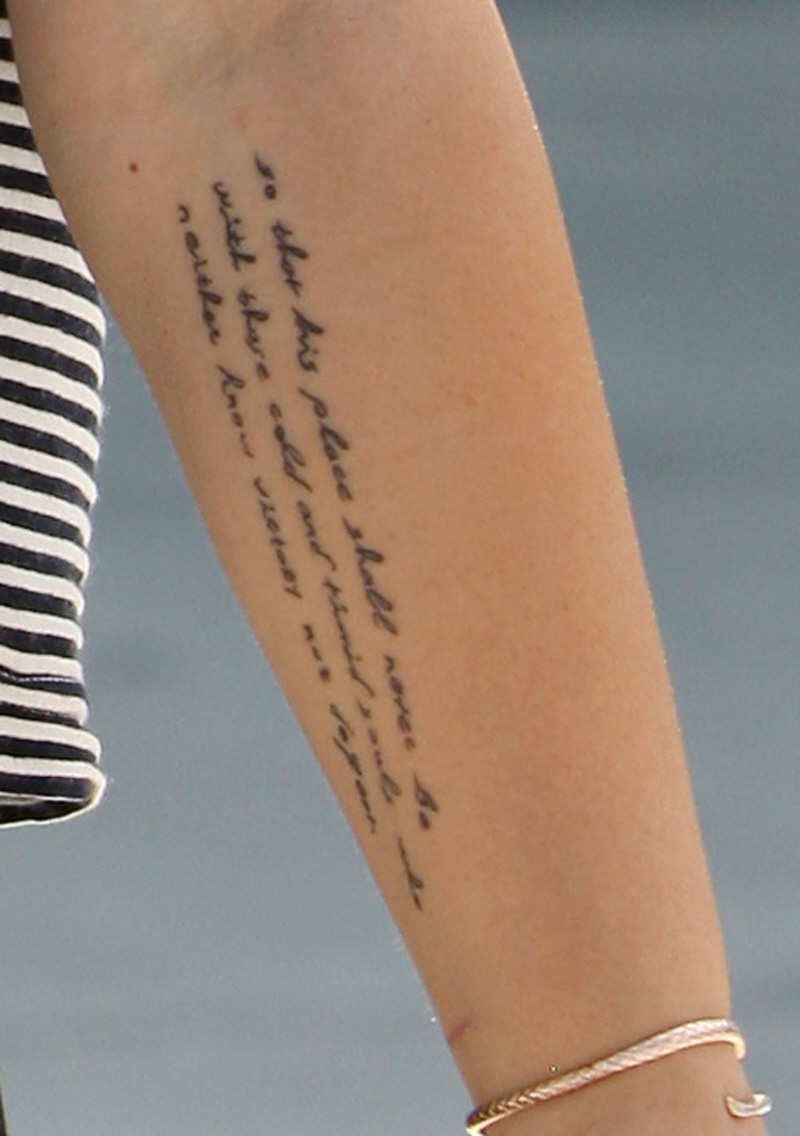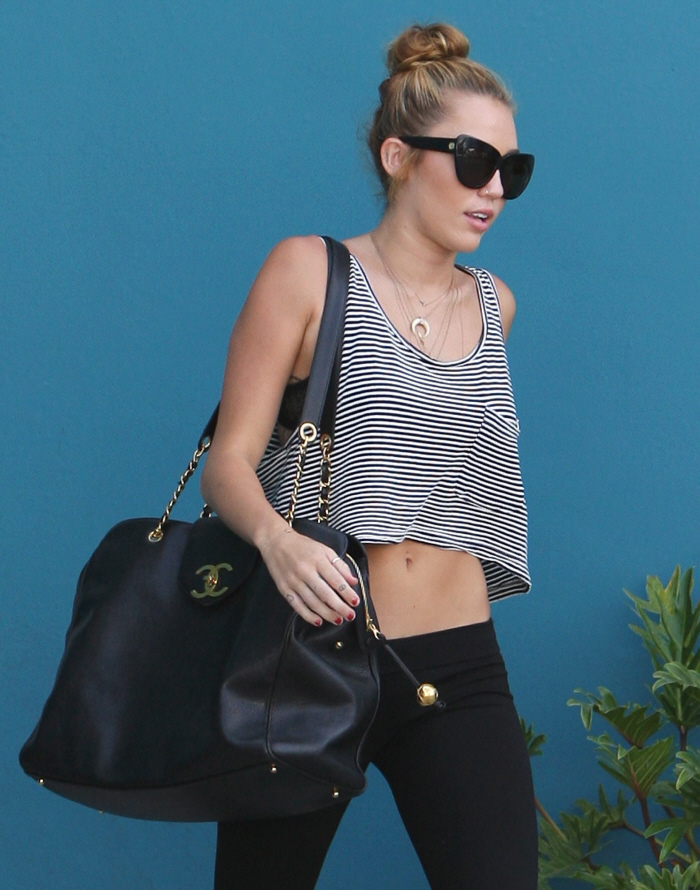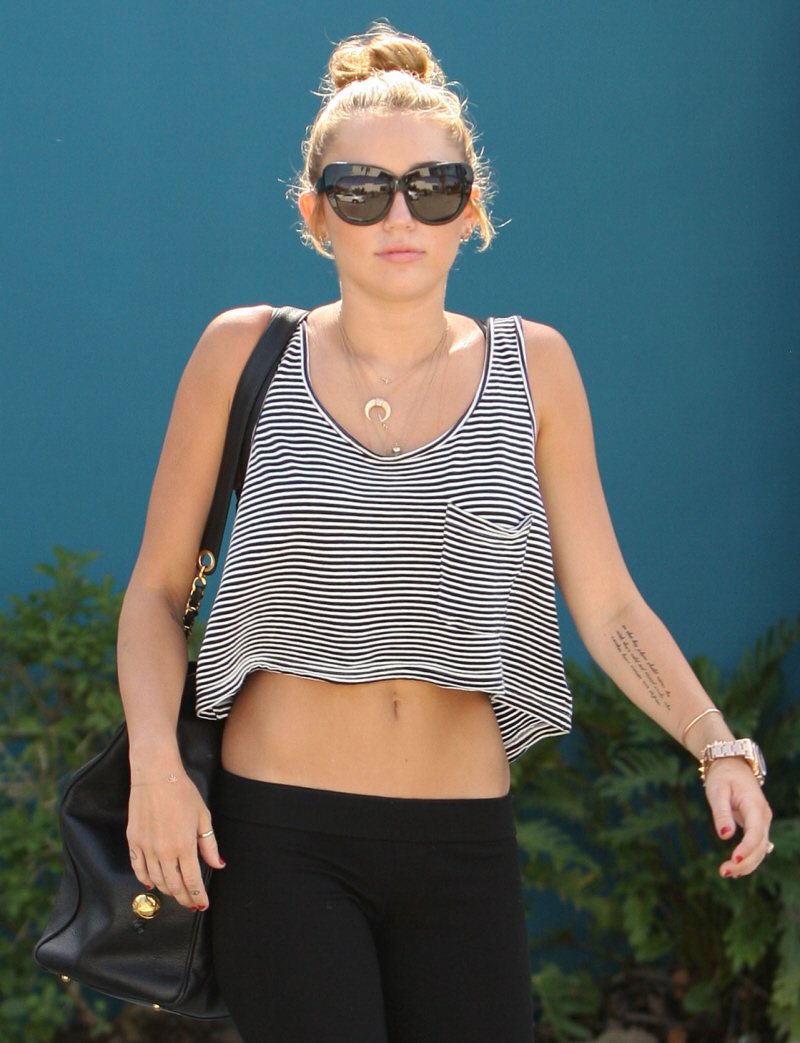 Photos courtesy of WENN.