Anne Hathaway vs. Marion Cotillard at 'TDKR' premiere: who looked better in white?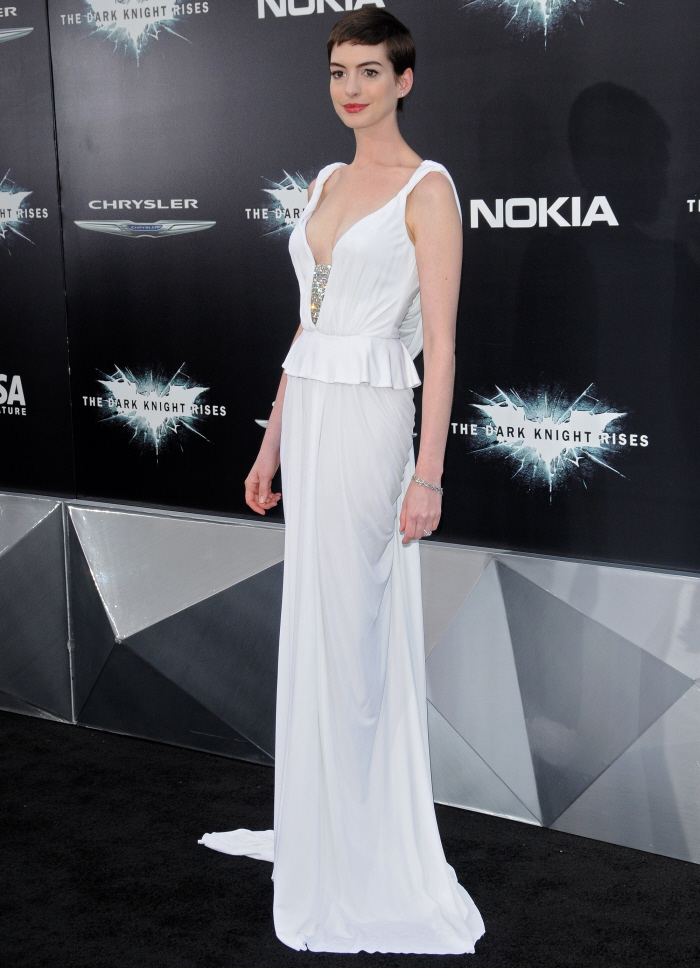 Does anyone else think it's weird that both Anne Hathaway and Marion Cotillard wore white for the NYC premiere of The Dark Knight Rises? I'm giving the color to Marion – I think it was appropriate for her to wear this white Christian Dior cocktail dress. She looks fresh and cute and appropriate. Anne, however, looks AWFUL in this Prabal Gurung Resort 2013 gown. First of all – white simply isn't her color. It never has been, yet her stylist Rachel Zoe insists of putting Annie in white. Second of all, the Gurung gown is too bridal, especially when Anne is walking a red carpet for a film in which she plays CATWOMAN. If there was ever a time to walk a red carpet wearing black leather, it's right now.
As for Annie's hair… dear God. I feel mean saying anything about it now. Her hair is at a really awkward length since it's only had a few months to grow out since Anne cut it all off for Les Miserables. I do think Anne is such a pretty girl… but she needs more hair. And the BANGS!!!!! Dear God, the bangs. *sobs*
So, basically, Anne walked TDKR red carpet looking like an unhinged, jilted bride with a bad haircut, and Marion looked every inch the movie star. How disappointing! I hope Anne ups her fashion game for the publicity tour.
PS… I think Gloria Steinem was Anne's date? That can't be right. UPDATE: Ah, Gloria is Bale's step-mom, that's why she was at the premiere. I knew the Bale-Steinem connection at one point, I just forgot it. Gloria must have just posed with Anne.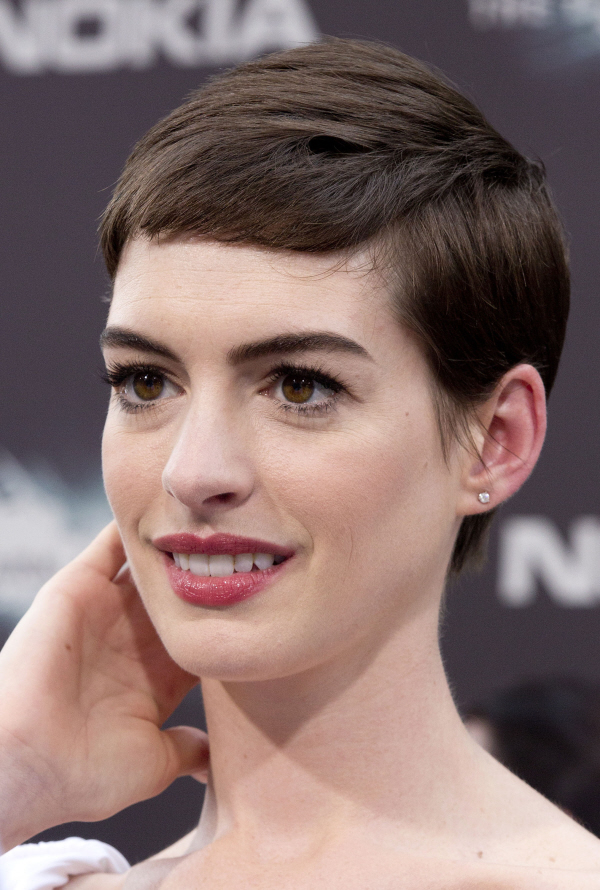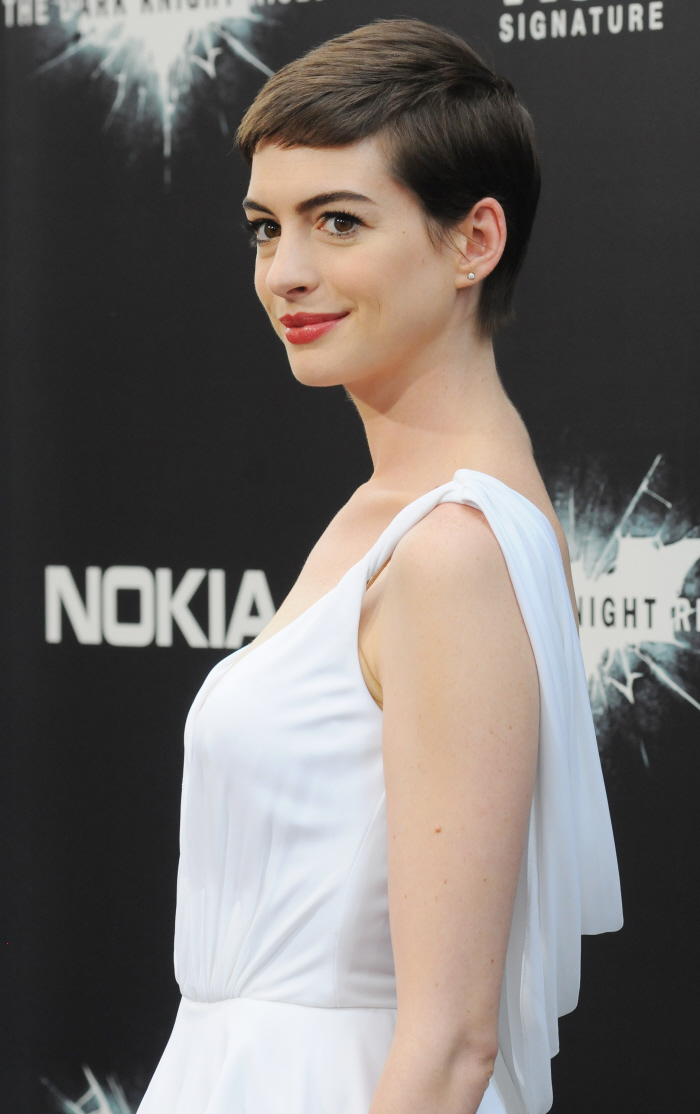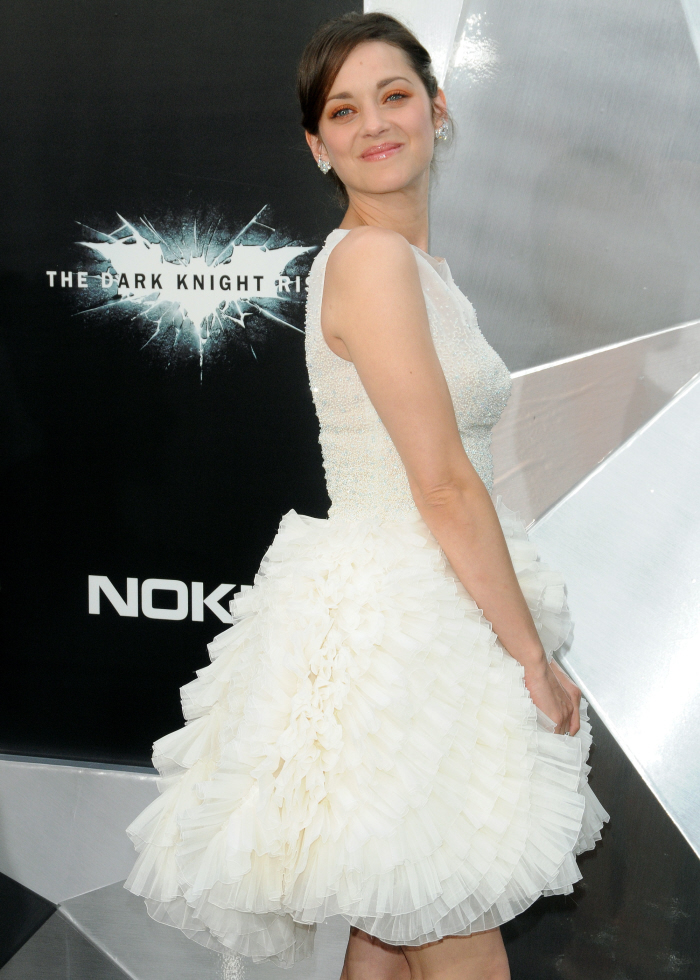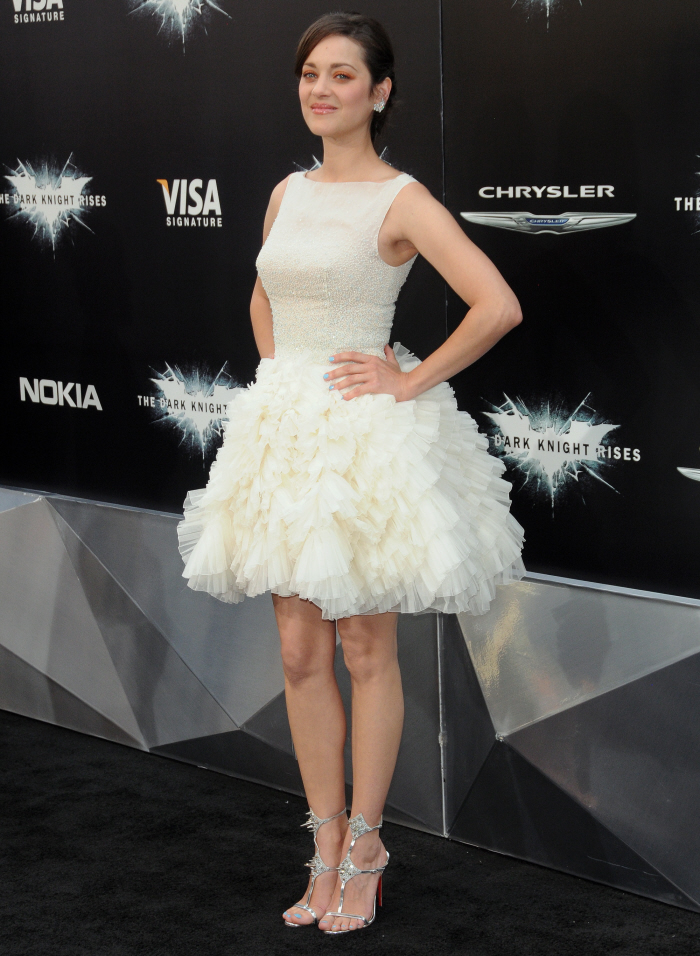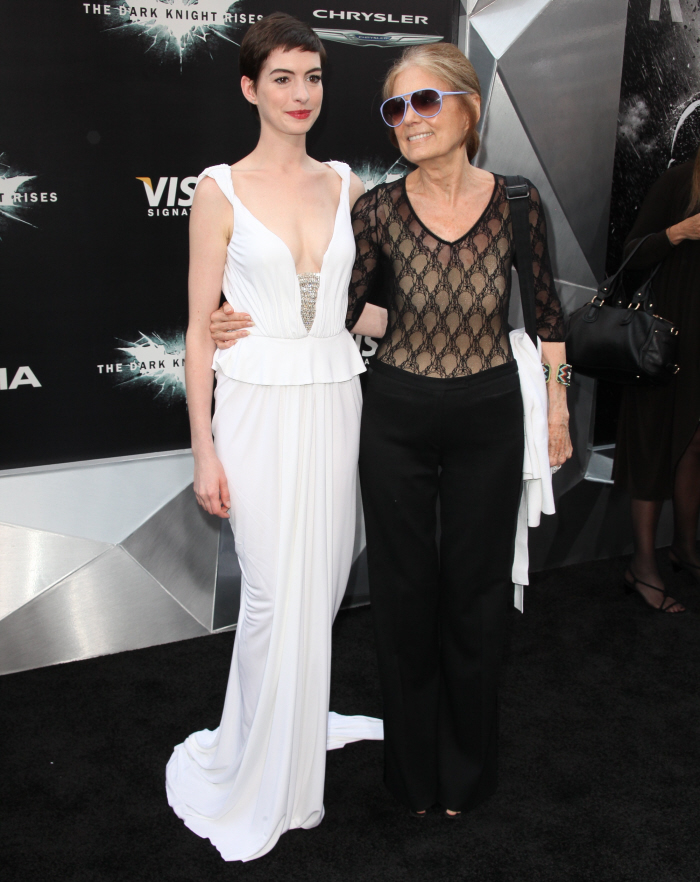 Photos courtesy of WENN.

Written by Kaiser

Posted in Anne Hathaway, Fashion, Marion Cotillard

- Zach Galifianakis is awesome [Buzzfeed]
- Prince at the Billboard Music Awards [D-Listed]
- Bieber's Billboard look [Go Fug Yourself]
- Married to Medicine recap [Reality Tea]
- Celebrity first marriages [Pajiba]
- The last Mad Men baffled a lot of people [Lainey]
- Karolina Kurkova's crazy hot dress [Moe Jackson]
- Jennifer Garner on set [Popsugar]
- Kitten vs. Lizard [CDAN]
- Doetzen Kroes' great butt [Celebslam]
- Shameless star Jeremy Allen White [OMG Blog]
- RIP Ray Manzarek [Bossip]
71 Responses to "Anne Hathaway vs. Marion Cotillard at 'TDKR' premiere: who looked better in white?"