Madonna is being sued for basically calling a French politician a "Nazi"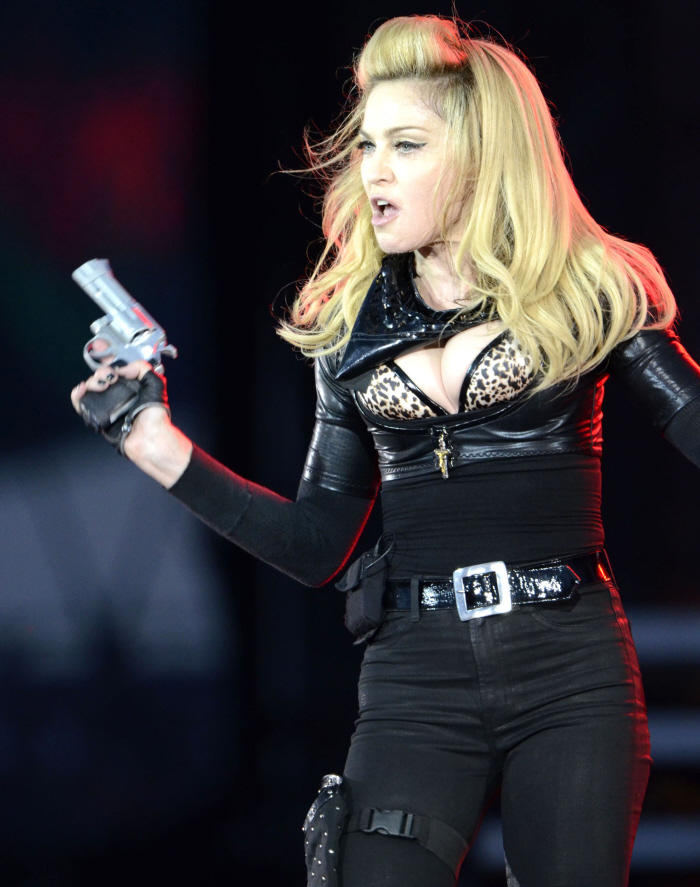 These are new photos of Madonna performing during her MDNA concert last night in London. I'm so tired of covering photos of Madonna on stage with this prop gun! Using a "prop gun" during your show and waving it around, pointing it at the audience – God, that's so lame. And she's still using crucifix images too – how avant-garde! Anyway, there are a bunch of Madge stories this week, so let's just do some highlights:
*Madonna has taken in $50 million in the first three weeks of her MDNA tour. She has 70 more shows left (internationally), which means she could stand to make $450 million once the tour is done. A concert promoter source tells HuffPo, "This is one of the biggest tours we have seen … ever. She is playing some of the biggest venues around the world and selling them out … It's putting other summer tours, including J.Lo's first tour, to shame. What is so impressive about these numbers is she's playing far fewer shows than previous tours by the Rolling Stones, Cher and Lady Gaga, and grossing more." You know why that is, right? Because Madonna is charging hundreds of dollars per ticket. It's price-gauging.
*Meanwhile, there are rumors that Madge is going to cancel the Australian leg of her tour for "reasons unspecified". While Madonna claimed that there would be an Aussie leg, the dates haven't been announced and the tickets haven't gone on sale. Sources claim that Madonna will probably wait until after the Olympics to announce whether she'll be going Down Under.
*And finally, the political story that I wanted to avoid discussing, but here I go. First, let me just say – I know very little about French politics. Don't yell at me for simply going with whatever Time Magazine says about French politics, okay? So, in France, there's a political party called the National Front, and they're seen as very conservative, ultra-right wing, very anti-Islam and pro-xenophobia. Their leader is a woman called Marine Le Pen, who Time claims is trying to bring her party into the mainstream, and as such, she's having problems with her (far, far) right flank. During Madonna's stage show, there's a video morph that includes a photo of Marine Le Pen with a swastika superimposed on the image. The image then morphs into a photo of Adolf Hitler. The video morphing thing also includes images of Pope Benedict, Sarah Palin, and Hu Jintao. Le Pen threatened Madonna with a lawsuit after Madge did the video morph thing during her Tel Aviv show, and Le Pen said that if Madge did it during her French show, Le Pen would sue. Madonna did the same thing during her Paris show. So now Le Pen is going to sue. And my guess is that Le Pen might have a pretty decent case considering the hate crime laws in France.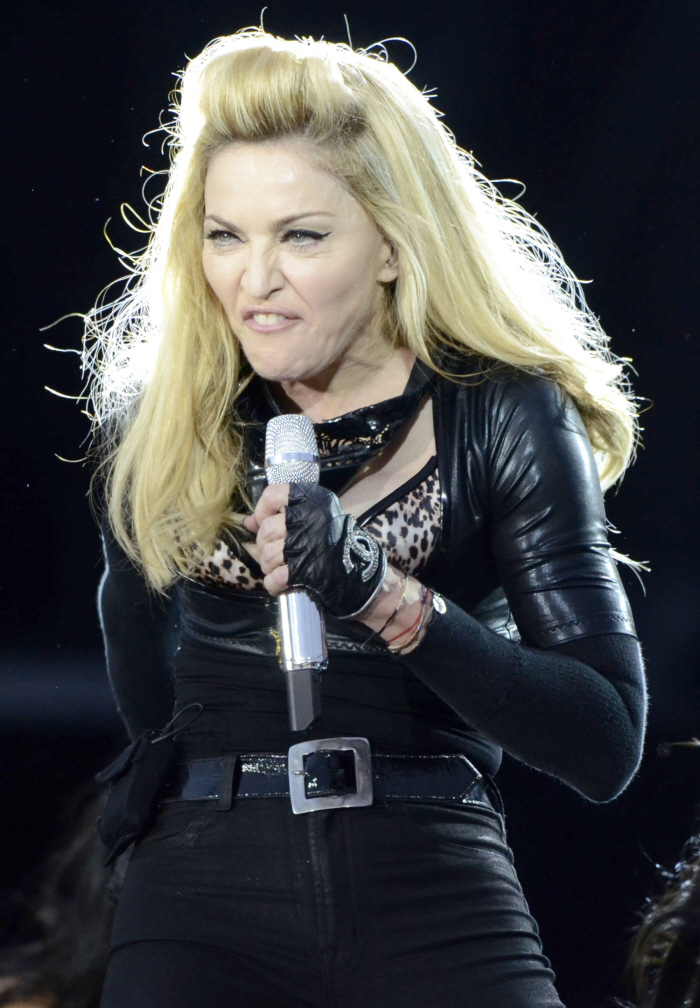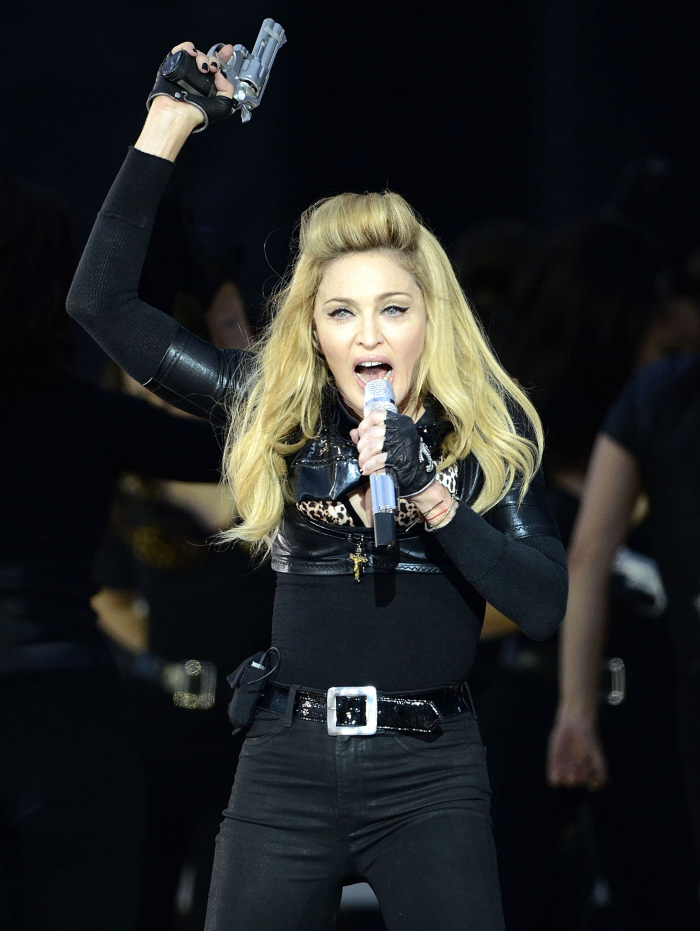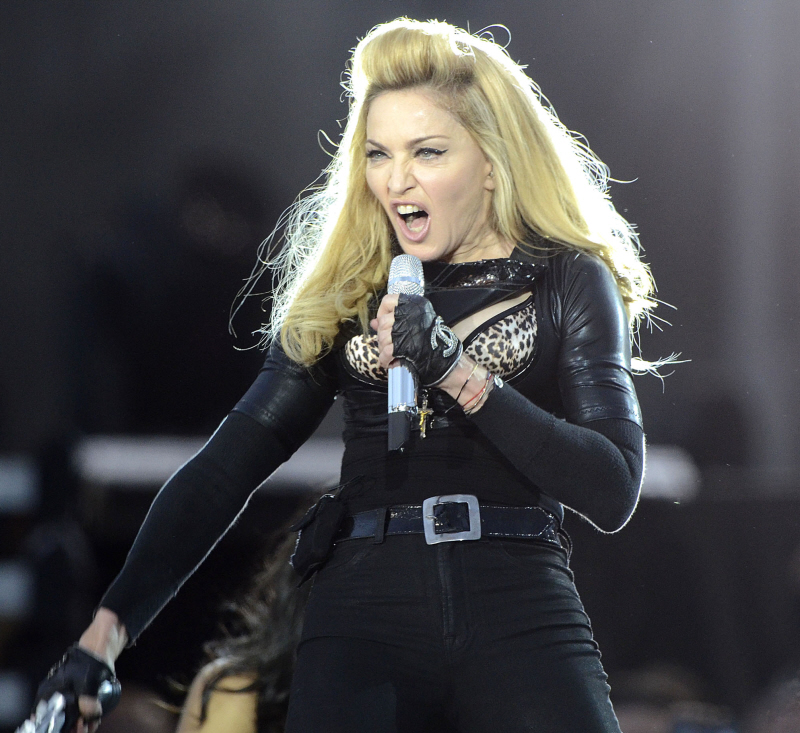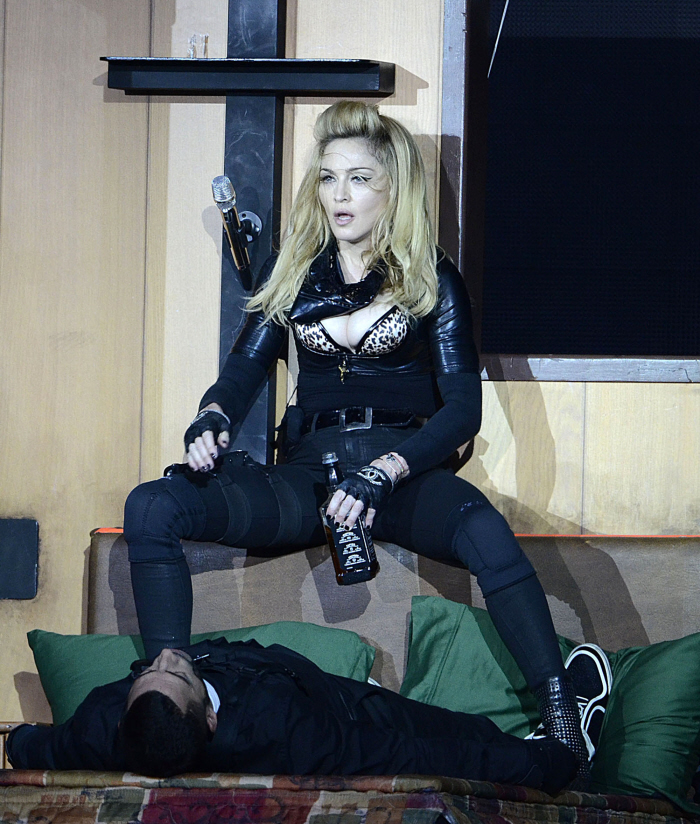 Photos courtesy of WENN.

Written by Kaiser

Posted in Madonna

- Friends reunion on Ellen [Popsugar]
- Lindsey Vonn watches Tigers kids [Lainey Gossip]
- George Michael fell out of a car going 70mph [D-Listed]
- Real Housewives of Orange County recap [Reality Tea]
- New Man of Steel trailer [Pajiba]
- Jared Padalecki's hot bod [Buzzfeed]
- Doctors confirm Taylor Swift's new boobs [Evil Beet]
- Catherine Zeta-Jones finished treatment [CDAN]
- Anna Paquin hates the paps [Celebslam]
- Lance Armstrong is gross [The Blemish]
- What is Barbara Palvin wearing? [Moe Jackson]
- This is Petra Nemcova? [SVC]
53 Responses to "Madonna is being sued for basically calling a French politician a "Nazi""