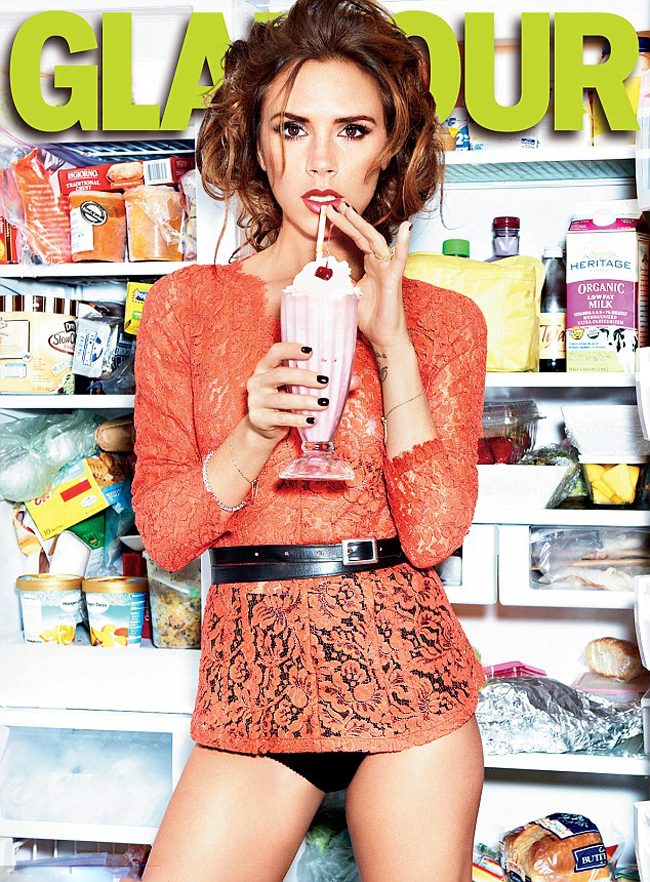 Victoria Beckham has guest-edited the September issue of Glamour. How about that? Just a few years ago, many people were scoffing over the idea of Posh as a fashion designer; and while I still don't like her designs most of the time, I have to admit that she's done one hell of a job inserting herself into the business at a fairly respectable level.
While I often wonder exactly how much work goes into "guest editing" a fashion magazine (and I'm sure it varies depending on the celebrity), this photoshoot is pretty cute and highlights Posh's inner cheekiness and tendency towards self-deprecation. Although the question remains — did she actually take a sip of that milkshake? Of course not. In the interview, Victoria talks about fashion, 50 Shades of Grey (the horror!), and whether or not another baby is in the Beckham family's future: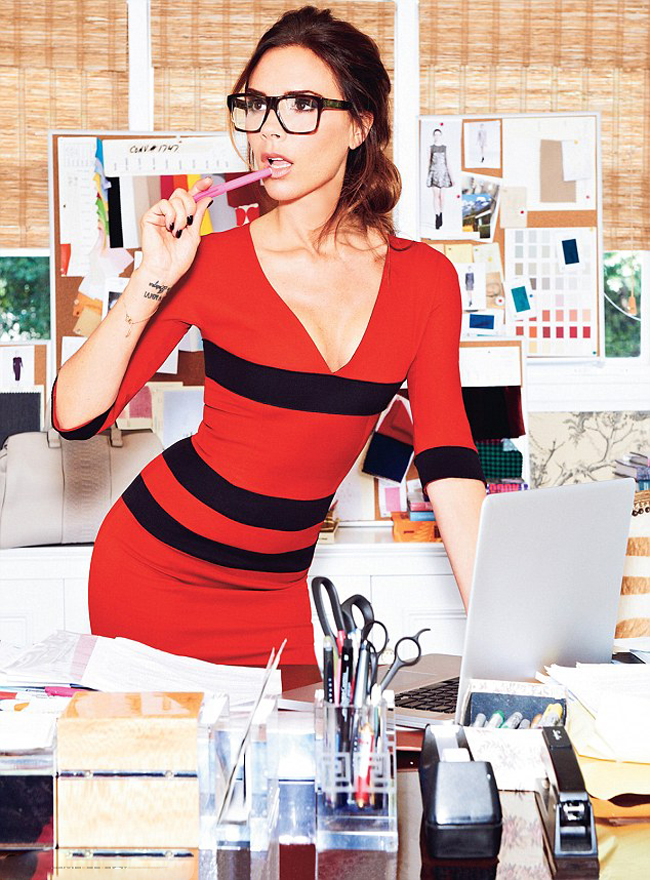 On guest editing: "It's been exciting for me to see my ideas come to life, from type colors to photo selection to casting. I even made my own list of Glamour fashion Don'ts to keep out of the issue: boat shoes (unless of course you're designer Alber Elbaz or on a boat!), Bermuda shorts, nose rings, Crocs, and American tan tights (that's nude pantyhose to you)."

Why she never smiles: "Do you know, I don't know?! I actually used to smile a lot in pictures. I think I only stopped smiling when I got into fashion. [Laughs.] Fashion stole my smile! I've created this person. And I'm not saying that's not me, but I wouldn't say that's the whole me…. It's an armor that goes up."

She loves 50 Shades of Grey: "I'm halfway through the second one. I even bought my mum the book! But every time she tries to engage in conversation about it, I kind of dodge the subject. I don't really want to talk to my mother about S&M."

On having Becks in her runway audience: It was the first time! He's always been working or training. But I was nervous about this show. I was feeling a lot of pressure. He phoned me the night before, and I just said, 'I want you to come be with me. I want a cuddle. I really do.' And it was great to have him there. I think he was surprised; I don't usually bother him with much detail. And then you get there, and the models, the hair, the makeup…I think he was blown away!"

On her future & family: "I'd like everybody to be healthy and happy. I'd like to be growing the business at a steady pace, and to be making more women feel empowered, beautiful, and confident. And I'd never say never about another baby. It's a juggling act–a career, family, a husband who's busy. But I'd never say never!"
[From Glamour]
That bit about the smiling … perhaps she's joking because I was all like, "Bitch, please!" when I read that. Posh has been pouting at least since the insemination of Posh Spice. It has nothing to do with her newfound career as a fashion designer at all, but I can sort of understand why she describes her famous frown as "armor."
Otherwise, I actually find it quite hilarious that Victoria is into 50 Shades, which makes me wonder if she and Becks have ever done the spanking thing. Do you think so?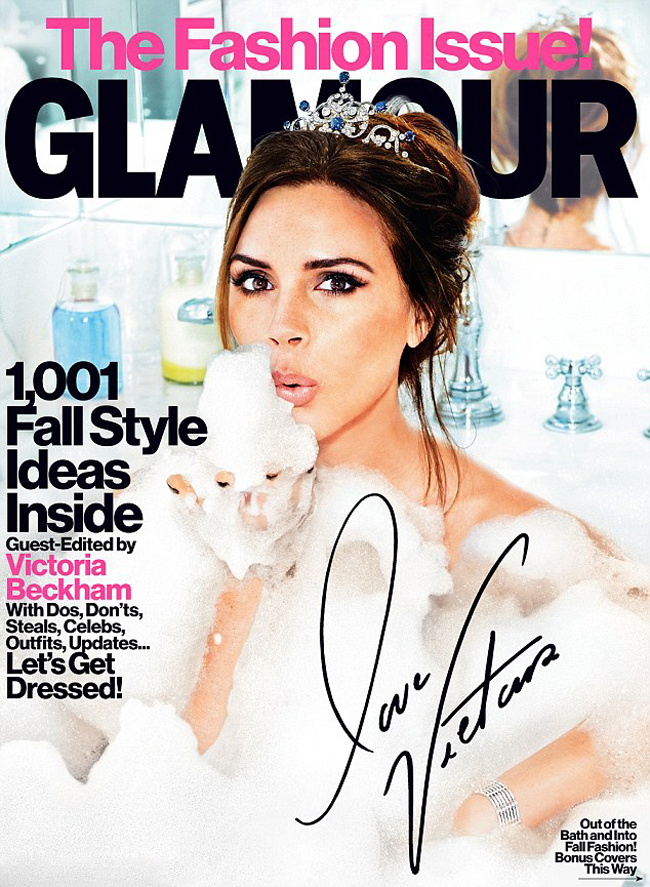 Photos courtesy of Glamour