Prince William would've been "embarrassed" to kiss his wife in public, on camera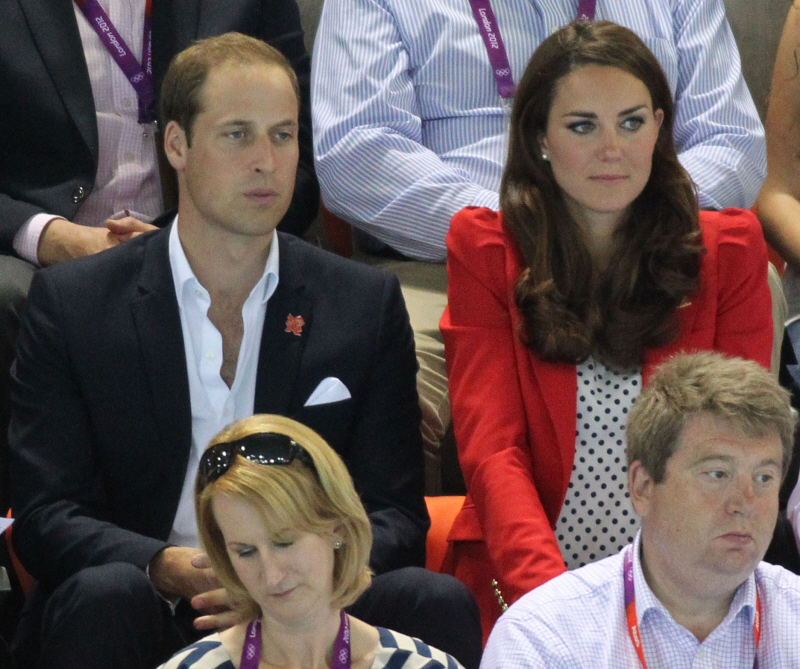 First of all, does anyone else think Prince William looks really sexy is a button-down shirt, no tie and a blazer? I think royal protocol probably demands one more button to be done up, but William said, "To hell with protocol, check out a hint of my chest!" Whatever, y'all – I think he looks great in these photos. These are pics from Friday night at the aquatic center. Clearly, Kate knows she's going to be photographed constantly at these events, so she's no longer just going to run out in a youthful ponytail and a little polo shirt. Kate put a new-looking red Zara blazer (cost: around $99), and What Kate Wore hasn't identified the blouse yet. They say the jeans are some variation of the Zara skinny jeans that Kate wears all the time – she probably has multiple pairs of the same cut in different washes.
Unlike HUG-GATE 2012, William and Kate pretty much kept their hands off of each other on Friday. Kate was seen "covering her eyes, biting her nails and muttering nervously to William" as they cheered on the British Olympians in competition. Speaking of Hug-gate… a surprising amount of commentators took me way too seriously when I jokingly referred to Will & Kate's embrace last week as "scandalous". Some of you are way too earnest for your own good. That includes William, who spoke about Hug-gate (also called "The Embrace") in an interview this weekend:
England's future King told the BBC is shy about showing a little too much affection on camera — and admitted her worried that he and Kate would be caught on "kiss-cam" inside the Velodrome.

"I was absolutely dreading they were going to come and show myself and my wife and that would have been very embarrassing," William says of a kiss cam at the Olympic Velodrome, where the royals watched Scottish cyclist Sir Chris Hoy win gold and set a new world record in the men's team sprint.

"That was absolutely fantastic, the world records being beaten and the atmosphere in there was electric," William said in an interview, alongside Prince Harry, to the BBC of the golden moment.

In the interview, the brothers, who are also Olympic ambassadors, praised the British public, the military and volunteers for their work at the Games. They also expressed pride for their cousin Zara Phillips, who won silver as part of the five-member British equestrian team.

"We as cousins are very, very proud," Harry said. "It now explains why we never get to see her because she is always riding."

The princes also said they had no idea their grandmother, Queen Elizabeth II, was going to participate in the Opening Ceremonies.

"Both of us were slightly surprised with our grandmother's secret hobby of parachuting," Harry said of the moment when the Queen appeared to jump out of a helicopter above the Olympic Stadium with Bond star Daniel Craig.

"We were kept completely in the dark about it, that's how big the secret was," William said, adding, "She did such a good performance that she's been asked to star in the next Bond film. I'm thrilled for her."
Would it be too earnest of me to ask if the Velodrome actually has a kiss-cam? No, right? William is completely joking here? OK. Because if they really did a kiss-cam, I think it would have been cute to see Will & Kate share a public kiss. We haven't seen them kiss since their wedding day!
Here's a video of Kate and William working the room separately at the Team GB House, where they had organized a little party to say "thank you" to all of the workers and volunteers. I like how animated Kate is here – she's growing more comfortable in these types of situations. I think Kate suffered from being "over-handled" by royal handlers who were coddling her and telling her to change this and that and everything. Maybe we're seeing a new strategy – "Let Kate Be Kate."
PS… OMG, look at all of the shiny brass buttons!!!!!!!!!! BUTTONS.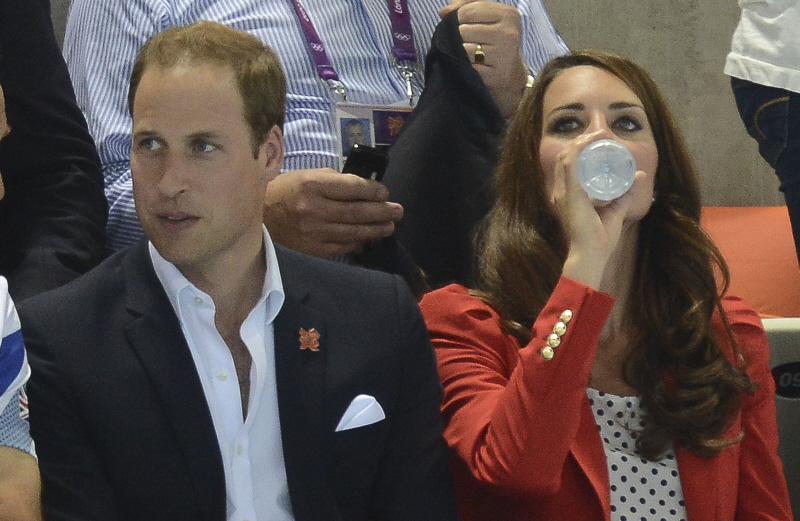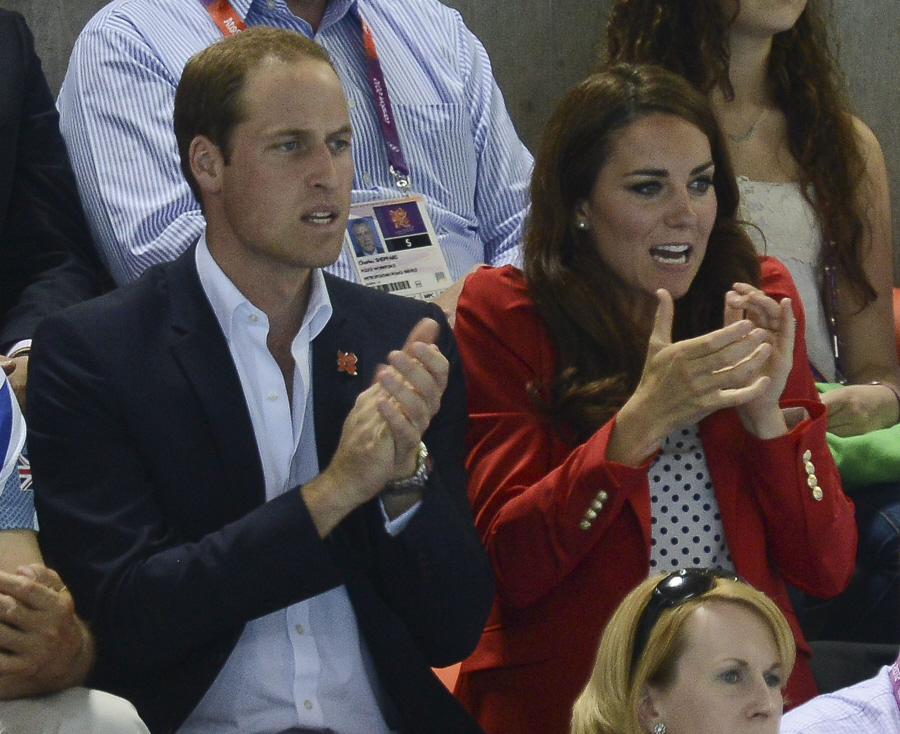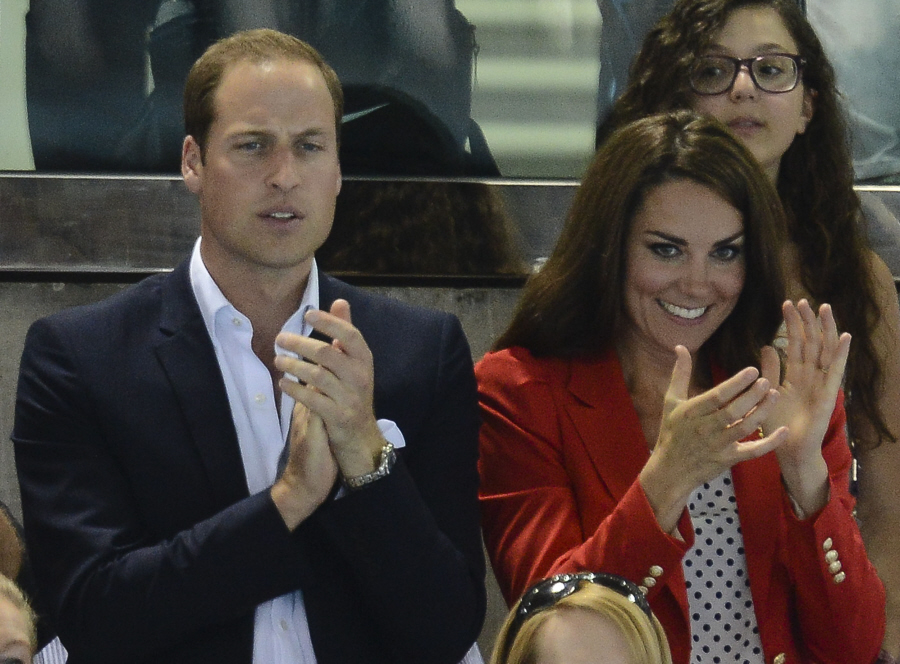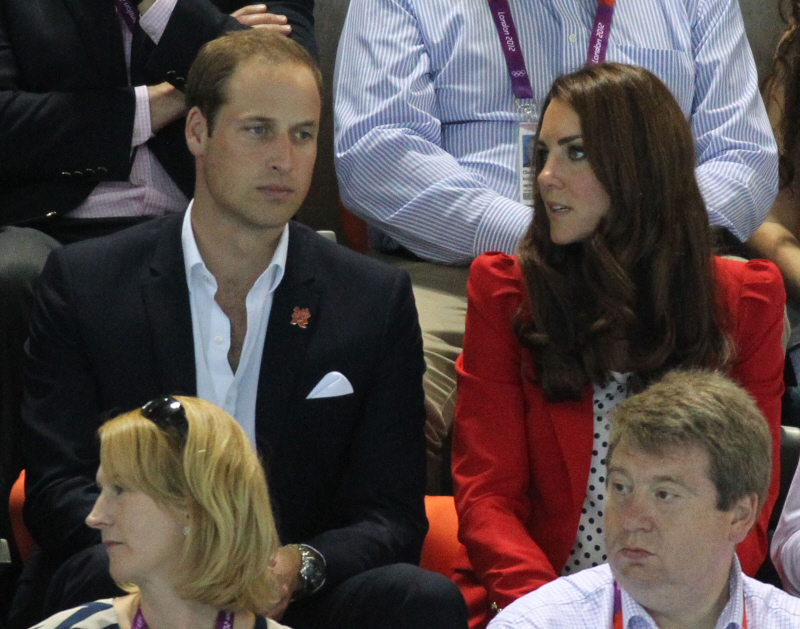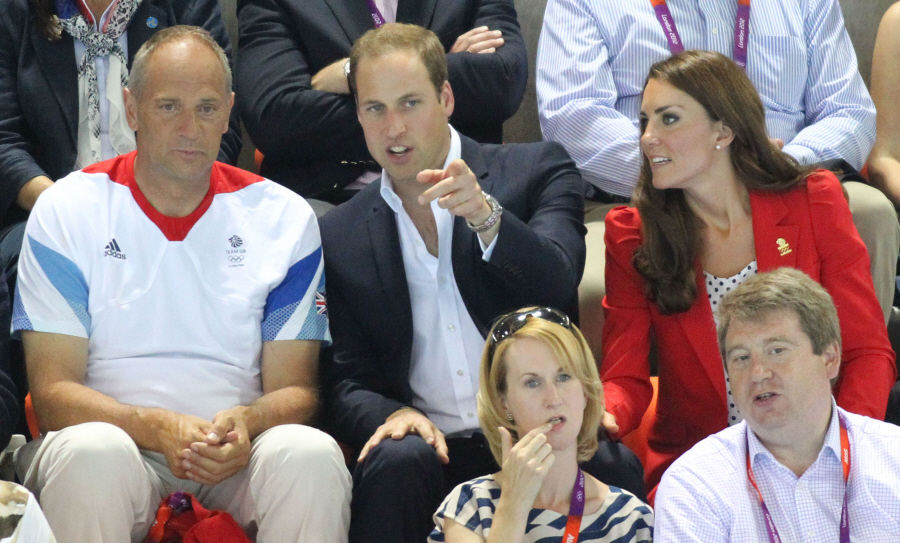 Photos courtesy of WENN.

Written by Kaiser

Posted in Fashion, Kate Middleton, Prince William

- Harry Styles & Kimberly Stewart going strong [Lainey]
- Demi Moore's new man is gross [D-Listed]
- Fug or fab: Emma Stone [Go Fug Yourself]
- Arrest warrant issued for Jenelle Evans [Reality Tea]
- Only God Forgives review [Pajiba]
- Hugh Jackman, scooter master [Buzzfeed]
- Who does Drew Barrymore call her sister? [Evil Beet]
- Cannes couples past and present [Popsugar]
- Arrested Development supercut [CDAN]
- Lea Michele's see through skirt [Celebslam]
- Cheating wife's lover escapes out of window [Movin925]
- Joe Francis is crazy [Starcasm]
64 Responses to "Prince William would've been "embarrassed" to kiss his wife in public, on camera"