Katy Perry & John Mayer "could be the real deal," enjoy a lemur-filled date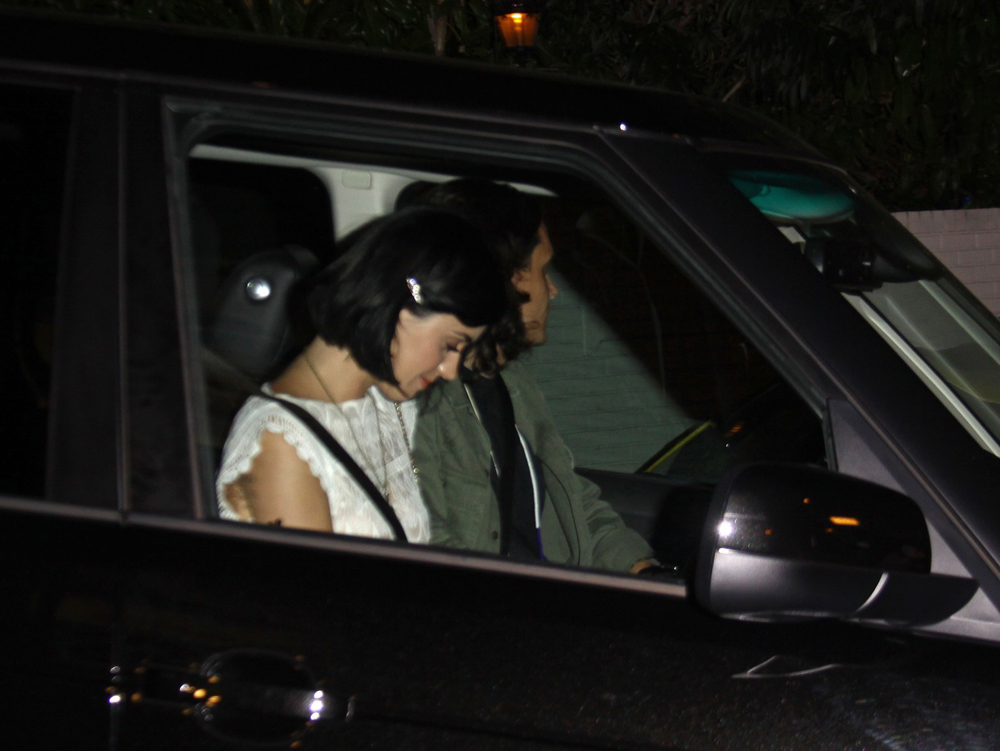 Last week, I wrote about those photos of John Mayer and Katy Perry practically begging the paps to notice them at the Chateau Marmont and asked whether they were "gross" or the "perfect couple." Naturally, many of you gave the best reponse ever, which is that Katy and John are the "perfect gross couple." Thank you all for the LOL.
Anyway, Us Weekly had called the coupling the week prior and made it sound like Katy had been dying to get into John's pants for quite some time. It seems that Katy may have succeeded — with little resistance from John, of course. The Mail has some photos of Katy receiving the car ride of shame after spending the the night with John. The article notes that Katy had planned ahead and "made sure to take a change of clothes with her" since she was wearing a different outfit from the prior evening, so feel free to draw your own icky conclusions there. Now Life & Style has word that the two are "definitely dating" and just enjoyed a "wild" Saturday night complete with exotic animals and a house party. Those crazy kids: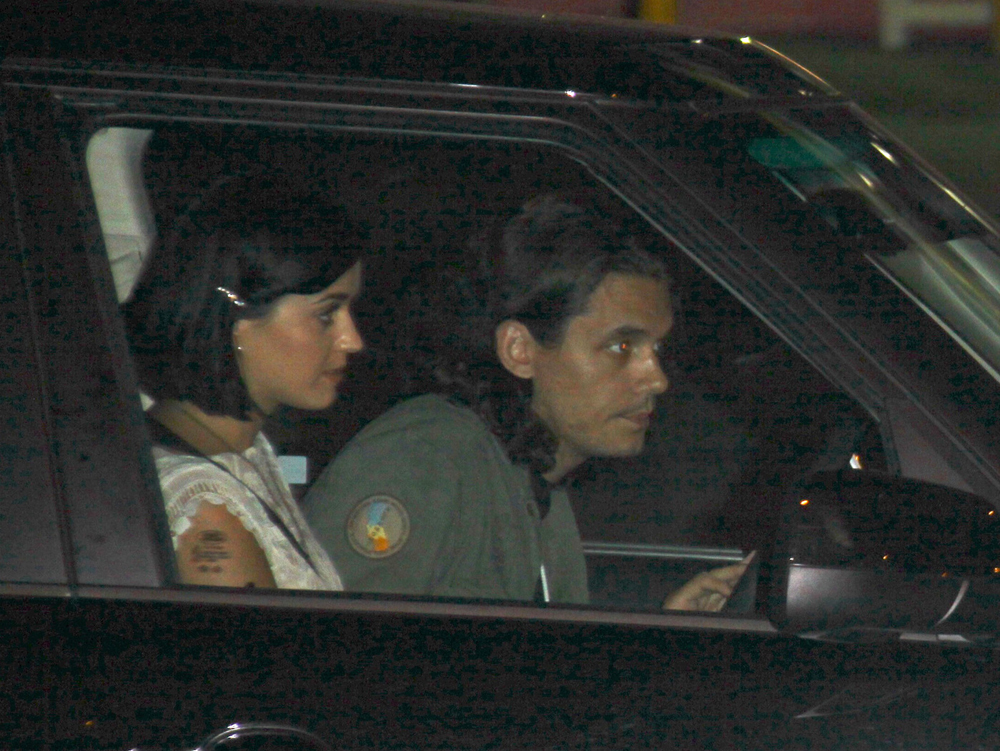 Only a week has passed since Katy Perry and John Mayer were first spotted leaving the Chateau Marmont together on a date, but it's already official: The two are "definitely dating," multiple sources tell Life & Style. In fact, John and Katy didn't leave each other's side all weekend. They were inseparable at a wild house party and then at a pool party.

Saturday's wild bash, held at agent Michael Kives' apartment and also attended by Arnold Schwarzenegger and Jessica Chastain, among others, was quite the Hollywood scene — exotic animals, including an alligator, lemurs and raccoons, were rented for the party and situated throughout the apartment. Katy and John arrived around 8:30 p.m. and stayed close the entire night.

"They were standing on the terrace on the ground level and petting all the exotic animals,"a partygoer tells Life & Style. "Katy loved the lemur and was trying to get it to sit on her shoulders. There was an alligator, a baby raccoon and other animals. Katy and John never left each other's side and were flirting and affectionate the entire time. Katy loved it!"

John isn't the first guy that Katy has been with since she and Russell Brand divorced in December 2011, after just 14 months of marriage. First she was linked to supermodel Baptiste Giabiconi in March, then to Florence + the Machine guitarist Robert Ackroyd after they were spotted kissing at Coachella in April. But those were just rebound romances, friends say. John could be the real deal!

"I'd say Katy's more serious with John than she was with Robert," says a source, who spotted the couple at a pool party this past weekend. "Everyone knew they were coming together as a couple."

In interviews, John famously spilled intimate details of his high-profile relationships with Jennifer Love Hewitt, Jessica Simpson and Jennifer Aniston, and Katy could be next.

"Maybe he's a changed man, but Katy likes bad boys," says the source. "I can't imagine John's changed that much."
[From Life & Style]
Kaiser and I were mutually grossing out over this story, and it's hard to feel bad for Katy since she seems so full of herself all the time, but really? She thinks that she bagged one of her crushes, when (in actuality) John has merely come in for a landing after circling his latest prey. If the past is anything to go by, he'll do a number on her and then she'll write some terrible music about it. And then we'll have to talk about the horrible video. Damn that John Mayer.
Here's a few photos of Katy at the photocall and premiere for her Part of Me 3-D movie in Rio De Janeiro last week. I wonder if she was daydreaming about John Douche as the cameras clicked away. :shudder: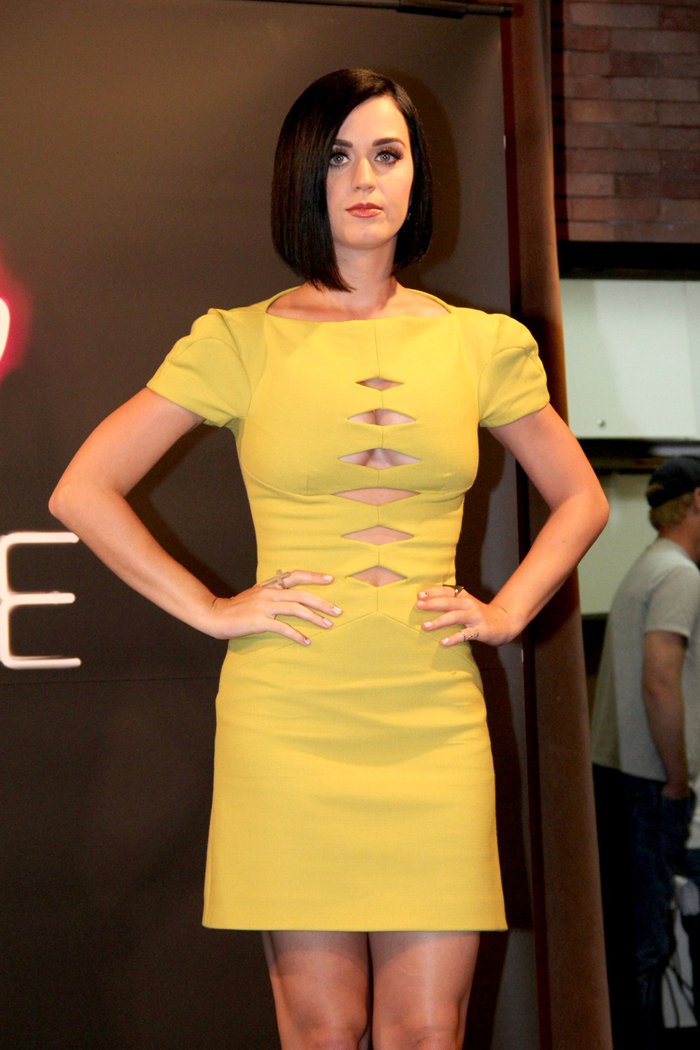 Photos courtesy of Pacific Coast News
Written by Bedhead

Posted in John Mayer, Katy Perry

- Mariah Carey lip synced on American Idol [CDAN]
- Colin Firth is looking good [Lainey Gossip]
- Internet celebrity charged with murder! [D-Listed]
- What is Paz Vega wearing? [Go Fug Yourself]
- New bachelors on The Bachelorette [Reality Tea]
- Goodbye to The Office [Pajiba]
- Bachelor Sean's fiance cheats on him [Evil Beet]
- Britney Spears out with her man [Popsugar]
- Nina Dobrev works it [Popoholic]
- Cindy Crawford needs to lay off the 'tox [Celebslam]
- Who said it: Carrie Bradshaw or The Dalai Lama? [Buzzfeed]
31 Responses to "Katy Perry & John Mayer "could be the real deal," enjoy a lemur-filled date"