Us Weekly: Jennifer Aniston "doesn't have problems with Angelina anymore"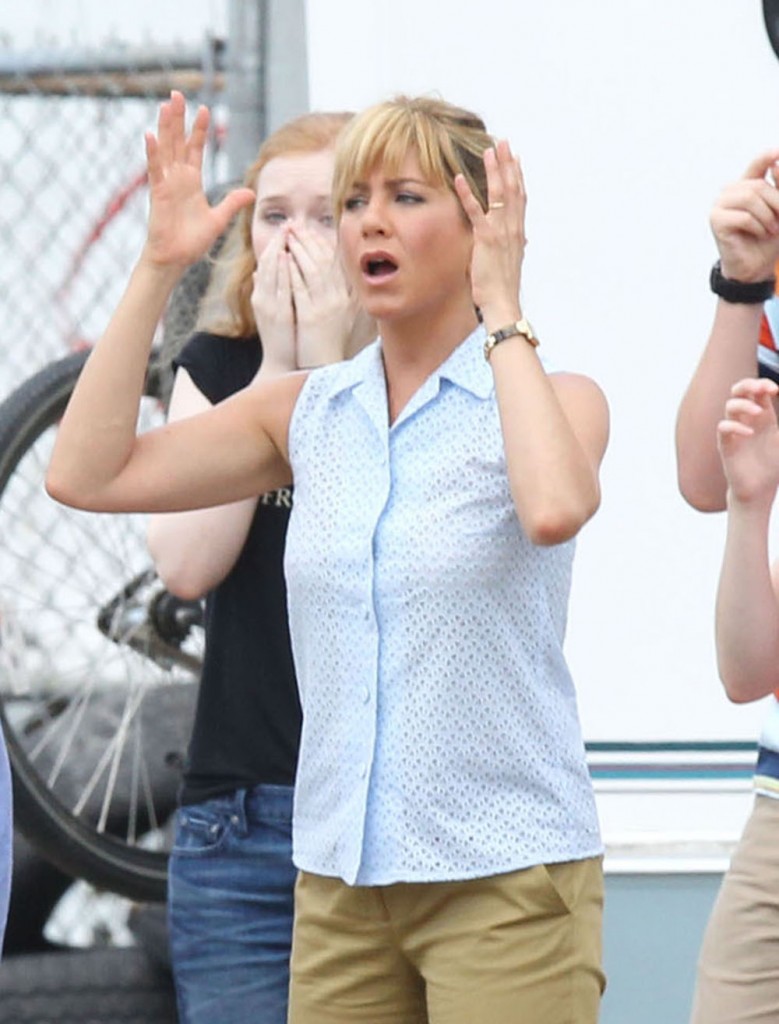 Update: images removed on request. Story refers to a different set of images.
---
These are some new photos of Jennifer Aniston on the North Carolina set of We're The Millers, that movie where she plays a hooker hired by Jason Sudeikis to play a wife and mother so that they can all move a huge shipment of weed from Mexico to the US. I'm sorry we didn't have those photos of Jennifer's nips – those were floating around last week. I think these photos are all about her butt, honestly. Jennifer has a great ass, even when she's wearing unfortunate pants (like she is in these pics).
Some of you might have already seen the Us Weekly cover, which is mostly about Kourtney Kardashian and her baby, but there's also a cover inset that reads, "Jen's Private Angelina Joke". I thought the story would be about Jennifer making dumb jokes about Angelina's Maleficent horns, but no. HL's excerpts say that Jennifer wants to create a photo-op with Angelina and that's the "joke":
Is the feud finally over? Jennifer Aniston, 43, is apparently dying to release a photo with rival Angelina Jolie, 37, to coincide with her upcoming viral video ad for Smartwater. "Jen doesn't have problems with Angelina anymore!" a source tells Us Weekly.

After Jolie reportedly broke up Jen and Brad Pitt's marriage in 2005, reports have circulated that the two actresses hate each other. But seven years later, Jen is ready to bury the hatchet.

"Jen recently contemplated having her people call Angelina's team to arrange a photo op for them just to put the rumors that they hate each other to rest," a source tells Us.

In her upcoming video promoting Smartwater, to be released this fall, she pokes fun at the constant rumors that she is pregnant or engaged. "Jen wanted to time the shot with Angelina to the video's release," the inside source spilled.

However, Aniston's rep commented, "There was never any intention of getting a photo op with Angelina."

The source insists the feud is over, saying, "People blow Jen's feelings about Angie out of proportion."
Yeah. Why would Jennifer want to create a photo op? Why would Angelina agree to it? It's not going to happen. If it was ever going to happen, it would have gone down at the 2009 Academy Awards, when they were both in attendance (Angelina as a nominee, Jennifer as a presenter… with date John Mayer). I tend to think these two go out of their way to avoid each other.
Oh, and the UK tabloids are now claiming that there are "rumors" that Justin Theroux and Jennifer are over. Justin was in NY and LA for the past few weeks while Jennifer worked in NC. But I don't know where he is now. He could totally be in NC. Or maybe he's staying in New York and they really are having some issues. Hm.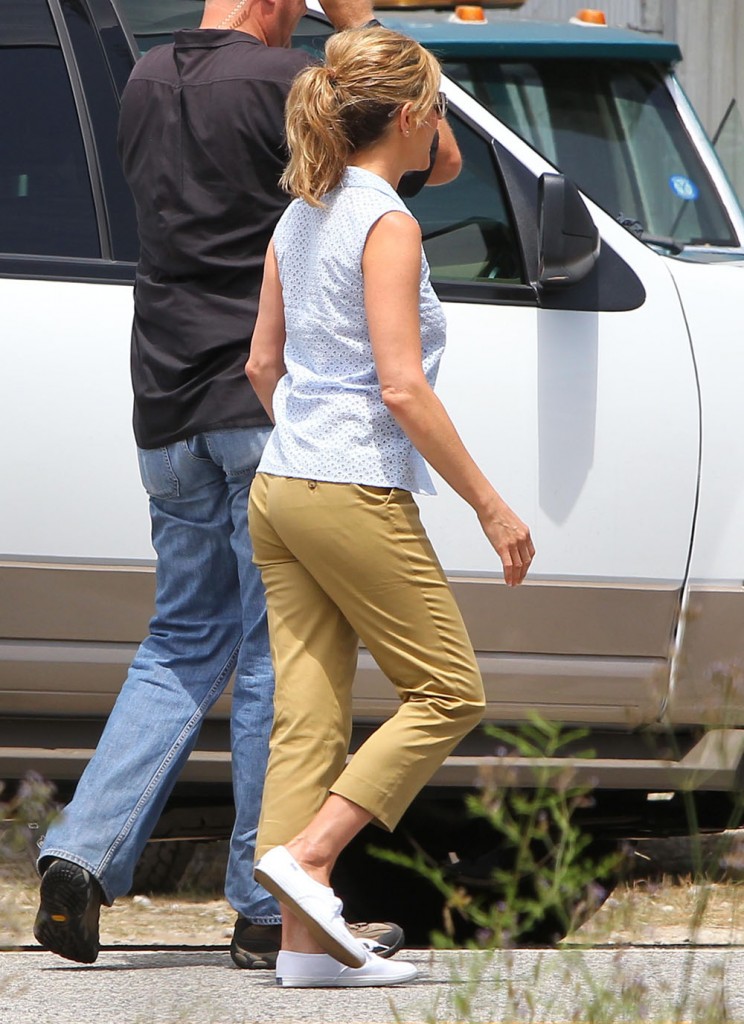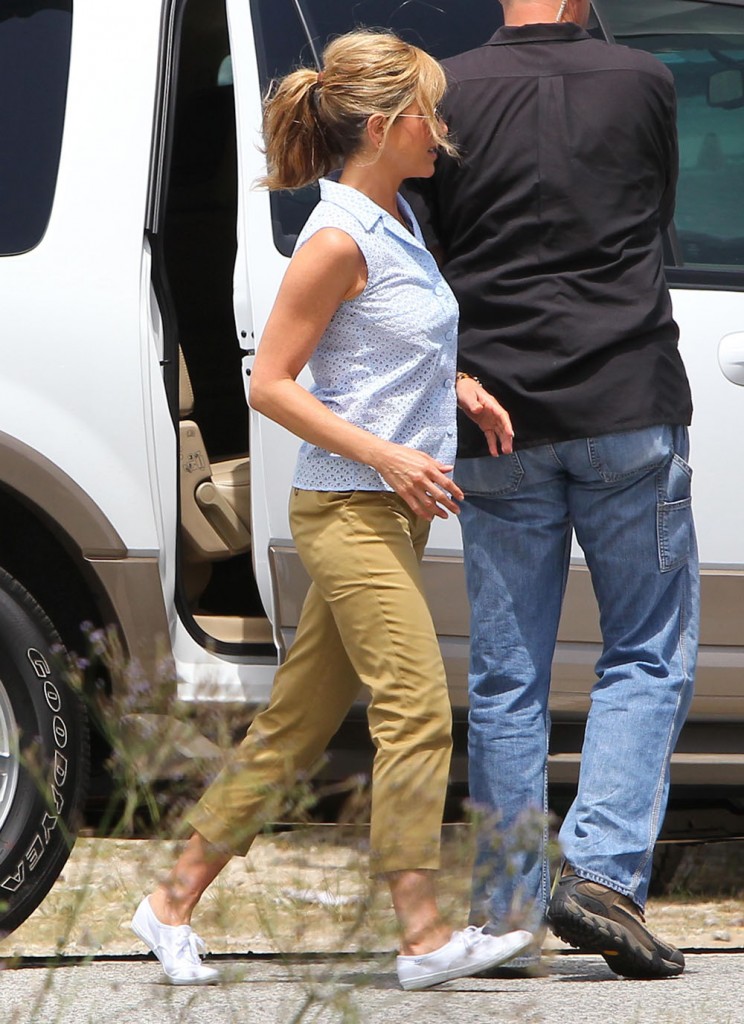 Photo credit: Fame Flynet

Written by Kaiser

Posted in Angelina Jolie, Jennifer Aniston

- Mariah Carey lip synced on American Idol [CDAN]
- Colin Firth is looking good [Lainey Gossip]
- Internet celebrity charged with murder! [D-Listed]
- What is Paz Vega wearing? [Go Fug Yourself]
- New bachelors on The Bachelorette [Reality Tea]
- Goodbye to The Office [Pajiba]
- Bachelor Sean's fiance cheats on him [Evil Beet]
- Britney Spears out with her man [Popsugar]
- Nina Dobrev works it [Popoholic]
- Cindy Crawford needs to lay off the 'tox [Celebslam]
- Who said it: Carrie Bradshaw or The Dalai Lama? [Buzzfeed]
88 Responses to "Us Weekly: Jennifer Aniston "doesn't have problems with Angelina anymore""