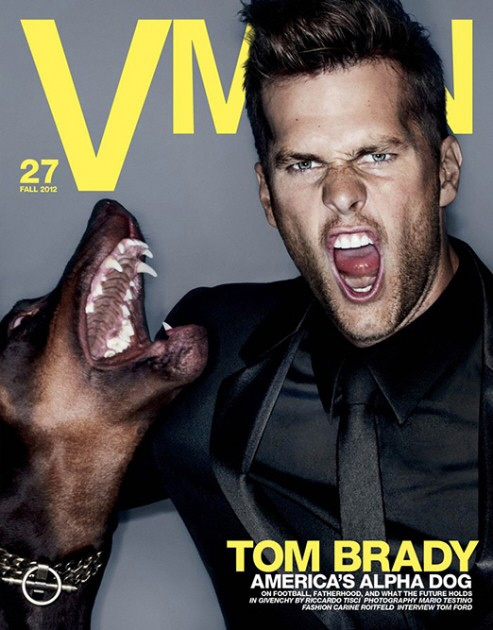 I wish I could accurately describe the mix of emotions I felt upon seeing Tom Brady's VMAN Magazine photo shoot. At first, I was just looking at Brady and I thought, "This might be the best he's ever looked." I've never been interested in Brady as far as looks (or anything else, really). I usually don't go for the pretty ones, and I rarely go for athletes, so it's surprising that I find myself attracted to Tom at this late date. I still think he's too pretty (for me). But his sex appeal is definitely growing.
But… as I really looked through these photos, I became increasingly disturbed by the use of the Doberman. I love all dogs – and I've known some really sweet, crazy-smart Dobermans. Like Pit Bulls, Dobermans get a bad rap because of their owners. And while I'm sure this particular Doberman was a trained puppy, simply "performing" for the cameras, it still bothers me that this kind of dog-on-man violence is used for a photo shoot. I guess the photographer (Mario Testino) could argue that the dog-on-man stuff makes the photo shoot so "compelling". But I think it promotes the image of Dobermans as violent and temperamental.
Anyway, here are some highlights from Brady's VMAN piece:
There are plenty of hugs and kisses to go around in the Bundchen-Brady household. During a Carine Roitfeld-styled, Mario Testino-photographed shoot with VMAN (their fall issue hits stands August 23), Tom Brady opens up about not being afraid to show off his softer side — especially when he's hanging out at home with wife Gisele Bundchen and his sons, Jack (with ex-Bridget Moynahan) and Benjamin.

Brady says he grew up in "an environment where people weren't afraid to express how they really felt or express their emotions," he tells the mag. "I'm very blessed to be able to do that because with my two boys — I kiss them a thousand times a day. My wife and I are very affectionate, it's just part of our nature."

Even though he makes his living in one of the most macho industries there is, "I'm not really concerned with portraying this tough warrior," he explains. "I mean, that's part of my job and I take that very seriously. But I don't have anything to hide and I'm not concerned with what people think."

Turns out the NFL star, 35, and his supermodel wife will soon have another family member to cover in kisses; as Us Weekly first reported in June, Bundchen is expecting her and Brady's second child together.

"Yes, she is pregnant," one source told Us at the time. "[She and Tom] are really happy!"
Last week, there were some really nice photos of Gisele, Jack and Benjamin visiting Tom at the Patriots training camp – you can see them here. Tom does seem very affectionate and "hands on" with his two sons, and I can see how Gisele is a part of that too. I think that's good – it's a great parenting style, to be very tactile and affectionate. That's the way my mom was, whereas my father and I rarely even hugged (we showed affection through food). As it turns out, that's what I'm like as an adult too – I'm not a very tactile, touchy-feely person. Still, I can admire that quality from afar.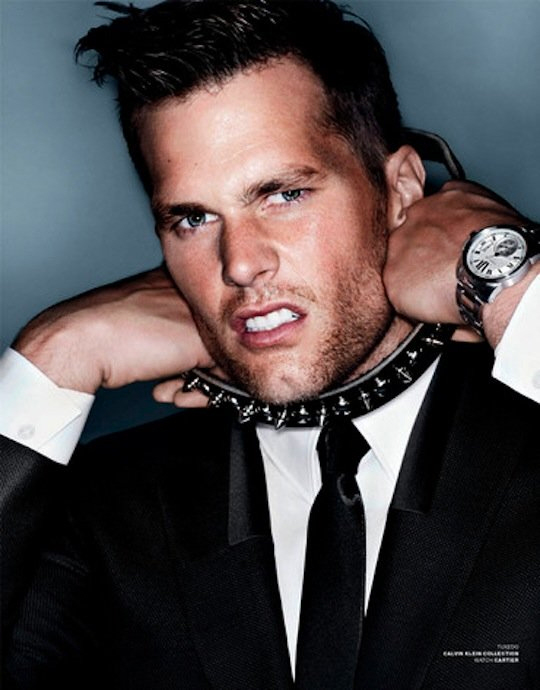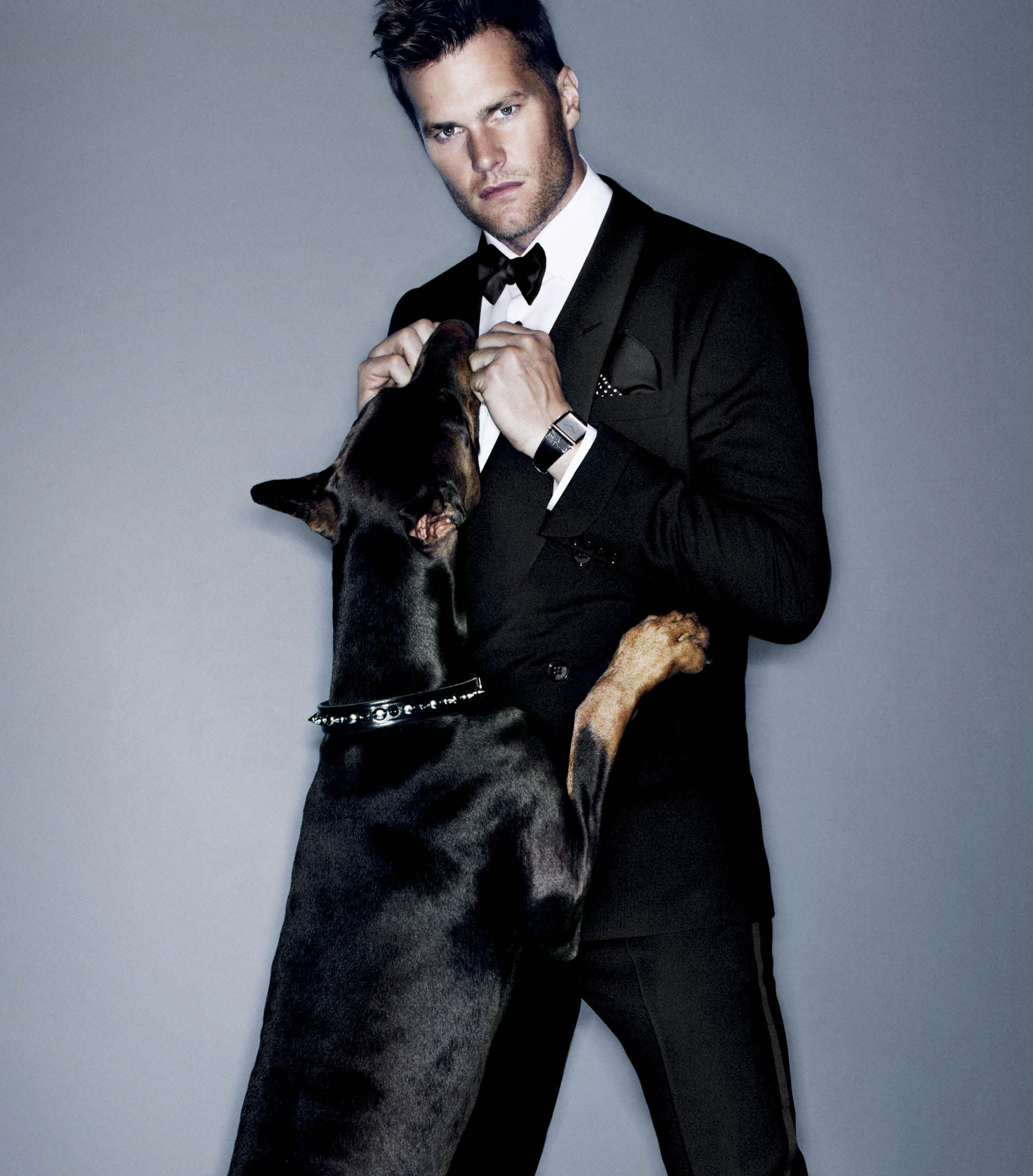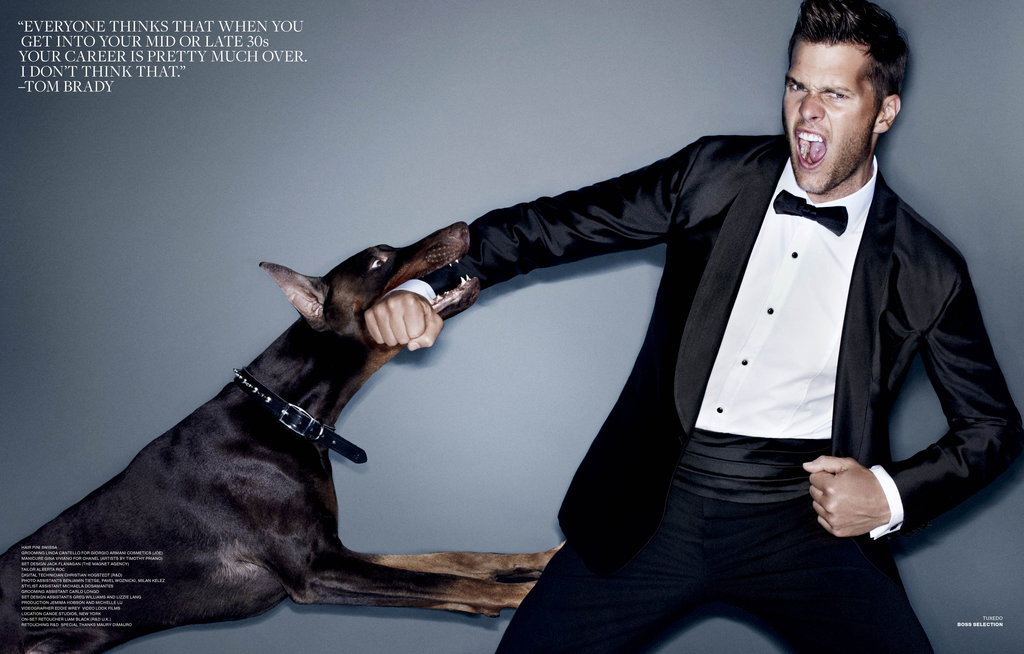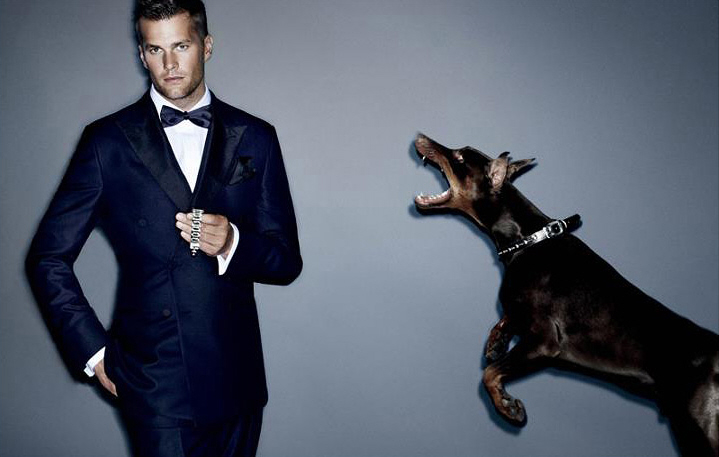 Photos courtesy of VMAN.