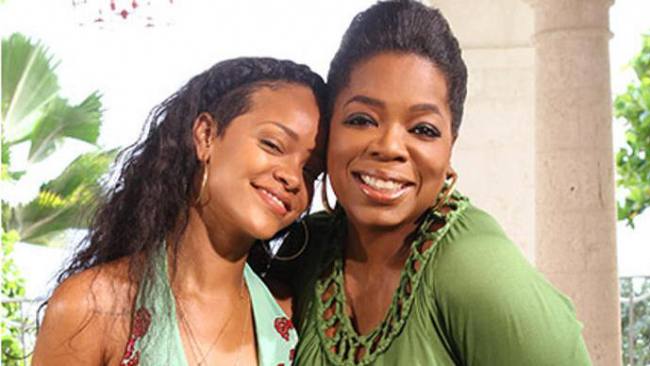 Rihanna's full interview on "Oprah's Next Chapter" aired last night and, as promised in the preview clip, there was much talk of Rihanna's thoughts on Chris Brown, which are generally conflicted, and you can tell that she hasn't fully resolved her feelings over what took place three years ago when he beat the living crap out of her. In addition, we've also heard that Chris was very aghast that Rihanna (and the rest of the world) is still rehashing the events that took place because he feels like he's worked so hard (in the studio, not in women's shelters) on his "road to recovery." Whatever.
Before the full interview aired, Rihanna has also come under fire from some charities that deal with violence against women because RiRi stated (in the aforementioned clip) that she "misses" Chris and that he only "made a mistake" and "needed help." The Women's Resource Centre has released a statement saying "We need to stop society allowing us to normalise such behaviour. Rihanna has admitted she 'was more concerned about' her 'best friend' Chris Brown after the singer's vicious attack on her." Now with the release of Oprah's full program, Rihanna has fully admitted that she still loves Chris and has fully forgiven him. She also hints at some (unsurprising) dynamics that she witnessed between her own mother and father: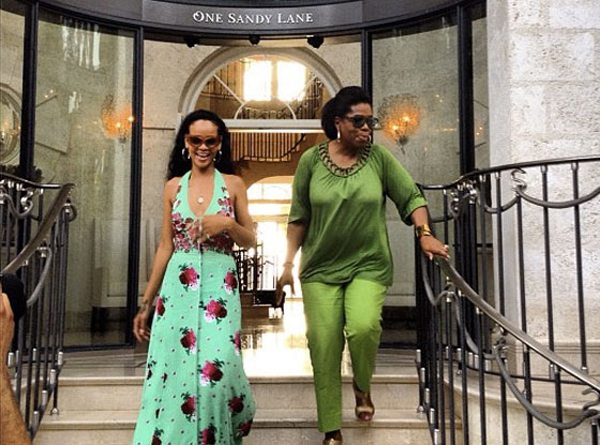 * Rihanna and Brown, according to Rihanna, are "not seeing each other." But the two have been "working on our friendship again, and now we're very, very close friends. We built up a trust again. And that's it. We love each other and we probably always will."

* The Battleship star acknowledged that Brown is in a relationship and that she is single. But she also admitted that, as rumored, they recently reunited in St. Tropez. "It's awkward because I still love him," she said of seeing Brown again. "My stomach drops, and I have to maintain this poker face and not let it get to the outer part of me."

* When Winfrey asked if Brown was a true love her for her, Rihanna responded, "Absolutely. I think that he was the love of my life. He was my first love and I see that he loved me the same way."

* Rihanna said she was "angry" and "resentful" for a long time before she ultimately forgave Brown for hitting her. She said she was able to grant that forgiveness after she resolved issues with her own father, who she implied was occasionally violent with her mother.
[From Washington Post]
Beyond the troublesome attitude that Rihanna harbors for her abuser, I find it rather disgusting that Rihanna is essentially making a huge public play for Chris by admitting that she still loves him and had such a hard time when hanging with him in St. Tropez while his girlfriend, Karrueche Tran, was also present. I just don't understand why she'd do that in a normal, non-abusive situation, let alone when Rihanna's relationship with Chris was clearly a toxic mess. But maybe she's just addicted, I don't know.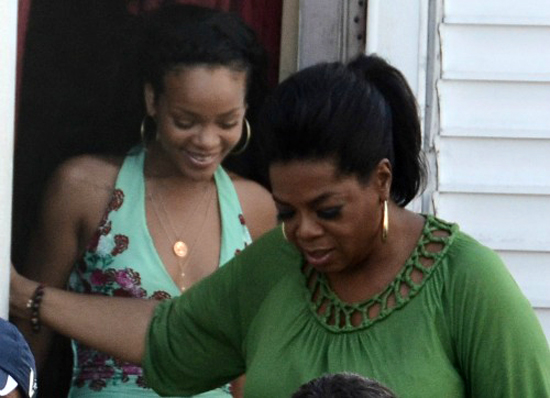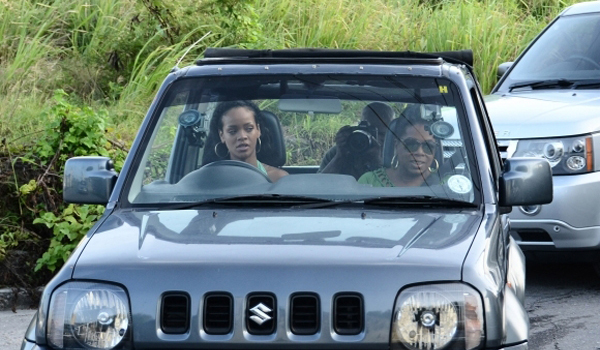 Screencaps courtesy of OWN Network