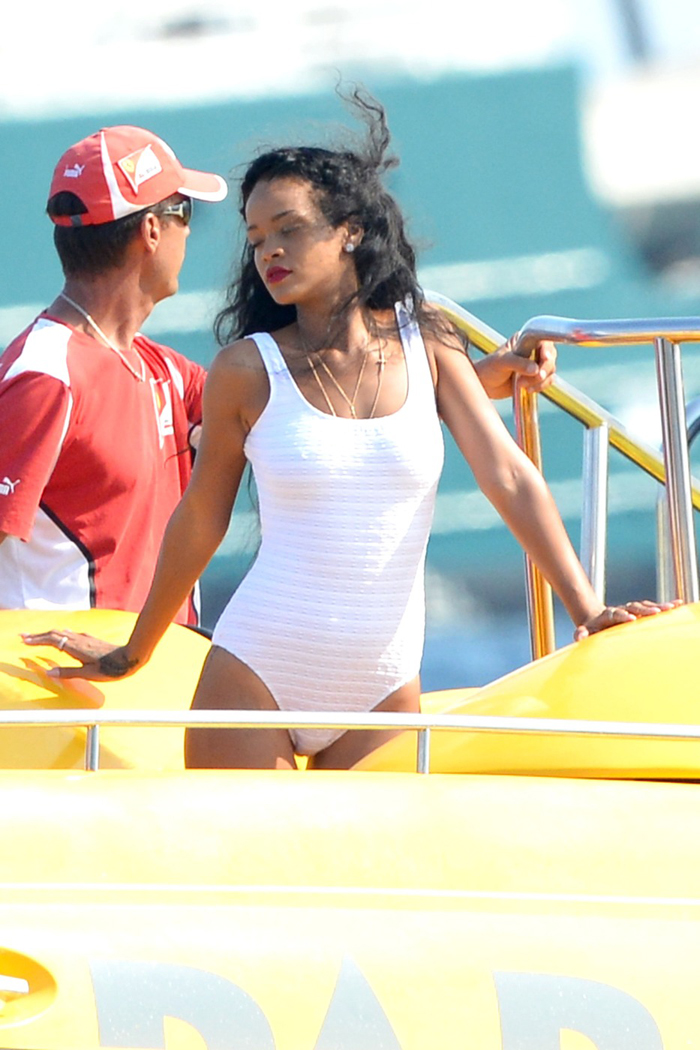 Rihanna and her new size 0 ass are currently vacationing with her female buddies in Cannes, and from the looks of things, RiRi is concentrating very hard upon yachting and parasailing. The result? Lots and lots of photos from the paps that remind me very much of Rihanna's own (Facebooked) obnoxious Hawaiian vacation photos from last holiday season. Really, one would think that if ignoring the attention was a real priority, then one would not hang out in a swimsuit and booze it up for the paps on a willing basis. Also, who poses in such a seductive manner as this unless they're totally aware that the paps are watching?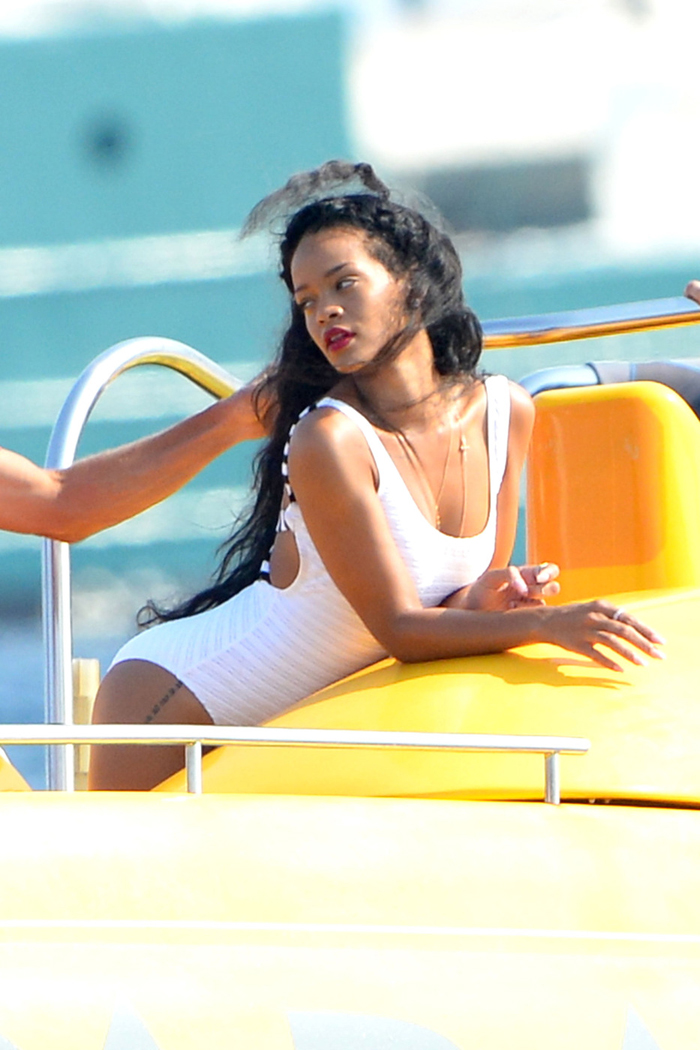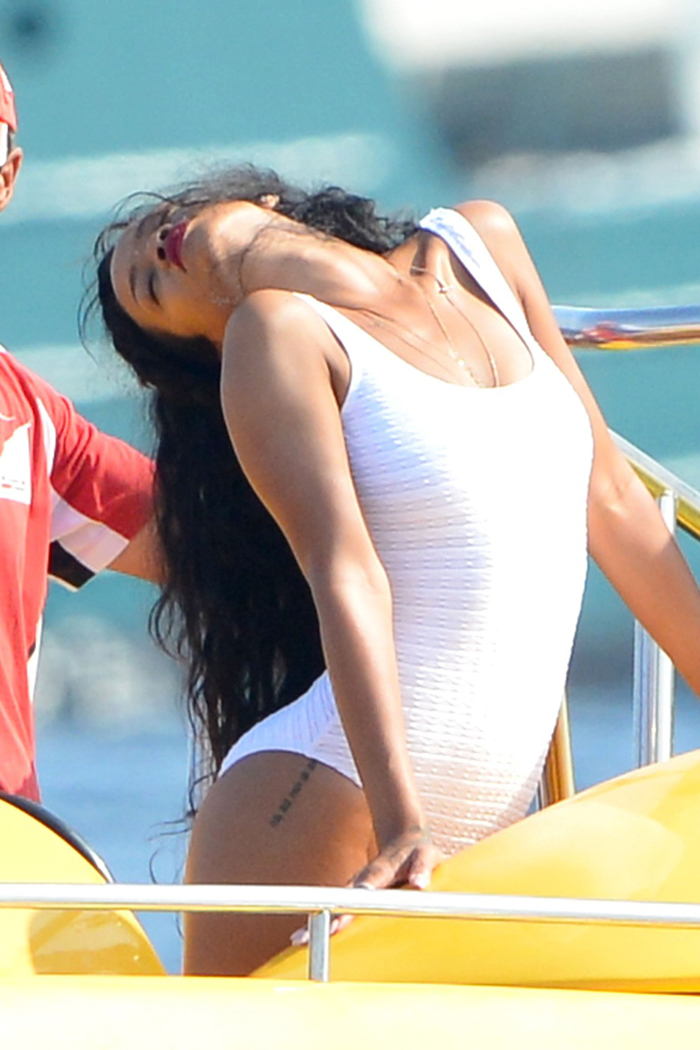 However, pose-harding in a white one-piece swimsuit isn't the only thing on Rihanna's mind while she's on vacationing. She's also possibly hooking up with Chris Brown again, who just (coincidentially) happens to be presently shooting along the French Riviera. Surprise, surprise:
Rihanna and Chris Brown could be collaborating yet again.

According to sources, the pair with a checkered past — who most recently worked together on RiRi's remix of "Birthday Cake" — were overheard discussing Rihanna's making an impromptu cameo in a video Brown's been shooting along the French Riviera with hip-hop brethren Swizz Beatz and Ludacris.

Rihanna and Brown were seen together in a marathon conversation Sunday night in St. Tropez as guests on the Serene, a $300 million yacht owned by Russian vodka billionaire Yuri Shefler. Also aboard were Leonardo DiCaprio, Kanye West and Kim Kardashian, as well as members of the Saudi royal family and the night's host, Crown Prince of Dubai Sheikh Hamdan.

"Rihanna had her own yacht moored nearby," said a spy, "and Chris had been visiting her. But they came over to The Serene Sunday to join Leo with Swizz Beatz and Ludacris."

Our source added, "There were clearly sparks flying between Rihanna and Chris. They spent a lot of the night in deep conversation. It's clear things are very good between them again. They seemed happy to be together."

Another source added that the two were heard discussing a possible appearance by RiRi in Brown's video, although others say that she hasn't shot footage yet. Meanwhile, Brown's playing a gig at Cannes club Gotha tonight.

DJ Steve Angello rocked the Monday night bash where Tara Reid was spotted dancing on a banquette after being treated for food poisoning and a weekend jet-ski mishap. The party raged till cops arrived at 4 a.m., but the crowds simply relocated to Les Caves du Roy.
[From Page Six]
As a side note — isn't it interesting how that last paragraph reframes Tara's recent health crisis from acute pancreatitis to "food poisoning"? How odd.
Seriously though, I'm just exhausted by trying to keep up with Rihanna's destructive tendencies, which tend to culminate with her unhealthy obsession with Chris Brown. Honestly, I'm over it. What else can one say for a woman that has every possible resource to get professional help in dealing with her love for danger but refuses to admit that she needs help in kicking a romantic habit? Aside from fraternizing with her abuser, Rihanna has also been enjoying herself very much while parasailing with a girlfriend in Cannes. Apart from falling back in with Chris Brown, her life doesn't look so bad, right?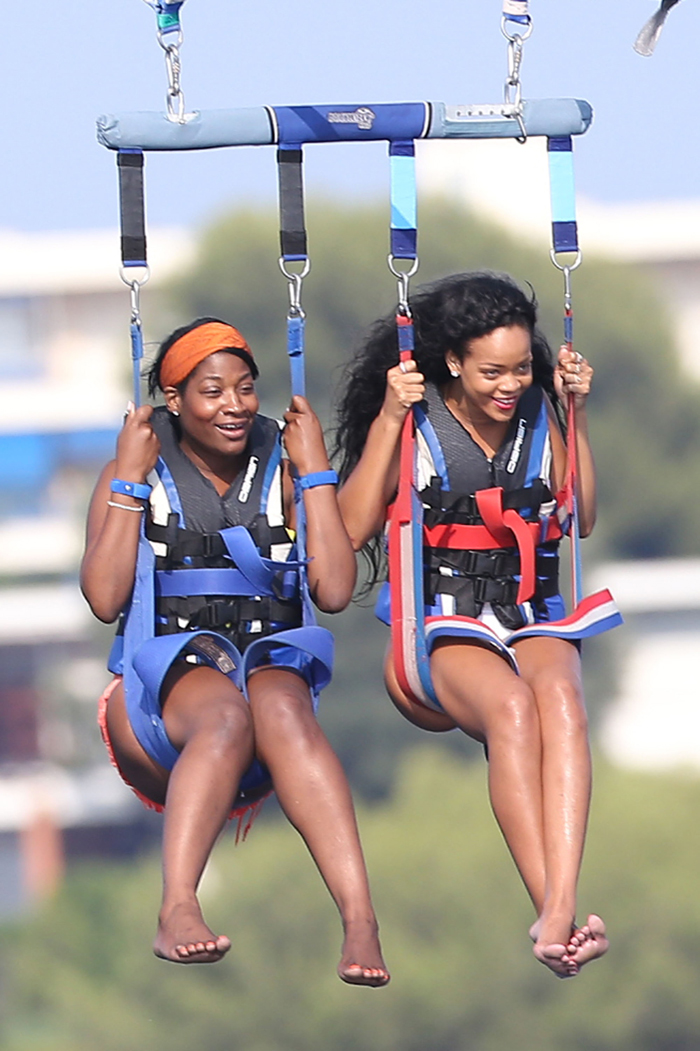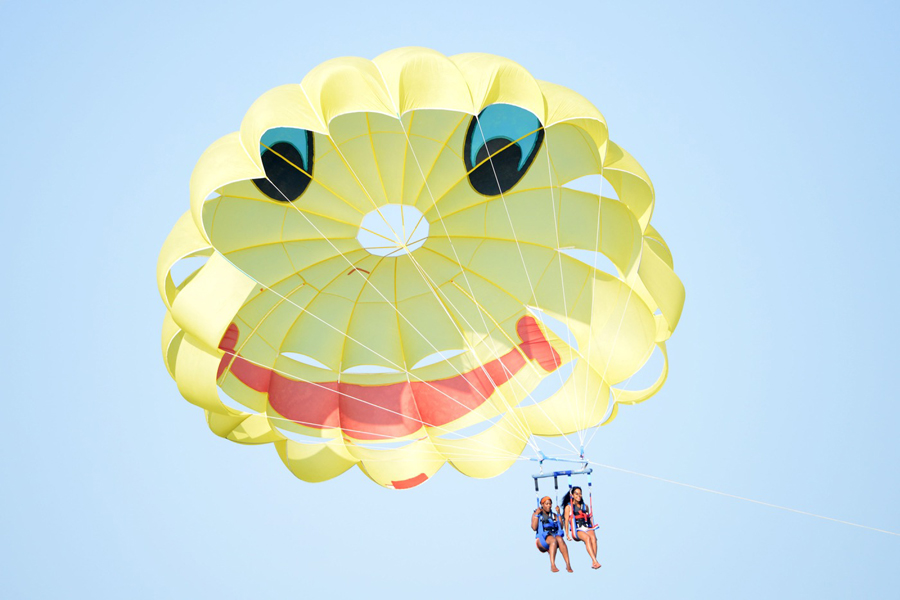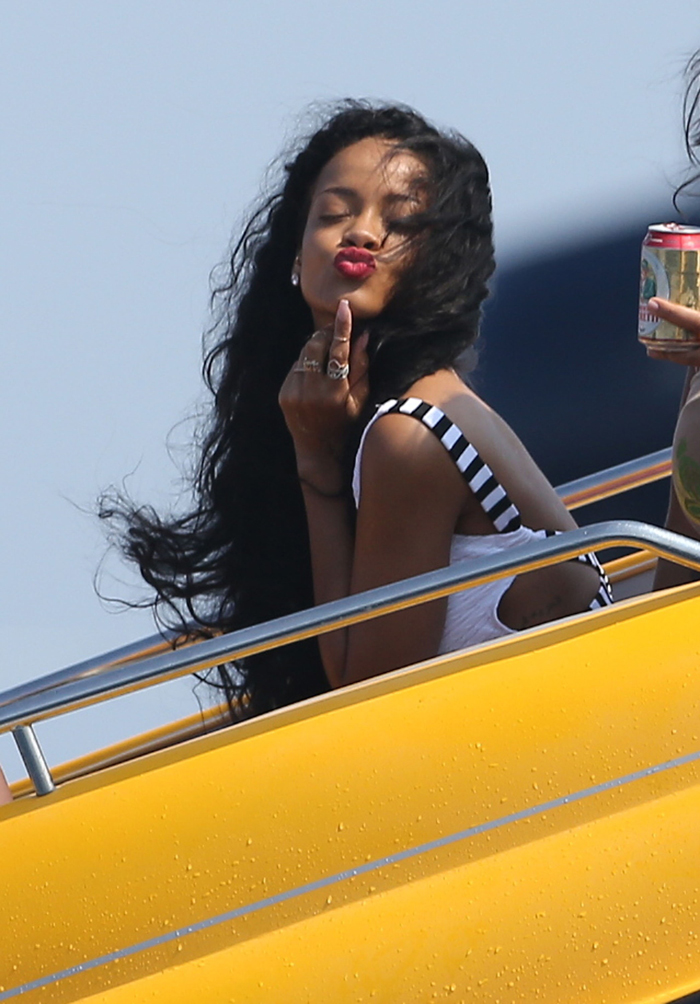 Photos courtesy of Fame/Flynet and Pacific Coast News