Avril Lavigne shows off pointy engagement ring from the guy from Nickelback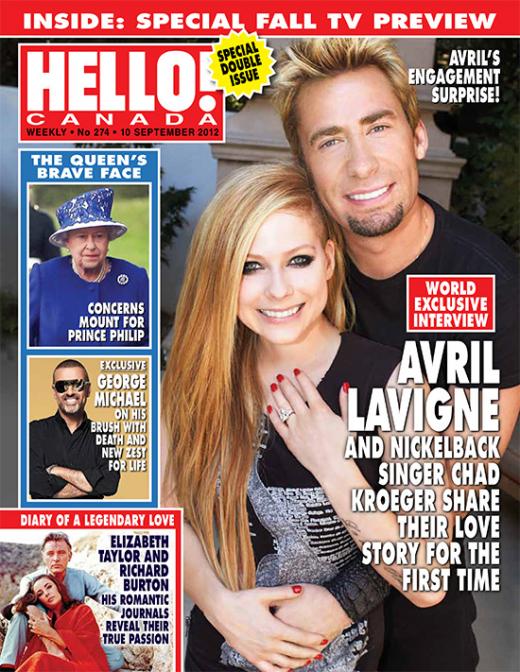 Everyone was kind of floored and amused yesterday when we heard that Avril Lavigne was engaged to the dude from Nickelback, Chad Kroeger. The general consensus is that they're perfect for each other and will make horrible music together, which is how they met in the first place. Since both stars are Canadian, they're taking the cover of Hello! Canada this week. Lainey, a fellow Canadian, has a really interesting take on this story. She says that the Canadian press is usually super nice to their celebrities, but that even they're taking the piss out of this couple. Lainey also read the print edition of Hello!, and shared the hilarious detail about how Chad proposed. Avril was scrapbooking – scrapbooking! – and Chad "slipped an extra page in there that read 'WILL YOU MARRY ME'." That's hardcore. Do you think Avril's scrapbooks look like this?
People Mag has more on Avril's 14 karat sparkler, as well as a larger image of it if you're interested. It was custom designed by Chad, and is a pear shape. People's source also says Avril is "glowing." Oh noes, is that code for pregnant, and does that explain why she got married to this dude we barely heard she was even dating? Here's more:
When it comes to Avril Lavigne's engagement ring, it's not so complicated — it's huge!

Her new fiancé, Nickelback singer/guitarist Chad Kroeger, 37, chose a stunning sparkler for his Aug. 8 proposal.

"We helped Chad custom create Avril's dream ring: a platinum-set pear-shape diamond with half moons totaling 14 carats from XIVKARATS in Beverly Hills," designer Caryn Alpert tells PEOPLE exclusively. "What a perfect pair/pear!"

The bride-to-be, 27, "is glowing," a family source tells PEOPLE. Adds a friend: "Just looking at them, you can see how much he adores her."
These two do look really suited for each other. They're two of a kind, which is not to say they'll last longer than a couple years, although it could happen.
I actually like Avril's ring! Don't shoot me. I prefer emerald cuts, but I think it's well suited for her in that it's a little edgy but still as much of a poser of a ring and as common as she and her fiance are. There are no skulls or roses with thorns embellishing it, and it's really pretty. I like it way better than Jessica Biel's chunky ring.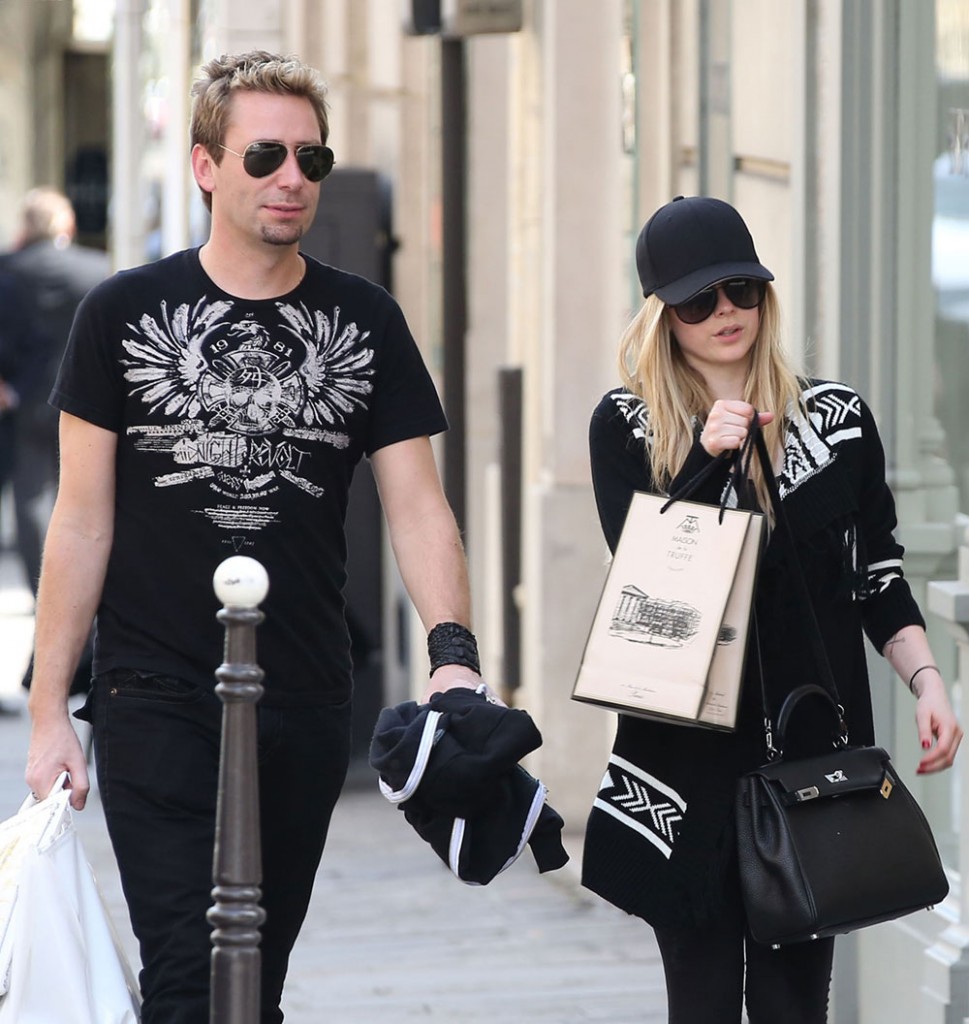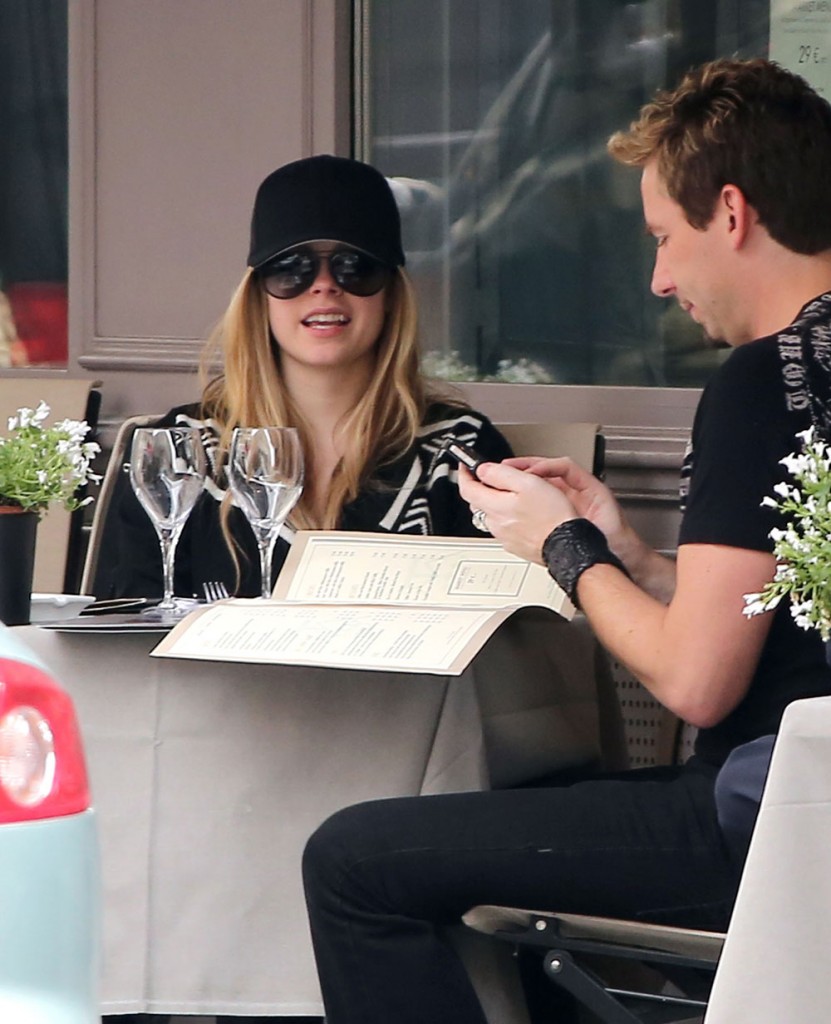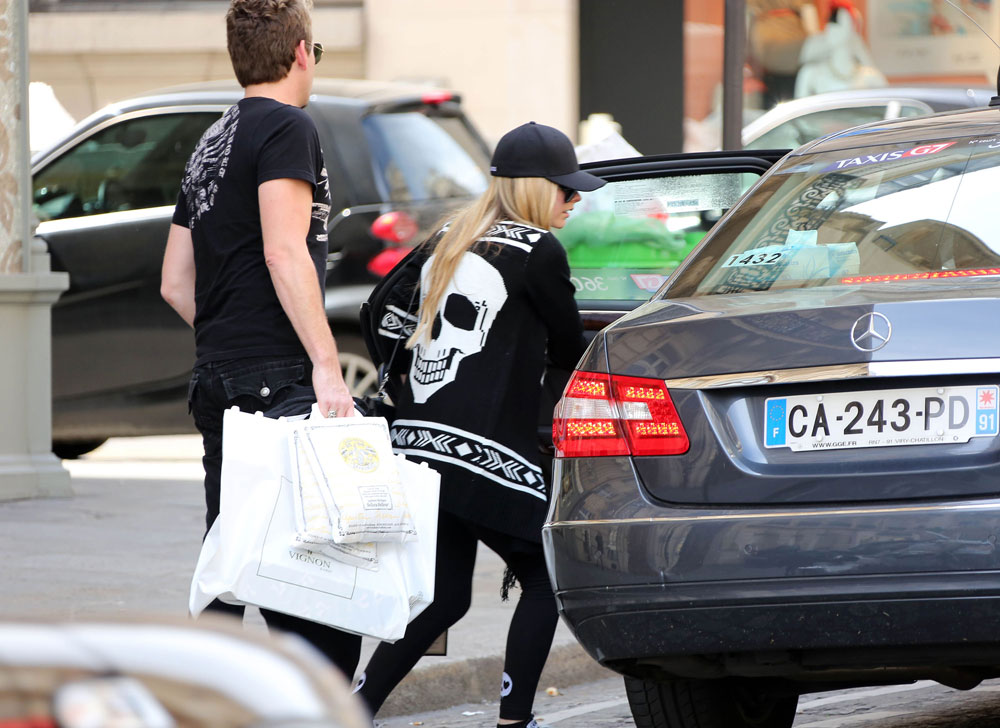 Ed Hardy photo credit: SavageSteff. Other photos are of Avril and Chad in Paris in May. Credit: FameFlynet
Written by Celebitchy

Posted in Avril Lavigne, Chad Kroeger, Engagements

- Friends reunion on Ellen [Popsugar]
- Lindsey Vonn watches Tigers kids [Lainey Gossip]
- George Michael fell out of a car going 70mph [D-Listed]
- Real Housewives of Orange County recap [Reality Tea]
- New Man of Steel trailer [Pajiba]
- Jared Padalecki's hot bod [Buzzfeed]
- Doctors confirm Taylor Swift's new boobs [Evil Beet]
- Catherine Zeta-Jones finished treatment [CDAN]
- Anna Paquin hates the paps [Celebslam]
- Lance Armstrong is gross [The Blemish]
- What is Barbara Palvin wearing? [Moe Jackson]
- This is Petra Nemcova? [SVC]
80 Responses to "Avril Lavigne shows off pointy engagement ring from the guy from Nickelback"