Johnny Depp thought of a clever way to Patchouli his way into your pants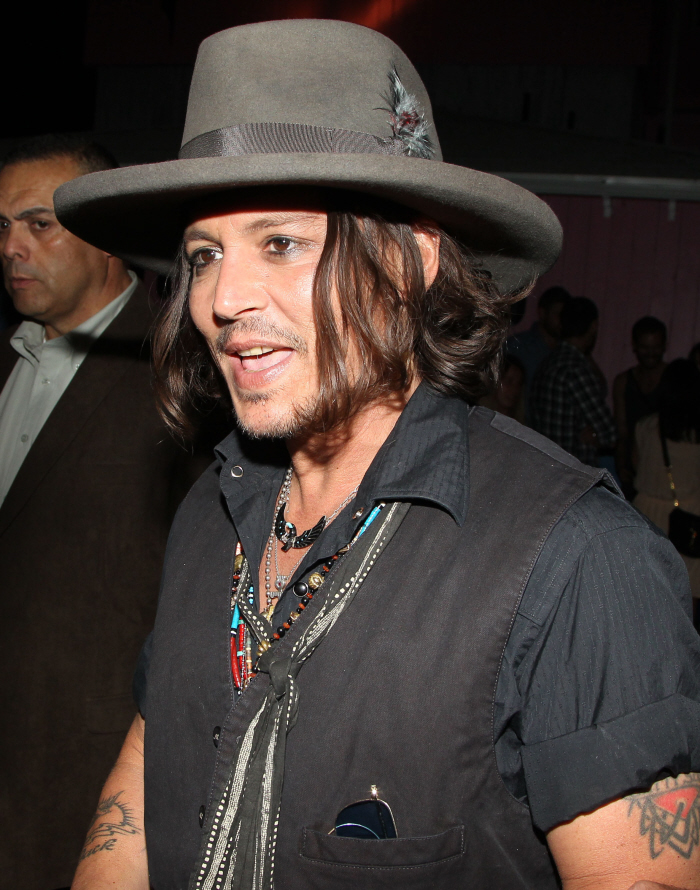 Several weeks ago, Johnny Depp made his first big solo outing as a newly single man. He went to Pink Taco, obviously. It was some kind of post-rock-show party with Aerosmith, and Johnny got himself all dolled up with eyeliner and scarves and hats and his typical stuff. I noted at the time that he was looking "less puffy" – which was a compliment. As it turns out, Depp had a reason for looking a bit better that evening – Johnny Depp, 49, was on the prowl once again, for the first time in more than a decade. I mean, I guess he's been on the prowl a lot in the past year, but no one every believed those stories until Johnny and Vanessa officially confirmed their split. Still, it's interesting to hear a story about Johnny's game as a mid-life bachelor.
The last time Johnny Depp was single – in the '90s – only yuppies and heart surgeons had cell phones. But now, back on the market after splitting with his longtime girlfriend, Vanessa Paradis, the actor has adapted to the times and is technology to snag dates! On Aug. 6, Johnny partied with his pals from Aerosmith at Pink Taco in West Hollywood following the band's Hollywood Bowl performance.

But Johnny, making his first public appearance as a bachelor, wanted more than a boys' night out.

"Johnny left his phone in his booth. Well, just as he was about to exit the place, a cute blonde waitress ran after him to return it," recalls a fellow partygoer, but says Depp's "absent mind" was no accident.

"Johnny had a liking for the blonde, and this was all a plot to get the girl to chase him. Johnny had been telling his friends that night about his trick!"

Depp hardly needs a complicated ruse to get a girl's digits, but "his friends got a kick out of watching his plan come to fruition right in front of their eyes."

And it worked! "The girl handed him the phone, he struck up a conversation, and then he nabbed her digits."
[From Star Magazine, print edition]
Do you think Johnny has to work this hard to get some action, much less a girl's digits? Say a random 50-year-old man – a hippie dressed in scarves, vest, hat, beads, necklaces and even more scarves – came up to you and tried to get your digits. Various women would have various reactions, but if it happened to me… yeah… I'm not into aging hippies. The smell of Patchouli on a man has always irritated me. So… maybe Johnny does have to work this hard for some women. But really, he could walk into any room, anywhere, and ask, "Who wants a piece of this?" and half of the women in the room would probably go over to him. Let's be real.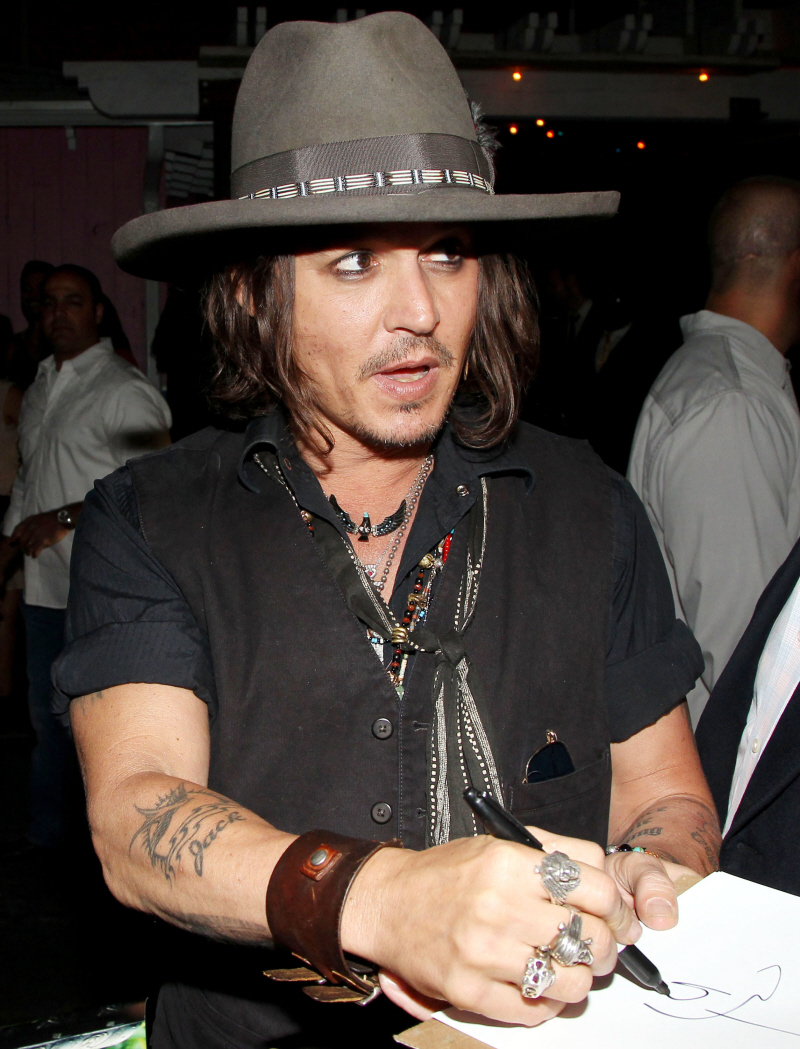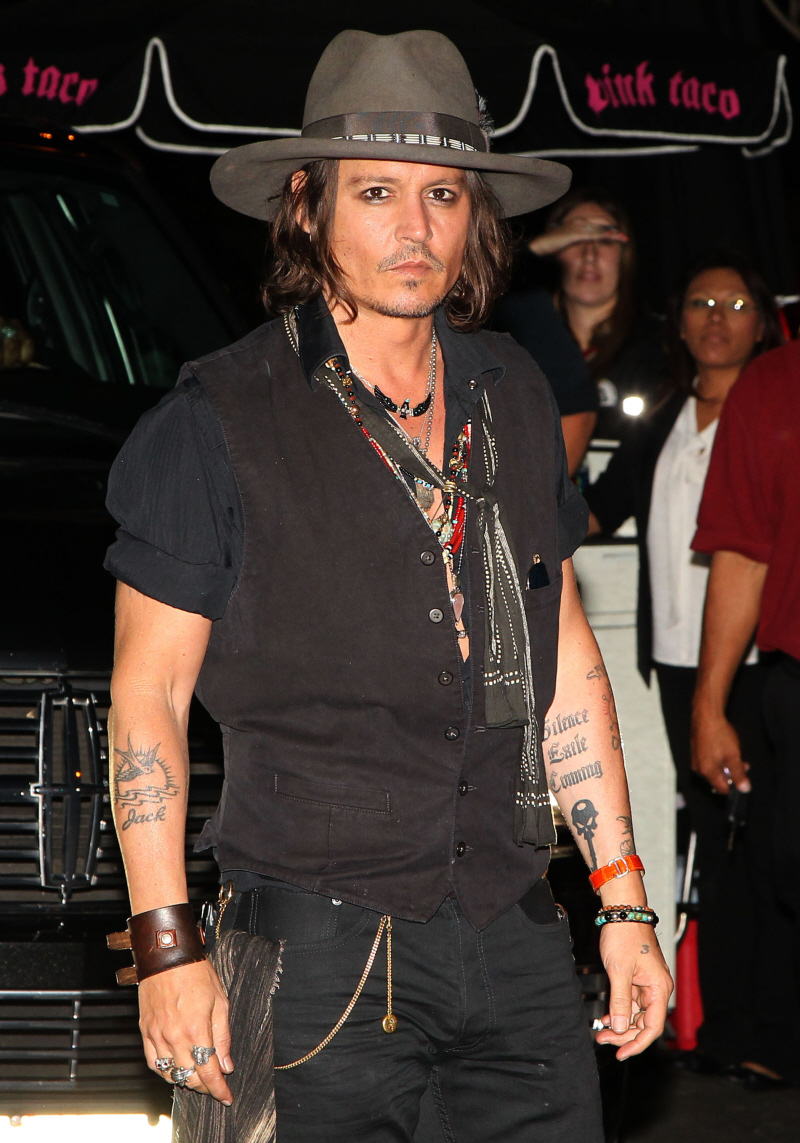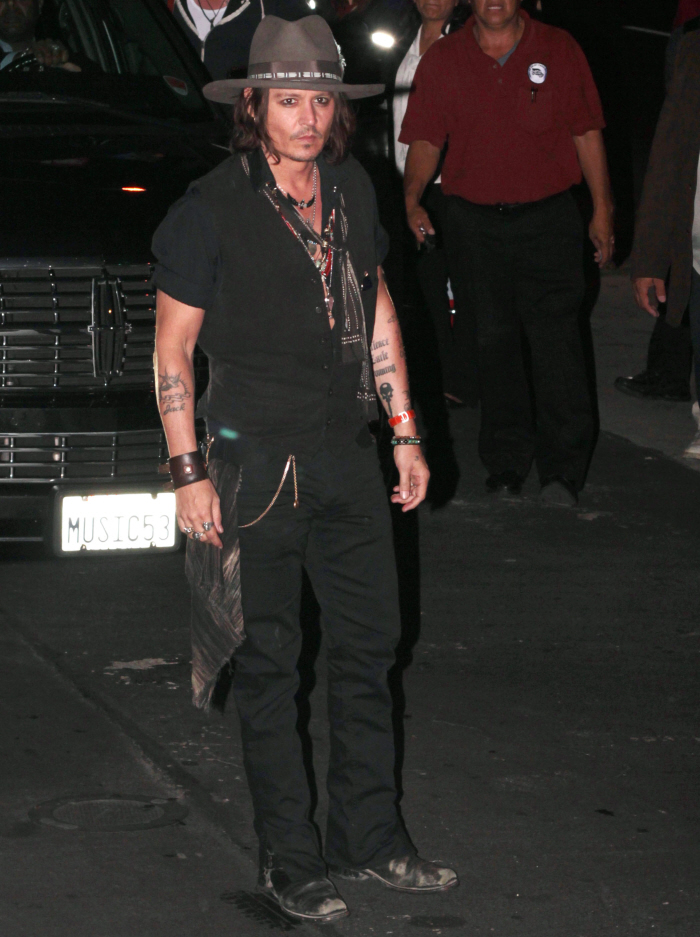 Photos courtesy of WENN.

Written by Kaiser

Posted in Johnny Depp

- The Blemish interviews Carmen Electra [The Blemish]
- Rumer Willis joins Pretty Little Liars [Lainey Gossip]
- Morgan Freeman falls asleep during interview [D-Listed]
- Fug or fab: Isla Fisher [Go Fug Yourself]
- Tamra Barney confirms spinoff [Reality Tea]
- Movie franchises that rebounded [Pajiba]
- Why Dylan McKay is the perfect boyfriend [Buzzfeed]
- Saoirse Ronan could have been a Lohan [Evil Beet]
- GIFs from Cannes [Popsugar]
- Cat massages a dog [CDAN]
- Heather Graham is so pretty [Celebslam]
- What is Lucy Hale wearing? [Moe Jackson]
74 Responses to "Johnny Depp thought of a clever way to Patchouli his way into your pants"