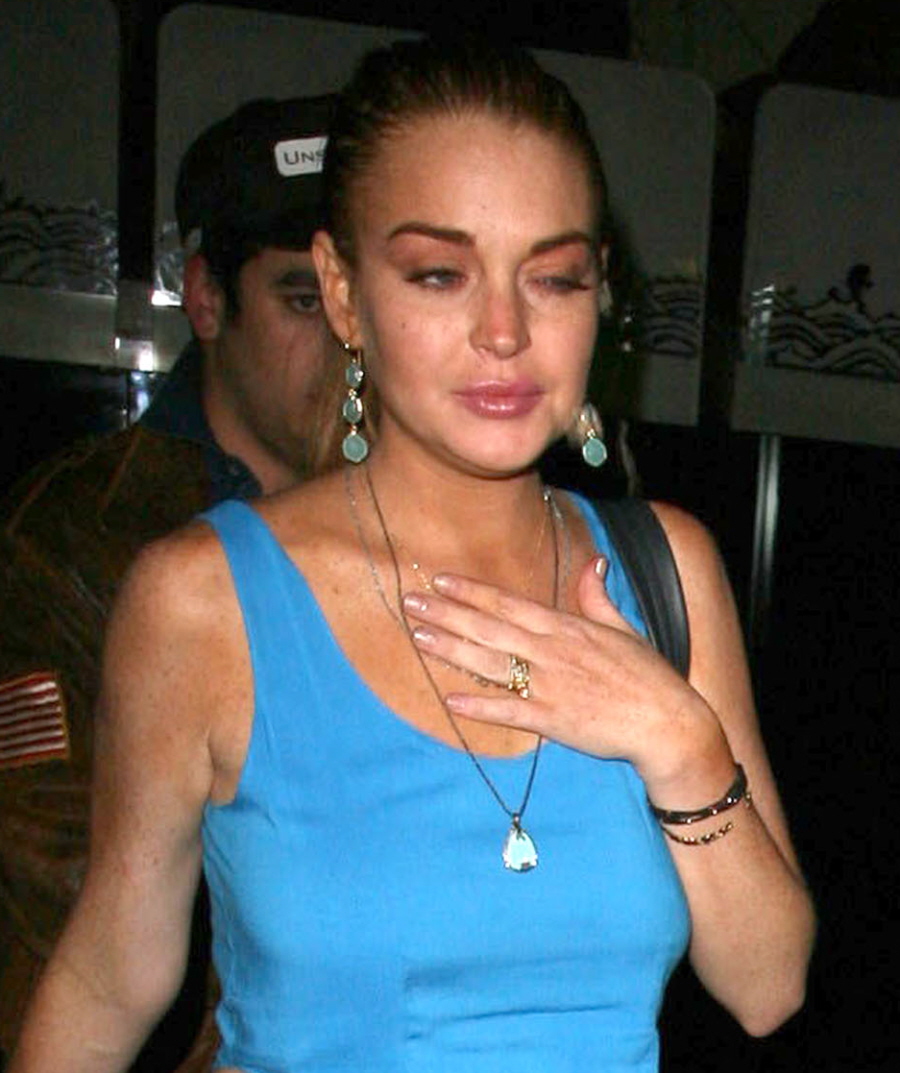 "Because she's a cracked-out genius" will be the answer to whatever question you ask in this post. Because she's a cracked-out genius. A few weeks ago, Lindsay Lohan passed out in the middle of a sketchy "house party" in the Hollywood Hills. When everyone came to the next morning, the homeowner discovered that several expensive items were now missing – allegedly, more than $100,000 worth of luxury watches. The homeowner called the cops and wouldn't let anyone leave until they were questioned, Lindsay included. There was a theory that Lindsay had let two "friends" into the party in the middle of the night, and those were the dudes who crack-heisted, but my gut always told me that it was Lindsay in the library, shoving watches up her crack muffin.
Anyway, the cops questioned Lindsay but she reportedly "blew them off" and the cops deemed LL a "person of interest" in the case. Then, before you could say "Crackenjuice" three times, Lindsay flew to New York to fence her stolen wares, and she began tweeting BS about people "fabricating lies" about her. Michael Lohan spoke up in the Cracken's defense, claiming that the homeowner had recanted, which made me think that perhaps I was wrong and the whole thing was just an insurance scam masquerading as a crack heist. Unfortunately for the Cracken, however, it does look like this scandal is going to stick around for a bit longer. The Cracken has now been upgraded from "person of interest" to "suspect":
Lindsay Lohan is now formally a suspect in the theft of $100,000 worth of watches and sunglasses … law enforcement sources tell TMZ.

As TMZ first reported, Lindsay was at the Hollywood Hills home of Sam Magid a week ago when Sam called the LAPD and reported a jewelry theft. We're told Lindsay has been at the house frequently, including at an all-night house party a week ago Sunday.

Law enforcement sources tell us … Lindsay and her assistant Gavin Doyle are both suspects in the theft.

Now here's the twist … We're told Sam has recanted his story and now says nothing was stolen. But our sources say cops are not closing out the investigation because they believe they have independent witnesses who can finger Lindsay and Gavin as the thieves.

Sources tell us … LAPD detectives contacted the lawyer for Lindsay and Gavin today, asking for an interview with the two suspects but the lawyer rejected the request.

It's unclear why Sam — who is insanely wealthy — suddenly changed his tune.

One final thing … This is really bad news for Lindsay, because she's on probation for the theft case involving the necklace at a Venice jewelry store. She could go to jail if she violates probation by stealing more jewelry.
I have literally NO idea what's going on this point. Did the dude really recant, or was that just a pipe dream cooked up by Michael Lohan? Who are the independent witnesses who saw Lindsay shoving watches up her crack muffin? And why would you ever admit that you witnessed that? To make matters even worse for Team Crackie, TMZ also reports this morning that Lindsay is also being investigated for lying to the police… but not for a crack heist! It's all about her crack lies after her car crash in June:
Lindsay Lohan is a most wanted woman … because TMZ has learned a SECOND police department wants a chitchat with the actress to determine if she committed a crime by lying to cops.

Law enforcement sources tell us … Santa Monica police detectives have been trying to get in touch with Lindsay to ask her questions about a car crash last June, when she slammed into a big rig on Pacific Coast Highway. Sources say Linsday's lawyer, Shawn Holley, called the station and complained that cops should not be calling Lindsay directly because she has an attorney.

We broke the story … Lindsay lied to cops when she told them she was NOT the driver, but a passenger. Cops are convinced Lindsay was indeed behind the wheel and are now investigating

Sources tell us the follow-up questions relate to Lindsay's alleged lying to cops — which is a crime punishable by 1 year in jail. We're told the case will be referred to prosecutors. It will also be sent to the L.A. City Attorney for a possible probation violation in her necklace conviction.

And, as we first reported yesterday, the LAPD is investigating Lindsay on another front. She's now a suspect in a $100,000 theft of watches and sunglasses at at Hollywood Hills home, and cops want to speak with her STAT. LIndsay's lawyer shut detectives down, saying no way would she cooperate.
Even if you're a perpetual optimist and you believe in Santa Claus and the California Justice System, there is still no way that Lindsay is going to walk away from her series of cracktastrophes with anything more than a "friendly pat on the firecrotch." That's simply ALL the California legal system will do to her. The cops in both cases could have all of the evidence in the world, she could be charged with providing false information to the police, she could be charged with theft too, and all that will ever happen to her is a firecrotch pat.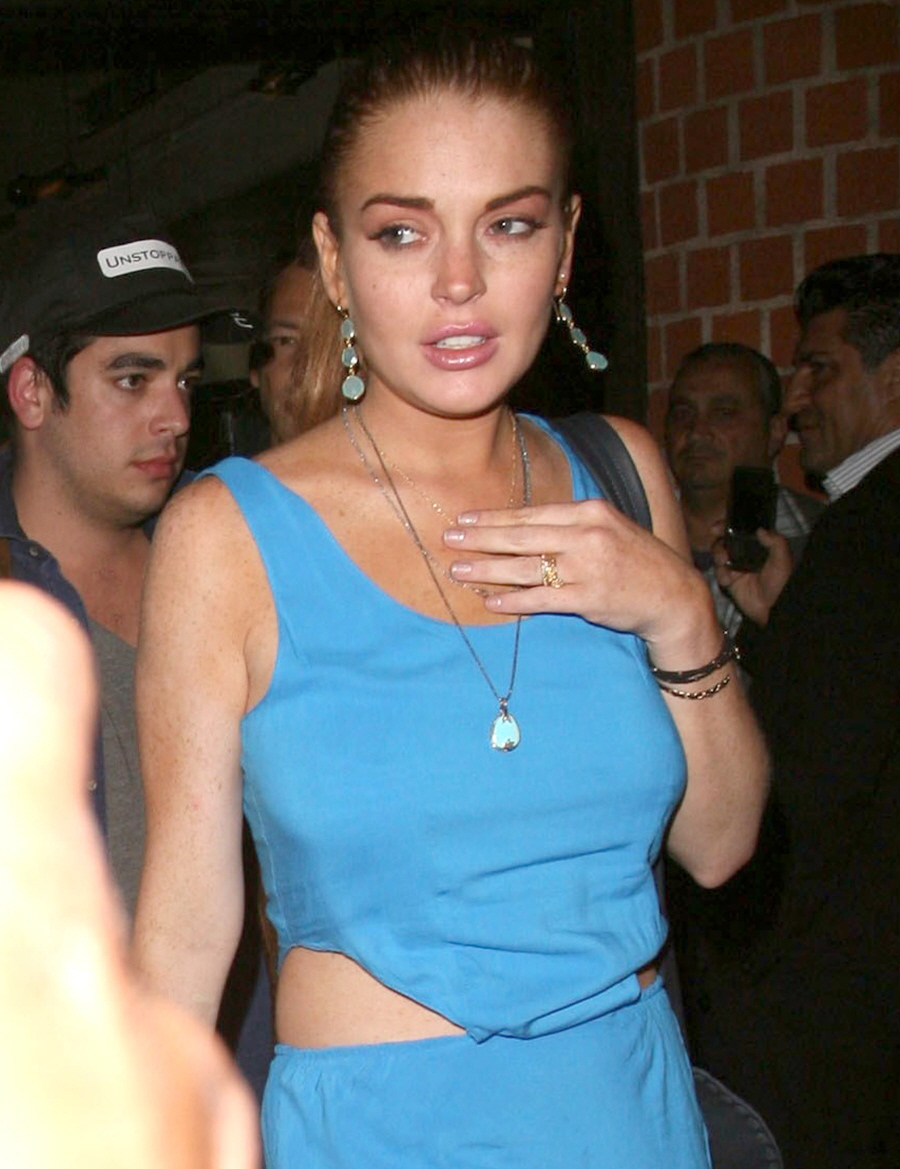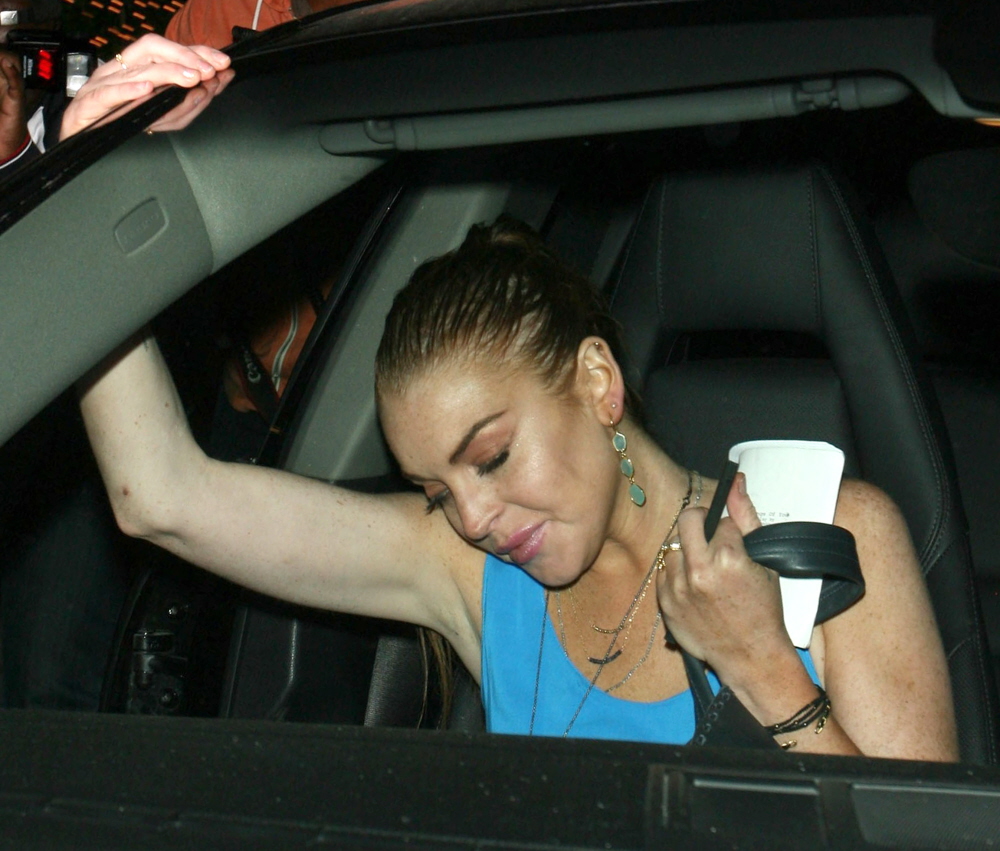 Photos courtesy of Fame/Flynet.