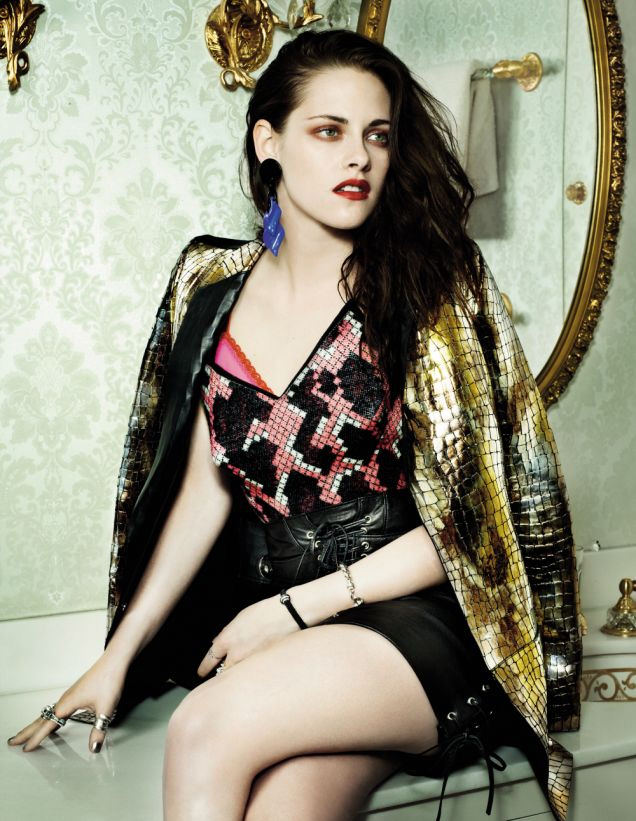 As we previewed yesterday, Kristen Stewart appears on the October cover of Vogue UK as part of some early promotion for Breaking Dawn Part II, and her role in On the Road, which will have its North American premiere at the Toronto International Film Festival. Can I just have a word about the two Vogue photos released thus far? They're AWFUL. For all of her faults, I've never considered Kristen to be "bad" at magazine photo shoots. Her face can take a lot of different kinds of makeup looks, and most clothes work on her figure. There's no excuse for Kristen to look so… sleepy, bored and NOT flattered in the clothes. It's bad work by the editorial staff (for choosing these photos), bad work by Mario Testino (the photographer) and bad work by the stylists. Anyway, as promised, Kristen's interview is full of pearls of wisdom (note: some of these quotes might be from an interview Kristen did with the October issue of Glamour):
She's not smooth. She's clumsy. 'I know if you haven't thought about how you want to present a very packaged idea of yourself then it can seem like you lack ambition. But, dude, honestly? I can't. People expect it to be easy because there you are, out there, doing the thing that you want and making lots of money out of it. But, you know, I'm not that smooth. I can get clumsy around certain people.'

She's, like, so authentic: 'Like if I were to sit down and think, "OK, I'm really famous, how am I going to conduct myself in public?" I wouldn't know who that person would be! It would be a lot easier if I could, but I can't.'

On the Road: 'There is always going to be that seam of people who want things differently to the standardised version. It's not necessarily a rebellious thing, it's just who they are. That world back then, it just seems freer to me than anything I could ever touch and I'm fully nostalgic for it, even though I wasn't even alive then. It's the loyalty aspect of it all. I love being on the periphery with a group of people who have the same values that I do. People who don't get off on fame, who just like the process of making movies and thrive.'

Going blonde for On the Road: "I feel like my whole body rejects it, but it was really important for the character. It was like learning an accent."

On maturity: "I'm starting to carry a bag and even put on lipstick. Very mature for me."

Watching the sex scenes in On the Road: "It's kind of insane to watch now. I'm like, 'Who is that?' But I think – as every actress says when they do this is – it just felt so right. 'It was so within a different world and so within a different environment that I don't even really feel… I mean, I am personally connected to it, of course, but it is something outside of myself."

She looks like a vampire naturally: "Dude, get this: I have these oddly brown eyelids. I've walked into so many photoshoots, and they go, 'Sweetheart, would you mind wiping them off?' So the idea behind Bella's makeup was just to enhance them. Anything that's already good on you just gets better when you're a vampire."
[Via Hollywood Life, Contact Music and Metro]
I'm still waiting for the promised quotes on "love and living dangerously" that Vogue promised in the cover line. Because so far, all we've gotten are the same-old quotes about how she's just so authentic and "real" and of course she never tries to be anything she's not and we're supposed to take everything she does and says at face-value. Right? "Like if I were to sit down and think, 'OK, I'm really famous, how am I going to conduct myself in public?' I wouldn't know who that person would be! It would be a lot easier if I could, but I can't." And THAT is why some of us have had issues with the "Pity Poor K-Stew" campaign being waged in an effort to turn her into a victim of Big Bad Rupert Sanders. She wants to be taken at face-value and as she has said time and time again, THIS is who she really is. There's no hidden meaning, no persona, no "effect". This is who she is. Accept her or don't accept her, but don't make excuses for her.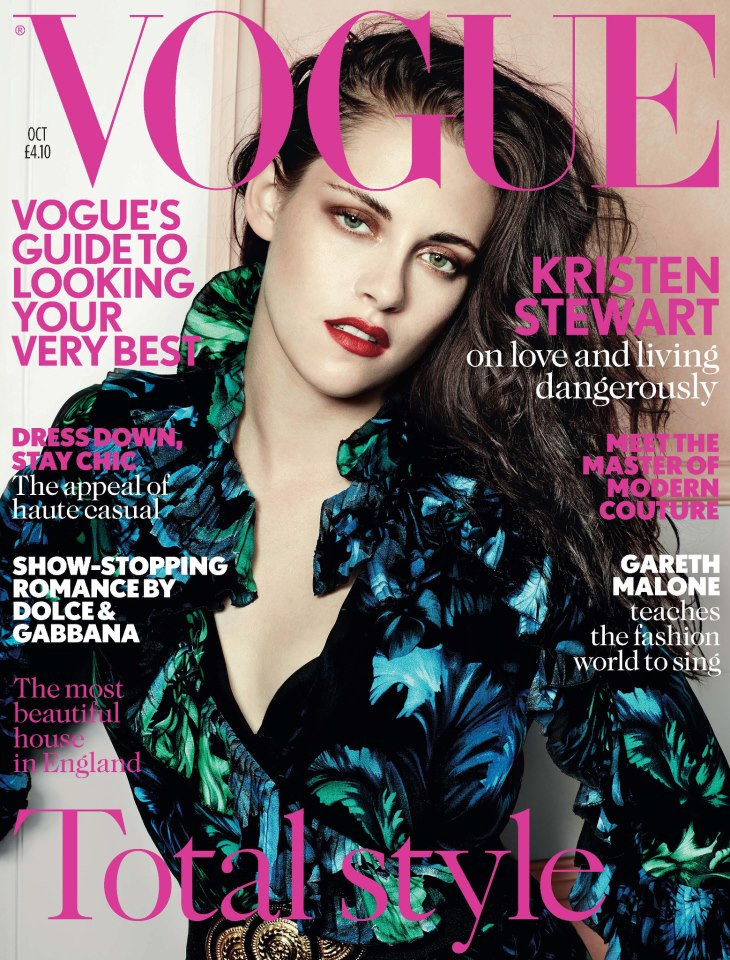 Photos courtesy of Vogue UK.