Naomi Watts is so pregnant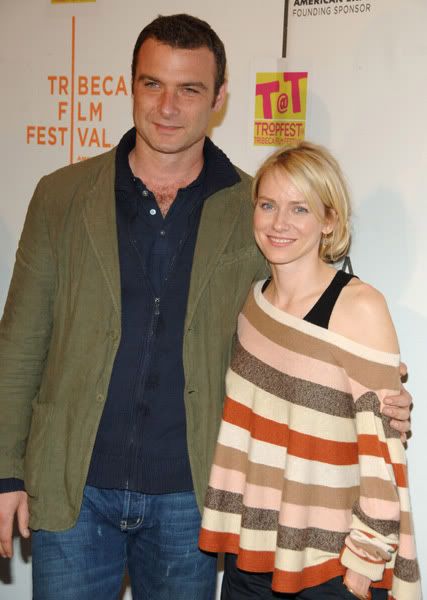 Naomi Watts' Oscar attire included a ripped dress and a flouncy ruffled number that may have been a misguided attempt to hide a growing baby bump. (Yes, we said this already, but a little repetition never hurts.)
Now she was spotted out at the Tribeca film fest with her boyfriend, Liev Shreiber, wearing a full-out poncho with horizontal stripes! Her face looks more filled out too.
Schreiber is said to have bought Watts a 5 carat engagement ring at jeweler Neil Lane. Watts kept her hands conspicuously in her pockets while these pictures were taken, and it's hard to see if she's wearing a ring.
Watts and Schreiber have been plagued by rumors that their relationship is in trouble, with The NY Daily News reporting that Schreiber is controlling and that both were looking for new partners. Reader Millie points out that The NY Daily News doesn't like Schreiber and that they "never fail to take a stab at him." She thinks that Watts and Schreiber each had a difficult childhood and are having trouble adjusting to a long-term stable relationship. (We have learned a lot from readers like Millie and Carrie, so please e-mail tips and insight to info at celebitchy.com.)
Watt's friend Nicole Kidman also looks pregnant and may already be married to her boyfriend, Keith Urban. Sources say that the Kidman and Urban are planning a June wedding in their native Australia, but we think they're already married.
Here she is at the Tribeca film festival yesterday. We can't wait for the official news!
Written by Celebitchy

Posted in Babies, Engagements, Keith Urban, Liev Schreiber, Naomi Watts, Nicole Kidman

- Mariah Carey lip synced on American Idol [CDAN]
- Colin Firth is looking good [Lainey Gossip]
- Internet celebrity charged with murder! [D-Listed]
- What is Paz Vega wearing? [Go Fug Yourself]
- New bachelors on The Bachelorette [Reality Tea]
- Goodbye to The Office [Pajiba]
- Bachelor Sean's fiance cheats on him [Evil Beet]
- Britney Spears out with her man [Popsugar]
- Nina Dobrev works it [Popoholic]
- Cindy Crawford needs to lay off the 'tox [Celebslam]
- Who said it: Carrie Bradshaw or The Dalai Lama? [Buzzfeed]
3 Responses to "Naomi Watts is so pregnant"