Halle Berry's 90s purple suit and see-through shirt at TIFF: try hard or hot?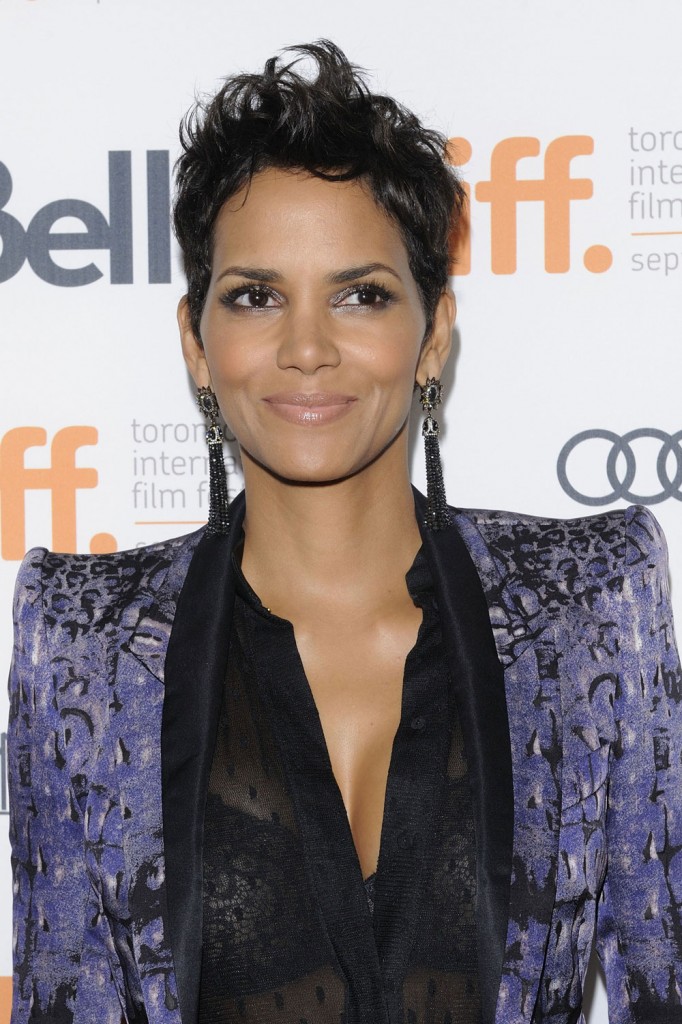 Here's Halle Berry promoting her film Cloud Atlas at the Toronto Film Festival. It's an epic adventure film based on a book of the same name by David Mitchell. It also stars Tom Hanks, Susan Sarandon, Jim Sturgess, and Hugh Grant among others. It's out on October 26th. I just watched the extended trailer and there are so many different interwoven storylines, I came away with no idea what it's about. It's futuristic, it's historical, parts look like Inception and parts like Avatar. There's also a little Water World mixed in. Screen Rant has some advanced reviews if you're interested. Apparently it's getting good reviews overall and needs to do well since it cost $100 million to make.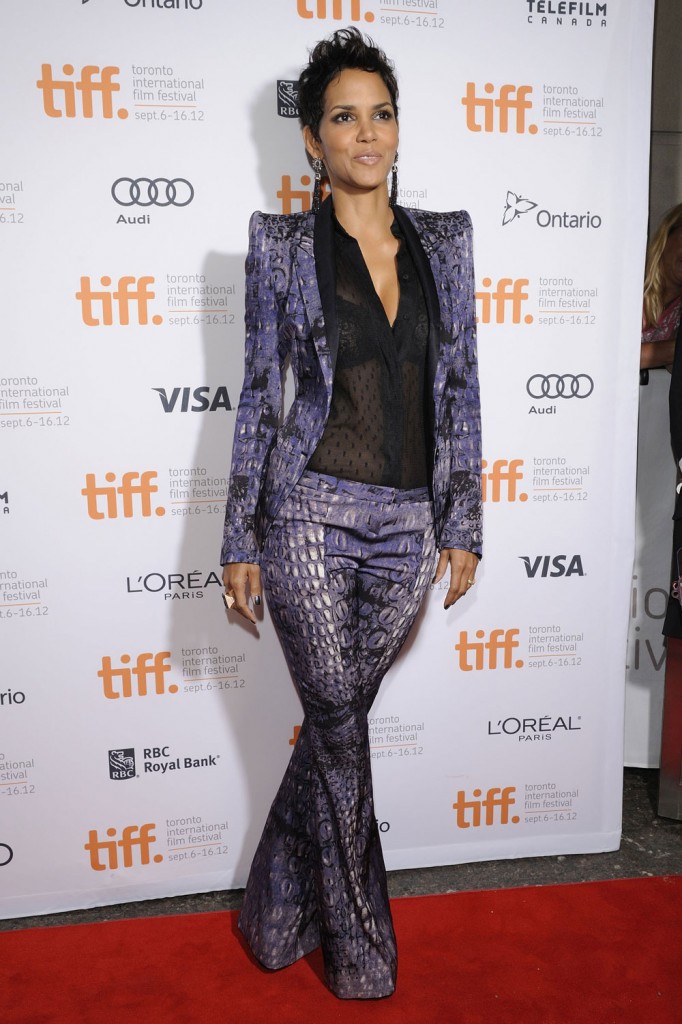 Getting back to Halle Berry, she wore this see-through lace top to remind us of how hot she still is, and paired it with a purple snakeskin print suit with shoulder pads that has a very 90s sillouette. The only designer ID I have found for Halle's outfit is that the blouse is Monique Lhuillier. I don't know who made that crazy suit, but I don't hate it. She really works it hard. I just wish she had gotten the pants tailored. We just saw Kate Hudson in some too-long pants so maybe that's going to be a fashion "do" now. Halle's hair and makeup are perfection. I'm so glad she ditched the crazy curls.
I came into this story thinking I would talk about Halle Berry's silly fashion and maybe wonder aloud what's going on with her custody battle, but having seen the Cloud Atlas trailer I realize I don't care. It's all part of the intricate dance of humanity, where we love, lose, die, fight for our rights and try and remain relevant with wacky fashion and extreme fitness. I don't know. The film is described as "exploration of how the actions of individual lives impact one another in the past, present and future, as one soul is shaped from a killer into a hero, and an act of kindness ripples across centuries to inspire a revolution." Here's a brief part of a glowing review on Collider that makes me really want to see it:
"My life exists far beyond the limitations of me," a character notes in Cloud Atlas. By the same token, The Wachowski Siblings and Tom Tykwer's film exists far beyond the limitations of genre, narrative, identity, and time. It is a work of sweeping ambition, engrossing stories, compelling characters, and powerful emotions. The filmmakers have taken David Mitchell's novel, and rebuilt it into a captivating sextuplet filled with love, hate, redemption, damnation, bravery, cowardice, and more. Through skillful editing and astounding performances, Cloud Atlas is a cinematic experience like few others, and it will leave viewers in awe.
I'm kind of excited for this movie. Plus I love Hugh Grant and Tom Hanks. I know it will make me cry, though. I cried at Avatar, and had to fight the urge not to bawl.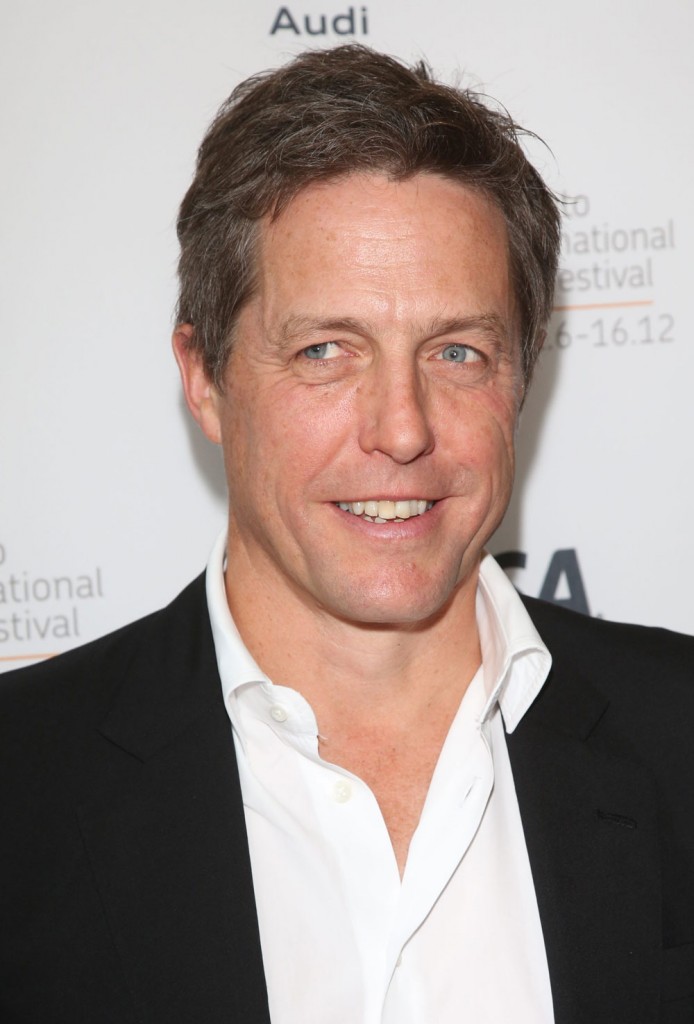 Hugh Grant. He still looks great, right?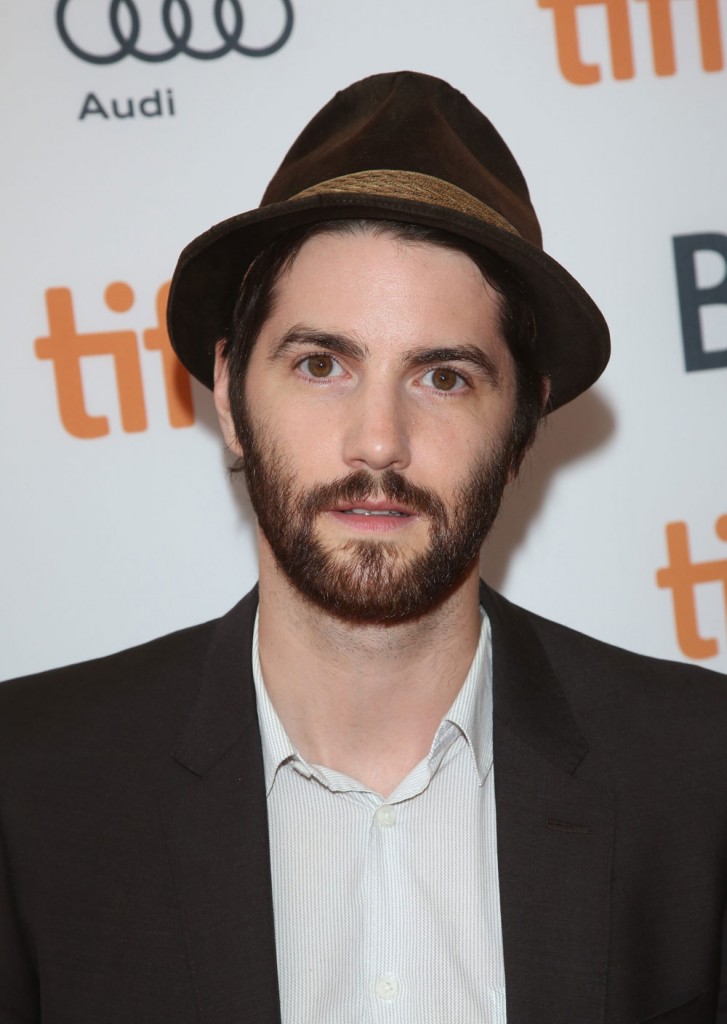 Jim Sturgess does not do it for me. I understand why Kaiser calls him "pillow weeper"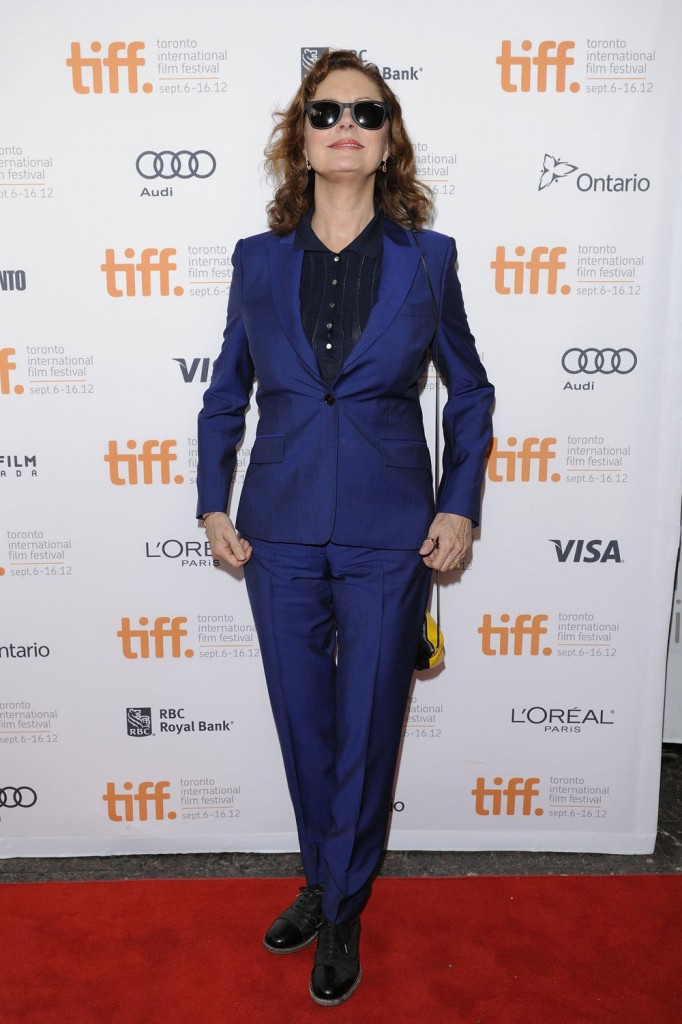 Susan Sarandon needs a new stylist, but you know she does not GAF at all. Look at her shoes.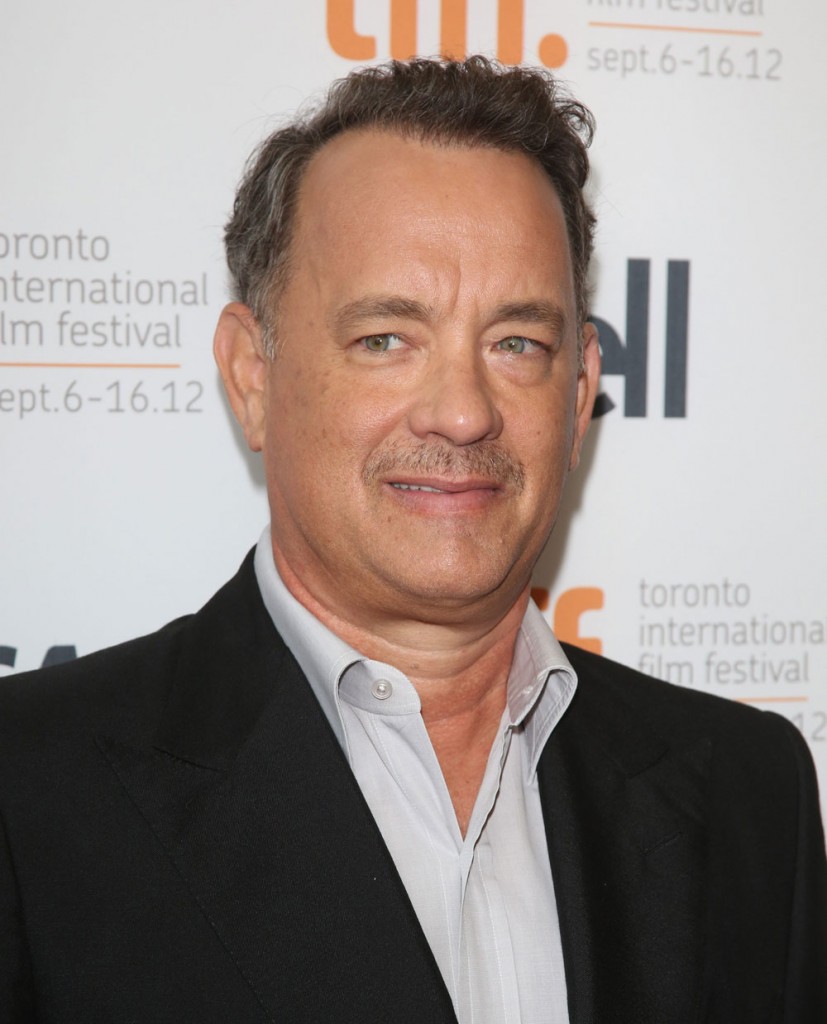 Love Tom! I'm not a fan of that barely-there mustache, but maybe he's growing it in for a role.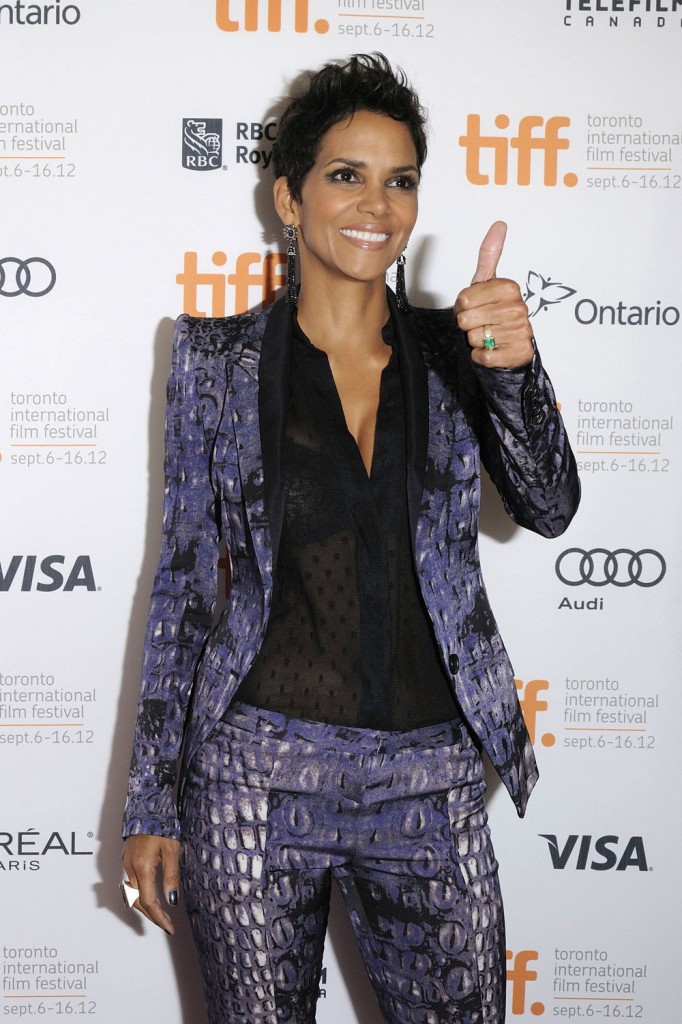 Photo credit: Dominic Chan/ WENN.com
Written by Celebitchy

Posted in Halle Berry, Hugh Grant, Jim Sturgess, Movies, Photos, Susan Sarandon, Tom Hanks

- Friends reunion on Ellen [Popsugar]
- Lindsey Vonn watches Tigers kids [Lainey Gossip]
- George Michael fell out of a car going 70mph [D-Listed]
- Real Housewives of Orange County recap [Reality Tea]
- New Man of Steel trailer [Pajiba]
- Jared Padalecki's hot bod [Buzzfeed]
- Doctors confirm Taylor Swift's new boobs [Evil Beet]
- Catherine Zeta-Jones finished treatment [CDAN]
- Anna Paquin hates the paps [Celebslam]
- Lance Armstrong is gross [The Blemish]
- What is Barbara Palvin wearing? [Moe Jackson]
- This is Petra Nemcova? [SVC]
82 Responses to "Halle Berry's 90s purple suit and see-through shirt at TIFF: try hard or hot?"