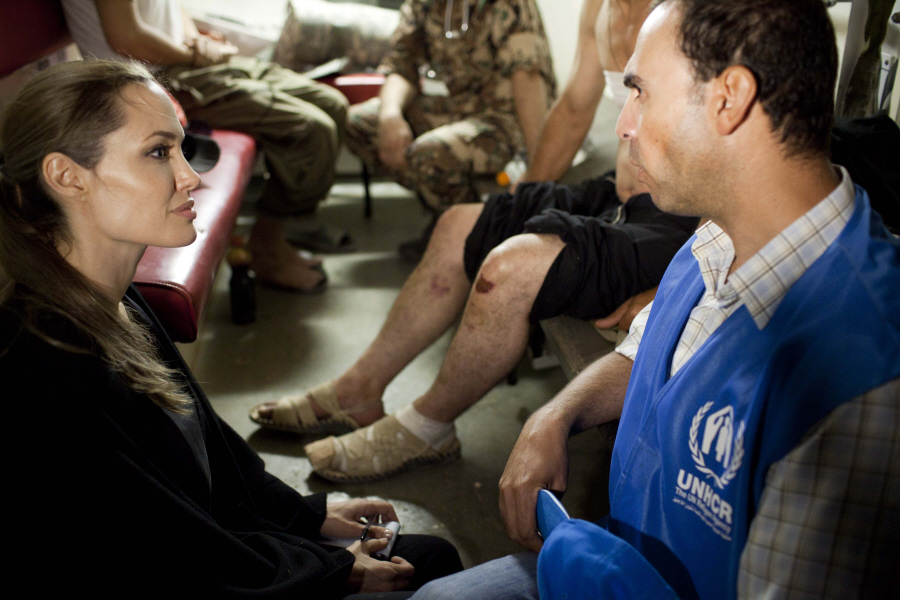 Angelina Jolie is in Jordan right now, visiting the thousands of Syrian refugees who have crossed the border, fleeing one of the largest Middle East humanitarian crises in recent memory. Syrian President Bashar al-Assad has been systematically killing thousands (hundreds of thousands) of his own people for the past 18 months. I keep hearing that the interior conflict was rooted in the Arab Spring, and the Syrians' own movement to live in a country that was more democratic and less of a police state, but at this point it feels like less of "a dictator/junta cracking down on protests in an urban civil war" and more like a full-fledged genocide. As I said, thousands of Syrians have escaped and are now living in refugee camps in Jordan. You can read the UNHCR's coverage of Angelina's trip, and here's Us Weekly's coverage:
Angelina Jolie met with nearly 200 new Syrian refugees near Mafraq, Jordan, overnight on September 11, Us Weekly has learned. The actress and UNHCR special envoy was joined by high commissioner for refugees Antonio Guterres and Jordanian foreign minister Nasser Judeh.

The Za'atri refugee camp hosts about 28,000 Syrians displaced by the 18-month conflict. Guterres told the Associated Press the "camp needs massive international funding" and that "the conditions are still not acceptable."

After talking to Syrian women and touring the tent city, a teary-eyed Jolie shared the refugees' "horrific" and "heartbreaking" stories with the Associated Press.

"I am very concerned; the world is very concerned," the Academy Award winner and mother-of-six said. "What is very heartbreaking is when Syrian people ask you why you think no one is able to find a solution for them. What they described on the ground, hearing it from them, is so horrific."

According to spokesman for the UNHCR, "Refugees tell us that artillery and air attacks are continuing in villages and towns close to the Jordanian border. There are reports of thousands of displaced people in Syria's south, moving from village to village seeking safety before they can cross the border."

"This mission that we are sharing has a key objective," Guterres added. "It is to draw attention to the international community to express a much more stronger solidarity with Syrian refugees and the host countries that have kept their borders open to all those fleeing the conflict."

Guterres and Jolie are planning to meet Jordan's King Abdullah II Ibn Al-Hussein, Prime Minister Fayez Tarawneh and Minister of Foreign Affairs Nasser Judeh mid-afternoon September 11.

In April, Jolie was promoted to the diplomat-level position of UNHCR special envoy after serving more than 10 years as a goodwill ambassador. She is currently engaged to actor and philanthropist Brad Pitt, 48, her costar from the 2005 film Mr. & Mrs. Smith.
I know some people are just going to hate on her and nit-pick about the politics no matter what I say, so let's just do this… here's the donation page for the UNHCR. If you feel like donating, you'll be helping to support many people in very desperate straits.
Meanwhile, the other half of Brangelina was recently discussing gay marriage once again. When Brad Pitt attended a screening of his latest film, Killing Them Softly, he was asked about the presidential election and gay marriage, and Brad said, "I am an Obama supporter and I'm backing his US election campaign. Gay marriage is inevitable. The next generation, they get it. It is just a matter of time before it becomes a reality." Brad also discussed the wedding plans, saying, "No plans yet, other than we are going to do it. I plan very little as I get older"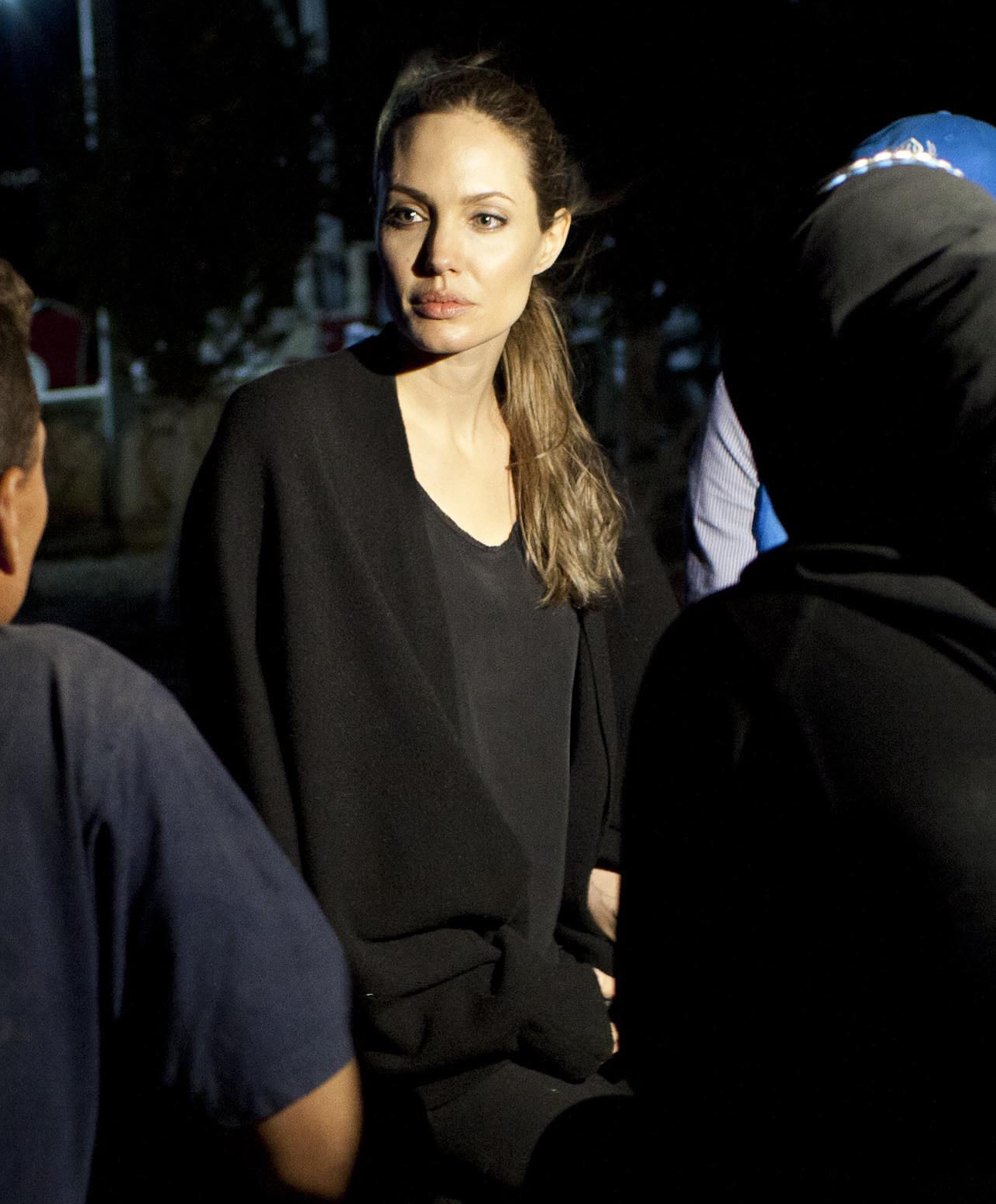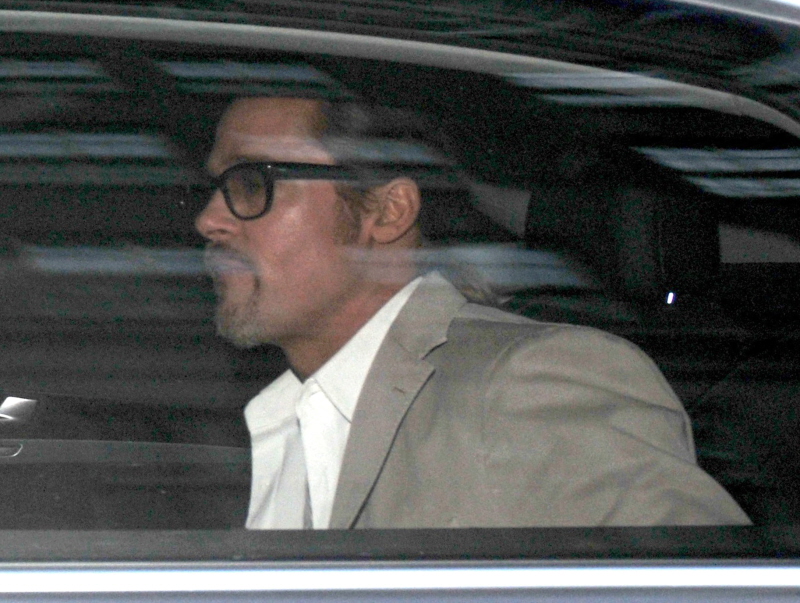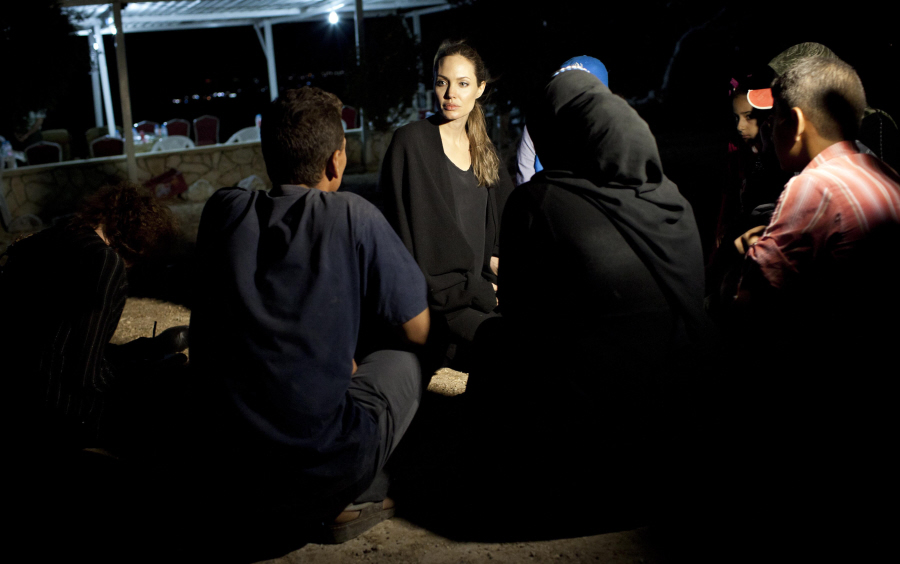 Photos courtesy of WENN, Fame/Flynet.