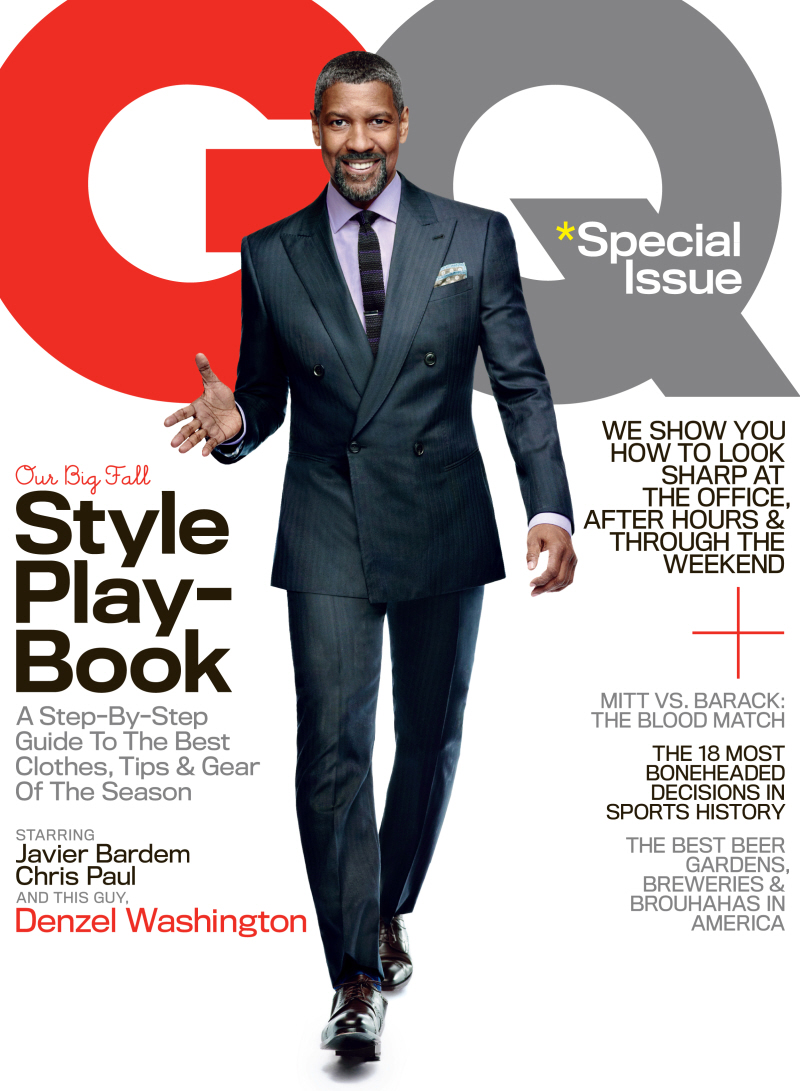 OMG. Let me tell you what just happened – we got the email about Denzel Washington's appearance on the October issue of GQ. I glanced through the interview highlights were we sent, and I thought, "Wow, looks like a good interview." I barely paid attention to the photos from the cover shoot while I was planning to cover this. Then I was like, "Oh, I should take a look, see what Denzel looks like these days." OMG. OH. MY. GOD. WHAT IS ON HIS HEAD?!!?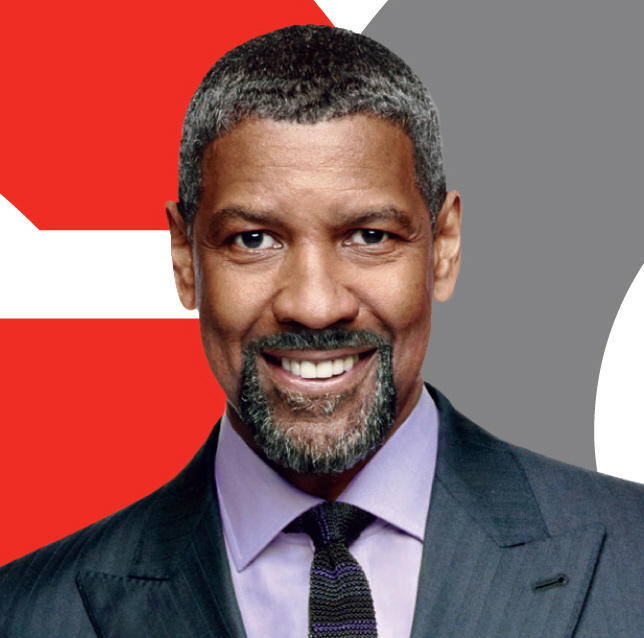 Is that a wiglet?!?! Is that a wiglet from John Travolta/Ben Affleck's "Roman-style Wiglet Collection"? Or is this – as CB theorized – some spray-on Ronco crap? I have no idea. But whatever is going on, it is flat-out WRONG.
Anyway, you can read Denzel's full GQ piece here, and here are some highlights:
Denzel Washington on staying out of the public eye: "Sidney Poitier told me this years ago: 'If they see you for free all week, they won't pay to see you on the weekend, because they feel like they've seen you. If you walk by the magazine section in the supermarket and they've known you all their life, there's no mystery. They can't take the ride.' My professional work is being a better actor. I don't know how to be a celebrity."

On roles he regrets turning down: "Seven and Michael Clayton. With Clayton, it was the best material I had read in a long time, but I was nervous about a first-time director, and I was wrong. It happens."

On his daughter working with Tarantino after his feud with the director on what he called racist dialogue in Crimson Tide: "Isn't that interesting how life goes? But I buried that hatchet. I sought him out ten years ago. I told him, 'Look, I apologize.' You've just gotta let that go. You gonna walk around with that the rest of your life? He seemed relieved. And then here we are ten years later, and my daughter's working with him. Life is something."

On Whitney Houston: "Whitney was my girl, and she had done so well in recovery. And that is the toughest part about addiction. …That was a monster drug that got ahold of her, it was a mean one. You can't go back to that one. Nobody beats that. I look at people—and I don't think I'm speaking out of line—Sam Jackson, I've known for thirty-some-odd years, he was down at the bottom. And he came all the way back. And when he cleaned up, he never looked back. But he can't have that beer, because it might lead to the tough thing."

On his code: "I read from the Bible every day, and I read my Daily Word. I read something great yesterday. It said, "Don't aspire to make a living. Aspire to make a difference.""
GQ also sent us some edited and out of context comments Denzel made about Mitt Romney, but I wanted to put them in context because I think the context is key. The interviewer is asking Denzel a series of questions about his childhood and his faith, how his father was a Pentecostal preacher, and how Denzel has been going to the same church for decades, and how he even had a moment in church where he felt physically "filled with the Spirit". Then this happens:
GQ: I look at Mitt Romney with his spirituality, and he's chosen not to talk about his faith.
DW: Yeah, he hasn't even brought it up.

GQ: But if he just said, "Here's my path," I would love to hear it.
DW: When I see him, he's always uncomfortable. You can see that uncomfortableness. Forget about his being Mormon. He hasn't said anything about his faith.
I think that's interesting… obviously, Denzel took a minor swipe at Romney – which, to be fair, many, many people have noted. But it felt like GQ was trying to get Denzel to really discuss his politics and his faith, and I like that Denzel didn't really engage. Later on in the interview (which I would recommend reading in full), GQ asks Denzel about Obama, and Denzel basically says that the whole story on Obama hasn't been told yet – meaning, how Obama fits into the larger story of America and American politics, I believe. Denzel is asked if he'd ever go into politics and he says, "No. I'm an independent. In some ways I'm liberal, and other ways I'm conservative. We get so locked in on 'you have to be this or that.' It's ridiculous. I'm not a liberal or a conservative completely. Who is? Or why do you have to be? You assess the pros, the cons, of both sides and you make an intelligent decision." Very interesting.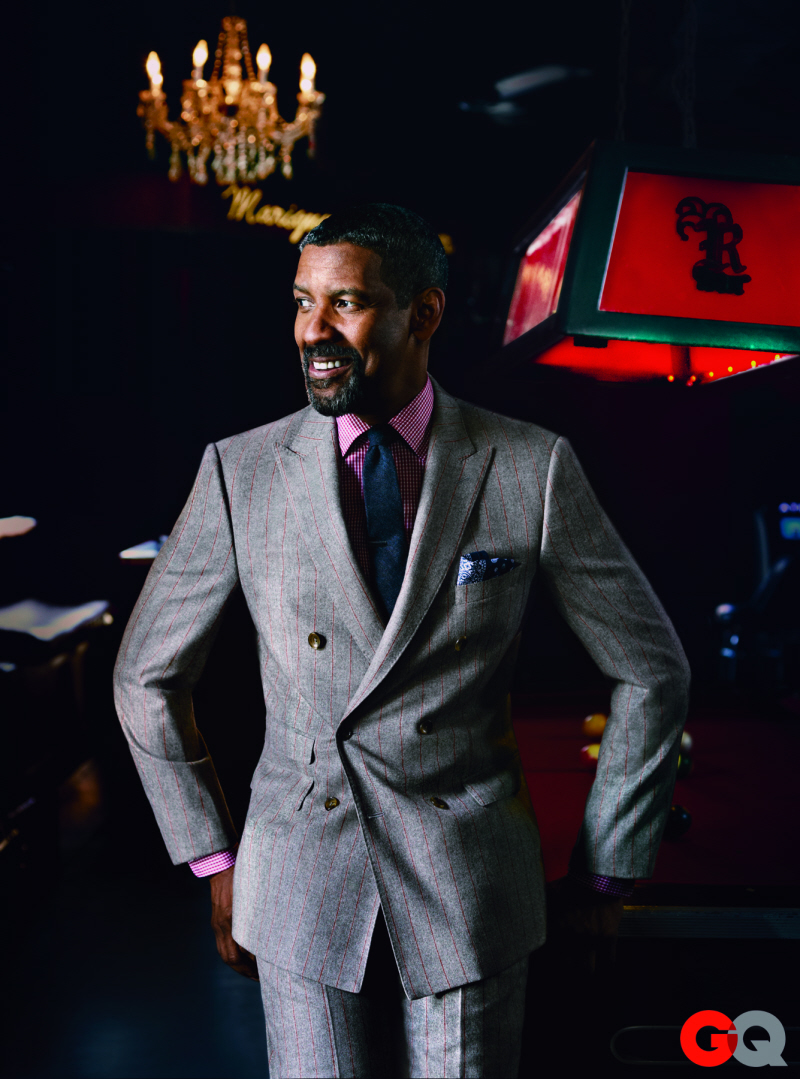 Photos courtesy of Nathaniel Goldberg/GQ.