Emma Watson in a Dior dress & pants ensemble in the UK: cute or terrible?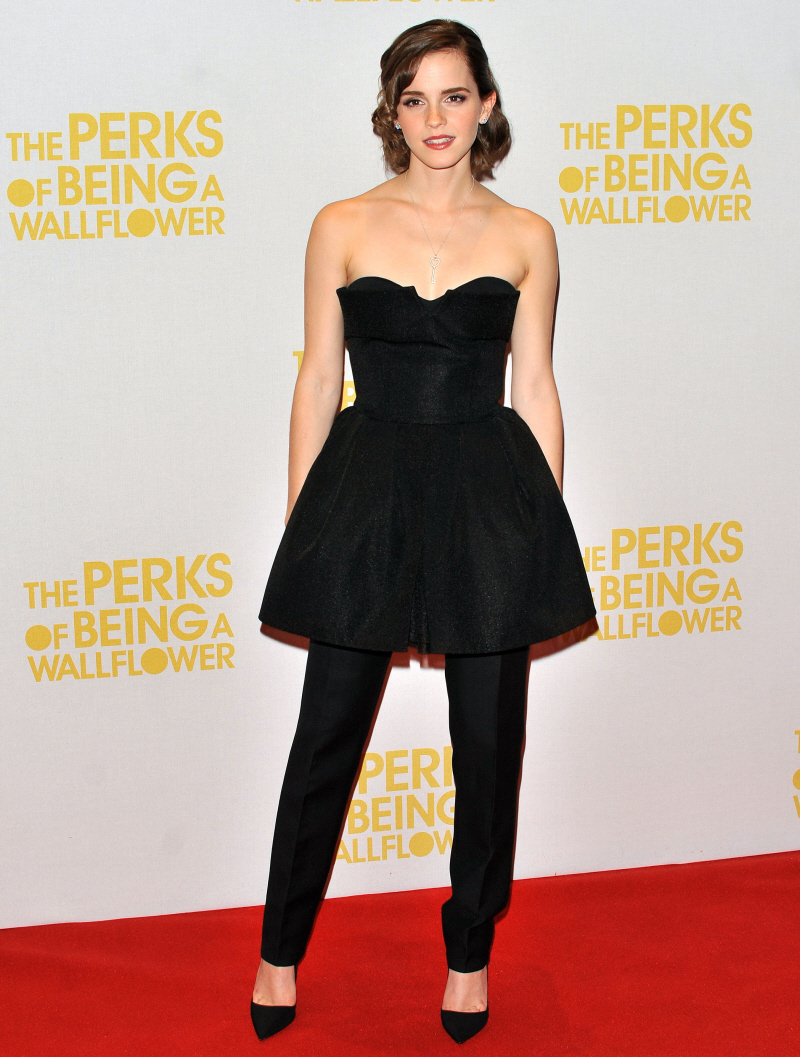 These are photos of Emma Watson at a London screening of her new film, The Perks of Being A Wallflower, which was held at the Mayfair Hotel. Sigh… I was going to say something nice about the pants, but really… I can't. I took a close look at them, and the pants aren't all that, and they're part of an ill-conceived ensemble. But I'll say a few nice things: from the bust up, this is maybe the prettiest Emma has ever looked. Good makeup, good hair, simple jewelry, and overall, she's just very cute and pretty. I don't even mind that little sausage curl-bangs thing. It seems romantic rather than trashy.
As for the dress-and-pants ensemble… it's Dior. Is it just me, or has Dior really gone drastically downhill since Galliano was forced out? I'm not saying they didn't have every right to force John Galliano out – they did, and I'm glad he's gone. But surely the House of Dior can come up with something better than this, right? If she was just wearing the dress by itself, without the pants… it would have been too sweet. But when you put the dress with those ill-conceived and badly cut pants, it's just awful. Sidenote: On second look, the pants are okay in profile. But the front view is rough.
In other news, while she was doing press for Perks in the UK, she got the question about 50 Shades of Grey. Entertainment journalists are pretty much asking every actor and actress under the age of 35 if they would consider playing Christian Grey, the beautiful, tragic sadist, or Anastasia Steele, the beautiful dumbass who weeps hysterically whenever you spank her. So Emma was asked if she would consider playing Anastasia, and she said, "The thing is I haven't read any of the book because I haven't read a script so it's quite difficult to know what I'm turning down potentially but I hear it's quite raunchy. I mean if there's interesting character development and there's an interesting story then I would consider it – but I haven't been offered anything." Let's keep it that way, Emma. They wouldn't offer her the part, right? Her image is way too "clean" and proper. Just like Anastasia before she met Christian Grey. *rips bodice*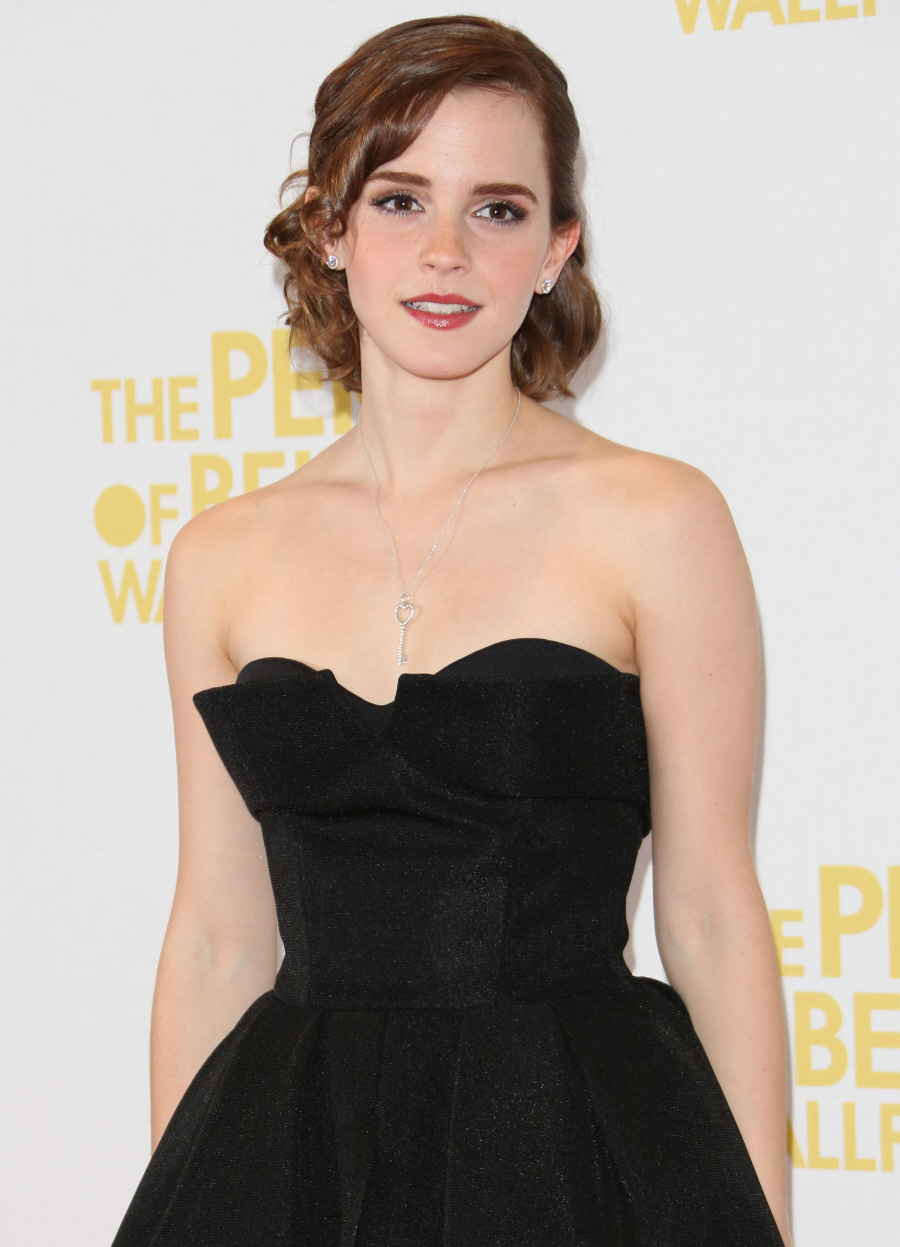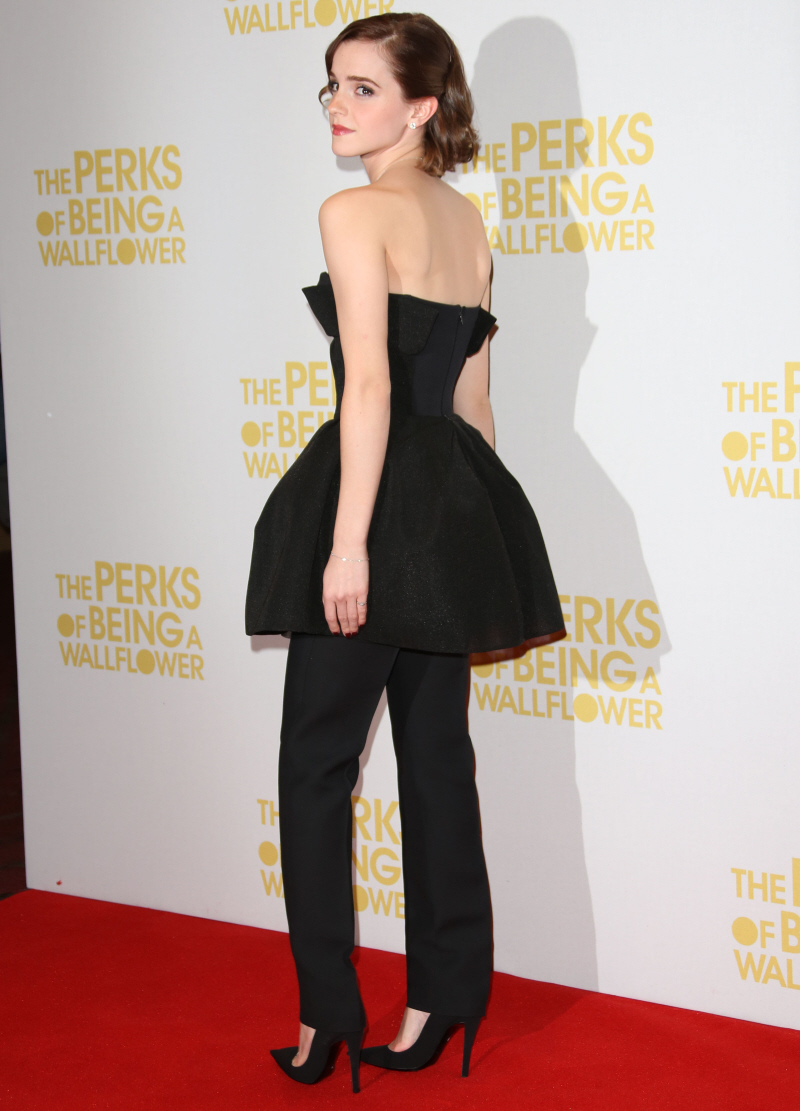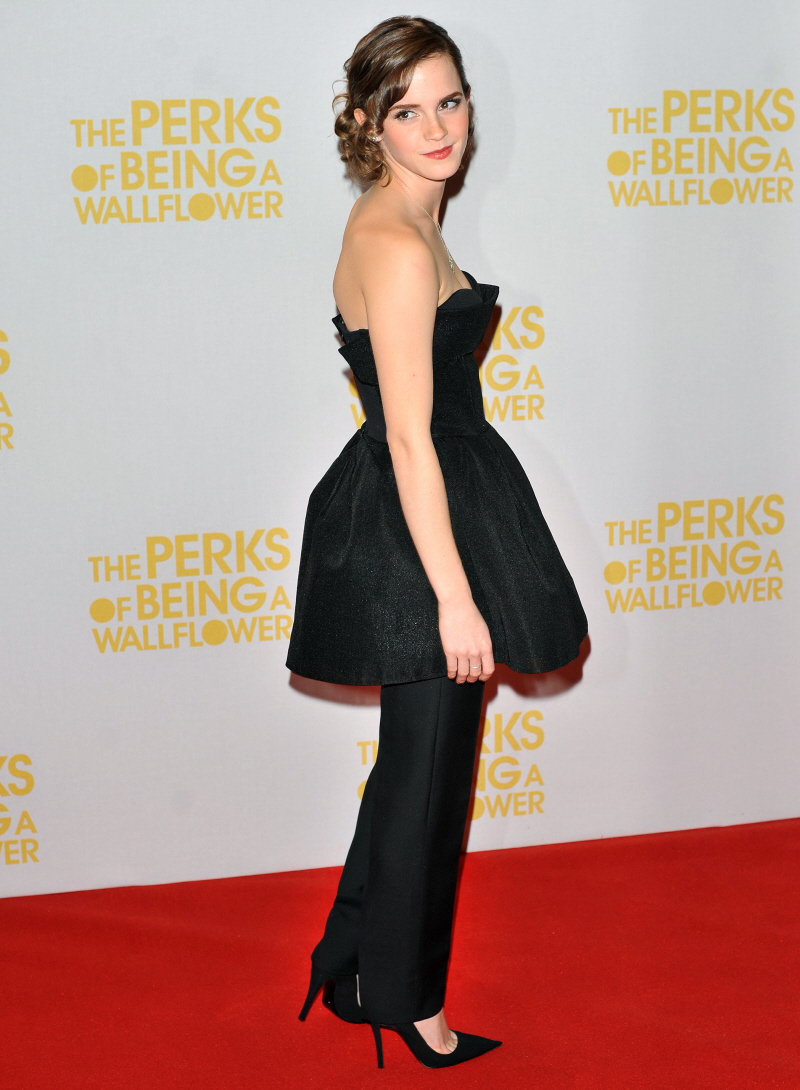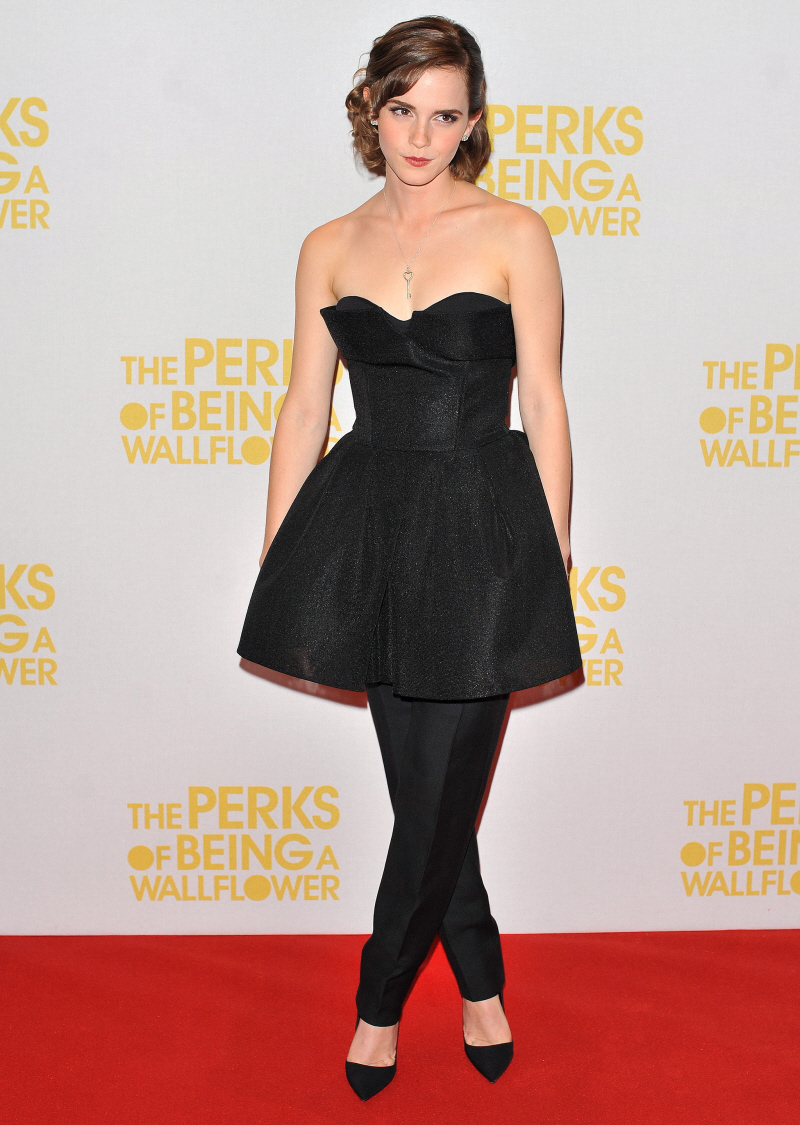 Photos courtesy of WENN.

Written by Kaiser

Posted in Emma Watson, Fashion

- Friends reunion on Ellen [Popsugar]
- Lindsey Vonn watches Tigers kids [Lainey Gossip]
- George Michael fell out of a car going 70mph [D-Listed]
- Real Housewives of Orange County recap [Reality Tea]
- New Man of Steel trailer [Pajiba]
- Jared Padalecki's hot bod [Buzzfeed]
- Doctors confirm Taylor Swift's new boobs [Evil Beet]
- Catherine Zeta-Jones finished treatment [CDAN]
- Anna Paquin hates the paps [Celebslam]
- Lance Armstrong is gross [The Blemish]
- What is Barbara Palvin wearing? [Moe Jackson]
- This is Petra Nemcova? [SVC]
43 Responses to "Emma Watson in a Dior dress & pants ensemble in the UK: cute or terrible?"