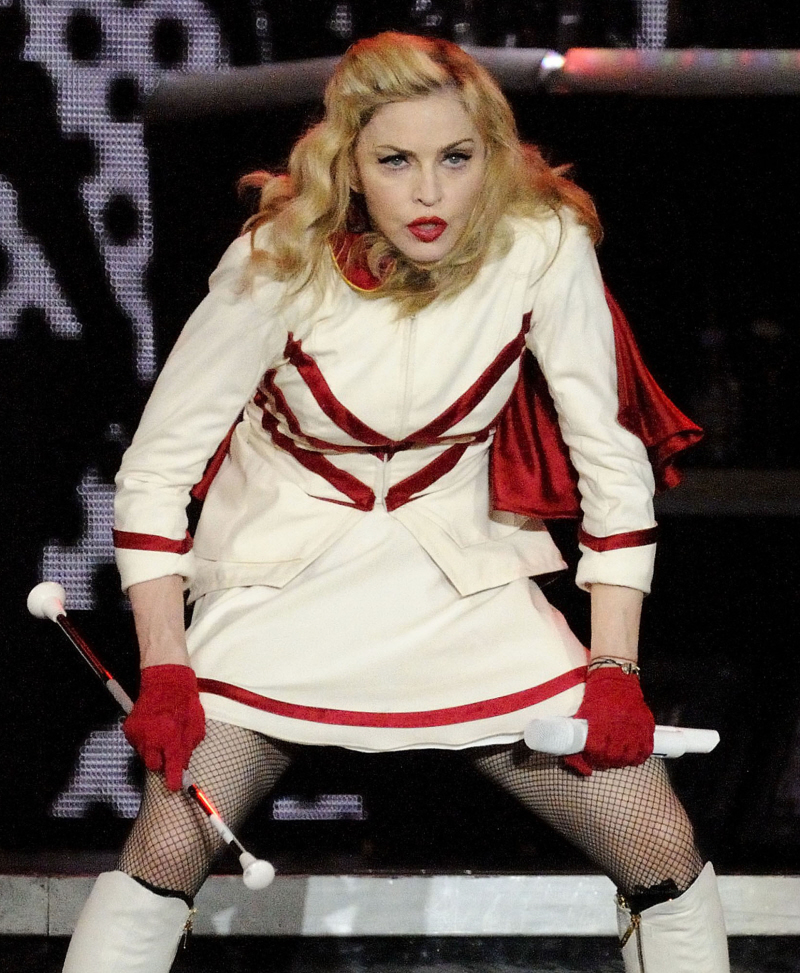 On Monday night, Madonna performed in Washington, DC, and she took the opportunity to use her platform to provide a nuanced political argument advocating for women's rights, gay rights and civil rights for all. Just kidding. She called President Obama a "black Muslim". Here's the video:
I mean… she's an idiot. It was obvious that she was saying it as a mockery of the minority of people who really believe that Pres. Obama IS a Muslim, but it reminded me of The New Yorker cover controversy from 2008 – an attempt at high-handed, tongue-in-cheek, too-cute-by-half satire which only served to provide more ammunition to those who actually believe that Obama is a "black Muslim". Anyway, Madonna issued a clarifying statement. And she also went to Yom Kippur services dressed in a purple sweatsuit. Because she's a classy bitch, that's why.
After referring to President Obama as a "black Muslim," Madonna was back to taking center stage with her fellow Kabbalah followers at a Yom Kippur ceremony in New York.

According to a witness, the superstar arrived at the Park Avenue Armory on Tuesday in her own kind of spiritual garb — a bright purple sweat suit bearing the number 86 and a hat emblazoned with the word "Vogue."

Our spy said, "Madonna was the last to arrive, and it seemed like they were holding up the ceremony to wait for her. She came through a back entrance with her daughter, Lourdes, and was seated in the front row. Once she was seated, it could begin. All the men were in white but Madonna had a loud track suit on. Also there was her younger boyfriend, who arrived wearing cream."

A listing of the event on the Kabbalah Web site reads, "We refer to Yom Kippur as Binah . . . On Yom Kippur, we sit on the throne with Binah and remove the fog in our lives for the entire year to come. On Yom Kippur, we become spiritual royalty, with the ability to increase and improve the quality of life of all human beings."

Madonna remained quiet and meditative through the service and didn't greet other followers, not even Donna Karan, who was seated nearby. Our witness added, "She definitely set herself apart from everyone else. She is like the queen of Kabbalah."

Yesterday, Madonna put out a statement following a backlash over her Monday speech in Washington, DC, where she said, "Now, it's so amazing and incredible to think that we have an African-American in the White House . . . We have a black Muslim in the White House . . . It means there is hope in this country, and Obama is fighting for gay rights, so support the man."

Madonna then said through her rep, "I was being ironic. Yes, I know Obama is not a Muslim — though I know that plenty of people in this country think he is. And what if he were? The point I was making is that a good man is a good man, no matter who he prays to. I don't care what religion Obama is — nor should anyone else in America."
The Queen of Kabbalah. Ugh. I don't know what to say about all of that, except that it's hilarious to me that Madonna showed up for Yom Kippur services in a purple sweatsuit that said "VOGUE". I mean… why not "Material Girl"? As for Madge's clarification statement on Pres. Obama… that's pretty much what Colin Powell said when he endorsed Obama on Meet the Press in 2008. Speaking of, I'm really wondering if Powell is going to do an endorsement this year.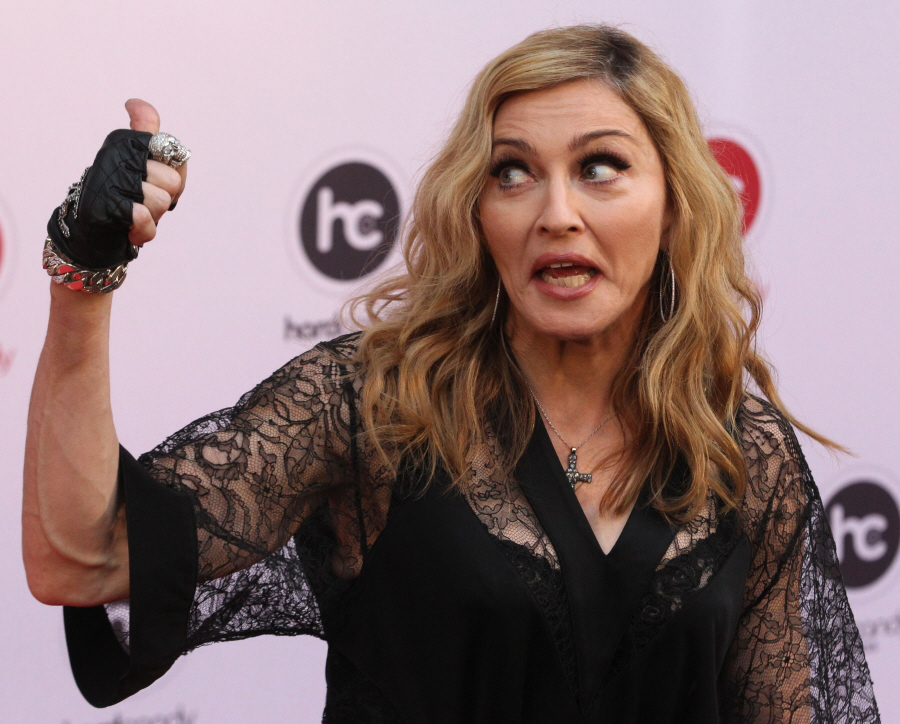 Photos courtesy of WENN, Fame/Flynet.