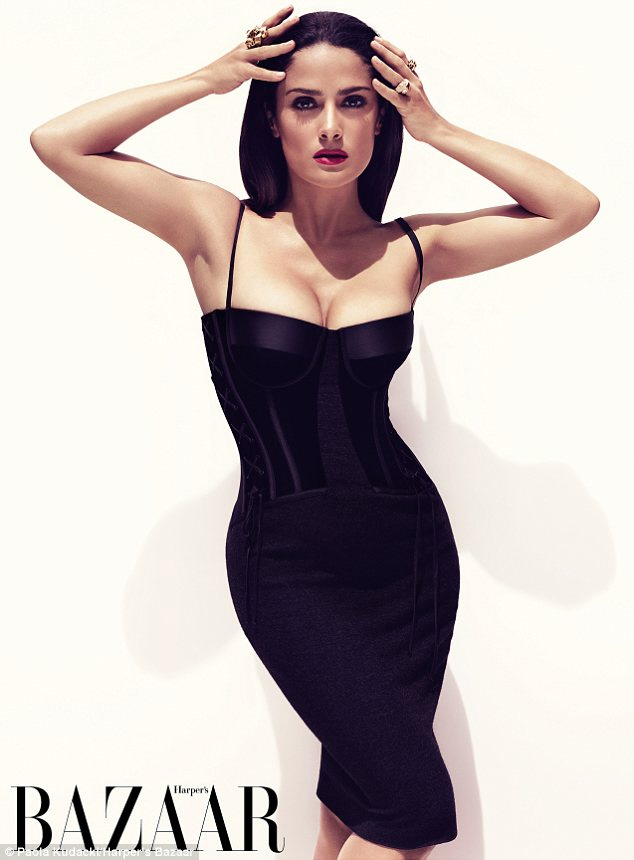 Yes, ladies and gentlemen, it's time for yet another Salma Hayek interview. Salma has been on a tear lately, saying Goopy crap all over the place. You know what's funny to me? Salma did some bare-bones promotion for Savages in America, but she did like half a dozen major magazine interviews in support of the film in Europe. Was that the idea all along? Let Blake Lively have the American media and Salma would take the European media? Perhaps. Anyway, Salma covers the UK edition of Harper's Bazaar. The photos are pretty enough… I don't really care for the one where she's clasping her boobs, but whatever. Some highlights from the interview (just take a deep breath and count to ten before you read this):
She calls herself chubby again: 'The worst thing you can be in Hollywood is a woman and over 40. On top of that, I have an accent, am dyslexic, short and chubby. You name it I have it, but I am here. I must be the luckiest girl in the world to be working'.

She loves to eat and she won't Botox: 'I am on the limit of chubbiness because I love my food and my wine. It's not the best for fashion, but it's good for my mood. I am happy because I eat. I am 46; I will not have Botox. You know why (I don't need to do it)? Because I eat! I eat the fat, I eat the vegetables, I eat everything. If you exercise too much and you don't eat enough, it takes its toll on the skin. Everything starts ageing. If you don't eat carbs, you slow your metabolism down. And you know what? You look miserable. The truth is I just don't have the drive to be the prettiest and the thinnest. I can be happy for other people for their beauty. Learn to be happy for others and you can never run out of happiness.'

She thinks Madonna is a body-image role model: 'Do I envy Madonna's body? Yes. Do I thank God that she has it? Yes! If you're fifty something and you look like Madonna, and you put a lifetime's work in the way you look, then flash it to the world!'

Criticizing the slim, un-curvy image of beauty: 'In recent years, we have had to fight against our genetic nature to look like little boys, to be socially accepted as beautiful. It used to be that a young girl couldn't wait to grow up and take the shape of a woman. Now our goal is regression, to look younger and like a child. There has not been enough diversity of boy shape in fashion'.
When she's talking about "we have had to fight against our genetic nature to look like little boys," I believe the "we" she's using is for "Latinas" not "all women". Or it could be the "royal we" as in the Queen saying, "We are not amused." As for her continuing insistence that she is "chubby"… ENOUGH. She is not. It's an insult to chubby women when Salma takes up our chubby mantle. YOU ARE NOT ONE OF US. Stop moving the chubby goalpost, Salma.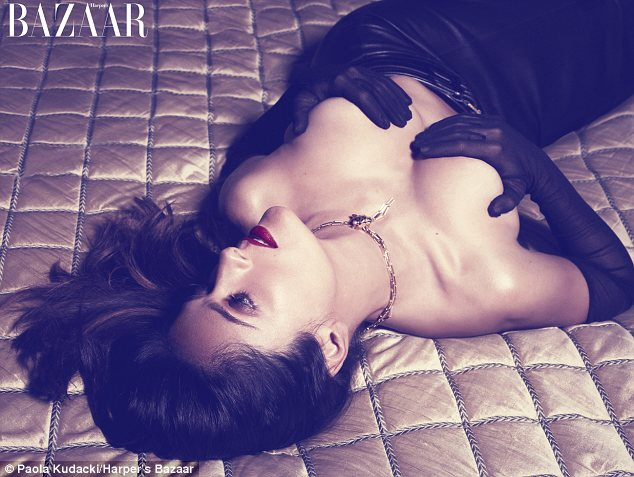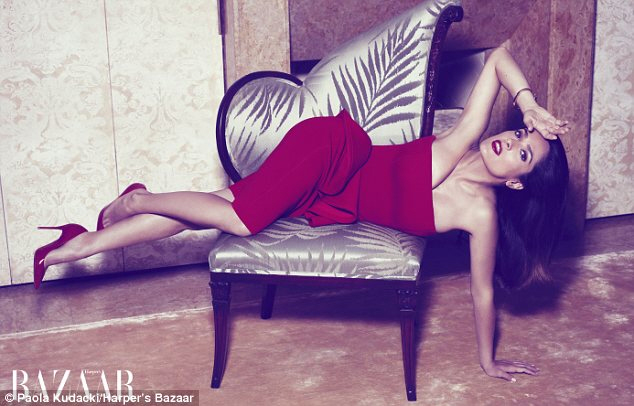 Photos courtesy of Harper's Bazaar UK.