Mariah Carey has hired extra security after Nicki Minaj's alleged death threat: theatrics?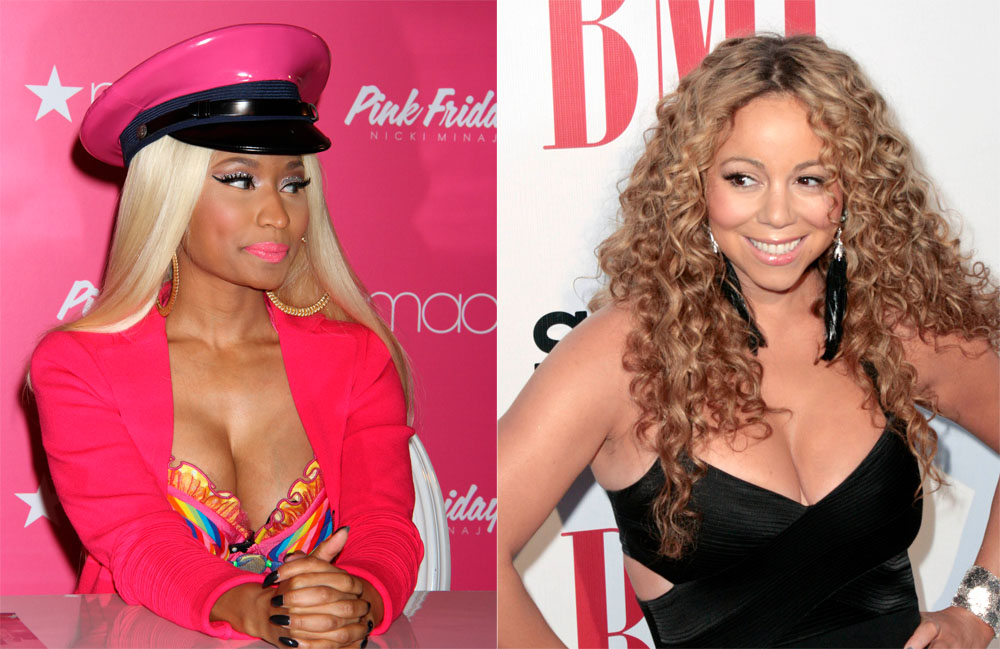 The epic Nicki Minaj Mariah Carey catfight on Idol rages on. We've heard that these two have reached a tentative truce, but it's looking more like Idol isn't big enough for both of their throbbing egos. We have Mariah with her sickly sweet butterfly-filled narcissism and Nicki with her faux edgy, hair trigger conceit. Yesterday afternoon Kaiser pointed me to Nicki Minaj's Twitter account, noting that Nicki was going off about something. Nicki was mad over something Barbara Walters said on The View about Nicki's fight with Mariah, and now I know what it was. Barbara claims to have spoken to Mariah, who confirmed that Nicki did issue a death threat against Mariah by saying "If I had a gun I would shoot her." (Which Nicki denied to Idol producer Nigel Lythgoe.) As a result, Mariah was said to be so concerned for her safety that she hired additional security. Give me a break. This of course led Nicki Minaj to release her outrage on Twitter. Here's more:
Veteran journalist Barbara Walters said on "The View" that Carey shared the new details about the feud that has roiled — or energized, depending on your perspective — the set of the creaky reality show, now in its 12th year.

"She said that when Nicki walked off the set, multiple people heard Nicki say, 'If I had a gun I would shoot the bitch,'" Walters relayed.

Several "Idol" staffers, including hairdressers and producers, heard it, too, Carey told Walters.

"She said she's very concerned," Walters continued. "She is with her twins. She doesn't feel that anything would happen, but Nicki is unpredictable, and Mariah says she can't take a chance and she has hired extra security."

Carey added that Minaj has not apologized for the Tuesday blowup, which centered on a dispute between the two show judges over a contestant's talent.
But Minaj did tell Carey, "I love you, but we might fight again," Walters said.

Fox had no comment Thursday. Earlier in the week, an "Idol" producer denied that there had been a death threat.

Minaj's camp did not respond to requests for comment after Walters aired Carey's grievances, but she did fire back on Twitter Thursday, suggesting Walters is no impartial referee in the Battle of the Pop Divas. "Barbara walters didn't reach out from our team," Minaj tweeted. "I guess we're too dangerous."

She added, "I don't call tmz n Barbara Walters cuz I stand on my own two feet," she added, referring to a gossip website. "Never needed an army. God is good. Insecurity is as cruel as the grave."

Later, she ramped up her online assault on Carey. "I guess it hurts 2 have the producers tell u to ur face that nicki is the best judge we've had since simon," Minaj added. "Awww, poor u. Keep them lies cmn."
Other tweets from Nicki on this include "I thought we resolved it yesterday but I see u want ur pity party to continue." and "All I do is compliment u. That's not enuff? Ur a legend, cheer up. U don't have to run down ur resume or feel intimidated. Shady McGrady…" She eventually seems to have backed down and apologized, tweeting "Oop sorry brat. Sh*t is real in the field. Pls accept my apology." It gives me a headache to try and figure out her tweets, but they seem to be directed at Mariah. DListed has more of them in order if you're interested.
Nicki never should have said that about shooting Mariah, and I buy that she said it out of frustration, but please, Mariah can't have taken her seriously. This is Mariah trying to pull rank and get Nicki kicked off the judging panel before the season is really underway. I wouldn't mind if that happened at all. This feud is way out of hand. If this is how these two handle just a couple days of working together, it's only going to get worse.
MTV had this brief video from Idol in which Mariah seems to be addressing the feud, but she doesn't really say much. She is so damn haughty about everything, it's like her only setting:
Mariah also instagrammed this photo from on set. She hasn't said a word about it on Twitter. It looks like Keith Urban is the buffer between Mariah and Nicki. He's addressed this feud by basically saying he loves it.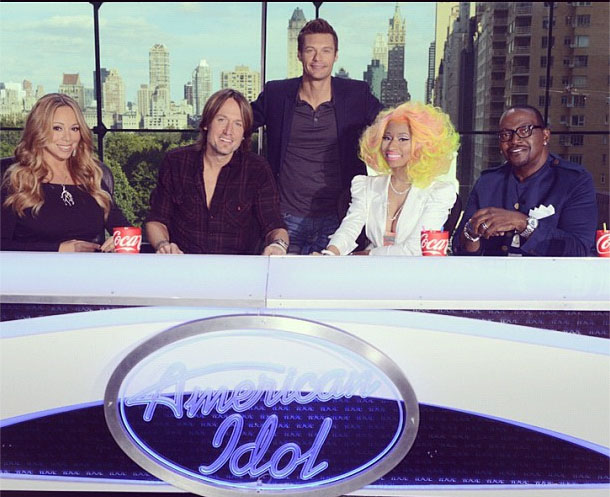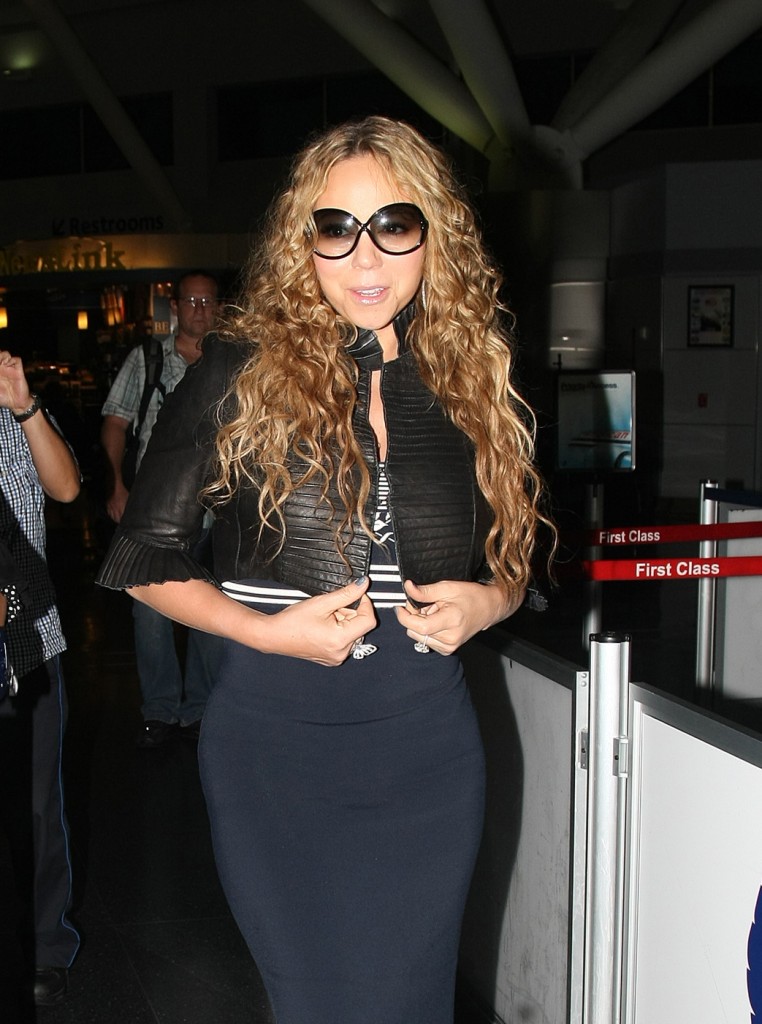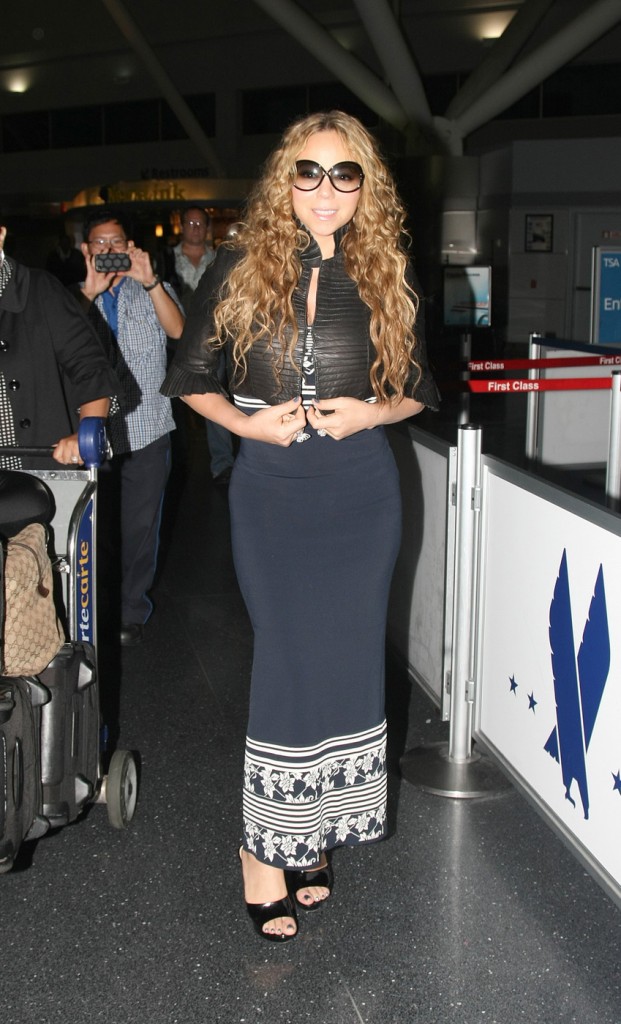 Written by Celebitchy

Posted in American Idol, Feuds, Mariah Carey, Nicki Minaj

- Mariah Carey lip synced on American Idol [CDAN]
- Colin Firth is looking good [Lainey Gossip]
- Internet celebrity charged with murder! [D-Listed]
- What is Paz Vega wearing? [Go Fug Yourself]
- New bachelors on The Bachelorette [Reality Tea]
- Goodbye to The Office [Pajiba]
- Bachelor Sean's fiance cheats on him [Evil Beet]
- Britney Spears out with her man [Popsugar]
- Nina Dobrev works it [Popoholic]
- Cindy Crawford needs to lay off the 'tox [Celebslam]
- Who said it: Carrie Bradshaw or The Dalai Lama? [Buzzfeed]
19 Responses to "Mariah Carey has hired extra security after Nicki Minaj's alleged death threat: theatrics?"