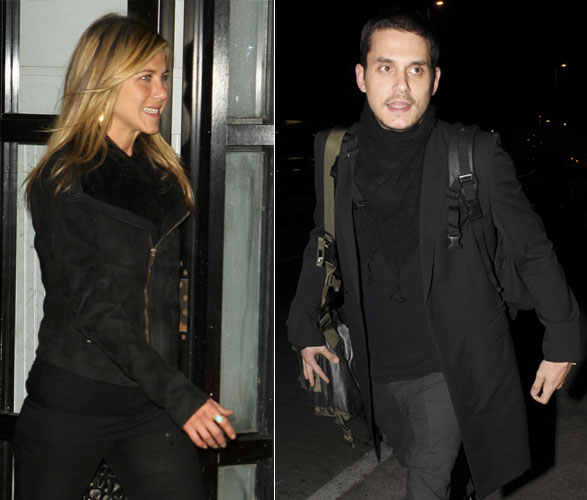 I want Jennifer Aniston to find long-lasting, true love. Not because she's any less of a woman without a man, but because she honestly seems to be looking for it in her life. And just as much as it doesn't make you less of a woman without one, it doesn't make you less of a woman to want that in your life, either. I don't think Aniston worries too much about the past, I think she's just looking to make herself a happy future. No one ever thought that would include John Mayer, though.
Jennifer, though, clearly sees something in Mayer that the rest of us have missed. She dated him once, and was so into him he couldn't live up to the expectations and broke up with her in order to not "waste" her time. How… thoughtful of him. And then, as will happen, when he realized he had a pretty good thing going before he walked away from it, when Mayer wanted to grow up, Aniston let him back in. And even the second time around, Jen is enamored.
Speaking for the first time about John Mayer – the man dubbed "Hollywood player Mayer" due to his insatiable appetite for sexy A-listers – Jennifer gushes like a smitten schoolgirl.

In an exclusive interview, she blushes: "He's a rare one. He is extraordinary and it is wonderful to watch him… the way his brain works and the way he thinks thoughts… it's beautiful."

"It's an amazing thing to watch a musician think," she reveals.

"I don't know many musicians but when his guitar is on him it's just like a channel.

It's something I've never ever seen before."
[From Daily Mirror]
Oh, yes, musicians can make the most logical woman somehow make sense of the most illogical things and feelings. Especially, if you haven't had that experience before. I've been there, and kicked myself plenty of times afterward.
There are plenty of thoughts that John Mayer has made public that are neither extraordinary or beautiful, which is why so many of us have such a hard time understanding how Aniston could be so serious about her relationship with him. But people change, people grow, and often times love is a catalyst for growth and change. So, whereas Jessica Simpson wasn't the platform to pass from self-serving, over-sharing blogger to rare, beautiful, husband material, maybe Jennifer Aniston is. I will keep my fingers crossed for you, Jen, but I still can't hold my breath.
Jennifer Aniston is shown out on 11/13/08. John Mayer is shown at the airport on 12/2/08. Credit: Bauergriffin