Jayden James is more of a mystery than Suri was (update)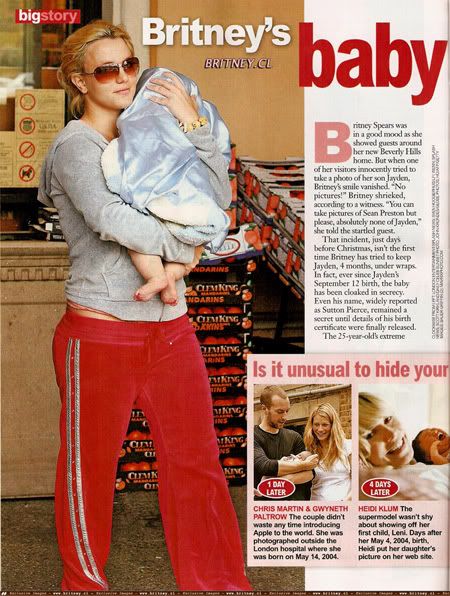 Suri Cruise was supposed born on April 18th, and was closely guarded by the Holmes-Cruises until her pictures were published in Vanity Fair in early September. There were all sorts of conspiracy theories about little Suri and the Cruise's reason for hiding her, and we of course chimed in. I speculated that she was older than the Cruise's claimed, that she wasn't sterile Tom's baby, and that maybe she had something wrong with her.
Now In Touch is running a story claiming that people close to Britney are worried because very few people have seen her second child since he was born September 12. Little Jayden James is starting to rival Suri in how long Britney has managed to keep him under wraps. Unlike Suri, there isn't even a picture of baby Jayden under a blanket or with a handler. (Note: the header photo is of Britney with Sean Preston, not Jayden.) He must have a vitamin D deficiency since it doesn't seem like he's seen the light of day.
Britney Spears was in a good mood as she showed guests around her new Beverly Hills home. But when one of her visitors innocently tried to take a photo of her son Jayden, Britney's smile vanished. "No pictures!" Britney shreiked, according to a witness. "You can take pictures of Sean Preston, but please, absolutely none of Jayden," she told the startled guest…

The 25-year-old's extreme secretiveness about the baby has people speculating. "Some family members are worried there is something wrong with Jayden because Britney doesn't let too many people see him," says an insider>
[From In Touch print edition, January 15, 2007]
The magazine points out other celebrities that have publically shown their babies, and how quickly they published the photos and took out the infants in comparison to Britney. Gwyneth Paltrow, Heidi Klum, Brooke Shields, and Sarah Jessica Parker all showed their babies within a month of their birth.
There was a story that Britney was trying to give away photos of Jayden to the most prestigious magazine possible. She didn't want to sell the pics and have K-Fed get half of the profits since their divorce is not final. Word is that Vanity Fair turned Britney down, and now that everyone's seen where the baby came from (not really, I guess, considering that she had a c-section) it seems like the press is not that interested in her second child.
If she was in a cult or had more going on than constant partying then we would have been all over this story a while ago. As it is, I don't think anything is wrong with the baby. It seems like Britney is just being a self-centered fool for hiding him and still thinks her star is untarnished enough to get her new baby on the cover of something better than People.
Thanks to Britney.cl for these In Touch scans.
Update: The NY Daily News has a blind item that sounds suspiciously like Britney:
Which celebrity baby has been plagued with health problems because insiders fear his mother wasn't able to stay away from cocaine during her pregnancy?
Written by Celebitchy

Posted in Babies, Britney Spears, Magazines, Photos

- Friends reunion on Ellen [Popsugar]
- Lindsey Vonn watches Tigers kids [Lainey Gossip]
- George Michael fell out of a car going 70mph [D-Listed]
- Real Housewives of Orange County recap [Reality Tea]
- New Man of Steel trailer [Pajiba]
- Jared Padalecki's hot bod [Buzzfeed]
- Doctors confirm Taylor Swift's new boobs [Evil Beet]
- Catherine Zeta-Jones finished treatment [CDAN]
- Anna Paquin hates the paps [Celebslam]
- Lance Armstrong is gross [The Blemish]
- What is Barbara Palvin wearing? [Moe Jackson]
- This is Petra Nemcova? [SVC]
15 Responses to "Jayden James is more of a mystery than Suri was (update)"