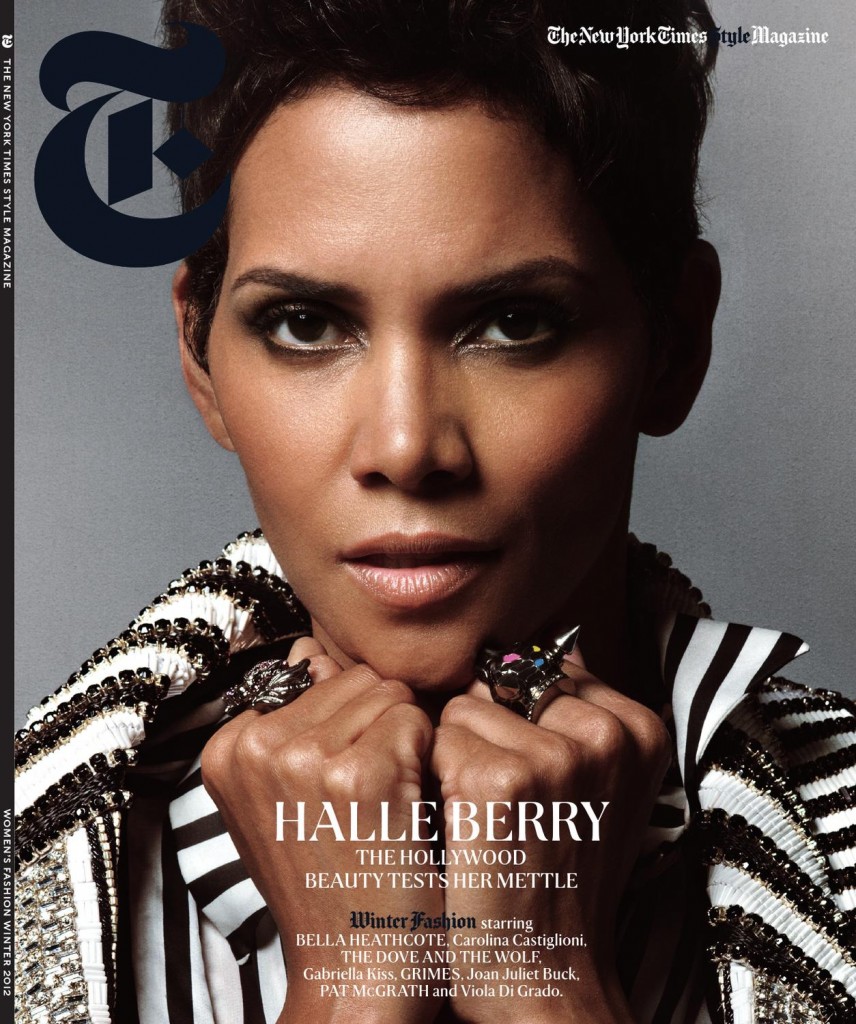 Halle Berry takes the cover of the NY Times Sunday Style Magazine, to promote her co-starring role in the upcoming epic film Cloud Atlas, out later this week. It's a whopper of a movie with no less than six plotlines spanning space and time and connecting the characters in some kind of existential web. The film is either a bloated pretentious mess or an ambitious uplifting experience, judging by advance reviews, which give it a positive 79% on Rotten Tomatoes. (Here's a link to the trailer.)
In her NYT profile, Halle plays the still-humble starlet who triumphed over a difficult circumstances and a troubled childhood. That may be her experience, but it all sounds a bit hackneyed given her current position in life. This is Halle at her finest, trying to convince us that she's this admirable figure, just trying to make her way in Hollywood and forge a better life for her child. She comes across somewhat well in the Times' profile, because her quotes aren't standing on their own and the piece is largely sympathetic. Still, I rolled my eyes a few times. Halle is laying it on thick here. Here's some of what she said, with more at the source:
On the paparazzi
it's not O.K. that they're doing terrible things to my daughter. One night, after they chased us, it took me two hours just to get her calmed down enough to get to sleep.

On if Cloud Atlas is a "comeback" for her
"I never went anywhere. I just seized the chance to be in an extraordinary film with an extraordinary cast, exploring an idea that's relevant to everyone."

She's asked 'Why have you made such bad choices in men?'
"My picker's broken," she says with a laugh. "God just wanted to mix up my life. Maybe he was thinking, 'This girl can't get everything! I'm going to give her a broken picker.' " She says it's fixed now.

Something vague about how she's insecure
"Just because they see my face doesn't mean they see me. A person's self-esteem has nothing to do with how she looks. If it's true that I'm beautiful," she adds, "I'm proof of that.
"Self-esteem comes from who you have in your life. How you were raised. What you struggled with as a child."

Her struggles as a mixed race child
After her mother showed up for the first time at her all-black elementary school, Berry was shunned. "Kids said I was adopted," she says. "Overnight, I didn't fit in anymore." When the family moved to the suburbs in search of a better education for Berry and her sister, she was suddenly the lone black child in a nearly all-white school. People left Oreo cookies in her locker. When she was elected prom queen, the school principal accused her of stuffing the ballot box and suggested she and the white runner-up flip a coin to see who got to be queen. Berry won the toss.

On proving herself
"I always had to prove myself through my actions," she says. "Be a cheerleader. Be class president. Be the editor of the newspaper. It gave me a way to show who I was without being angry or violent. By the time I left school, I had a lot of tenacity. I'd turned things around."

On how her mom helped her with her identity
When she was 16, her mother stood with her in front of a mirror and asked what she saw. "My mother helped me identify myself the way the world would identify me," Berry says. "Bloodlines didn't matter as much as how I would be perceived" — as beautiful but also as a black woman in a world in which the images of beautiful, successful black women were notably absent.

How a black counselor became her mentor
"My mother tried hard," Berry says. "But there was no substitute for having a black woman I could identify with, who could teach me about being black."

A black school counselor named Yvonne Sims entered her life in fifth grade. She remains one of Berry's closest friends. "Yvonne taught me not to let the criticism affect me. She inspired me to be the best and gave me a model of a great black woman."

On being biracial
We speak of her own experience, but also that of President Obama. She hasn't met him, but she attended the inauguration and feels a connection to another dark-skinned child of an absent black father, raised by a white mother. "Being biracial is sort of like being in a secret society," she says. "Most people I know of that mix have a real ability to be in a room with anyone, black or white."

Winning the Oscar didn't change much for her
"I come from humble beginnings," she says. "I always felt like the underdog. Behind the eight ball. I learned not to be too high on the hog. Even that night I won the Oscar, I had a fundamental knowing, it was just a moment in time. Driving home that night, back to my house, I felt like Cinderella. I said, 'When this night is over, I'm going back to who I was.' And I did."

Why she's trying to move to France
"I can't grow my daughter in L.A.," she tells me. "You take a little child who is just trying to learn about the world and have all these people with cameras chasing after her, calling things out to her about her mother. It's starting to make her feel special and different. I want her to feel special and different, but not for the reason of being my child."

What she'd do if she wasn't famous
"I'd go to the market with my daughter," she says. "Go to Santa Monica Pier and take her on a ride. Nothing special. Just live some normal life for once."
As everyone points out, Halle could move a couple hours outside of LA and achieve the same objective with Nahla as moving to France. It's not about protecting her daughter from the paparazzi, but that's her line and she's sticking to it. So we're supposed to believe that Halle had a rough childhood and now she's this vulnerable figure besieged by paparazzi she can't shake unless she leaves the country. I'm not even getting into the biracial stuff, as a white woman I feel somewhat unqualified to comment on that. It all ties in to Halle's narrative, and I'll leave it at that. Also, notice how Halle takes no personal responsibility for her previous relationships at all. She has a "bad picker," it's not about her role in any way, somehow the guys were defective.
Here's a link to the NY Times' slideshow with Halle in various states of ecstasy.