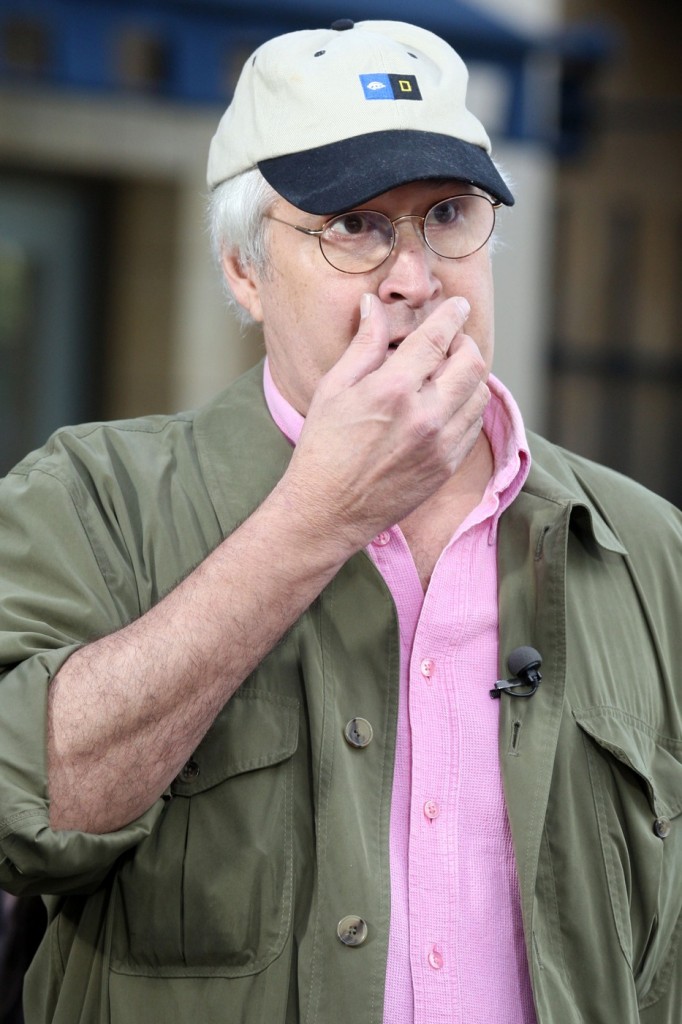 This story saddens me on several levels. The main thing is that it reminds me that "Community" still has no release date. It also reminds me that the showrunner and creator, Dan Harmon, was fired, perhaps in no small part to his public feud with one of the main stars, Chevy Chase. In April, we heard a leaked voicemail from Chevy chewing out Harmon, calling him an "alcoholic" and a "fat sh*t" and telling him to "suck my c*ck." Apparently Harmon criticized Chevy in a speech at the season three wrap party, and told Chevy, in front of Chevy's wife and daughter, to F off. So Chevy was responding to that incident.
In this latest rant, Chevy, who plays wet wipes mogul Pierce Hawthorne, apparently got annoyed at what a bumbling bigot his character is, so he yelled something like "what's next, am I going to say the word n*****?" He is said to have apologized immediately, but the damage was already done. This is a tale of a guy who plays a raging racist on television actually behaving like one offscreen. He doesn't even have the excuse of being mad at Harmon, since he's out of the picture now.
Chevy Chase caught some major flack for using the "N-word" on the set of NBC show "Community" Friday, but the outspoken actor has since apologized for his verbal outburst, insisting that his rant was not directed at any of his African-American cast members.

Chase, 69, reportedly used the offensive word to air his frustrations about his character's increasingly bigoted views.

According to TMZ, the actor was unhappy with the kind of dialogue he was being presented with, and angrily suggested that he might be next told to call Donald Glover's character Troy or Yvette Nicole Brown's character Shirley the "N-word."

TV Line reports that production of the show was briefly halted before Chase apologized for his outburst.

The former "Saturday Night Live" comedian also "apologized immediately" to his "Community" costars.

Chase made headlines earlier this year for his hot-headed spats with show creator Dan Harmon.

In April, Chase called Harmon "fat" and "an alcoholic" in a leaked voicemail after the showrunner roasted the actor for walking off the set during the filming of some crucial scenes.
"I don't get talked to like that by anyone. Certainly not in front of my wife and daughter you goddamn a–," Chase ranted in the voicemail. "I've got nothing to say to you, except you can s–k my c–k. Is that clear?"

Harmon was later dismissed from the show.

"Community" was originally set to premiere last Friday, Oct. 19, but NBC has since rescheduled its premiere for an undetermined date.
So Harmon is off, Chevy is still around, and he's acting like a jerk and a bigot, just like Pierce. We won't see this brilliant show again for some time. There's one good thing to come out of this story – if they're still pissing off Chevy, they might be trying to stay true to Harmon's original vision. Plus, it's promising to me that they're still filming. I'm worried that the show will be an unfunny imitation of its former self when it finally comes back to television, but I guess we'll have to wait and see.
Oh and as for the premiere date, I got all excited when I saw this "Community" Halloween photo over on E! Online. It looks like Jeff is a vampire and Britta is his wench dinner. The caption on E! gave me so much hope that Community is coming back next week. They write "Joel McHale and Gillian Jacobs, "Horror Fiction in Seven Spooky Steps!" (Thursday, Oct. 27), NBC" but that was last year's episode and it aired in 2011. *shakes fist at sky*
Here's a link to a video where Troy and Abed explain when Community is coming back. Basically whenever the powers that be make a decision, which hasn't happened yet.
Update: A lot of you are commenting that you don't find Chevy bigoted for using the word in this particular context, where he's raging against his racist character. I have updated the title so that it's more accurate. Personally I find it bigoted to use the word at all, when he could have said "The N Word" or something similar to get across his same point. I hear you though and hope that the title better conveys what happened.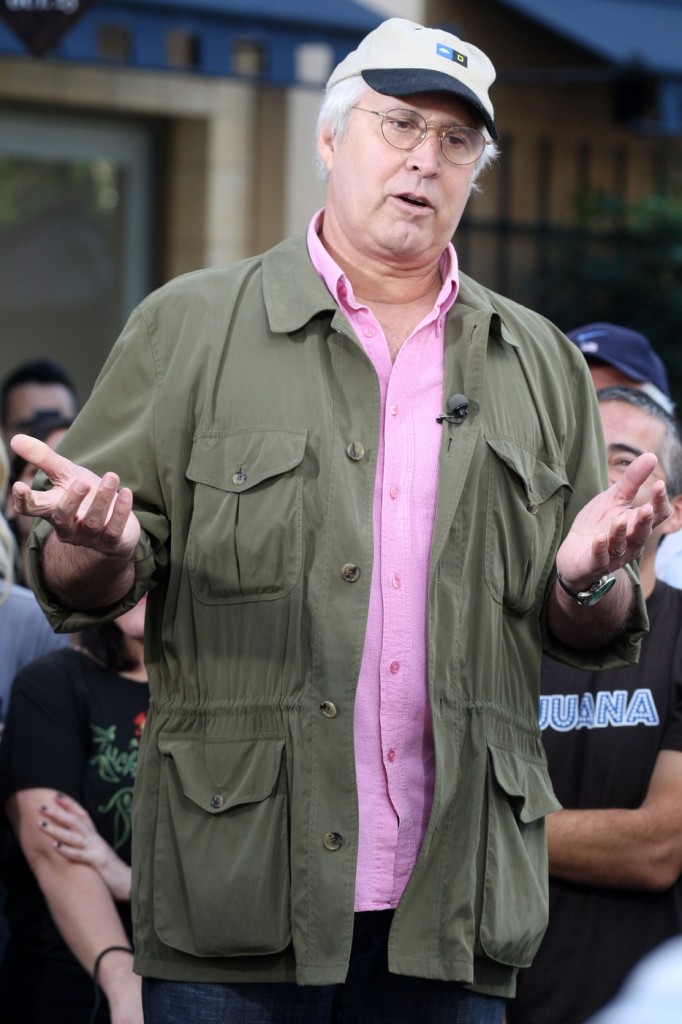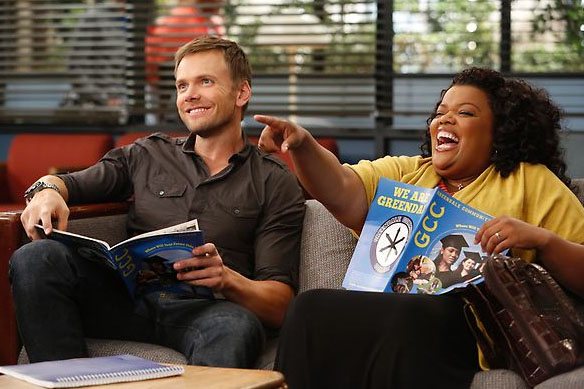 Photo credit: Pacific Coast News, NBC