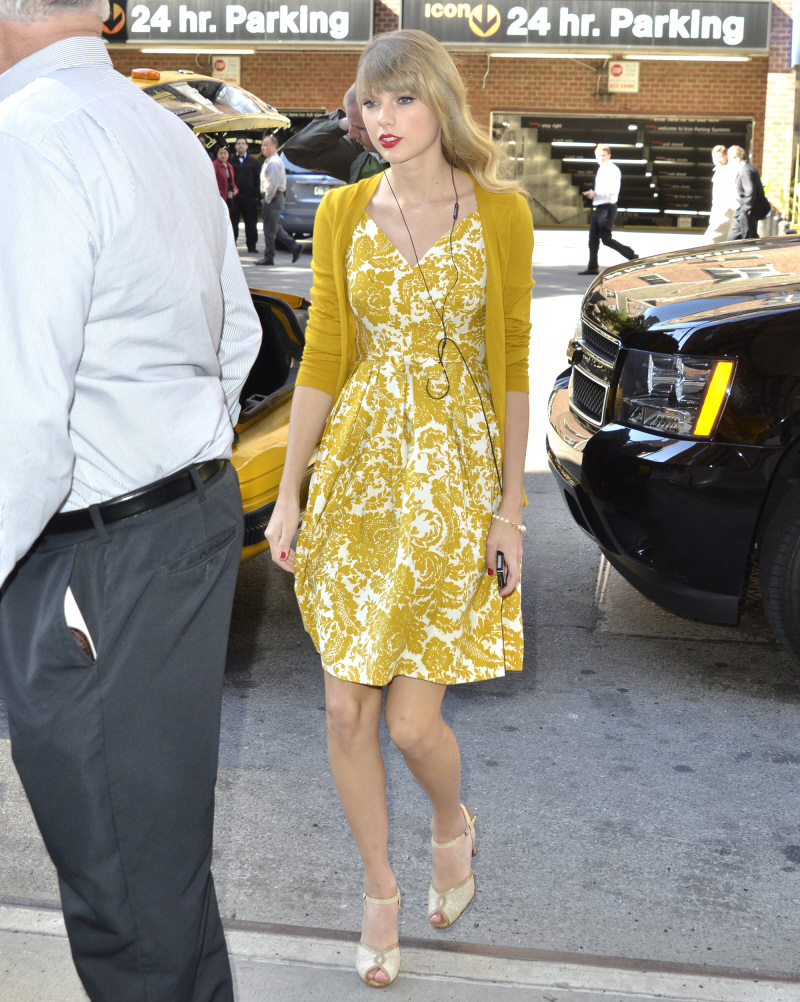 These are some photos of Taylor Swift promoting her album in NYC yesterday. She made an appearance on Good Morning America (the red dress) and I don't know… something else. The photos of Swifty in that white and yellowish ensemble are of her return to her hotel. I actually like that outfit a lot. If that outfit came in black-and-white or blue-and-white, I would wear that.
Anyway, Swifty's press machine has really kicked into high gear, so there are lots of new interviews to discuss. She says a lot of the same stuff in interview after interview though, so I'm just going to do some assorted highlights. Just FYI – the stuff that I found most interesting is when she's giving blind items clues to which song is about which ex-boyfriend.
Swifty on "We're Never Ever Getting Back Together": "It's a definitive portrait of how I felt when I finally stopped caring what my ex thought of me." But Swift still had to exact vengeance on the guy who "made me feel like I wasn't as good or as relevant as these hipster bands he listened to. So I made a song that I knew would absolutely drive him crazy when he heard it on the radio. Not only would it hopefully be played a lot, so that he'd have to hear it, but it's the opposite of the kind of music that he was trying to make me feel inferior to." And why would Swift want to create a single specifically designed to torment someone? "Because that's fun."

The song "All Too Well" : "There's a kind of bad that gets so overpowering you can't even write about it. When you feel pain that is so far past dysfunctional, that leaves you with so many emotions that you can't filter them down to simple emotions to write about, that's when you know you really need to get out."

The song "Treacherous," which included the lyric "I'll do anything you say if you say it with your hands.": "That song was about a person that I knew, from the minute I saw him, that it would end in fiery, burning wreckage. There's something about that magnetic draw that doesn't really let up. You walk toward it anyway."

She prefers to gossip through her music: "I like the way the stories of my relationships sound to music more than the way they look in print, in gossip columns or in me talking about them in interviews," she says. "I think it's a better way of telling the stories."

She lies to her ex-boyfriends: "They never go into this like, 'I really want to ask you out — could you not write songs about us?' They say that when we're breaking up and they're like, 'You better not write a song about this!' And I'm like, 'Oh I won't!' And then I do."
[From USA Today & Entertainment Tonight]
So, yeah. "We're Never Ever" is TOTALLY about Jake. I mean, we already knew that, but now we're getting a glimpse of how pissed off she was and perhaps still is. Poor Jakey wanted to listen to his hipster music not his annoying girlfriend's music! WAH. I'm saying that both "Treacherous" and "All Too Well" are about John Mayer, right? She's speaking in blind-item code, but the words "so far past dysfunctional" and "fiery, burning wreckage" have "David Duke Dong" written all over them.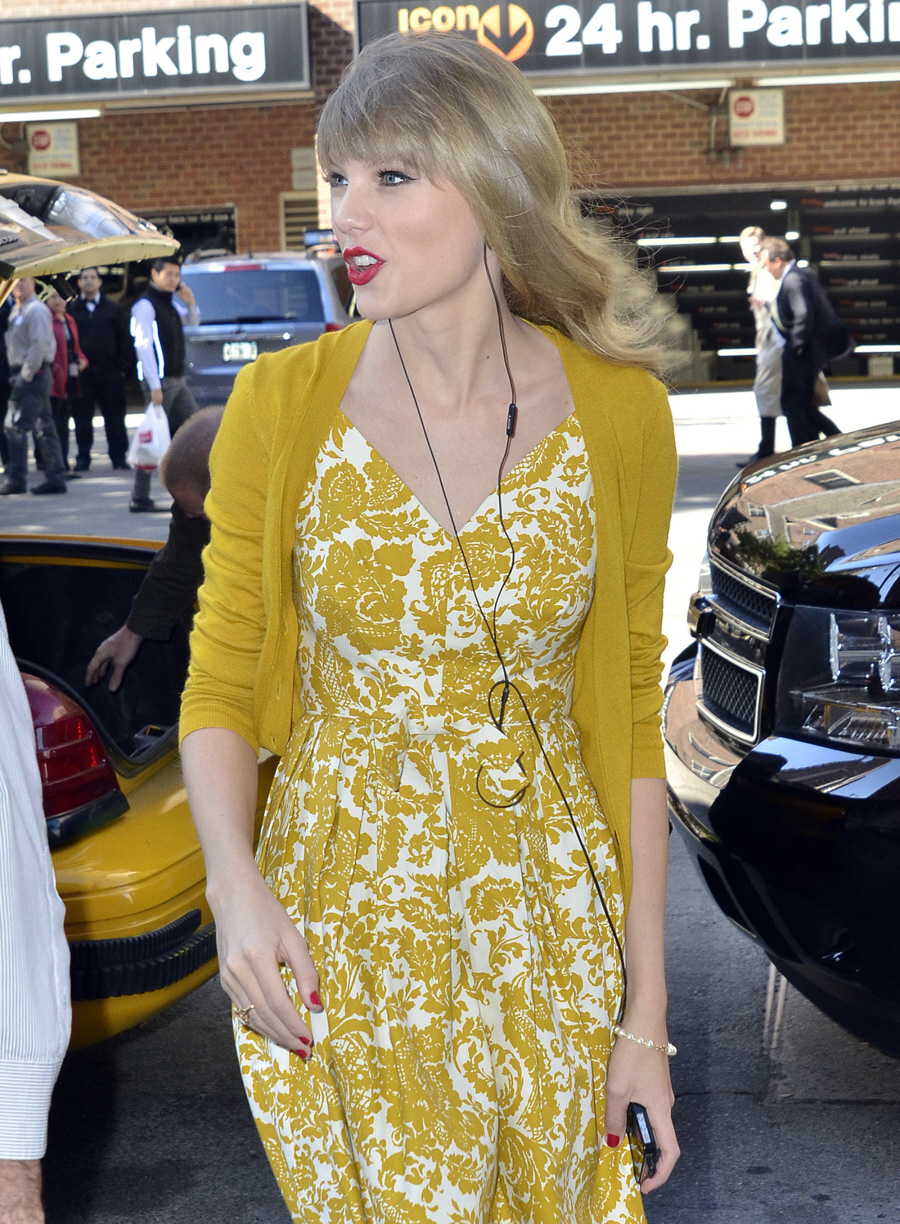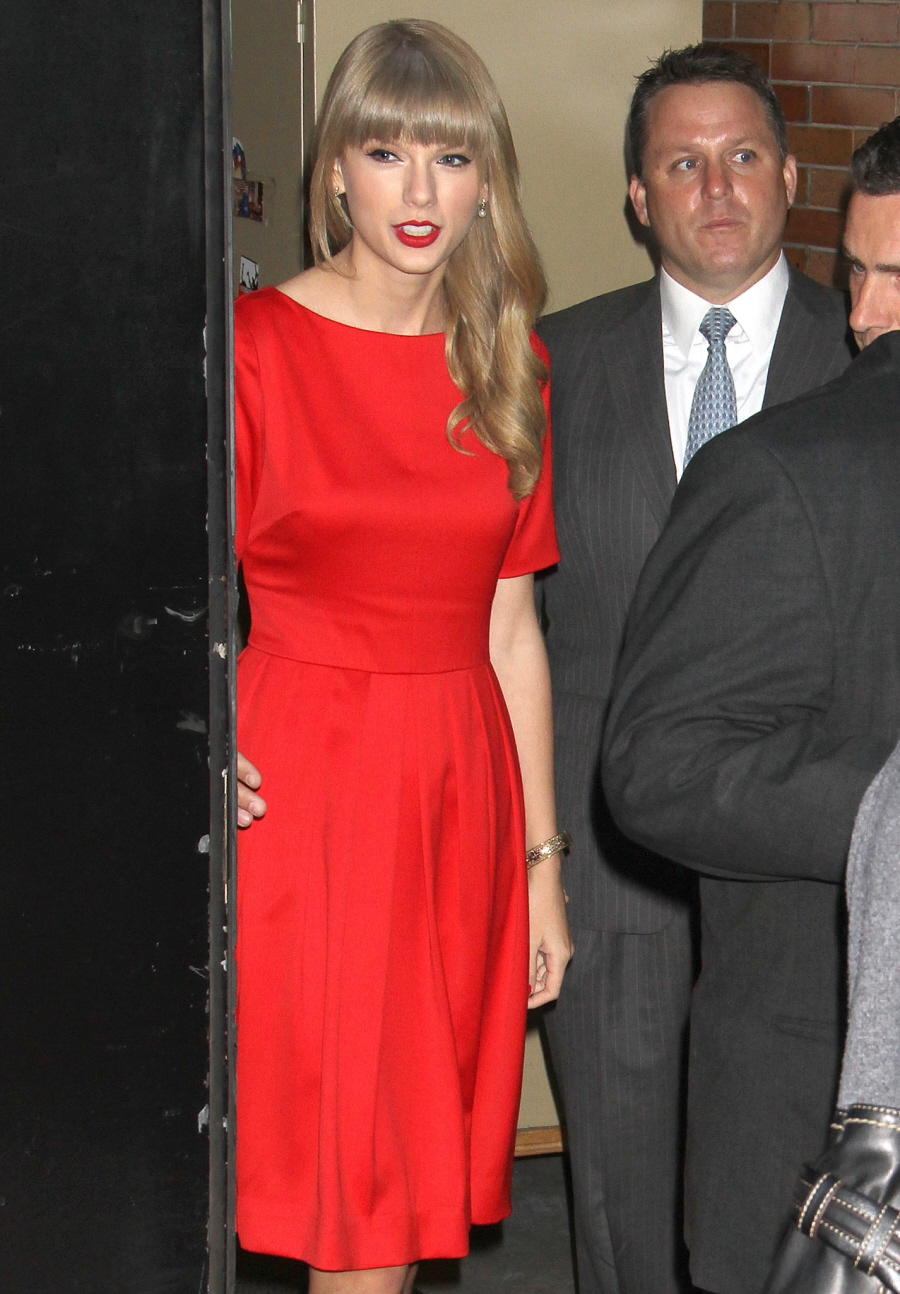 Photos courtesy of Fame/Flynet and WENN.