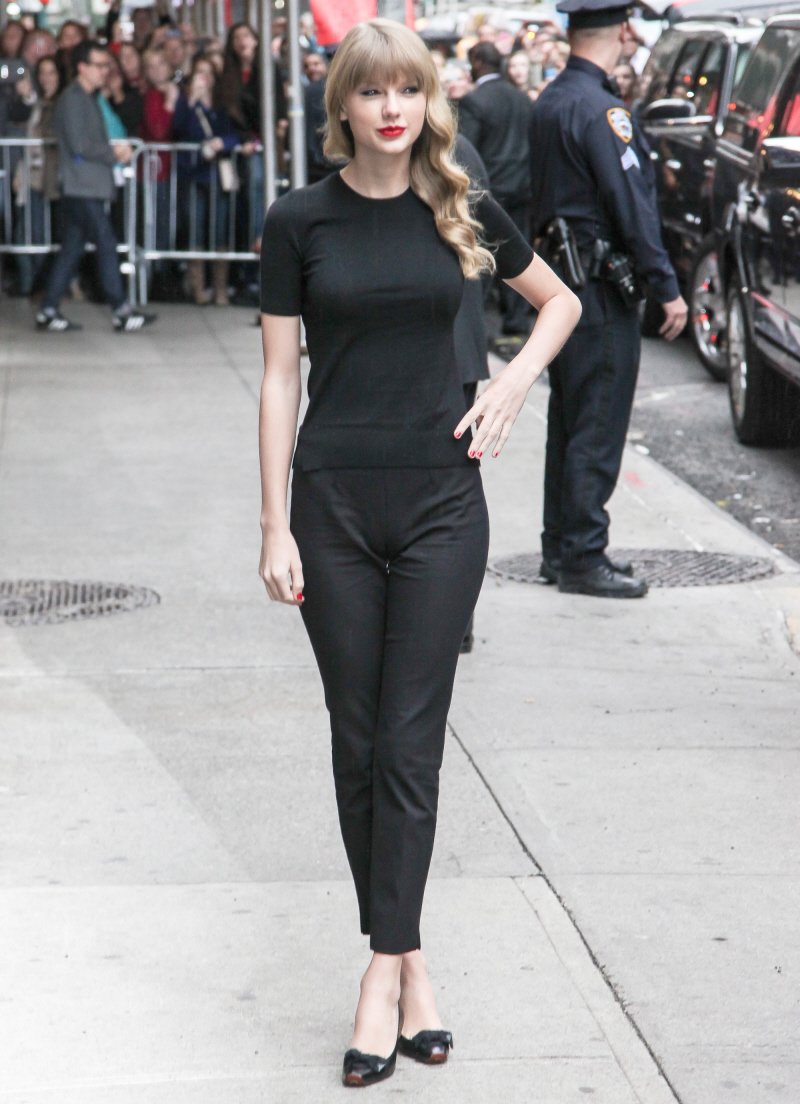 In this post, I'm including some photos of Taylor Swift performing on Good Morning America yesterday, and some pics of her outside of the Ed Sullivan Theater in NYC, where she was taping an interview with David Letterman. The Letterman pics are the ones with Swifty wearing those unfortunate crotch-bunchy pants. Those are awful! She's a slender girl with long legs and a lovely figure. Why choose clothing that makes your crotch look so wrinkled?
Anyway, I just found this days-old interview that Swifty did with The Guardian, and I just had to pass along some highlights. Swifty is… I really think she's playing us. She's playing all of us. This immature "act" is Swifty play-acting as "coy". She's incredibly self-aware, and while she's not full-on bunny-boiling crazy, I think there's a much darker, nastier side to her that she doesn't want her fans to see. It comes out a little bit in this interview, which you can read here. Some highlights:
Changing for boyfriends: "My girlfriends and I are plagued by the idea, looking back, that [some boys] changed us. You look back and you think: I only wore black in that relationship. Or I started speaking differently. Or I started trying to act like a hipster. Or I cut off my friends and family because he wanted me to do that. It's an unfortunate problem."

Capturing hyper-dramatic moments: "There are so many emotions that you're feeling, you can get stifled by them if you're feeling them all at once. What I try to do is take one moment – one simple, simple feeling – and expand it into three-and-a-half minutes. I'm really intrigued by that. Whether it's taking a photograph, or painting a picture with your words that make a song as vivid as a photograph. I've always felt music is the only way to give an instantaneous moment the feel of slow motion. To romanticise it and glorify it and give it a soundtrack and a rhythm."

Dismissing criticisms that she's perpetually boy-crazy: "When we're falling in love or out of it, that's when we most need a song that says how we feel. Yeah, I write a lot of songs about boys. And I'm very happy to do that."

Deep thoughts by Swifty: "I think that one thing I'm really afraid of is … that magic doesn't last," she says. "That butterflies and daydreams and love, all these things that I hold so dear, are going to leave some day. I haven't had a relationship that's lasted for ever. I only know about them starting and ending. Those are my fears. I spend a lot of time balancing between faith and disbelief."

Selling fairytales to girls: "A fairytale is an interesting concept. There's 'happily ever after' at the end, but that's not a part of our world. Everything is an ongoing storyline and you're always battling the complexities of life. But what I got from fairytales, growing up, was a beautiful daydream. I'm glad I had the craziest imagination and believed in all sorts of things that don't exist."

She WANTS to always "seem youthful": "I think there's something we have as little kids that goes away sometimes. I don't care about looking youthful for ever, but I care about seeming youthful. I want to believe in pretty lies. But unfortunately that can lead you to write songs like the ones on my new record."

Using her songs as blind items: "It doesn't bother me when people try to deconstruct my songs – because at least they're looking at the lyrics, and paying attention to the way the story is told."

Disrespecting hipsters: "That was the most important line of [We're Never, Ever…]. It was a relationship where I felt very critiqued and subpar. He'd listen to this music that nobody had heard of … but as soon as anyone else liked these bands, he'd drop them. I felt that was a strange way to be a music fan. And I couldn't understand why he would never say anything nice about the songs I wrote or the music I made."

Something about loving –hating-idoling: "All the girls who were mean to me in middle school, like, idolised the Plastics. I think I chose that car as a kind of rebellion against that type of girl. It was like – you guys never invited me to anything, you guys are obsessed with that car and that girl and what the Plastics wear and how they talk and you quote them all the time, but I've been working really hard every single day. And instead of going to parties I've been writing songs and playing shows and getting these really small pay cheques that have added up and now I get to buy a car – and guess which one I'm going to buy? The one that the girl you idolise has."
I know a lot of you threw shade at Swifty for her diss at hipsters and their hipster music. And while I think there's a solid vein of narcissism in her criticism – "Why doesn't he say anything about MY music, why isn't he paying attention to me, he shouldn't have any other interests but me!" – I also think Swifty's criticism is totally valid. "He'd listen to this music that nobody had heard of … but as soon as anyone else liked these bands, he'd drop them. I felt that was a strange way to be a music fan." I believe her. And I believe she's talking about Jake Gyllenhaal – because that just seems like the kind of hipster dude he is. He'll only listen to a band if no one knows about it and then when the band "sells out" (has any kind of success), he will then be "over" it. And that IS exhausting. It's also juvenile. And Swifty has every right to call him out.
Also: "I don't care about looking youthful forever, but I care about seeming youthful." OMG. That about sums it up, right? And I feel like she's basically saying it's an act that she uses to make money, this innocent, girlish, childlike façade. Complete with a high school boyfriend.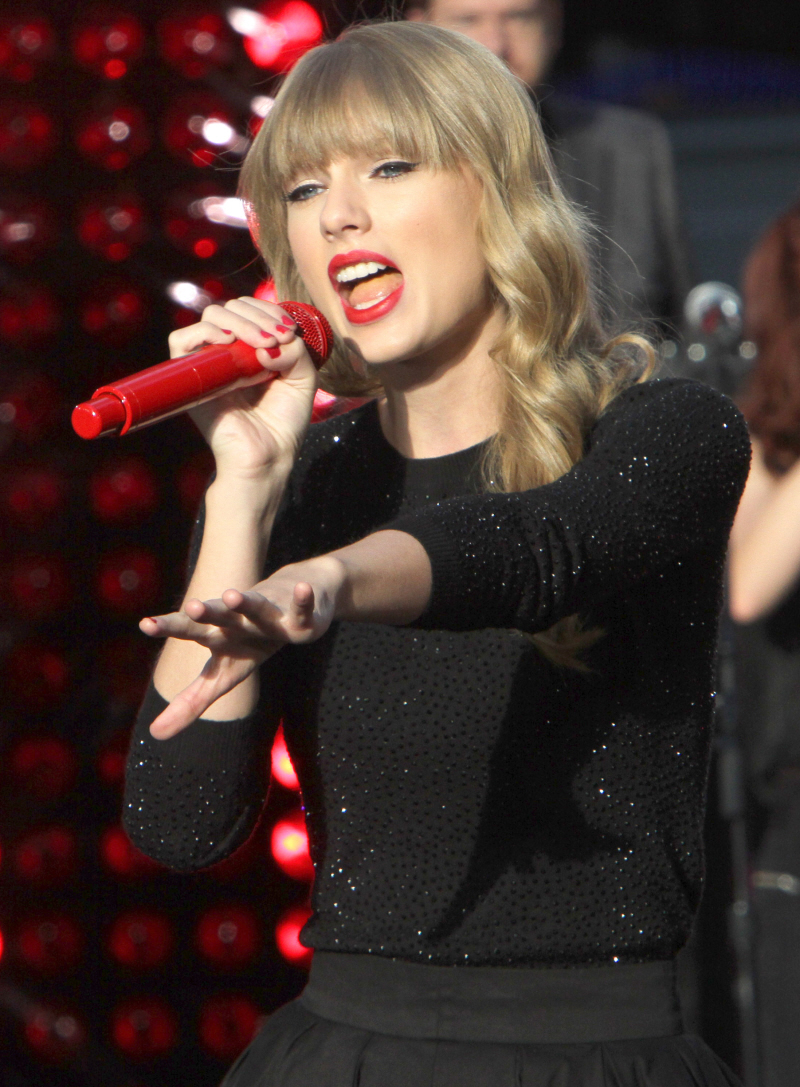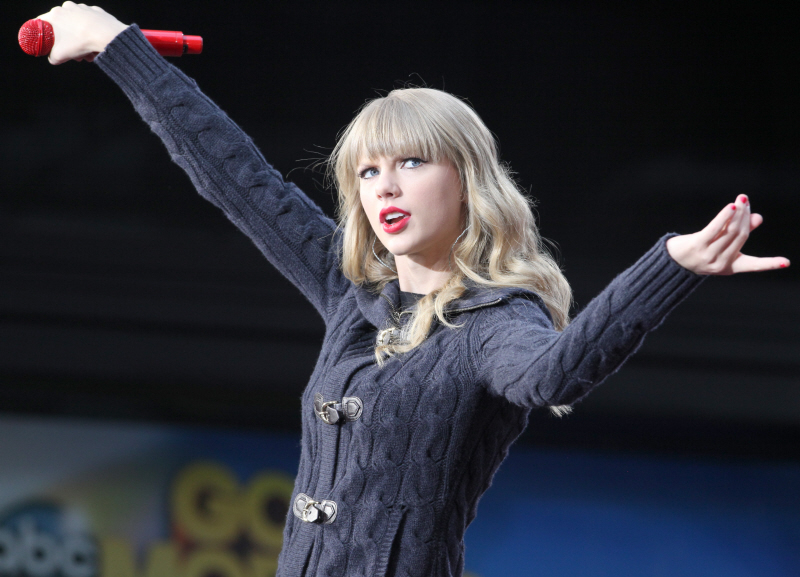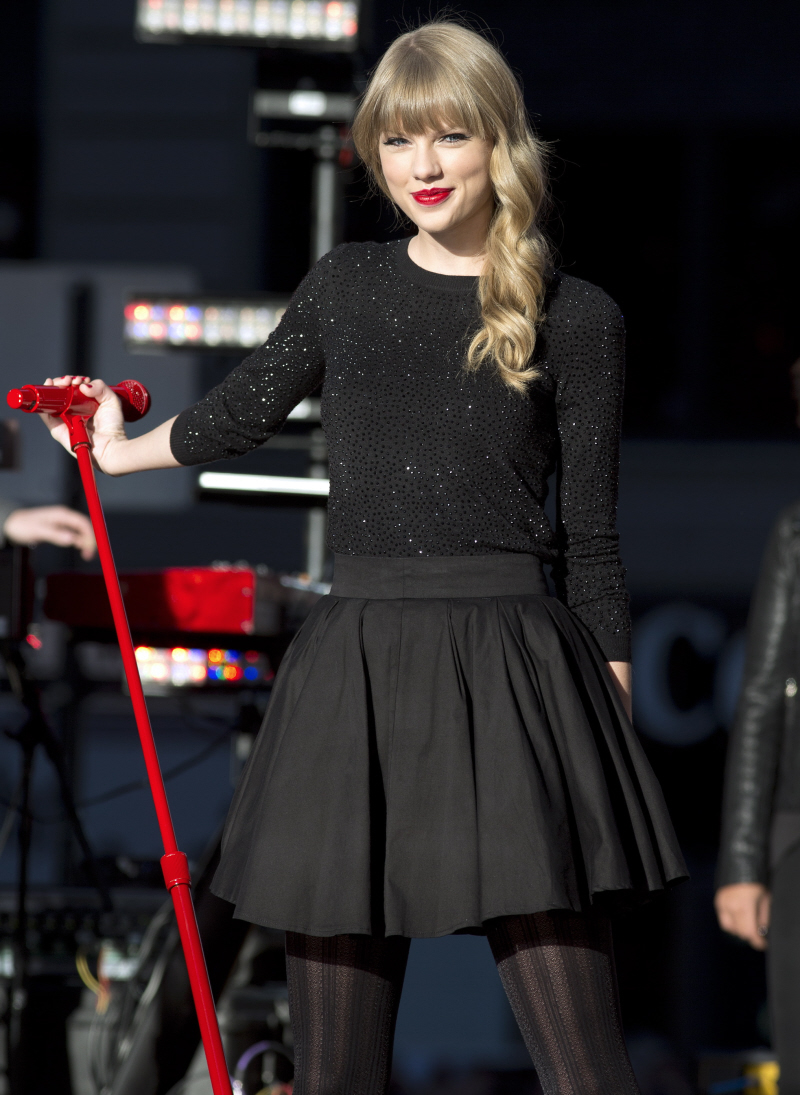 Photos courtesy of WENN.