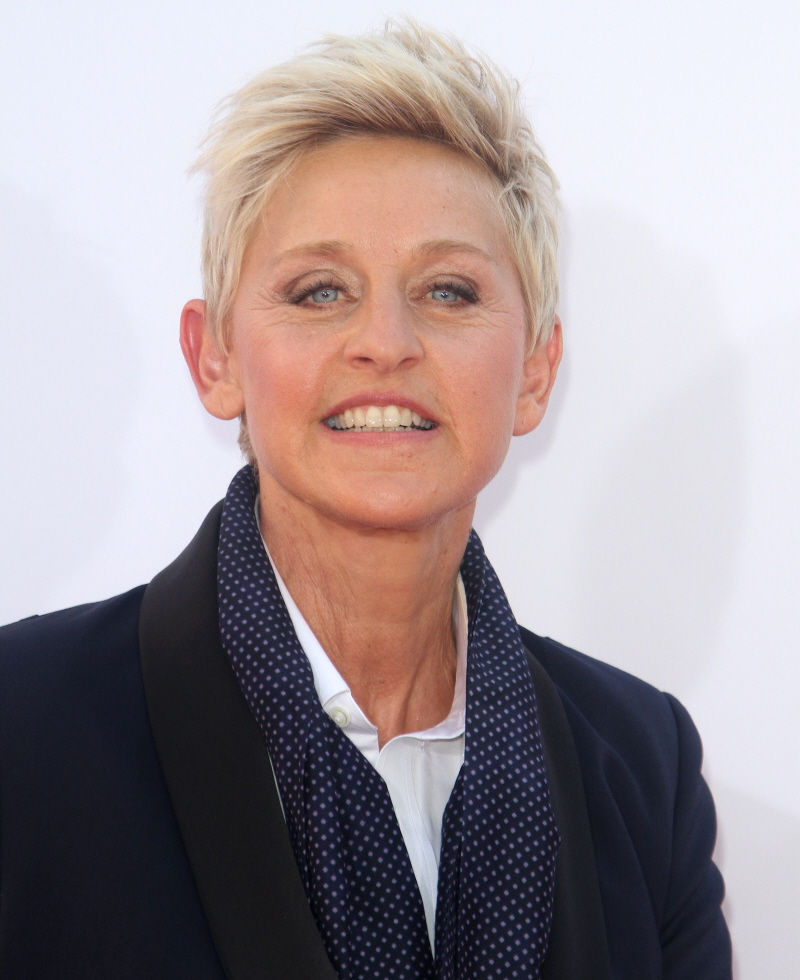 I've never even considered this before, but apparently there were some rumors about this a few years ago. Around 2010, a few sites claimed that Ellen DeGeneres had gotten some subtle tweaking here and there – reducing the bags under her eyes, a small eye lift maybe, but nothing like a full-on facelift. This was around the time when she signed on to American Idol, I guess. You can see some before-and-after shots here and here. Anyway, The Enquirer is polishing up this old chestnut and claiming that Ellen has had a LOT of work done and she continues to get a lot of stuff done, and that she's secretly very, very vain, and that she spends hours in the makeup chair trying to hide her plastic surgery scars.
TV chatty ELLEN DEGENERES prides herself on her fresh-faced, girl-next-door looks – but sources say she's one of TV's vainest stars!

"She spends hours in front of the mirror hiding her secret cosmetic surgery," an insider on her syndicated talk show told The ENQUIRER.

"Publicly, Ellen is all about achieving a minimal makeup look but the reality is that she's spent major bucks for a nat­ural-looking face-lift and other cosmetic procedures. The big challenge for her makeup and hair team is to conceal scarring due to the work that she's had done. It usually takes them at least two and a half hours to give Ellen the peaches-and-cream glow that her fans love."

Doctors have speculated that the 54-year-old face of Cover Girl cosmetics and former "American Idol" judge has undergone face-, eye-, neck- and brow-lifts. Ellen, who wed actress Portia de Rossi in 2008, is also rumored to have had laser peels to smooth out her complexion as well as frequent Botox injec­tions to eliminate crow's feet and freshen up her look.

"But Ellen has made a name for herself as the queen of anti-glamour and has never admitted to having any procedures," said the source. "She hates to portray the image of actually caring about her appearance."

Still, she needs help to look her best with her crazy schedule, working constantly and keeping long hours.

"The cosmetic procedures she's had, paired with highly specialized makeup techniques, make Ellen look awake and alert even when she's completely exhausted," noted the source. "The bottom line is that even if you are as down to earth as Ellen, in Hollywood your face is your fortune."
Looking through the photos… I am willing to believe that Ellen has had some work done. But much like Susan Sarandon's or even Sharon Stone's work, it's subtle and realistic. This is not a 54 year old woman trying to look 29 years old. And yes, she IS 54 years old. I know! She could easily pass for late 30s, early 40s… in some light. That's how good the work is, I guess. So, do I believe that Ellen is incredibly vain and obsessed with her looks? Not any more or less than the average celebrity woman, you know? And as I'm looking through these photos… I kind of think Ellen needs a better night cream.
Now, Portia looks tweaked and 'Toxed to high heaven. Jeez.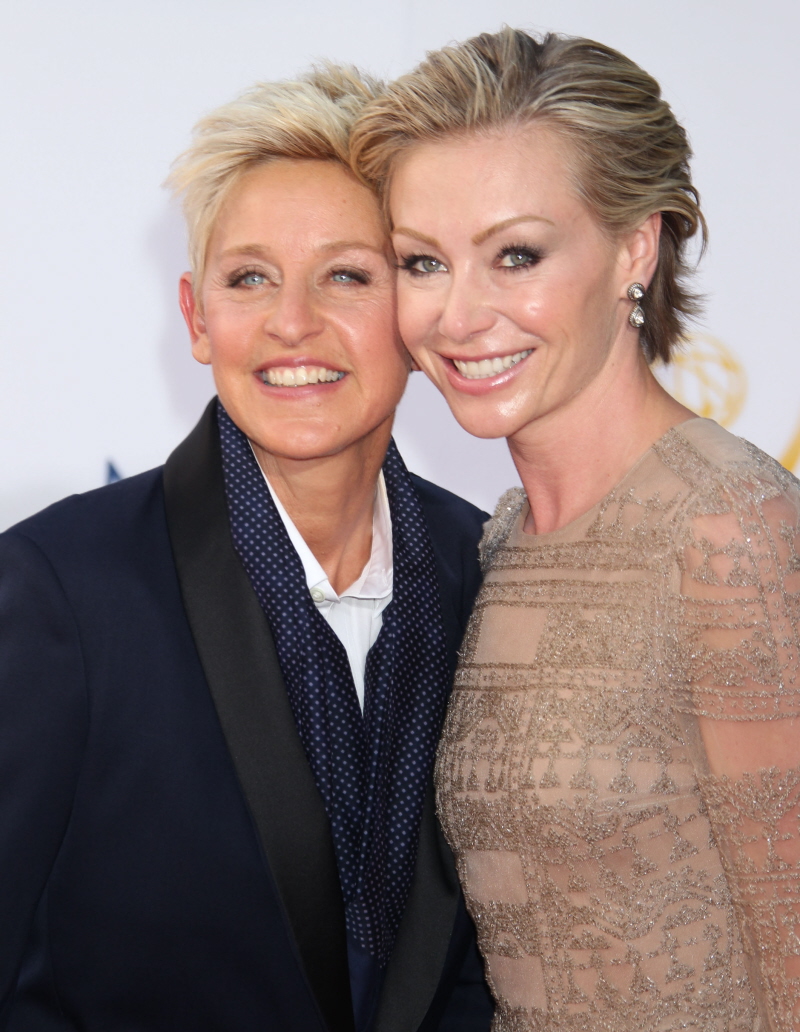 This is a photo from 2011 – Ellen's definitely had her neck done since then.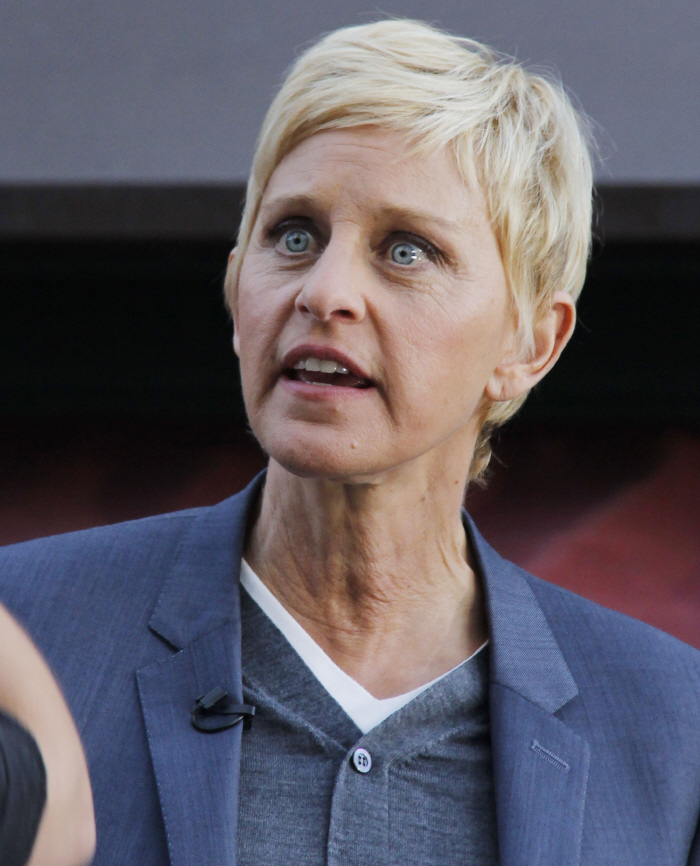 Her neck in 2012: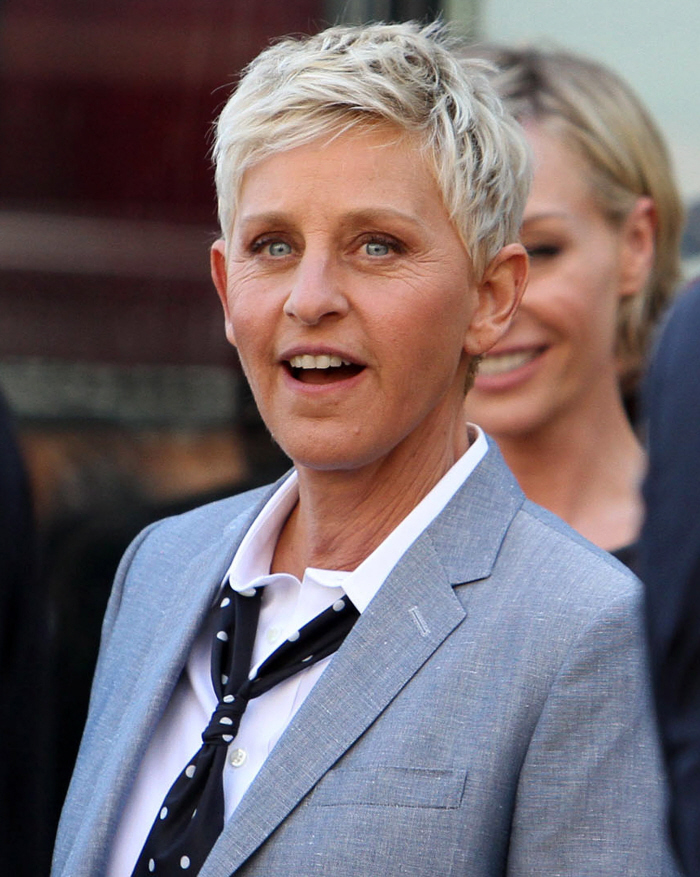 Photos courtesy of WENN.