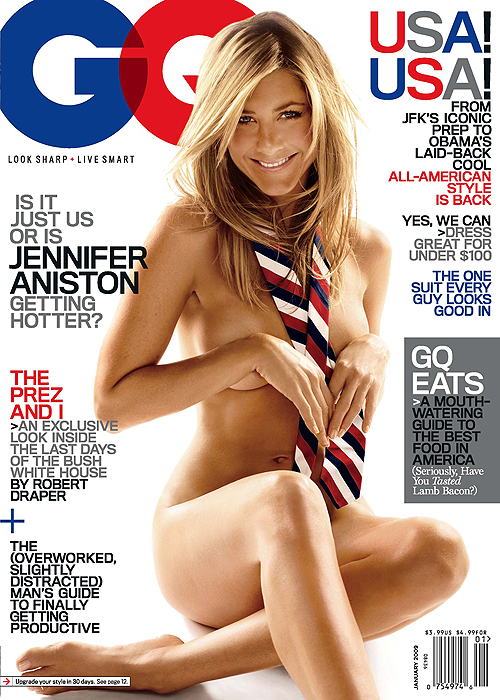 Jennifer Aniston has a history of quiet indignance regarding the demise of her marriage to Brad Pitt four years ago. She made a couple comments immediately following, and then years of absolute refusal to discuss it, and it was working for her. She has a legion of fans who have made the jilted party of the infamous triangle almost a martyr. But something recently changed and the adoring throngs lauded Aniston finally speaking up and out about the "other" woman.
And yet, sometimes, what starts as commendable can quickly sour when you don't quite know when to zip it. Just ask that other woman. And if Aniston isn't careful, she's going to wish she wouldn't have fixed what wasn't broken.
(The interview comes out days after Aniston told USA Today that her personal life is none of people's "(expletive) business." She also recently attacked Vogue for being a tabloid for running her Jolie "uncool" remark on its December cover.)

Four years after she split with Brad Pitt, GQ editor Mark Kirby asks Aniston why she thinks people are still interested in the story.

The actress cracks a joke.

"The funny thing is that people don't realize we all go away to the Hamptons on the weekends," she snipes. "No. But can you imagine? That'd be hysterical: I've got Zahara on my hip, and Knox…."
[From Us Magazine]
Is it just me or is Jen trying to out-manipulate the masters? The bad news is, you can't be so obvious about your manipulations and expect everyone to fall in step. I get that there's PR to be done for at least one upcoming movie, but I would have gone with the "happily dating John Mayer" angle and left out the "acid-tongue ex hits back" one.
Maybe it will work for her, but it's risky. People go to Jennifer Aniston for characters that are quirky, fun, sweet, girl-next-door types. Naked and snarky in GQ just isn't complimentary to that image. Finally speaking up was bold, then decrying the tabloid turn it took was iffy, now turning around and sensationalizing further is just duplicitous. You can't feed the dog table scraps, then smack his nose for begging at the table just to turn around and feed him table scraps again.
Note by Celebitchy: I think Aniston was just making a joke and it seemed like a kind of benign one to me. Is she supposed to say "no comment" every time? I think she was trying to sidestep the subject without being sour about it so she cracked wise. Of course US is going to make it into some big move on Aniston's part. If anything she just seems more comfortable with the subject and I wouldn't blame her for making light of it.
Update by Celebitchy: OK, I read more of Aniston's interview and now I agree with Ceilidh's assessment. It was more than just a throwaway comment, and Aniston did go on at length about it:
For starters, Jennifer called stories related to herself, Brad and Angelina the "insane Bermuda Triangle."

And later, she admitted she does not speak to Angelina.

"No. Nuh-uh," she told GQ, who asked if the two actresses talk.

Jennifer hinted that future conversations might be a bridge the two won't be crossing any time soon either.

When GQ writer Mark Kirby asked Jennifer about Angelina's October 2008 comments in the New York Times, where the "Changeling" star said she is eager to show her kids "Mr. & Mrs. Smith" because that was the movie "where their parents fell in love," Jennifer took some time to answer. After all, Brad was still married to Jennifer while filming "Mr. & Mrs. Smith."

"Well, you know, that was definitely a confirmation for me of something that wasn't quite confirmed at the time," Jennifer told the GQ scribe. "But listen… You sit there and you… No. No daggers through the heart. I laugh. Am I surprised? Well, how do I say this?… Considering the source, nothing surprises me."

While she has no relationship with Angelina, Jennifer said she still – on special occasions – speaks to Brad.

"We don't not talk. When there's something to congratulate or celebrate, there's always an exchange," she said. "But there's no charge on it."

And they even go away together – Jennifer joked.

"The funny thing is that people don't realize we all go away to the Hamptons on the weekends," Jennifer said completely tongue-in-cheek.

"Can you imagine?" she continued. "That'd be hysterical: I've got Zahara on my hip, and Knox…"

While she may joke about spending time with her ex and his family, Jennifer grew serious when GQ asked about her relationship with "Gravity" singer John Mayer.

"We care deeply for each other," Jennifer told the mag. "And we're just trying to figure it out."

But as yet, she is not expecting a little Aniston-Mayer.

"I am not having his baby. And I have not popped the question," she added.
[From OMG.Yahoo.com]
Here's a scan from inside the magazine, thanks to Popoholic.