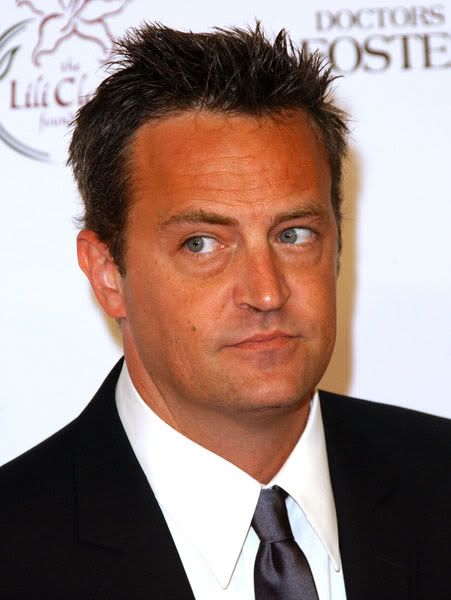 Matthew Perry's awesome NBC show "Studio 60 on the Sunset Strip" just didn't have the ratings to stick around and was canceled last year after one season. The show was created and produced by the pair responsible for "The West Wing," Aaron Sorkin and Thomas Schlamme, and it had a real "West Wing" type feel with some of the same actors. Set in a fictional "Saturday Night Live" type environment, you were privy to the work that went into the creation of the show. The dialogue between the characters playing the writers, producers and actors was both smart and funny and it's a shame the show didn't last.
Friends staple Perry is coming back to television and will star in a pilot comedy to air on Showtime called "The End of Steve." He will play a baudy talk show host in Rochester, NY. The latest casting news is that Martha Plimpton and Kylie Sanchez will join:
Showtime is staffing up its Matthew Perry pilot.

Kiele Sanchez, Martha Plimpton, Eddie Shin, Nate Torrence and Dreama Walker have joined the cable network's dark comedy pilot "The End of Steve," according to The Hollywood Reporter.

The story centers on Steve (Perry), a bitter, self-centered local talk show host who is seeking a bigger market and is half-heartedly on the way to redemption. Perry and Peter Tolan are writers and executive producers on the project, which promises to show a darker side to Perry.

The cast additions are rounding out the talk show staff. Sanchez plays Steve's attractive co-host, on whom he has a crush, while Plimpton will act as the talk show's producer. Shin will play Steve's boss, Bob Hu, while Torrence will be Steve's assistant Nathan.
[From Zap2It]
Perry is a co-writer and co-executive producer on the pilot along with Peter Tolan, who is responsible for "Rescue Me." So far all that Showtime has committed to is the pilot. With all that talent attached the show will hopefully be successful for Perry and lead to a series. As Zap2IT points out, Showtime has many original series on its plate with "Weeds," "The Secret Diary of a Call Girl," "Californication," and "Tracy Ullman's State of the Union."
"The United States of Tara," written by Diablo Cody, will premiere on January 18 and Showtime has already committed to a full season. There's no word yet on when we can expect to see "The End of Steve," which will may be the beginning of Perry's long overdue return to a successful series.
Matthew Perry is shown out at Madeo on 11/24/08 below. Credit: Fame. He is shown in the header at the Lili Claire Foundation Benefit Dinner on 10/4/08. Credit: PRPhotos