Jenny McCarthy as a 'cougar' in lingerie for Halloween, says '40 is the new 15′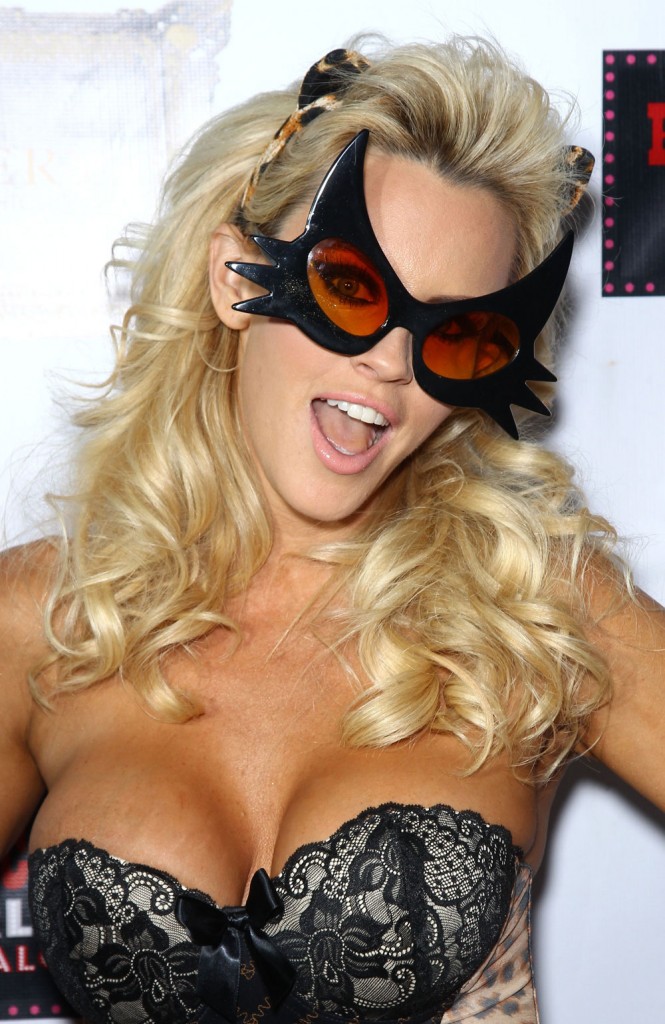 True story – in the Halloween costume post I did earlier today, I was considering adding Jenny McCarthy as an example of the costume trend I despise – women dressing sexy and calling it a costume. I mean, this is just wearing lingerie, there's nothing Haloweenie (that's with an "ie" I decided, not a "y," blame Tim Burton) or creative about it. It's an excuse to show T&A, which basically explains Jenny's entire existence so I guess I shouldn't be surprised. So I skipped her, because it was lame and predictable, as is this accompanying story about Jenny that I'm choosing to run. It turns out Jenny did have a theme for her costume other than "stripper." She was a cougar! Oh how clever. Jenny's 40th birthday is today, and she was out celebrating it. Jenny explained to People that she's single and needs to "learn to love myself completely before I love someone else." What better way to do that than to don a fun, inconspicuous costume that doesn't showcase her budget boob job? Oh wait.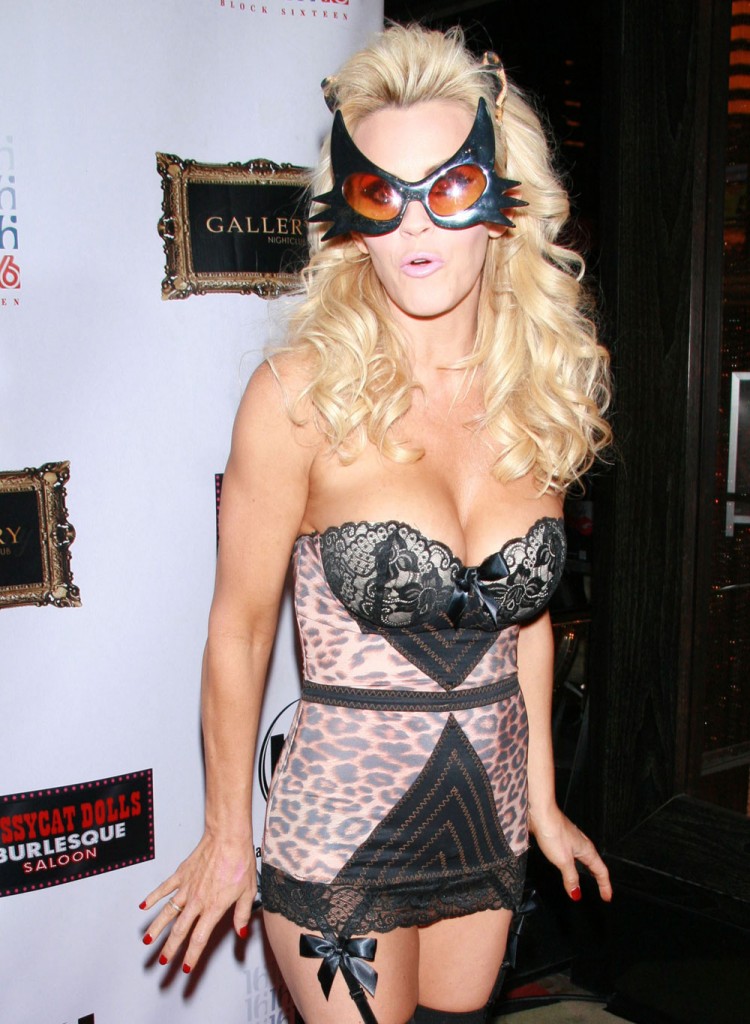 Though Thursday marks her 40th birthday, the Playboy cover girl told PEOPLE, "I sadly have the same thought that my parents say every birthday which is, 'I don't feel that old.' So, I have decided to make my mindset 40 is the new 15. Okay, fine – the new 22."

Dressed as a "cougar" – a joke, considering her age – the ever-youthful McCarthy headed to Las Vegas with her sister (also dressed as a cougar) Wednesday to celebrate her birthday at Gallery Nightclub.

But one person you won't see with her any time soon is a boyfriend, though she has singled out a familiar face that she's "courting."

"I have not met anyone yet that is a potential love," she said. "I have myself under construction. I'll let you know when the roads are clear and reopened."

Since splitting in August with Chicago Bears linebacker Brian Urlacher, her boyfriend of five months, McCarthy still has an open mind about finding romance.

"I'm in love with falling in love. I have come to realize, though, that I need to practice what I preach and learn to love myself completely before I love someone else," she said. "So, I've been courting myself and having a great time with me, myself and I."
Jenny is only flattering herself if she thinks she has the mindset of a 22 year-old. She was accurate the first time when she said "15." When I was 22 I knew better than to wear a corset without anything over it. But it's Halloween so she gets a pass, right? I'm thinking Jenny is going to fall in love with the next guy she meets who is into it, not when she's "ready," but I could be wrong. Maybe she'll wait a whole month or two.
I have to hand it to her, she does look good here in that overprocessed way of hers. Also, someone spray tan airbrushed her boob cleavage, didn't they? Are you seeing that too?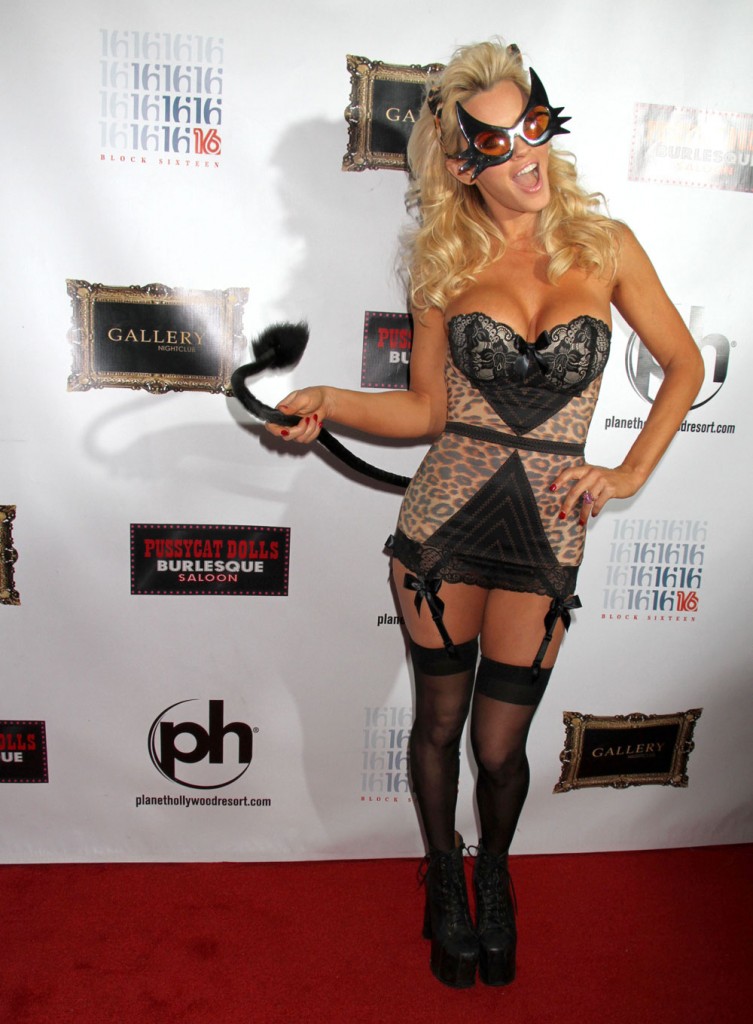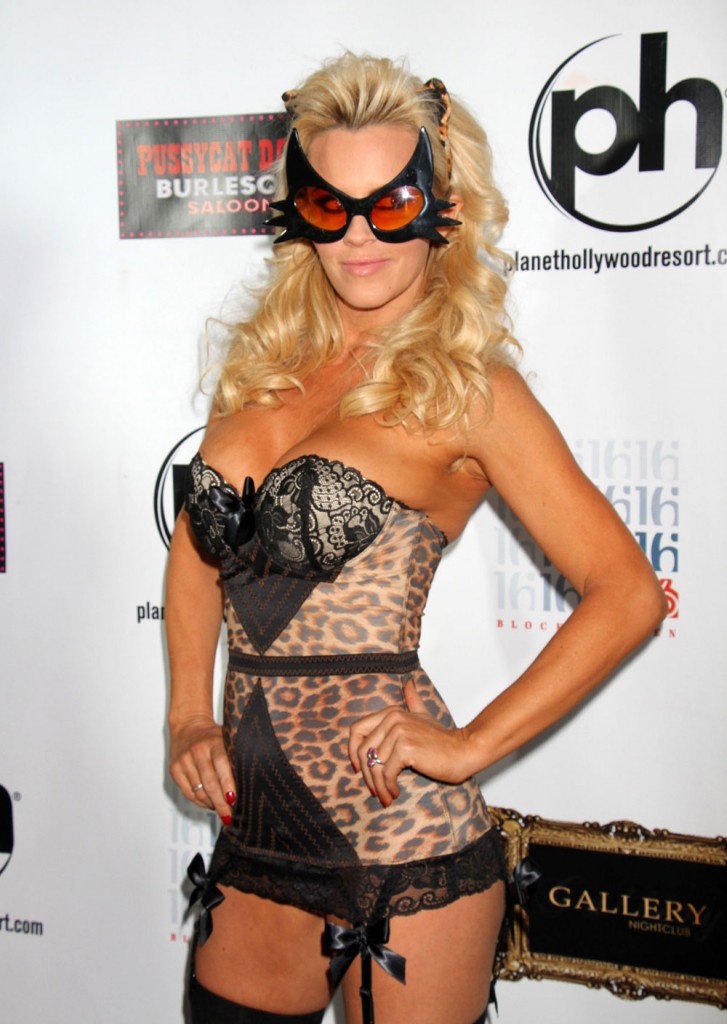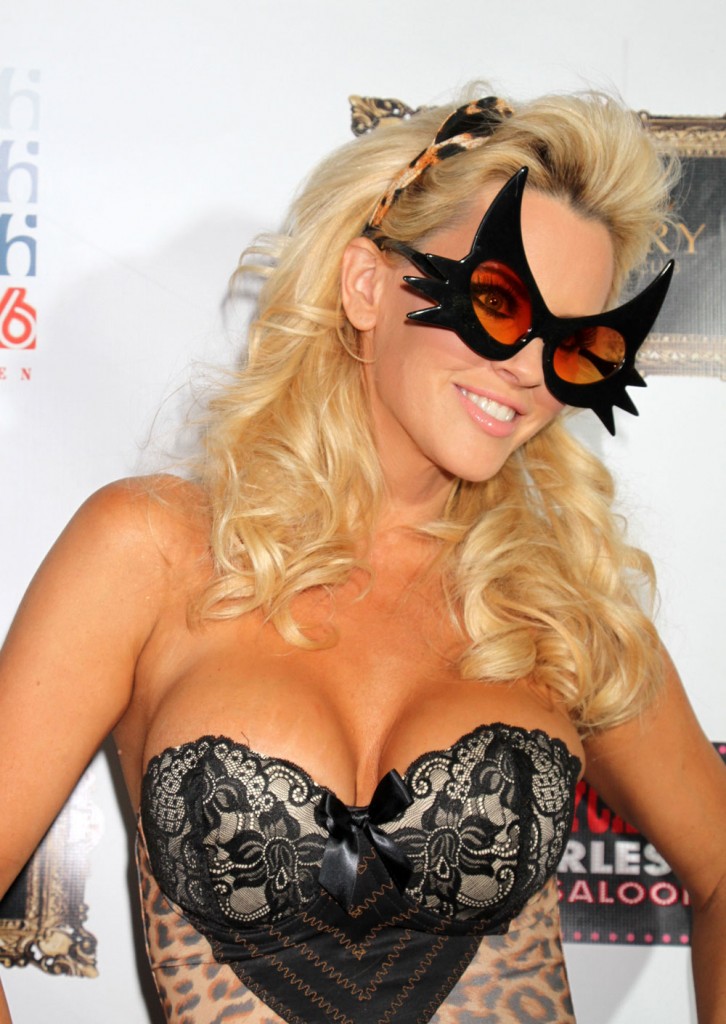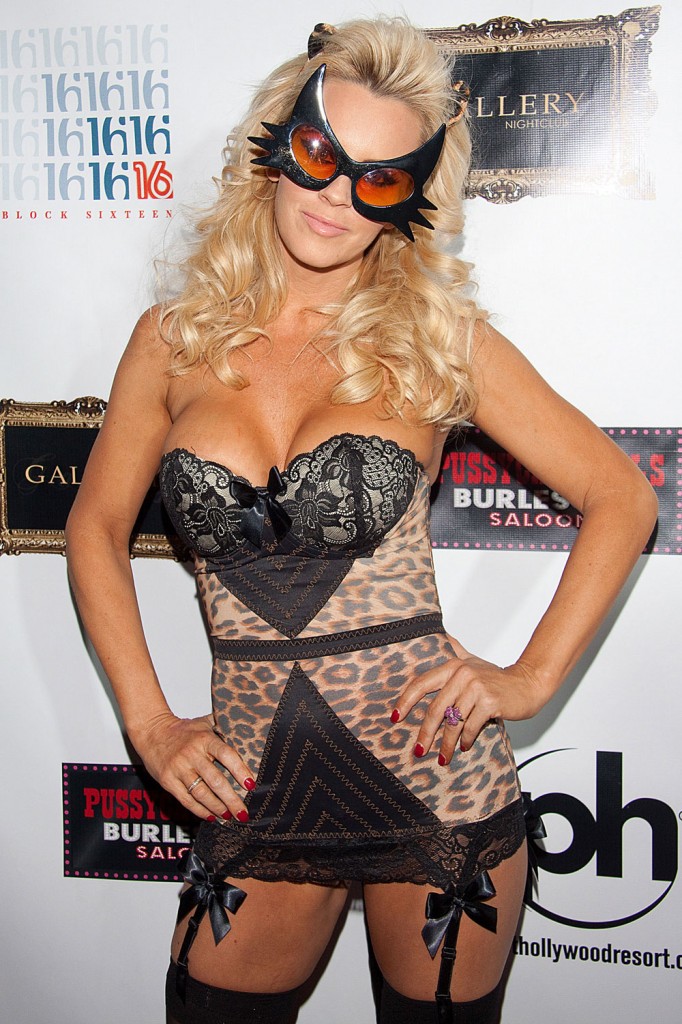 Photo credit: WENN and FameFlynet
Written by Celebitchy

Posted in Halloween, Jenny McCarthy, Photos

- Mariah Carey lip synced on American Idol [CDAN]
- Colin Firth is looking good [Lainey Gossip]
- Internet celebrity charged with murder! [D-Listed]
- What is Paz Vega wearing? [Go Fug Yourself]
- New bachelors on The Bachelorette [Reality Tea]
- Goodbye to The Office [Pajiba]
- Bachelor Sean's fiance cheats on him [Evil Beet]
- Britney Spears out with her man [Popsugar]
- Nina Dobrev works it [Popoholic]
- Cindy Crawford needs to lay off the 'tox [Celebslam]
- Who said it: Carrie Bradshaw or The Dalai Lama? [Buzzfeed]
81 Responses to "Jenny McCarthy as a 'cougar' in lingerie for Halloween, says '40 is the new 15′"